eBay Q1 2023 Earnings Commentary
eBay released Q1 2023 results April 26, 2023- full presentation here.
Full transcript here.
Note from Liz: Opinions expressed are mine alone and should not be taken as financial advice.
Important stats from the press release:
Revenue of $2.5 billion, up 1% on an as-reported basis and up 3% on an FX-Neutral basis
Gross Merchandise Volume of $18.4 billion, down 5% on an as-reported basis and down 2% on an FX-Neutral basis
GAAP and Non-GAAP EPS per diluted share o f $1.05 and $1.11, respectively, on a continuing operations basis
GAAP an d Non-GAAP operating margin of 22.2% and 29.6%, respectively
Returned $384 million to shareholders in Q1, including $250 million of share repurchases and $134 million paid in cash dividends
Active Buyers were down for the 8th quarter in a row, coming in at 133 Million total active buyers (down 7%) or 131 Million excluding eBay's closed Turkish marketplace GittiyGidiyor and recently acquired trading card marketplace TCGPlayer.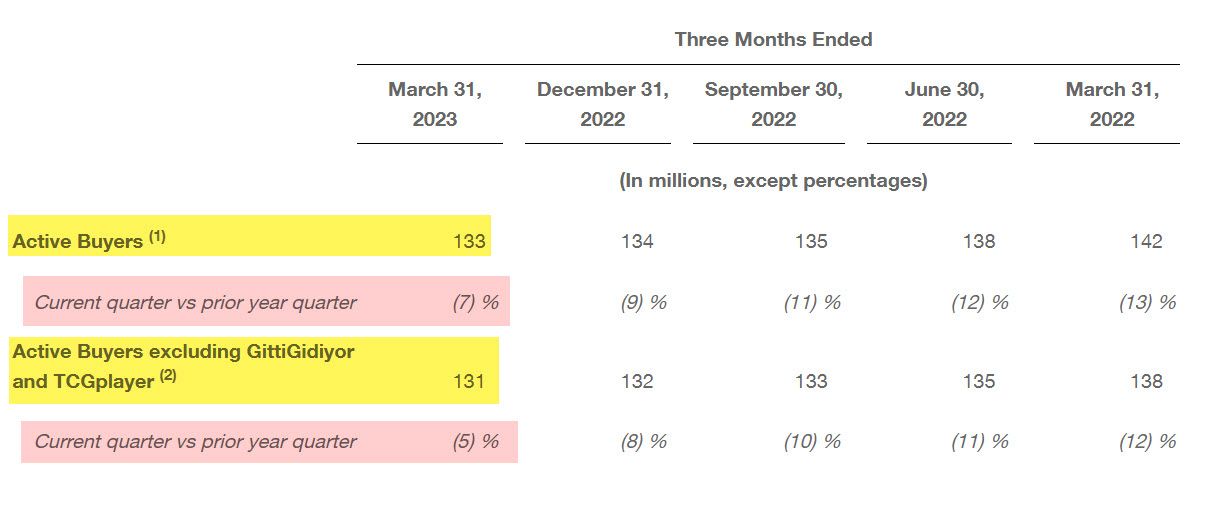 This also marks the 4th straight quarter Active Buyers have been lower than Q1 2018 - meaning not only has eBay failed to hold on to any gains from the pandemic ecommerce boom, they've significantly lost pre-pandemic growth as well.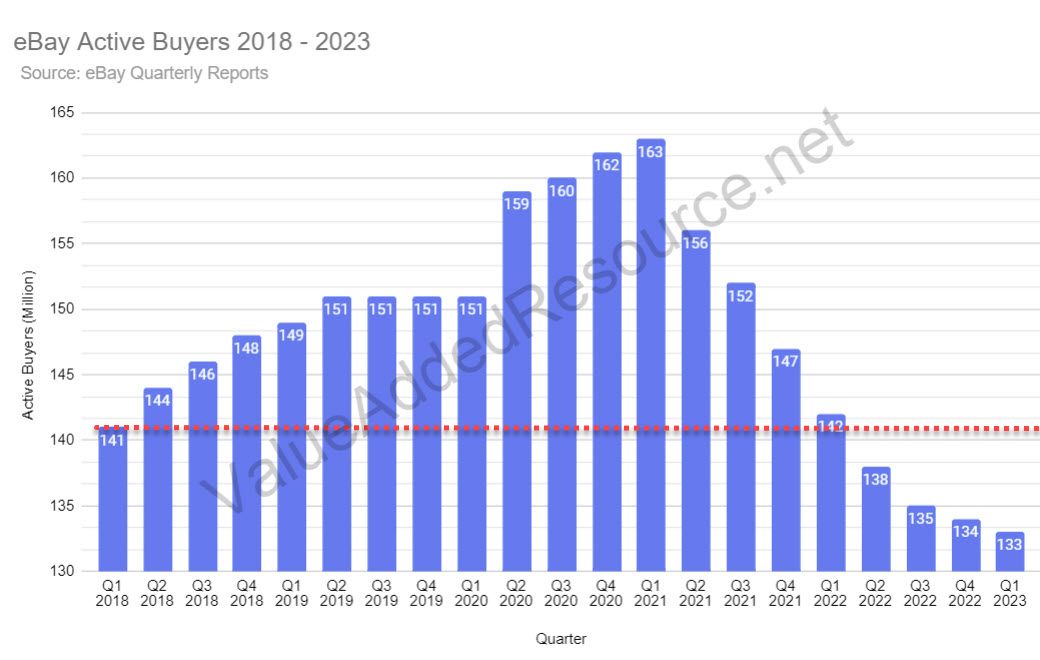 CFO Steve Priest once again tried to paint these Active Buyer stats in a positive light, saying they have seen growth in "new and reactivated buyers" particularly in focus categories.
In aggregate, new and reactivated buyers showed positive year-over-year growth for the third straight quarter, while new buyer growth was positive for the first time in eight quarters.
Lauren Schenk with Morgan Stanley asked about this in the Q&A, asking if it suggested there was churn in longer term buyers.
it's encouraging to see that new and reactivated customer growth is up. But just given the slight decline in buyers, I mean, consistent with last quarter, does that imply churn? And if so, is that isolated in any specific categories?
Iannone responded:
I would say our active buyer count is exactly where we expected it to be. I've been talking for several quarters about some near-term pressure that we thought we would see based on the macro environment, but that I thought we would see stabilization in the metric, and that's exactly what we're seeing here is that we're acquiring buyers in the right way now. We're building and turning them into enthusiast buyers, and our enthusiast buyers are buying 70% of the GMV on the platform. And so we're excited that we saw kind of a more modest change in stabilization.



And the P&A stats that I talked about with buyers is also really encouraging because it shows when we invest, we're actually seeing what we want to see with new and reactivated buyers on the platform. So as things change from that standpoint, we'll continue to update you, but we actually feel really great about what's happening on the buying side.
The question is - how much is it costing to acquire those enthusiast buyers in the focus verticals and is it really worth it?
Back in 2018, eBay leaned heavily on sitewide discounts running many "flash sales" of 15-20% off through the year.  Those promotions were funded by eBay and proved to be a two edged sword, as any temporary sales lift during the promos was often offset by steep slumps in between when presumably buyers were waiting for the next discount to drop.
Those flash sales led to an increase in so called "one and done" buyers and ex-CEO Devin Wenig was criticized for the strategy at the time.
In fact, it was considered such a failure that Iannone felt the need to explicitly distance himself from it when explaining his "high value buyer" strategy to investors on the Q2 2021 earnings call.
Yet Jamie has quietly embarked on much the same strategy for the focus verticals, running eBay subsidized discounts at a regular clip, and I suspect it may be having a similar effect of bringing in "one and done" new or reactivated buyers.
This might provide short term benefits but may not be enough to replace the churn of long time buyers from other categories that are not receiving special treatment.
eBay once again did not disclose Active Seller numbers. The last time active seller stats were published was in 2021 where the number fell from 20M in Q1 to 19M in Q2, stayed flat at 19M in Q3 and then fell again to 17M in Q4 2021.
If Active Sellers had increased significantly, it's a safe bet eBay would have been very vocal about it - so it's likely somewhere near or less than 17 Million today.
Chief Accounting Officer Brian Doerger's abrupt exit from the company amidst ongoing concerns about the TCGPlayer union situation didn't come up on the call, though there has been quiet interest from investors and analysts about what may be going on behind the scenes.
---
Tech-led Reimagination
While the site still experiences daily business impacting technical issues, Iannone is focused on the flavor of the month fad of Artificial Intelligence.
In search, we continue to improve retrieval and ranking using state-of-the-art deep learning models and better leveraging the vast amount of structured listing data on our marketplace, which delivers more relevant choices to our buyers.



A series of search deployments we made during Q1 led to a measurable uplift in conversion that we estimate would amount to roughly $1 billion in incremental GMV on an annualized basis. This demonstrates the value that a relatively small number of AI-powered enhancements can generate for a marketplace of our scale.
Which Q1 deployment was it that Jamie thinks will lead to $1B in incremental GMV?
Was it the one that completely broke search for an entire day, causing it to return 0 results for many common search terms?
Or the one that caused the first page of results to be duplicated over and over so nothing beyond that first page was shown to buyers?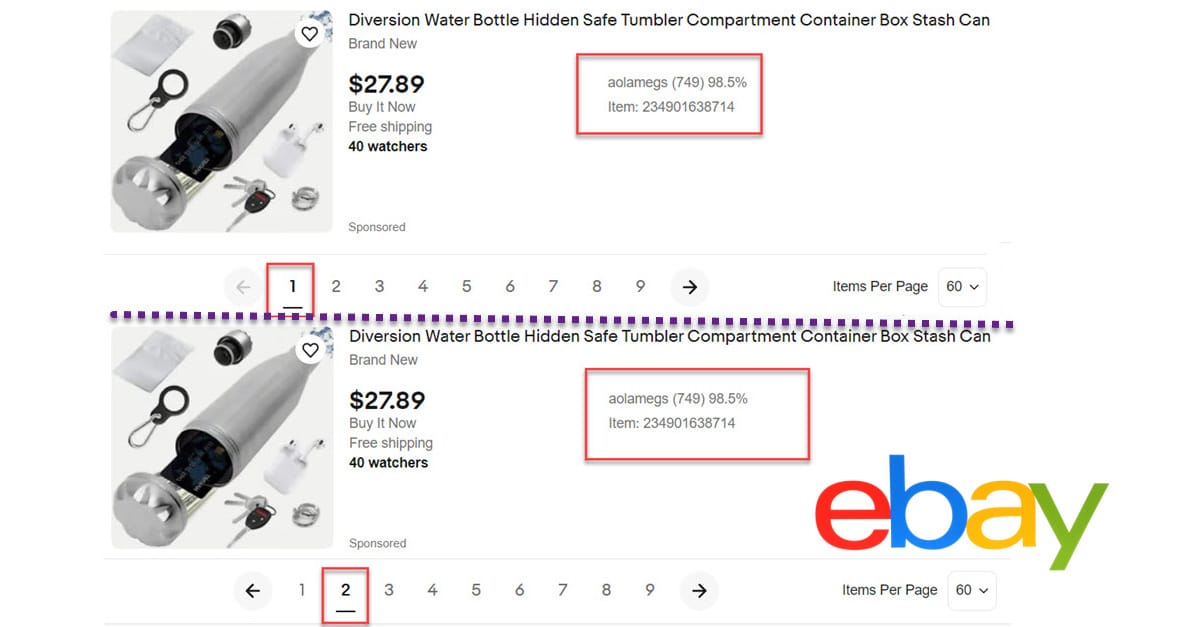 I know, it must be the one that unleashed autocorrect and keyword substitution algorithms to ensure that no matter what buyers were searching for, eBay would show something wildly inaccurate and completely unrelated.
Given the fragile state of search at the moment, it may be blessing in disguise that eBay is moving cautiously into ChatGPT integration, choosing to focus on generative AI to create listing descriptions instead of more innovative AI shopping assistants like Shopify and Mercari have launched.
eBay is also well positioned to benefit from recent leaps forward in generative AI capabilities. We are in the process of integrating the ChatGPT API into our core listing flow and will soon launch a beta release of a plug-in that enables sellers to automatically generate text for their item description based on known product attributes.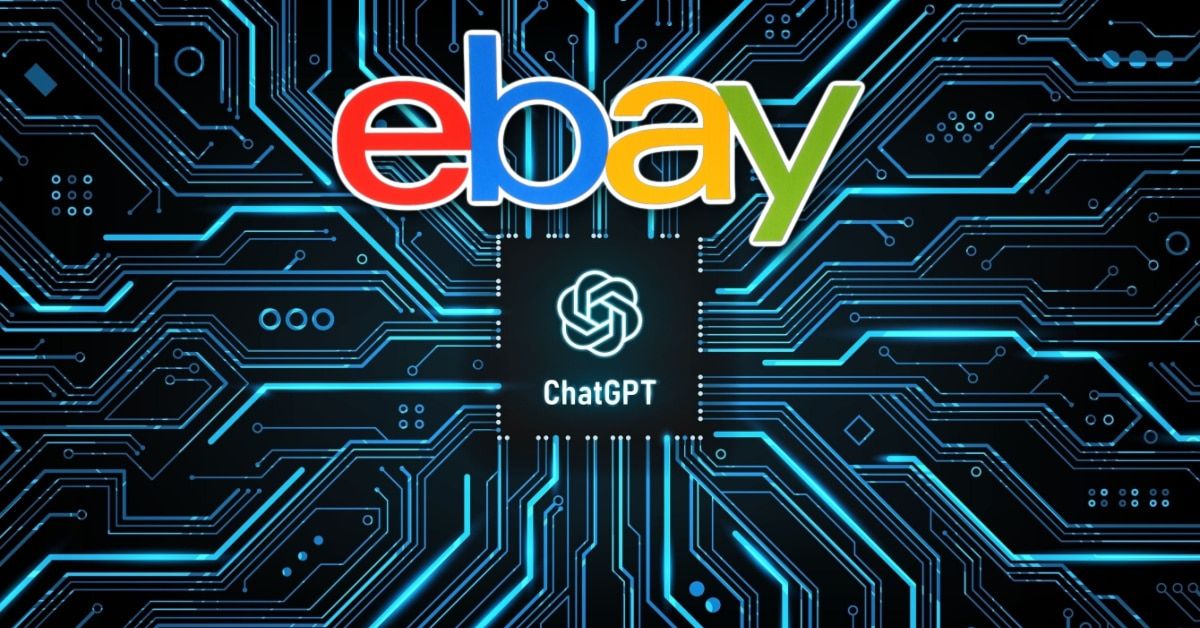 eBay's new Social Media beta tool was also touted as a tech-led reimagination win, but it's basically just a slightly upgraded version of the previous social sharing functionality and is missing one key component - the discounted Final Value Fee incentive for social sharing that was promised at eBay Open 2021.
For store sellers, we recently launched a centralized tool, making it more seamless to publish and promote their listings across social media. This new feature is integrated into the Seller Hub and makes it easier to bulk post across several popular social channels with content that is automatically optimized for each medium, including engaging carousels that allow shoppers to browse multiple listings in a single post.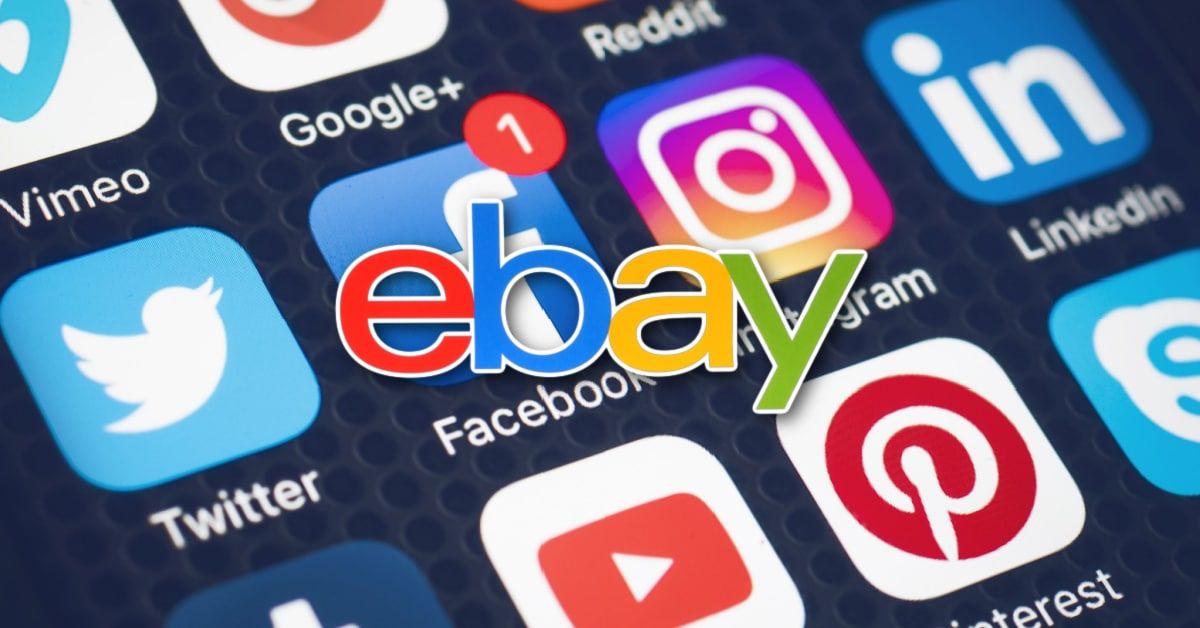 ---
Focus Categories
Iannone leaned heavily on the focus vertical strategy for positive news.
Our financial results provide clear evidence that our strategy is working and driving underlying growth in our business. Our progress is most evident in focused categories, which outgrew the rest of our marketplace by roughly 8 points during Q1 and grew low-single digits year-over-year overall.
It would be interesting to know how much marketing spend and subsidization through targeted discounts it took to achieve that result - and whether it was worth it over all.
While Jamie was very positive about Guaranteed Fit for Motors Parts and Accessories, eBay still has done very little to address serious problems with their fitment capability.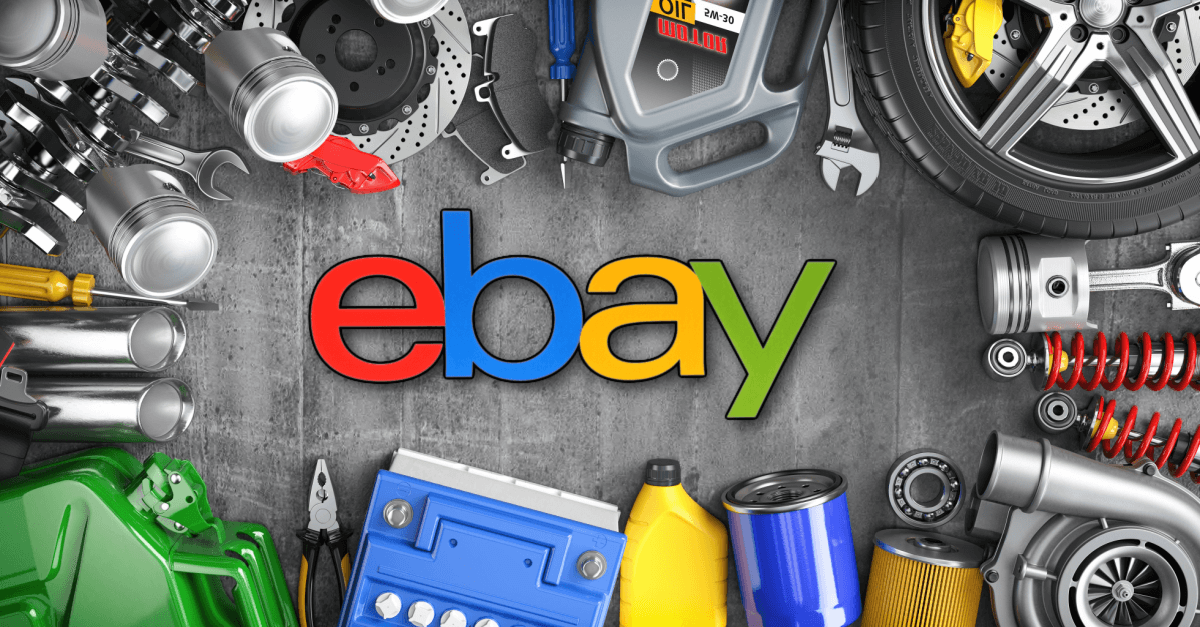 And eBay's efforts to integrate installation services into the deal are going to come up against the 800 lb gorilla in the room as Amazon is also making progress in this space.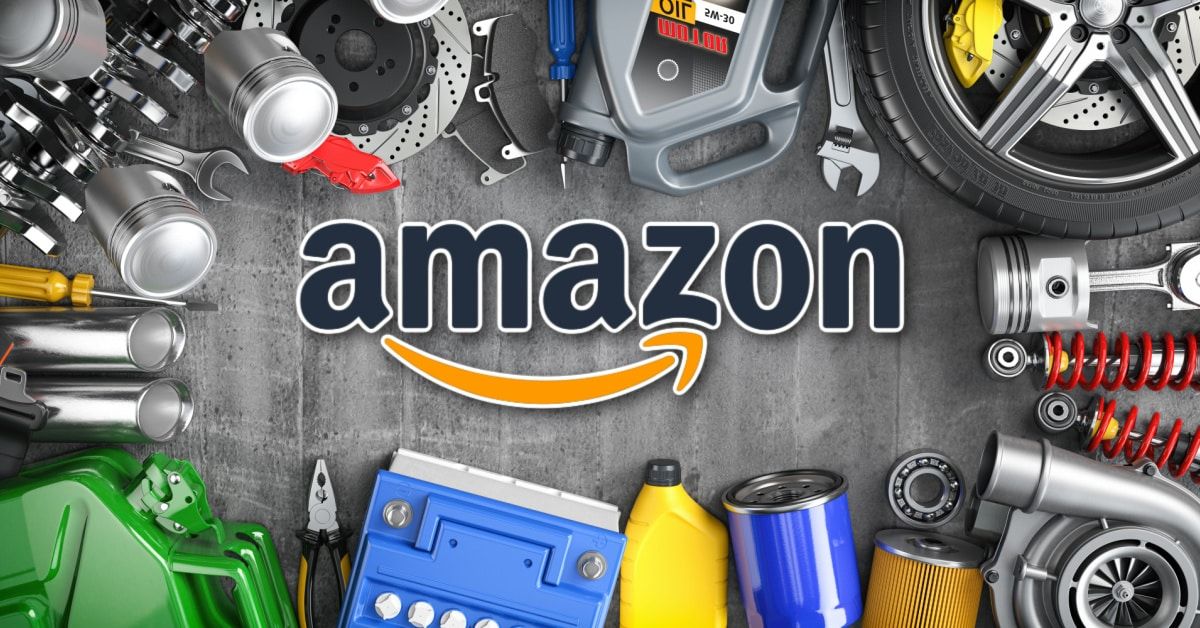 Iannone was also quick to note that eBay Refurbished experienced double digit growth, but in the same breath admitted they have added new categories and expanded eligibility.
Building off its record holiday quarter, growth in eBay Refurbished GMV accelerated notably during Q1, posting double-digit year-over-year growth. We added dozens of new categories to the program last quarter, including computing and video game peripherals. We also signed up more brands and OEMs in existing categories to sell refurbished inventory directly on eBay.



Additionally, in recent months, we've taken steps to make the onboarding process for small business sellers in the eBay Refurbished program faster and more scalable by automating elements of the sign-up and eligibility check processes.
How much of that "double digit growth" is just shuffling sales around that would have previously occurred on the platform any way but can now be counted as growth for the refurbished program simply because eBay expanded the eligibility to include more items and sellers?
Interestingly, Iannone didn't mention the new Certified By Brand program for watches, handbags and jewelry launching today.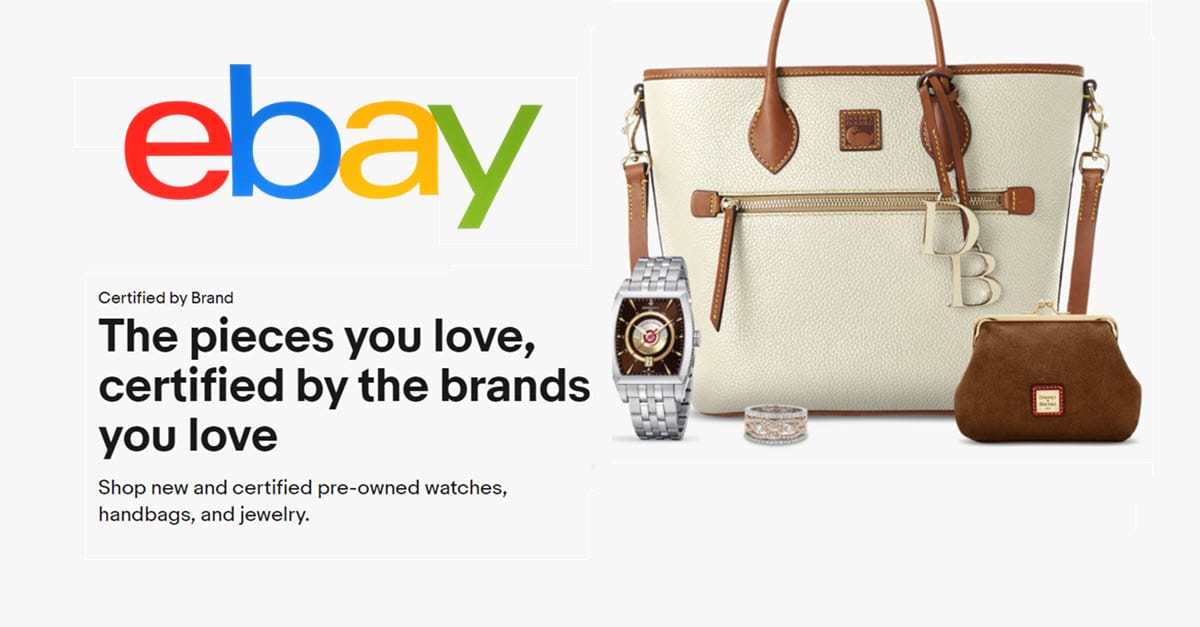 I still think eBay is missing a major opportunity with seller verification.
As we see with the new Certified by Brand program, eBay has the ability to create criteria for a program, vet eligible sellers, and apply badges and search filters to promote sellers in the program.
Why not do the same to verify sellers who stock inventory vs those who drop ship?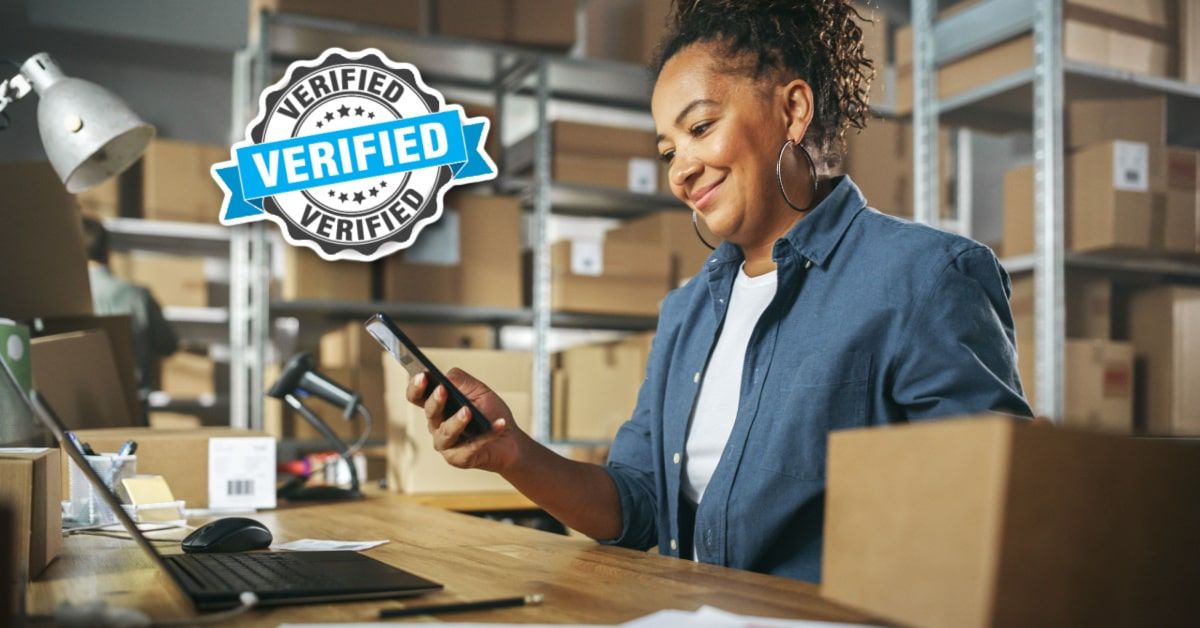 There could be a huge opportunity here for eBay to take some market share from competitors as well.
Etsy has recently come under heavy fire for the vast amount of counterfeit, IP infringing and dropshipped/not handmade merchandise on the platform - eBay could swoop in with a Certified Handmade program and, if executed well, instantly give Etsy a run for their money.
---
Promoted Listings
Increasing take rate via ads is still clearly eBay's main revenue strategy, as ad rev continues to outpace GMV.
Now transitioning to advertising. Our advertising business continues to deliver robust growth at scale despite challenges in the broader digital ad market. Strong demand for Promoted Listings drove first-party advertising revenue of $285 million, up 31% or more than 30 points faster than GMV growth for the third straight quarter.



Total advertising revenue grew 23% to $317 million. During Q1, over 2 million sellers adopted single ad products, and we reached more than 750 million live Promoted Listings.
I wouldn't mistake sellers increasingly being forced to "pay to play" as "strong demand" though. Simply put, eBay has engineered the marketplace so the only way to maintain previous levels of visibility and sales in many categories is to opt in to Promoted Listings at ever increasing percentages.
However it's a delicate balance, as sellers can only be squeezed so much before they either revolt or must raise prices to unsustainable levels to compensate.
Of note - eBay made major changes that will attribute even more sales to Promoted Listings ads, effective March 30.
We have yet to see the impact these changes will have, but anecdotally I'm hearing from many sellers that they are either lowering their Promoted Listings ad rates or being more selective about how many/which items to opt in to ads to compensate for this money grab.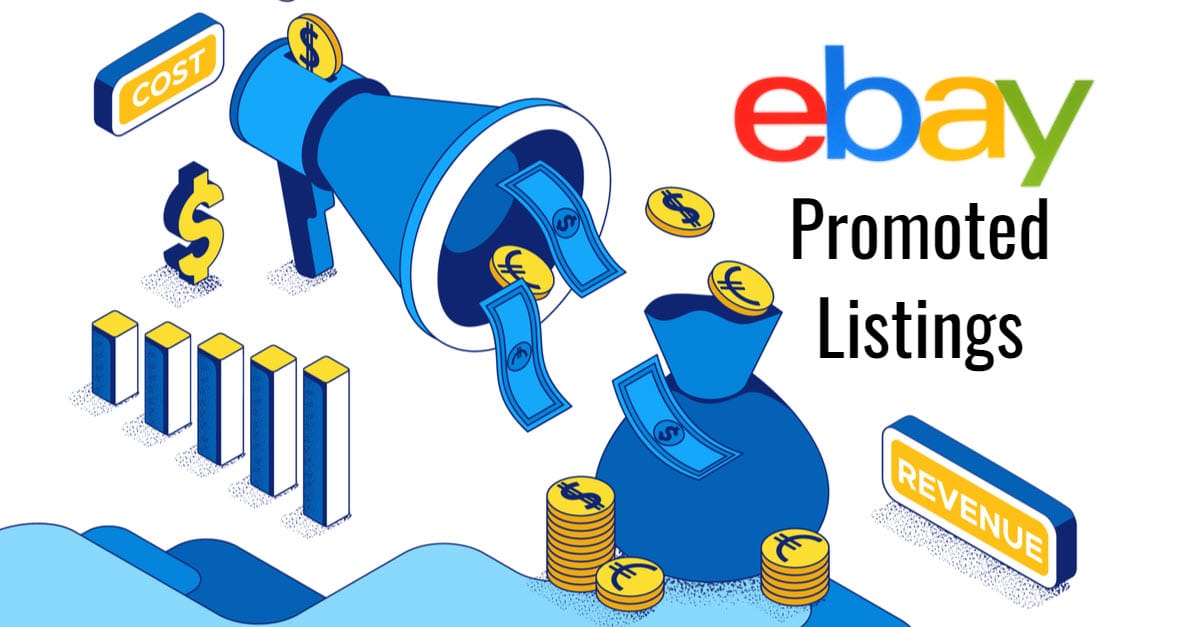 I was surprised Jamie didn't mention the new ad programs eBay has been testing since last year, but maybe he wanted to keep those tucked away for Q2.
Offsite Ads for Google placement: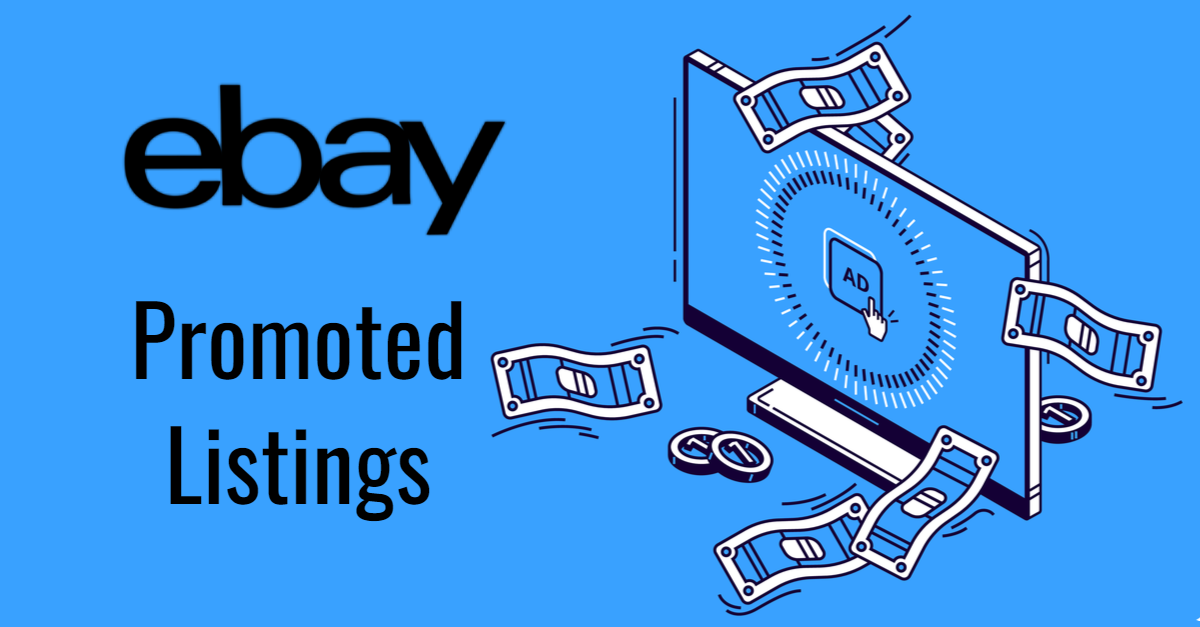 Promoted Display Ads for Stores: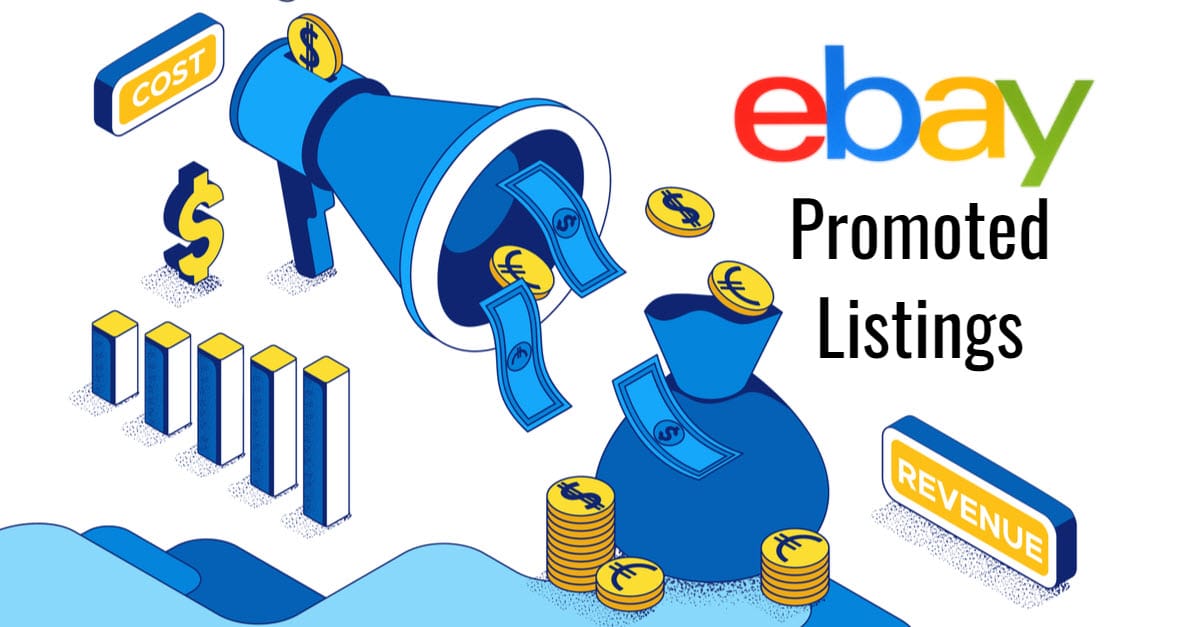 ---
International Shipping
Iannone says eBay's new international shipping program is making cross-border trade seamless and improving trust in the coordination of the end-to-end shipping process.
Last quarter, we talked to you about the February rollout of our new eBay International Shipping program, which makes it as easy for eBay sellers to ship from Silicon Valley to Sydney as it is to ship to St. Louis. The revamped program is not only making cross-border trade more seamless and cost effective for sellers and buyers, but it also improves trust in eBay's coordination of the end-to-end shipping process.



During Q1, we fully ramped this program to sellers in the U.S. and migrated 100% of listings from our previous global shipping program. While its early days for the new program, we're already observing a positive impact on customer satisfaction. Over the long term, we believe eBay International Shipping will increase cross border inventory available to buyers, improve sales velocity and price realization for sellers and ultimately drive incremental GMV.
CFO Steve Priest answered a question about the program, also leaning heavily on seller trust.
So in terms of eBay International Shipping, both got really great strategic benefits but also good sort of financial benefits. So if I take a step back, think about our cross-border trade, which accounts for about 20% of the sales that take place on eBay. And as we came into the eBay International Shipping program, only about 50% of our 1.8 billion listings on the platform are available for global trade. And so we looked through the lens of how do we increase the level of inventory to the global buyers on eBay? And eBay international Shipping certainly facilitates that.



The beauty of the program is that we have gone from an agent to a principal. It gives us much greater control over the overall process. So it enables us to drive greater levels of trust, particularly for our sellers.
Pro tip for Jamie and Steve - eBay has major seller trust issues because of years of many painful experiences that make it difficult for sellers to simply take you at your word that eBay International Shipping will "just take care of" returns, customs, and other important issues.
If you want to get sellers on board, you need to put your money where your mouth is and that starts with getting your customer service up to speed to provide the support sellers need with this new program.
---
Final Thoughts
Honestly, this was one of the least exciting earnings calls I've ever heard. It's clear eBay has given up on any truly innovative tech-led reimagination or growing their market share.
Instead they've settled on subsidizing the focus categories (to the exclusion/at the expense of non-focus categories) to give the illusion their strategy is working and gouging sellers with ever increasing ad expenses to increase revenue.
Q1 results may not have been terrible, but they show nothing exciting or fresh on the horizon and no clear vision for a strong strategy to reinvigorate the entire platform.
---
What do you think of eBay's Q1 2023 results? Let us know in the comments below!
---