eBay Reports Less Than Magical Q2 2023 Results
eBay released Q2 2023 earnings on July 26 and, despite CEO Jamie Iannone's favorite buzzword du jour, the results were less than magical.
Full presentation here.
Full earnings call transcript here.
Important stats from the press release:
Revenue of $2.5 billion, up 5% on an as-reported basis and up 6% on an FX-Neutral basis
Gross Merchandise Volume of $18.2 billion, down 2% on an as-reported basis and down 1% on an FX-Neutral basis
GAAP and Non-GAAP EPS per diluted sha re of $0.32 and $1.03, respectively, on a continuing operations basis
GAAP an d Non-GAAP operating margin of 20.4% and 26.9%, respectively
Returned $383 million to shareholders in Q2, including $250 million of share repurchases and $133 million paid in cash dividends
Active Buyers were down for the 9th quarter in a row, coming in at 132 Million total active buyers or 131 Million excluding eBay's closed Turkish marketplace GittiyGidiyor and recently acquired trading card marketplace TCGPlayer.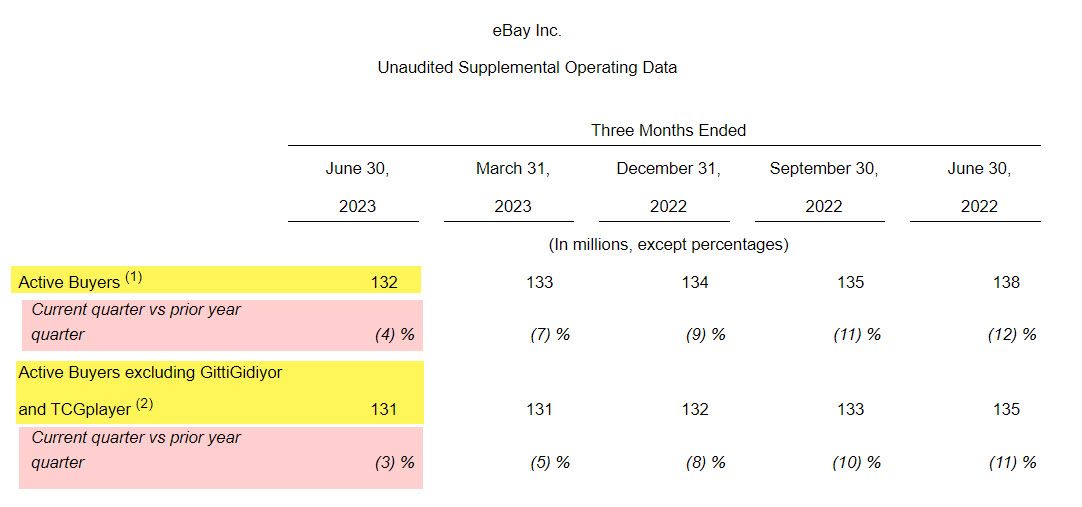 This also marks the 5th consecutive quarter that Active Buyers have been lower than they were in Q1 2018, meaning not only has eBay failed to hold on to any gains from the pandemic boom, they've significantly lost pre-pandemic growth as well.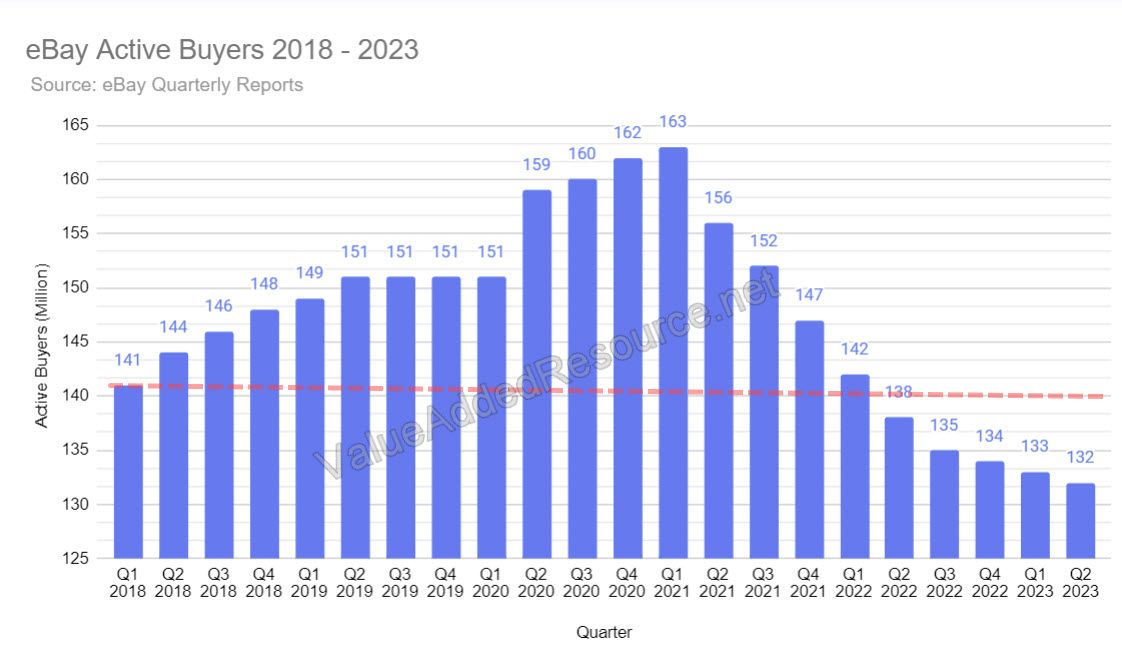 CFO Steve Priest once again tried to paint a rosy picture from these numbers by saying:
The continued stabilization of our buyer count was driven by the four straight quarters of positive year-over-year growth in new and reactivated buyers, which was again led by double-digit growth in buyers from P&A. In isolation, new buyers grew year-over-year for the second straight quarter, while growth by our churn has steadily improved throughout 2023.



Enthusiast buyers was stable at 16 million in Q2, as net migration patterns improved slightly quarter-over-quarter. Spend per enthusiast grew modestly year-over-year, averaging roughly $3,000 annually.
Slowing the rate of descent is certainly not a bad thing, but that doesn't mean they aren't still crashing.
As we can see from the chart above, eBay has quite a ways to go to get back to even 2018 levels, let alone recapture any growth they experienced pre-pandemic.
Priest and Iannone both say eBay is going to continue focusing on "enthusiast buyers" as they claim this cohort is where they are seeing great results from their strategy - but looking back at previous earnings reports, it's difficult to see much progress here.
Q2 2022 - "Enthusiast buyers made up approximately 17 million of our active buyers in Q2...average spend among enthusiast buyers grew sequentially and remains over $3,000 annually."
Q3 2022 - "Enthusiast buyers accounted for approximately 17 million of our active buyers in Q3...average spend per user grew sequentially and continues to be healthy at over $3,000 per year."
Q4 2022 - "Enthusiast buyers accounted for over 16 million of our active buyers in Q4...average spend per enthusiast rose again sequentially and continues to be healthy at above $3,000 annually."
Q1 2023 - "Enthusiast buyers remained relatively stable sequentially at 16 million in Q1...and on average, spend approximately $3,000 annually."
Q2 2023 - "Enthusiast buyers was stable at 16 million in Q2...spend per enthusiast grew modestly year-over-year, averaging roughly $3,000 annually."
Where exactly is the growth here? And how much does it cost for eBay to acquire and retain those "enthusiast" buyers with marketing and subsidized coupons and incentives to prop up the vertical focus categories?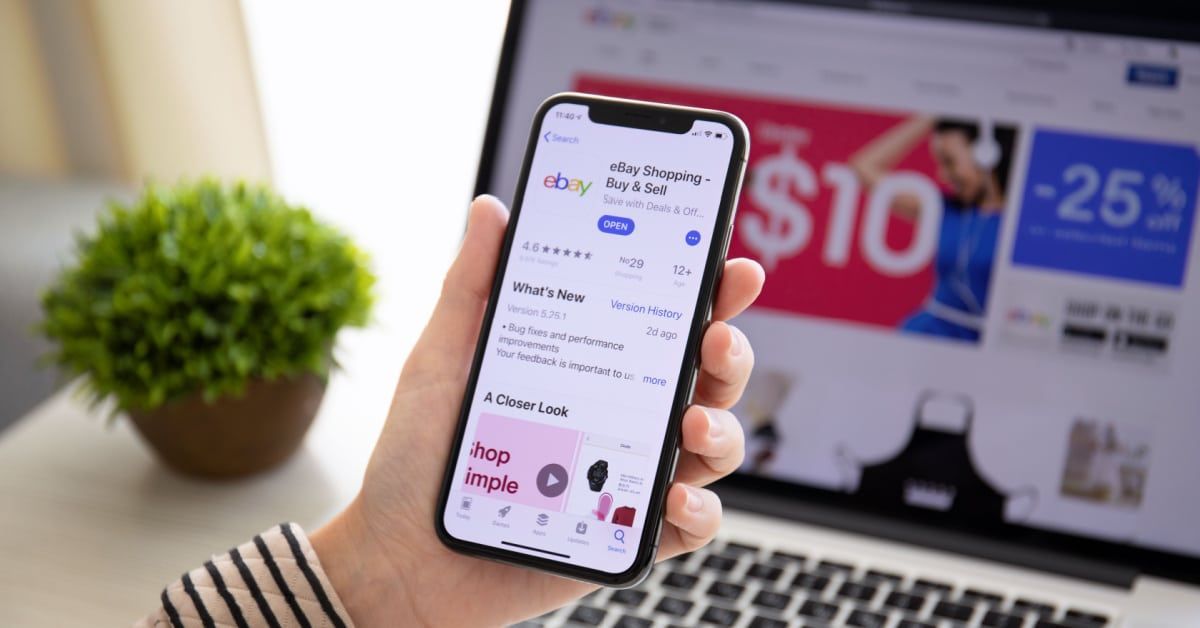 eBay once again did not disclose Active Seller numbers. The last time active seller stats were published was in 2021 where the number fell from 20M in Q1 to 19M in Q2, stayed flat at 19M in Q3 and then fell again to 17M in Q4 2021.
If Active Sellers had increased significantly, it's a safe bet eBay would have been very vocal about it - so it's likely somewhere near or less than 17 Million today.
---
Tech-led Reimagination
Iannone seems to have arbitrarily decided it's time to "evolve" the "tech-led reimagination of the platform" (despite ongoing major technical malfunctions in core site performance) and says he is now moving on to the next phase of his strategy:
Three years ago, I set our ambition of becoming the best global marketplace to buy and sell through a tech-led reimagination. Now, we're raising the bar for innovation and have evolved our vision – to reinvent the future of ecommerce for enthusiasts, only at eBay.
For the vast majority of buyers and sellers who exist outside of eBay's current high value vertical focus, it's starting to feel like what eBay really means is:
"Reinvent the future of ecommerce for enthusiasts only, at eBay."
In Jamie's world, everything about this evolved vision is "magical" - a word he used ~11 times on the call - and nothing is more magical than eBay's AI capabilties.
Next, I'd like to discuss the groundbreaking work our team is doing with artificial intelligence. In particular, I'm excited to announce that this quarter, we're ramping up a new feature we've been calling Magical Listing, which will make it significantly easier for sellers to list their inventory.



One of the biggest challenges to operating a listings-based marketplace is the burden on sellers to fill in descriptions and item aspects for their products. In May, we launched the first version of our Magical Listing experience, which dramatically reduces this friction for our sellers via AI-generated item descriptions.



We integrated Azure's open AI API into our core listing flow. And now sellers can choose to have detailed product information instantly populated by Generative AI based on the product's title, category and any item aspects that have been input.
Of course he failed to mention that many sellers' initial experience with this new feature was anything but magical, as the bug-ridden launch caused a broken, confusing user experience.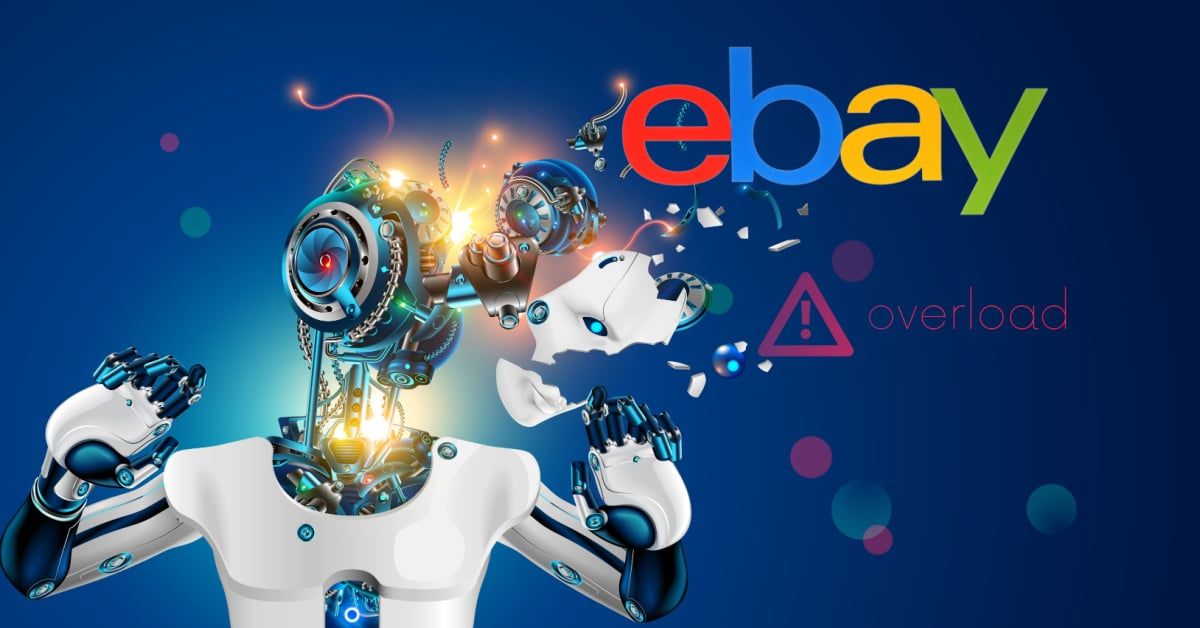 The extremely basic functionality eBay has enabled with "Magic Listing" pales in comparison to what Shopify has done with a shopping assistant for buyers and a commerce assistant for merchants, or even what much smaller marketplace Mercari has done.
Given the pace at which generative AI has infiltrated everything, at this point it's simply table stakes for any large tech company to have integrated it in some way.
eBay has done the obligatory bare minimum here, but it is far from truly magical or innovative.
---
Promoted Listings
Ad revenue continues to be just about the only point of significant "growth" for eBay, but Jamie and Steve both had to admit at least some of the Q2 ad growth was driven by one time events and accounting adjustments as eBay changed their attribution model to cast a wider net for ad fee collection.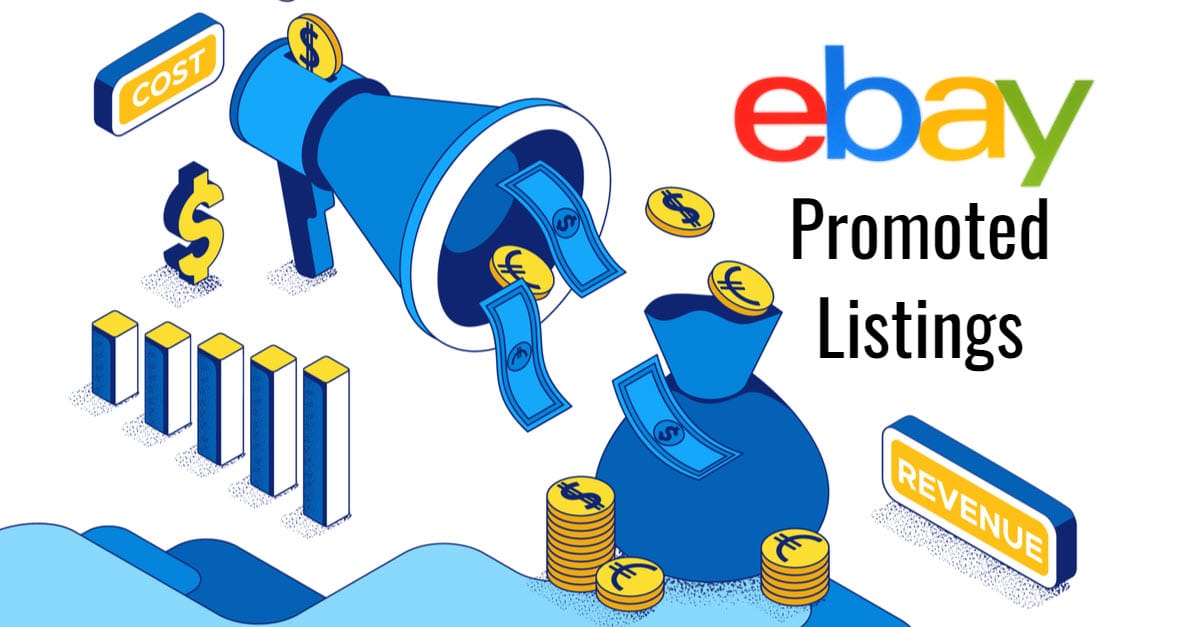 Over 2.1 million sellers adopted a single ad product in Q2, while we reached more than 800 million live promoted listings. Promoted Listings Standard, our CPA product was again the largest contributor to growth in Q2, driven by attribution enhancements, continued optimization and ad rate improvements.



At the end of March, we adjusted our attribution methodology for CPA ads, expanding the definition of what constitutes a qualified sale. This change, referred to as a halo attribution in the industry, enabled us to more efficiently optimize our ads as we capture a more complete picture of the downstream sales driven by promoted listings. While sellers maintain the full flexibility to adjust their bidding behavior after this change, halo attribution had a net positive impact on our ad business in Q2.
Our advertising business accelerated notably in Q2 as total ad revenue grew 35%, a 12-point acceleration versus Q1. First-party ads grew 49% or roughly 50 points faster than volume as the GMV delta widened by 17 points sequentially.



However, roughly 4 points of this gap were related to a one-time accounting adjustment of deferred revenue on cost per click ad fees following the halo attribution change Jamie discussed earlier. The deferral release brought forward approximately $9 million of ad revenue to Q2, which we will lap in Q3.
Unsurprisingly, Promoted Listings Express for Auctions was not mentioned once in this call - presumably eBay is hoping to avoid any tough questions about this failed ad product.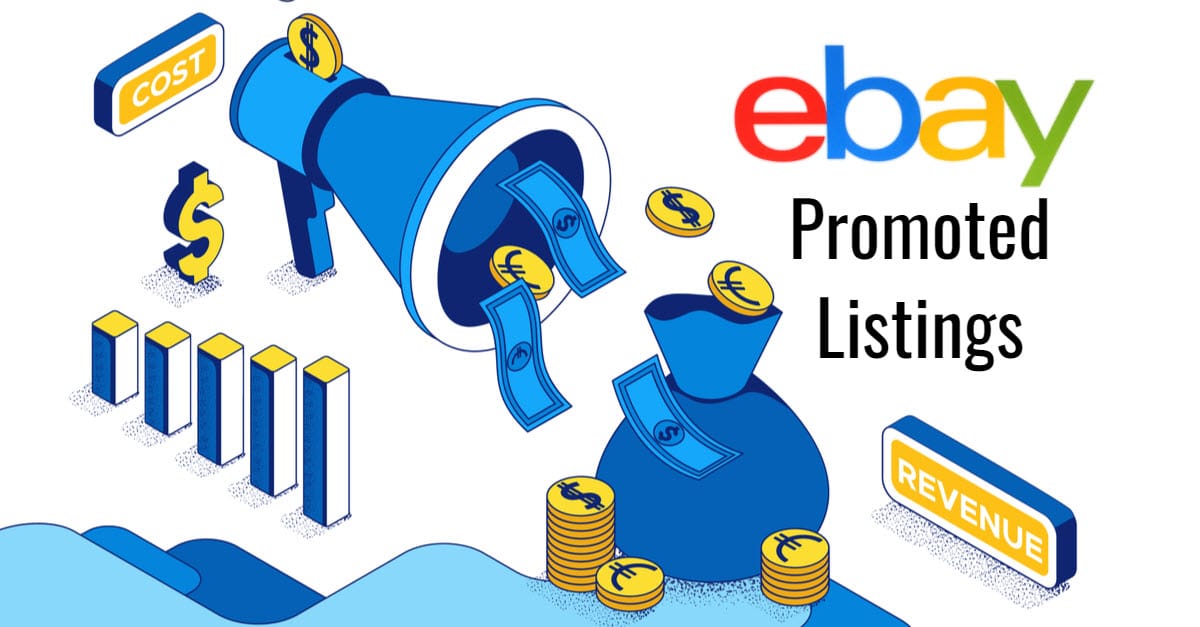 There was also no mention of Promoted Display ads or Offsite ads which are currently in beta, suggesting eBay is taking a cautious approach and not wanting to build up too much hope around these new ad types just yet.
---
International Shipping
The eBay International Shipping program is another major focal point for the company, and for investors, as eBay hopes to expand cross border trade.
Both Jamie and Steve like to toss around the stat that eBay is in "190 countries", but given that ~75% of sales occur in only 3 of those countries, are they overstating the possible value of that global footprint?
The ramp up of EIS has had a few bumps along the way, including concerning reports of weeks long delays and missorting at the shipping hubs.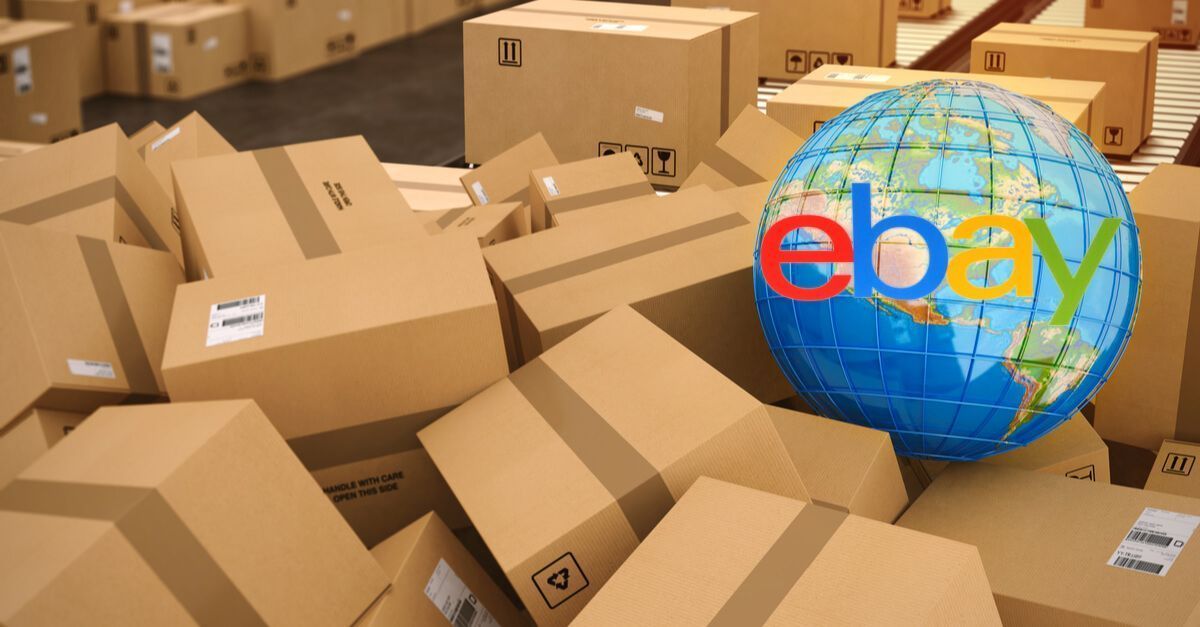 eBay will need to get those issues ironed out ASAP before they consider expanding the program even further.
---
M & A
eBay has made several recent acquisitions including TCGPlayer, MyFitment, and Certilogo.
Deepak Mathivanan with Wolf Research asked:
...on M&A, Steve, you alluded to kind of being acquisitive, how should we think about the appetite over the next few quarters? Are there any specific areas where you think there are additional opportunities?
Steve gave an interesting and "thoughtful" answer:
So we've been very thoughtful and considerate as we've looked to M&A, it's really to structurally improve the core marketplace...



...we've been very, very thoughtful about the entities that we lean into and partner with or we ultimately buy to really support the long-term sustainable growth of the platform, and we'll continue to be thoughtful. And as a group, we look at each potential acquisition on its merits and make the best decisions to drive long-term sustainable growth and shareholder value.
A little extra thought and consideration would certainly be prudent to avoid any more embarrassing oversights like the apparent due diligence lapses that missed unionization risks in the TCGPlayer acquisition.
---
Final Thoughts

Last quarter, I said it was one of the least exciting earning calls I'd ever heard -apparently eBay's response was "hold my beer."
At this point it's clear they have given up on any truly innovative tech-led reimagination or growing their market share.
Instead they've settled on cannibalizing non-focus categories (or at least leaving them to slowly fade away from neglect) while subsidizing the focus verticals to give the illusion their strategy is working.
The only source of significant growth eBay appears to be interested in or capable of executing is the continued squeezing of sellers for increased ad revenue - and that may eventually have its limits, driving more sellers away.
With nothing truly exciting, fresh, or dare I say magical on the horizon, and no clear vision for a strong strategy to reinvigorate the entire platform, eBay will likely continue its slow spiral into irrelevancy.
---