As Celebrity Auctions Go Viral, Is eBay The Best Place For Union Solidarity?
The Union Solidarity Coalition has chosen the eBay For Charity platform to host celebrity auctions to raise funds and awareness for crewmembers impacted by ongoing SAG-AFTRA and WGA actors and writers strikes.
Just a few hours into launching the auctions, the event was already enshrined on "Know Your Meme" as social media accounts made fun of the celebrities involved or created their own parody auction images.
Online Reactions
Internet users reacted to the auction soon after it went live, with X user @thethirdhan making a post that read, "Never been sadder to be a poor person," gathering over 49,000 likes in a day (seen below, left). on September 13th, 2023, On September 14th, 2023 X user @emberlmao made a post that read, "Only talking to David Cross about Alvin and the Chipmunks & shushing Bob Odenkirk if he tries to say anything," gathering over 39,000 likes in a day (seen below, right).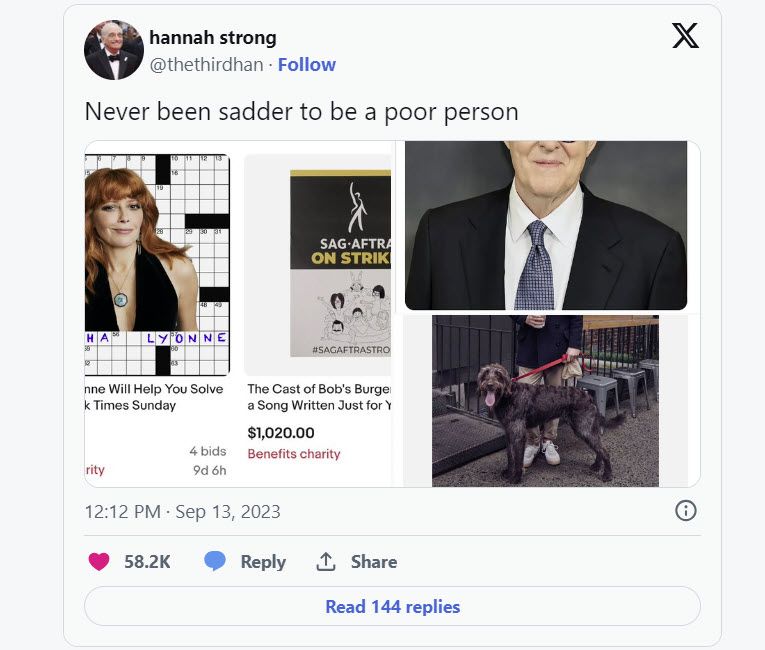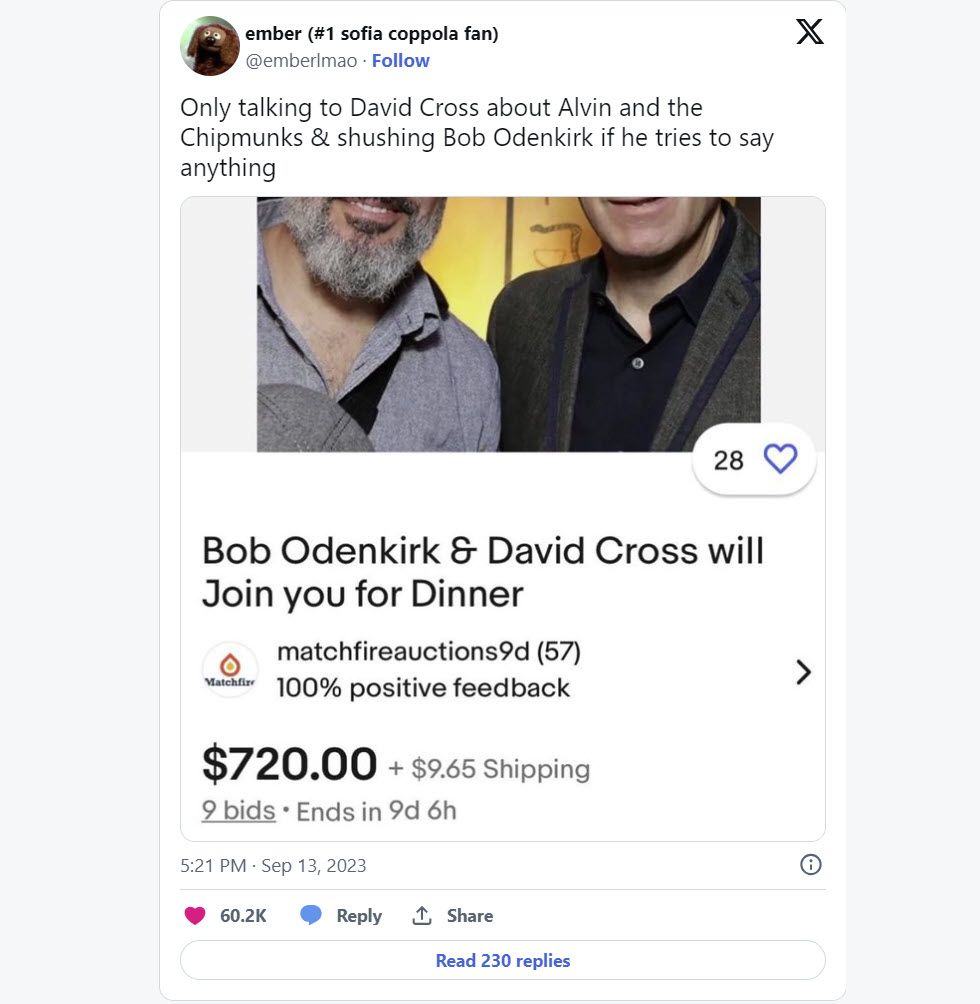 ---
The sales are being managed by MatchFire auctions and it would appear the organizers of this event and many supporters sharing messages of solidarity are unaware of the fact that eBay and notoriously anti-union law firm Littler Mendelson have spent the last 8 months trying to do everything in their power to prevent workers at eBay-owned TCGPlayer from forming a union and bargaining a contract.
Unfortunately, that's not surprising given the shocking lack of media attention given to the first union in eBay's history.
eBay acquired the collectible card game marketplace in October 2022 in a ~$295 Million deal that left founder CEO Chedy Hampson and other key management in place, despite a history of strained labor relations that led to a previous union drive in 2020.
Citing issues with wages, disability accommodations, and a desire to have more say in company policies and processes, as well as concerns about what the acquisition would mean for future operations, TCGPlayer authenticators filed multiple complaints with the National Labor Relations Board and an official union petition on January 25, 2023.
Despite a successful union vote on March 10, 2023, eBay refused to accept the vote, filing multiple objections and appeals with the NLRB to delay bargaining.
Amid scrutiny and investor concerns about the acquisition and union risks, TCGPlayer founder Chedy Hampson and eBay Chief Accounting Officer Brian Doerger both stepped down from their positions on March 20th, 2023.
eBay promoted GM Canada Rob Bigler to take the helm at TCGPlayer in April, but the change in leadership did not resolve ongoing labor tensions as more complaints were filed with the NLRB and eBay continued trying to block the certification of the successful union vote.
After being invited to the White House to discuss labor issues with President Biden, Senator Bernie Sanders, and Acting Labor Secretary Julie Su, TCGUnion-CWA organizers held a press conference and petition action to call out eBay's anti-union activities and refusal to come to the bargaining table.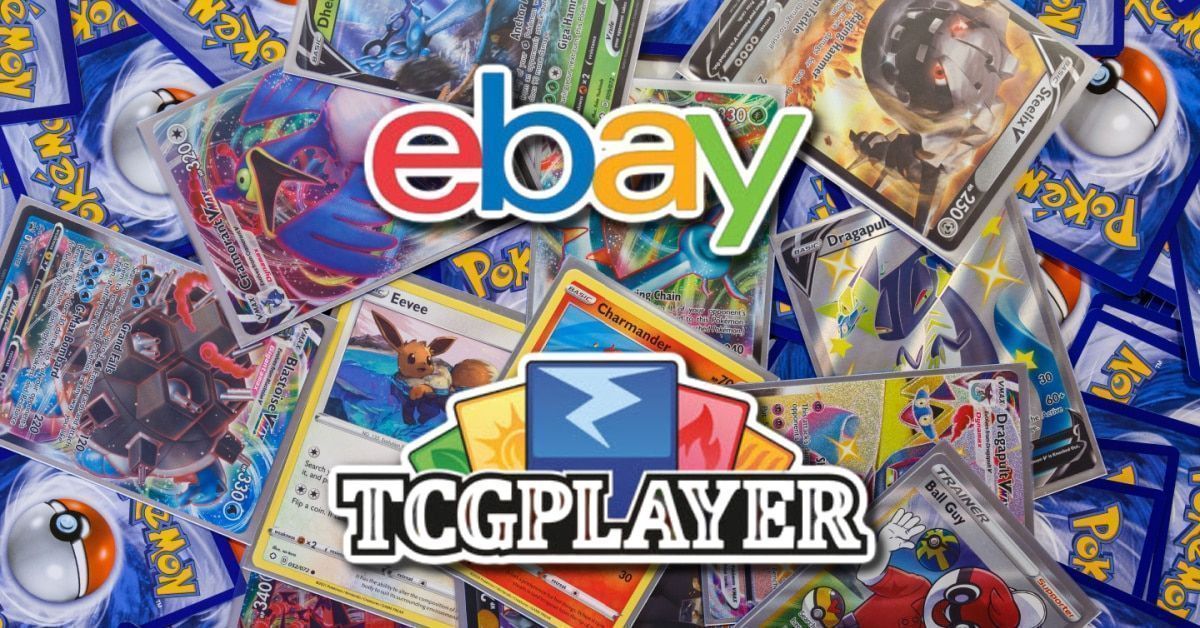 eBay finally acknowledged TCGUnion-CWA and committed to bargain in good faith after a final NLRB decision rejected their attempts to overturn the vote on August 15th.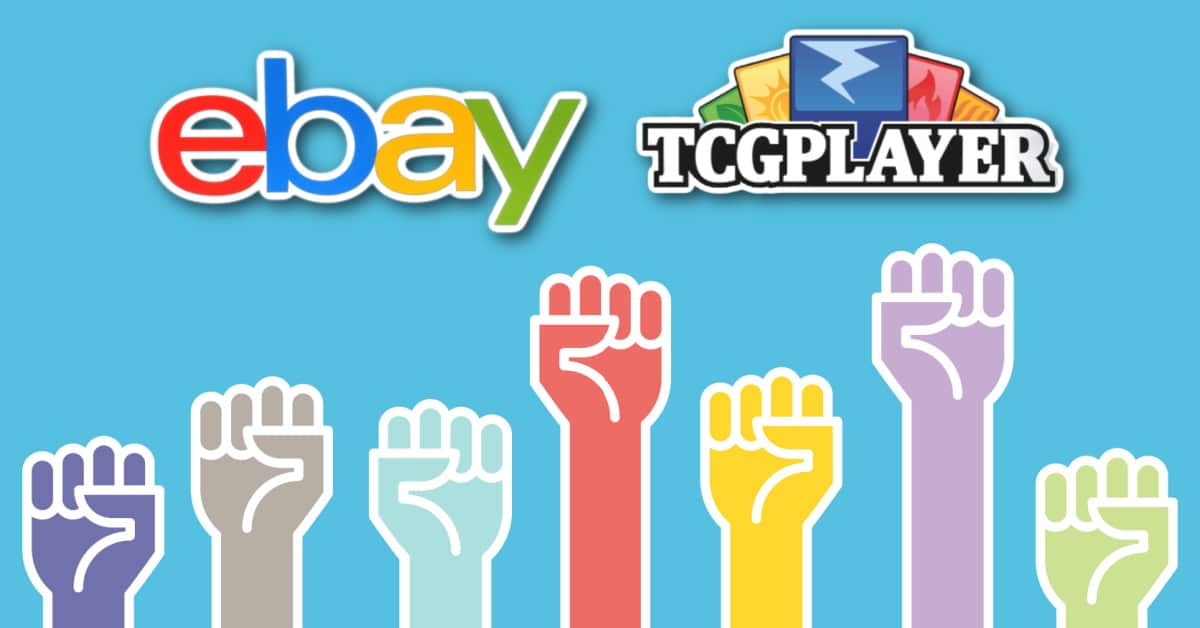 However, from all public appearances, eBay seems to still be trying to downplay the impact this historic first union may have on their business.
eBay quietly removed language that had been included in their Human Rights Policy since at least April 2021 which explicitly supported workers' rights to organize.
The previous policy can be found on the Internet Archive and as of June 8, 2023 it still said: "eBay also respects workers' rights to unionize, and commits to bargain in good faith with any relevant associations or labor unions."
Today, that sentence no longer exists and there is no mention of unions anywhere on the page.
Meanwhile, eBay executives and the corporate blog are prominently featuring happy, smiling non-union workers at their other authentication centers.
---
In light of both the subtle attempts to draw attention away from the TCGUnion victory and the very unsubtle anti-union activity by eBay and Littler Mendelson over the last 8 months, using the platform to promote Union Solidarity seems more than a little questionable.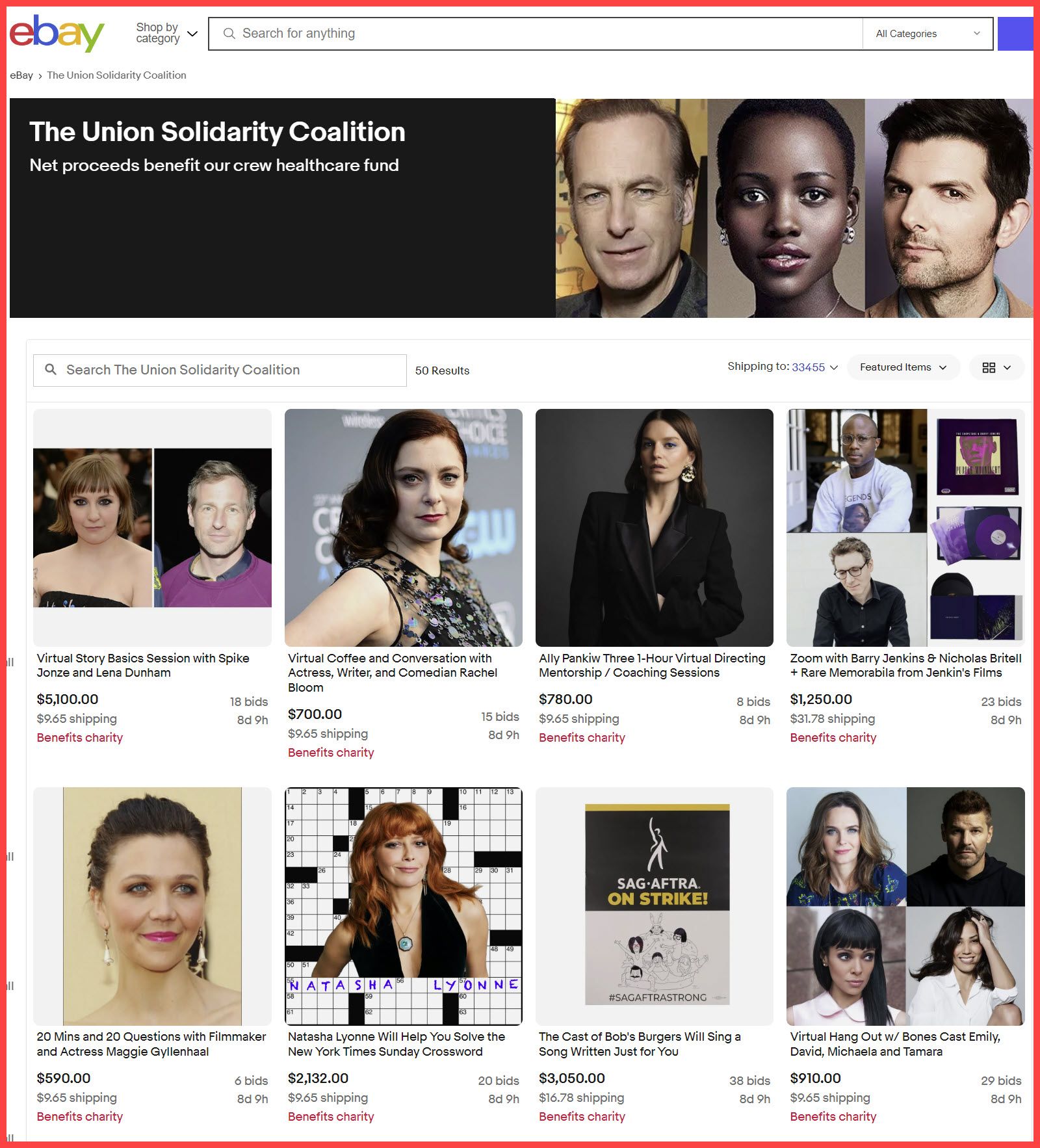 While it's understandable the organizers may not have been aware of eBay's own union issues and it may be too late for The Union Solidarity Coalition to back out, public messages of solidarity from SAG-AFTRA, WGA, IATSE, and the Teamsters would certainly be a wonderful gesture as TCGUnion-CWA continues working to bargain their first contract.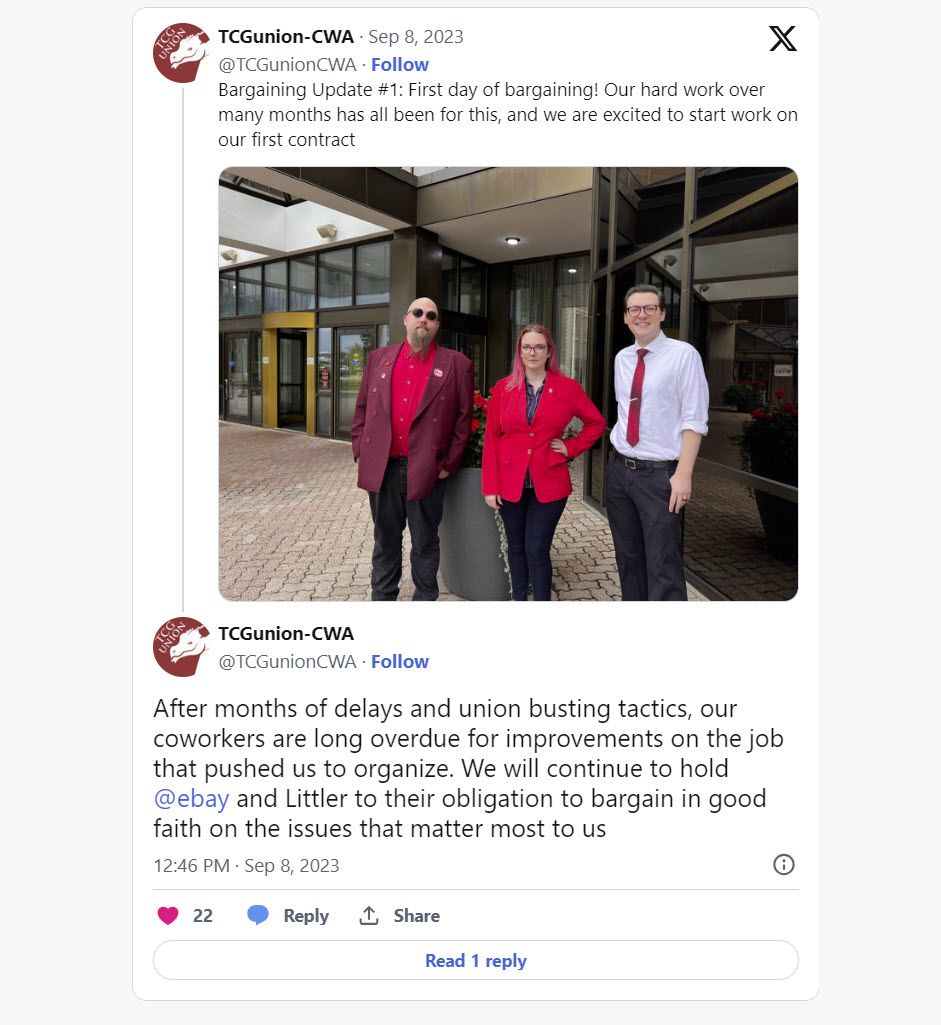 And since eBay has garnered so much free positive press from this event, it would seem that a public statement of their own recognizing this historic first US union, restoring the previous Human Rights Policy language acknowledging workers' rights to organize, and committing to engage with TCGUnion-CWA in good faith to negotiate a contract would be the least eBay should do as well.
---