eBay Holiday HEADSTART Sale Leaves Buyers In The Cold With Fake Strikethrough Discounts
Another week, another 20% off promotion driving sales for the focus vertical strategy while aiding and abetting sketchy business practices and fake strikethrough pricing discounts - it's the eBay way!
This week eBay is promoting 20% off select tech, home and garden, fashion, refurbished items and more with code HEADSTART to get the holiday shopping season started.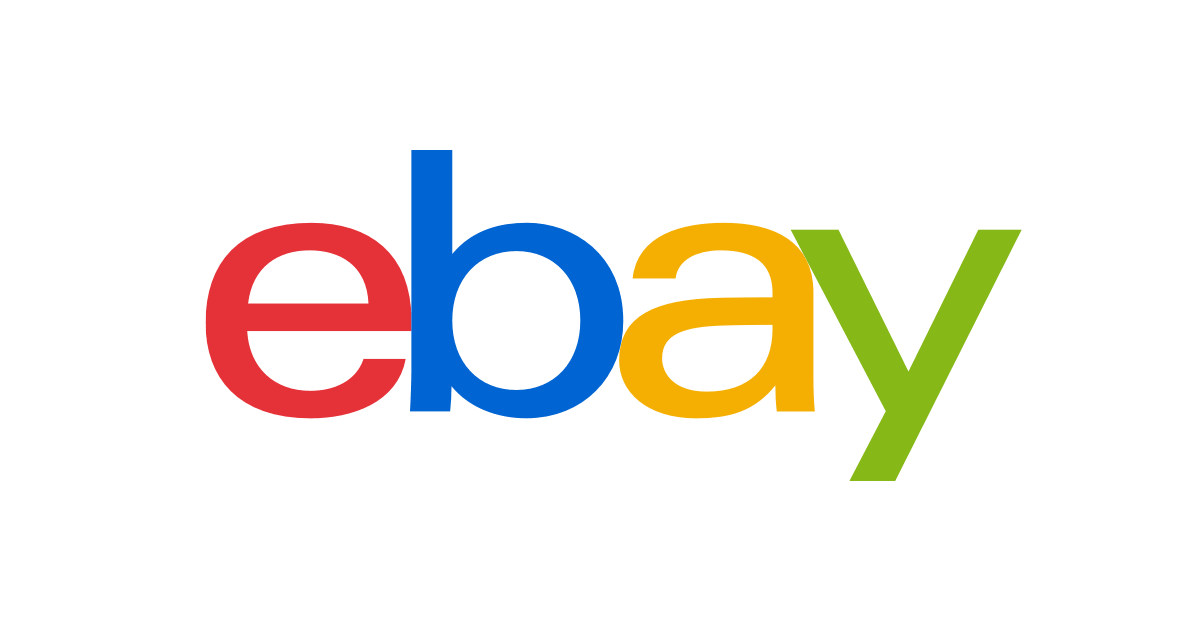 As usual, the terms and conditions come with a laundry list of "events" for qualifying items, indicating the discount is likely being funded at least in part by participating sellers.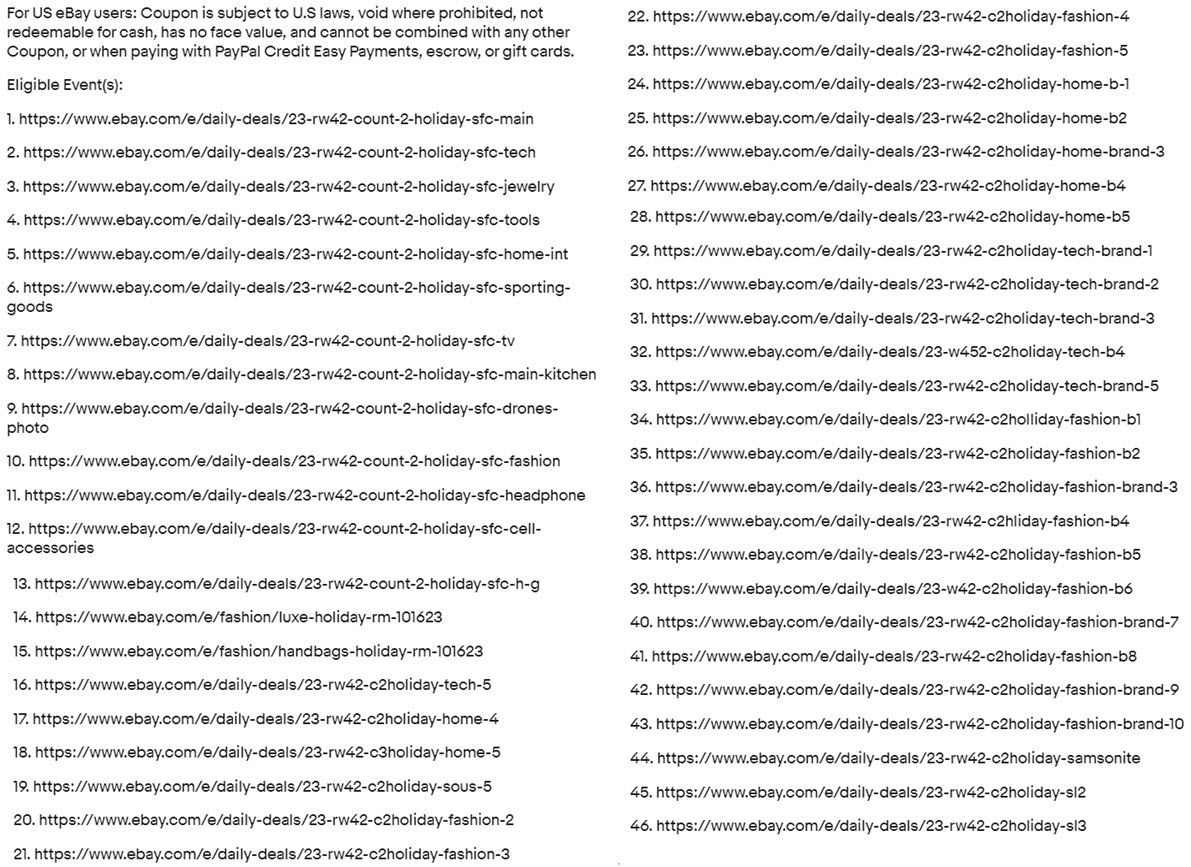 However many of these brands have special agreements with eBay to participate in Daily Deals and other promotional programs and with those deals, eBay will often subsidize part of the discounts being offered.
The terms of those deals are often protected with non-disclosure agreements, so it's difficult to say exactly where funding for these discounts is coming from.
Also as usual, fake strikethrough pricing to present the false appearance of deeper discounts is rampant, just like eBay's recent Labor Day Sale, last year's Black Friday sale, and many other sales in between.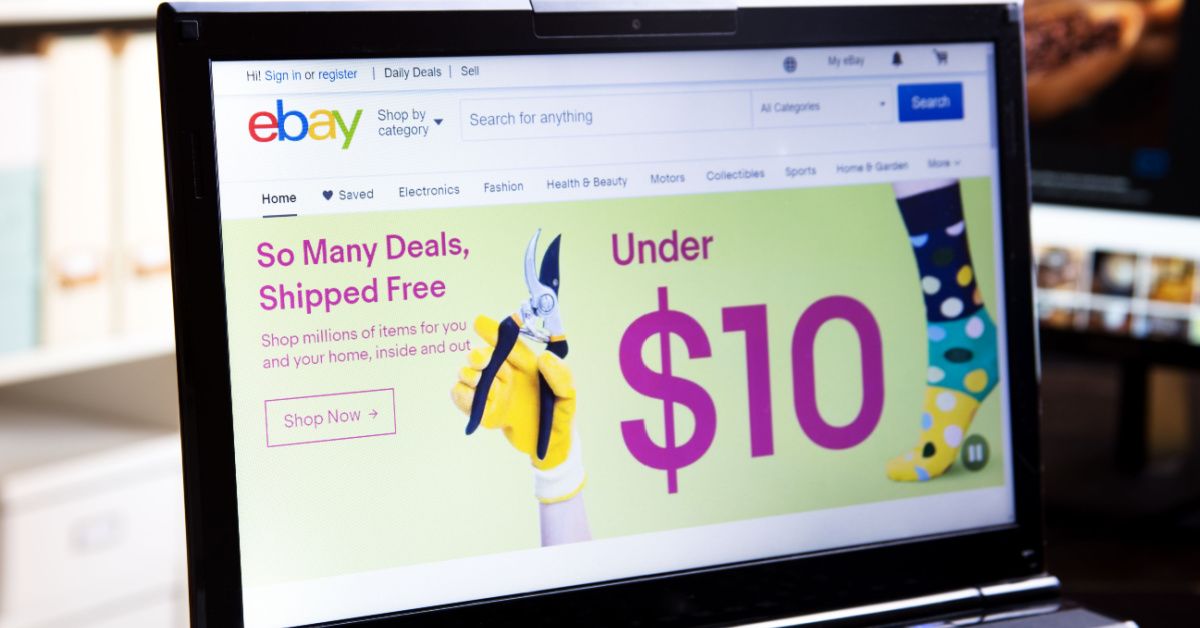 A few examples from this week's sale: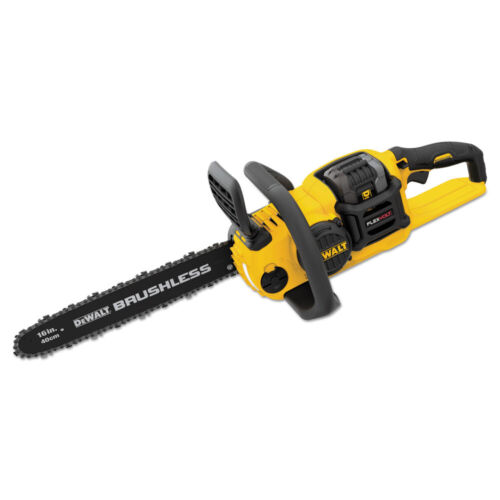 This Dewalt chainsaw is currently priced at $369.99, a supposed 14% ($60) savings off of the regular price of $429.99.
Add that HEADSTART 20% discount and the final price would be $295.99.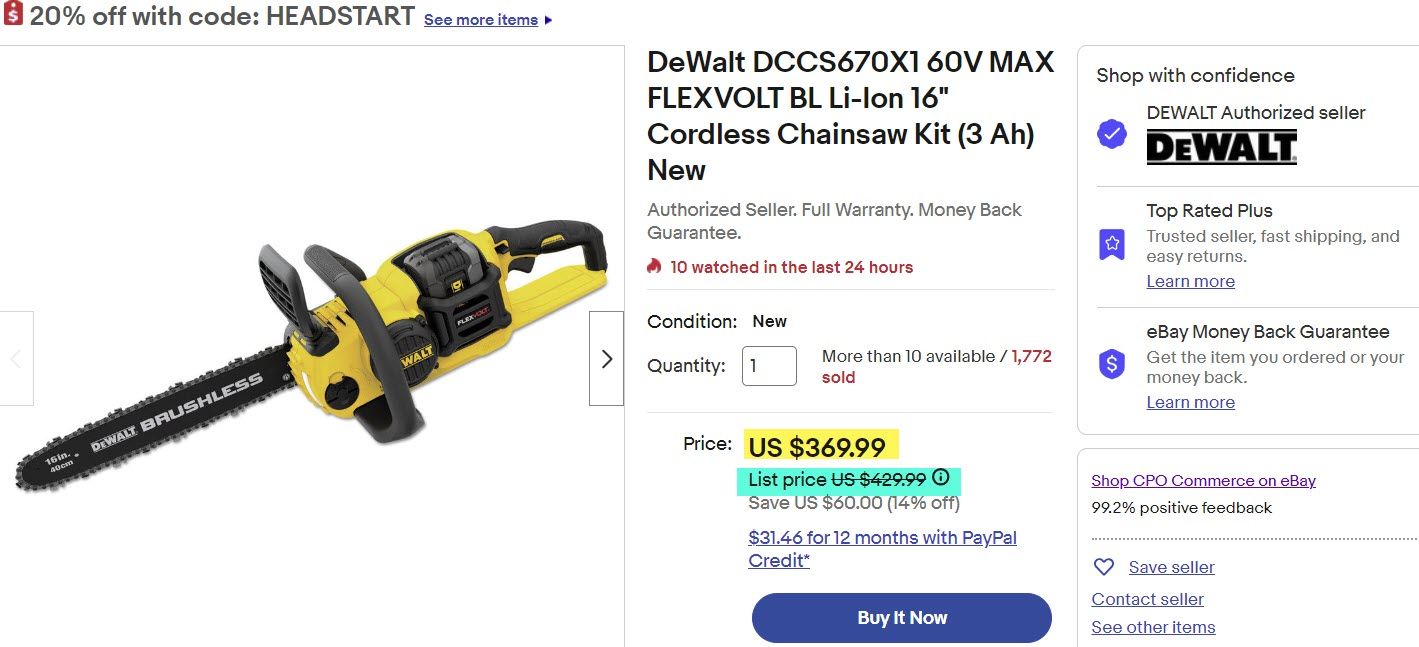 Let's see, $295.99...that's $26 more than you could have bought it for back in August, according to the sales history. What a bargain!
Not only has this item not been priced at $429.99 any time in the last 3 months, we can see that the seller, CPO Commerce, was selling it for $314.99 the day before this sale started, then raised the price to $369.99 before the discount was offered.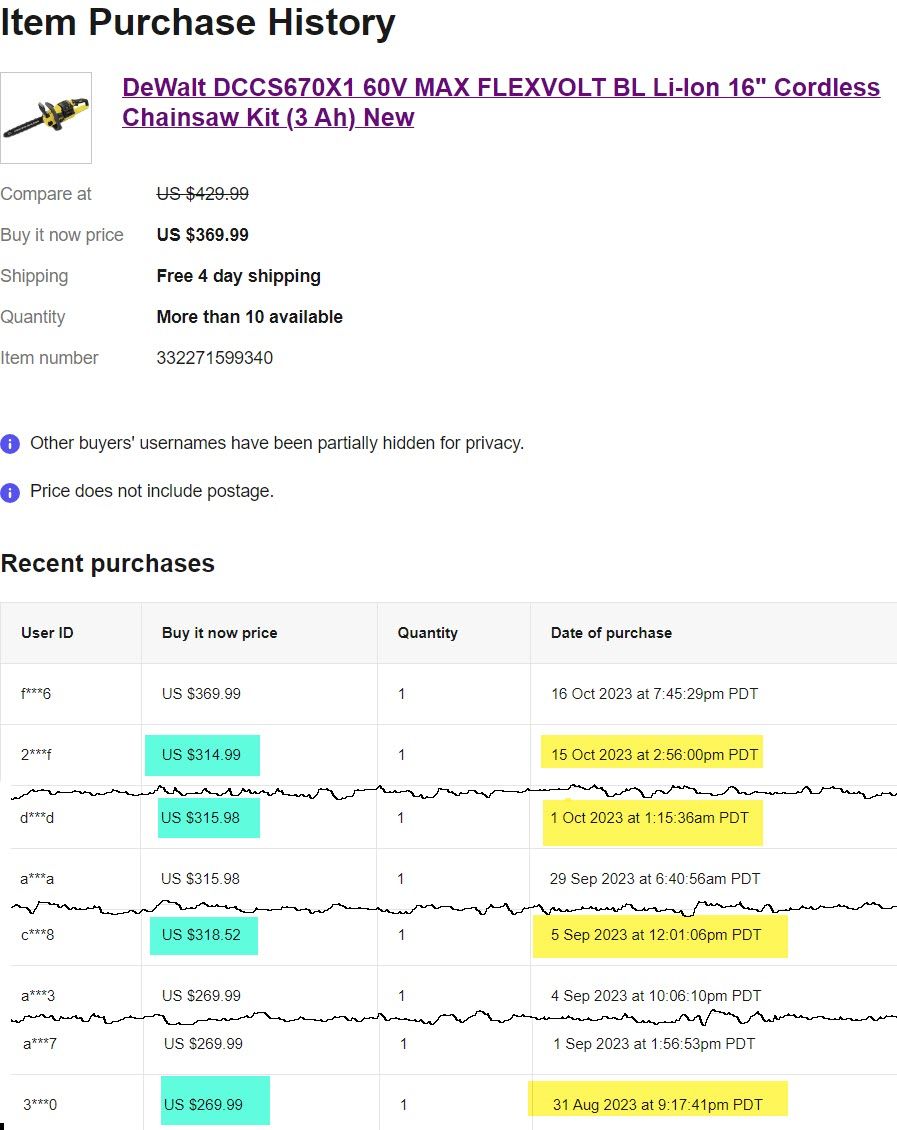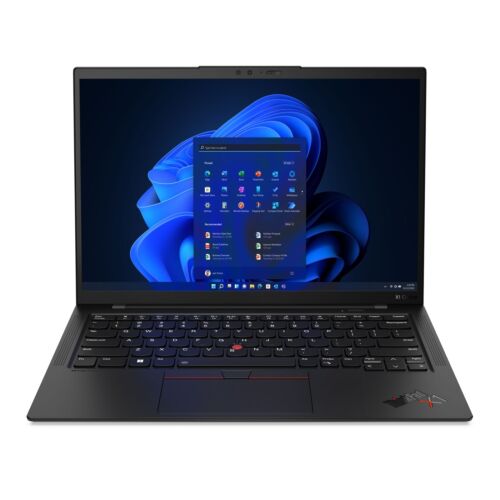 This Lenovo ThinkPad appears to be a steal at $1,659.50, 50% off the list price of $3,319.00. Take that extra 20% off and your final price would be $1,327.60.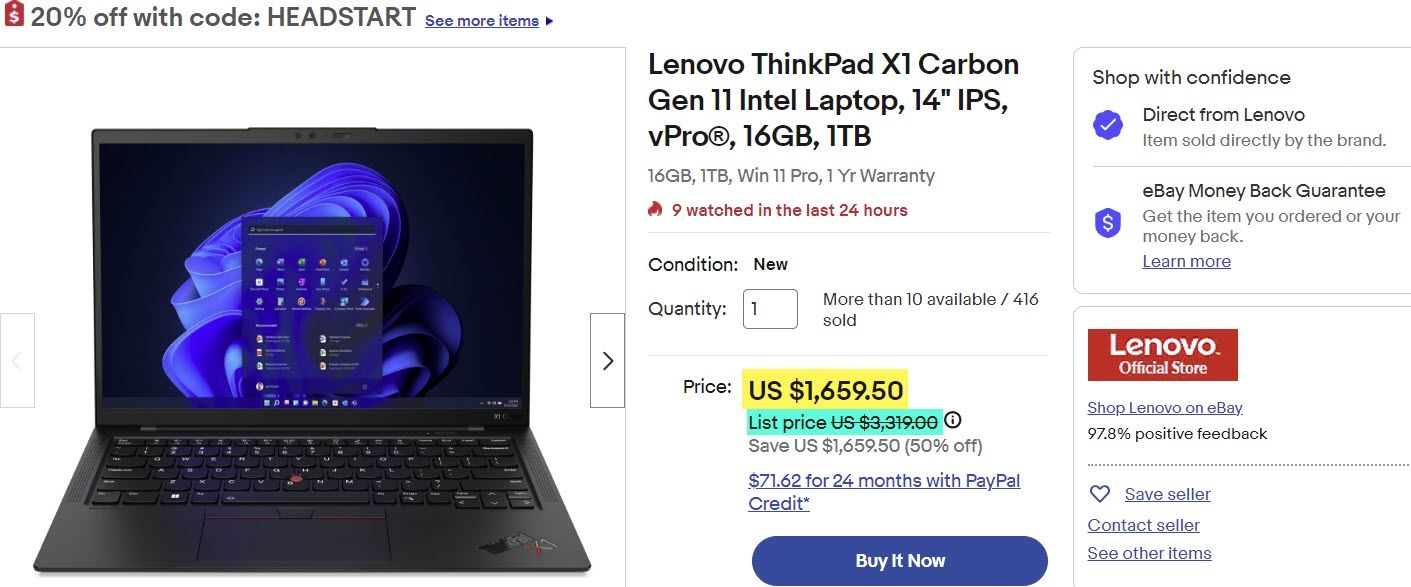 But again, the purchase history shows not only has it not been previously offered at that seemingly fictitious list price of $3,319.00, it was in fact available to purchase at a regular price without discount of $1,399.00 the day before this supposed "sale" started.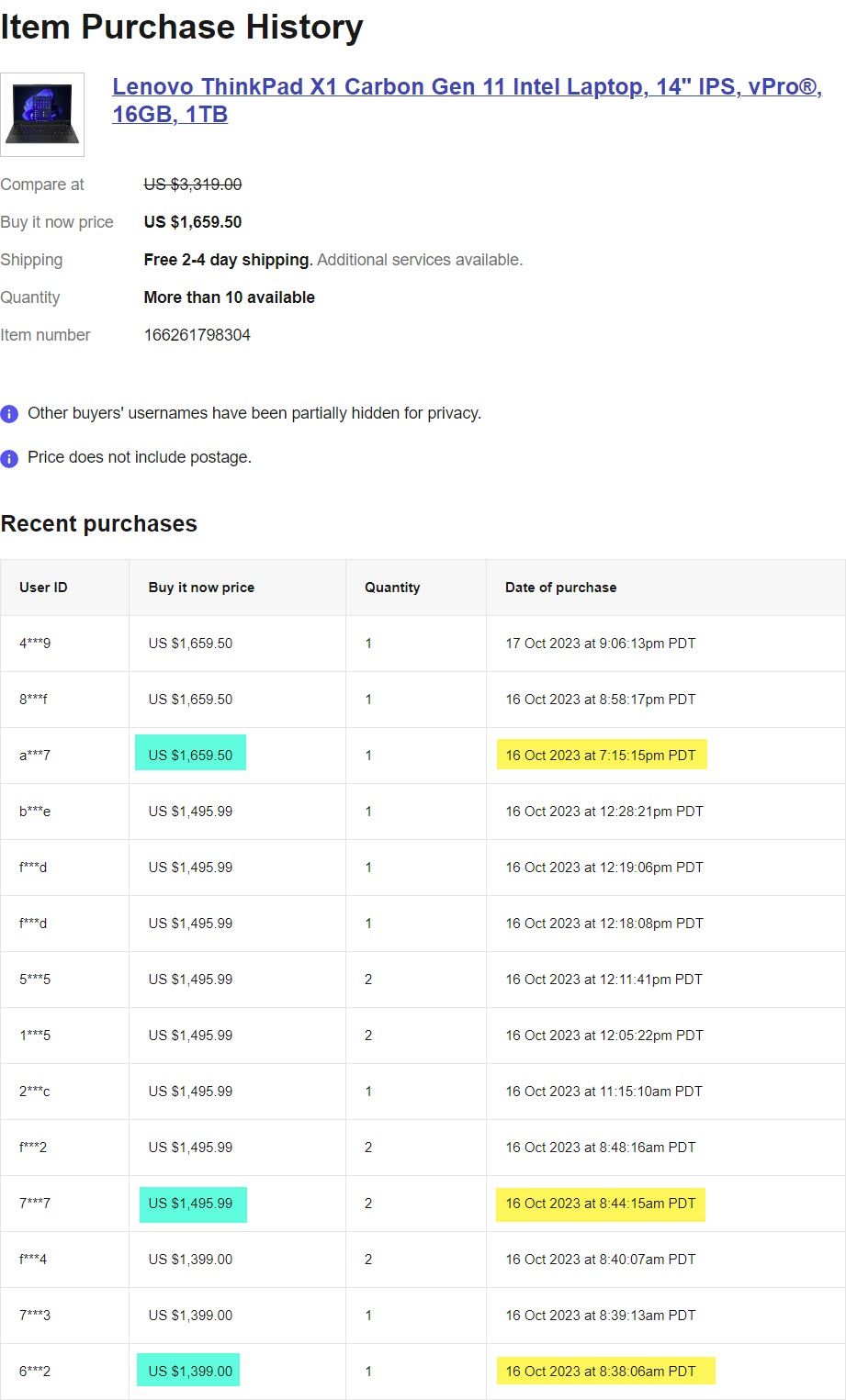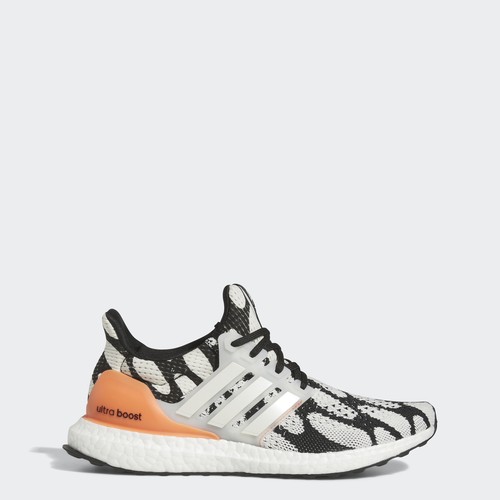 Adidas is also advertising these shoes at a 50% discount from list price, saying they previously sold for $210 but are now only $105.
Add the 20% HEADSTART discount and the total would be $84.00 - the exact same price the sales history shows they were selling for without a coupon just hours before this sham of a "sale" started.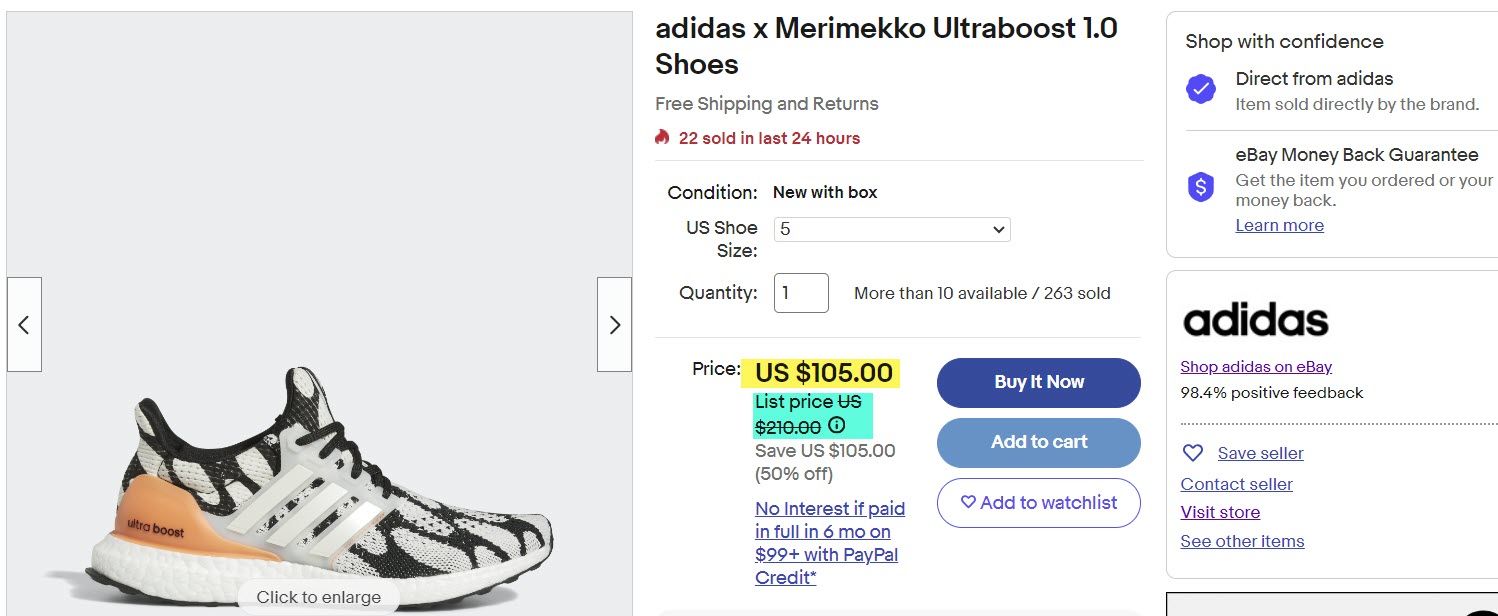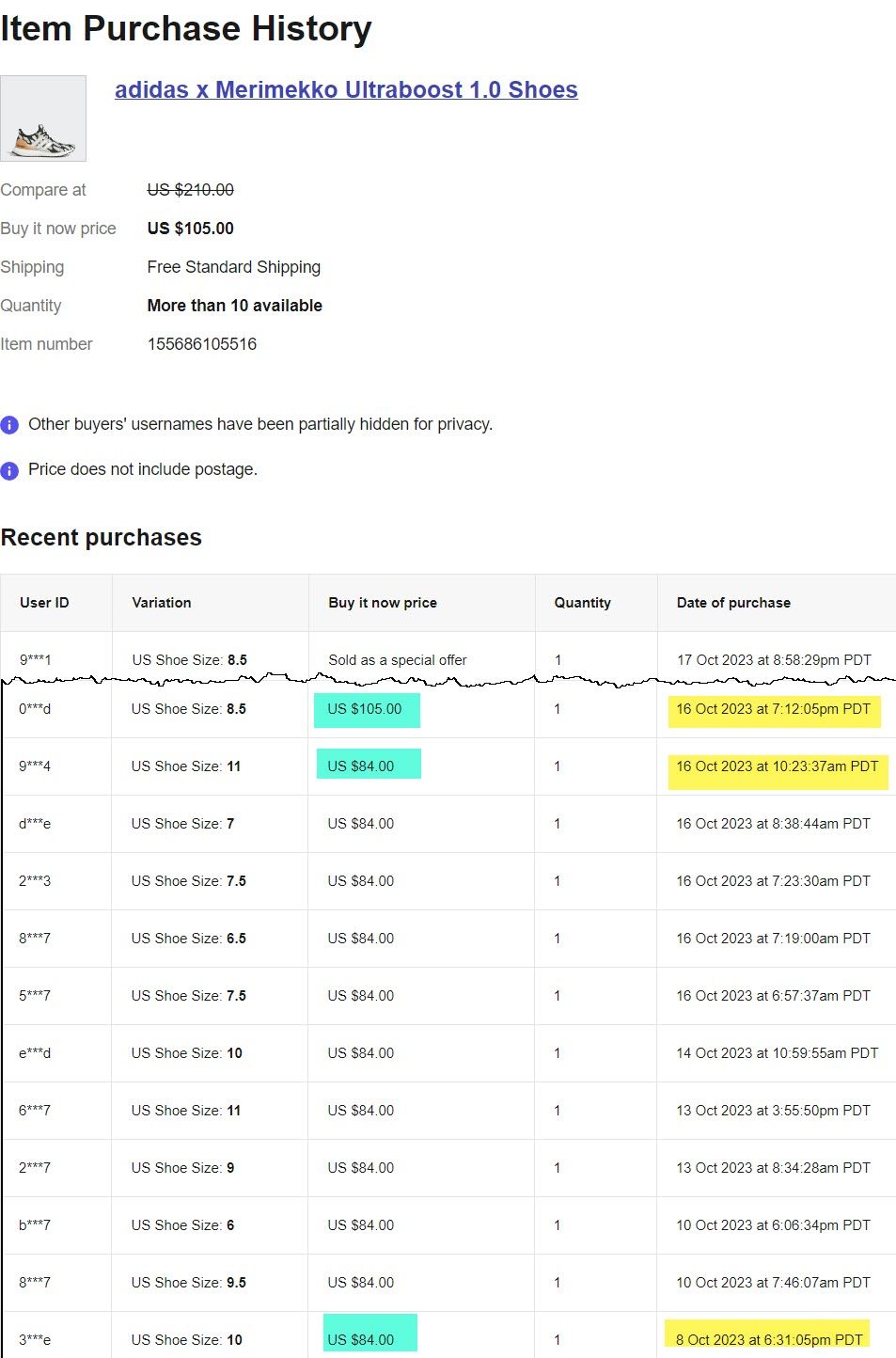 This strikethrough price manipulation is nothing new on eBay of course - it is absolutely rampant on the platform and eBay willingly turns a blind eye.
In fact, rather than taking action to combat these consumer harming business practices, eBay has actually made a concerted, intentional effort to mask and enable them by removing the link to sold history from the View Item page, making it harder to determine if the "deals" actually represent legitimate savings.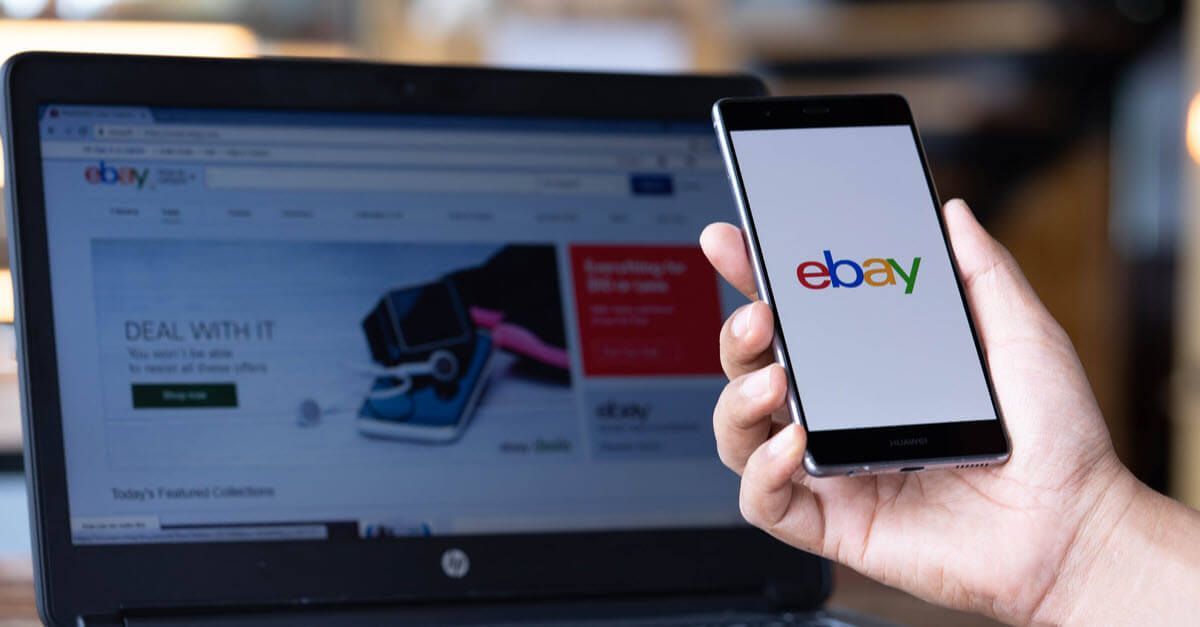 eBay no longer links to the sales history directly, but it can still be found with a bit of a workaround - for now.
If you use the URL https://www.ebay.com/bin/purchaseHistory?item=xxxxx and replace the xs with the specific item number of the listing you want to view, you can still access the sold history, but you have to be logged in to an eBay account to see it.
You can find the item number in the URL of the listing page or in the description - for example to see the history for this time, you would go to: https://www.ebay.com/bin/purchaseHistory?item=314351593739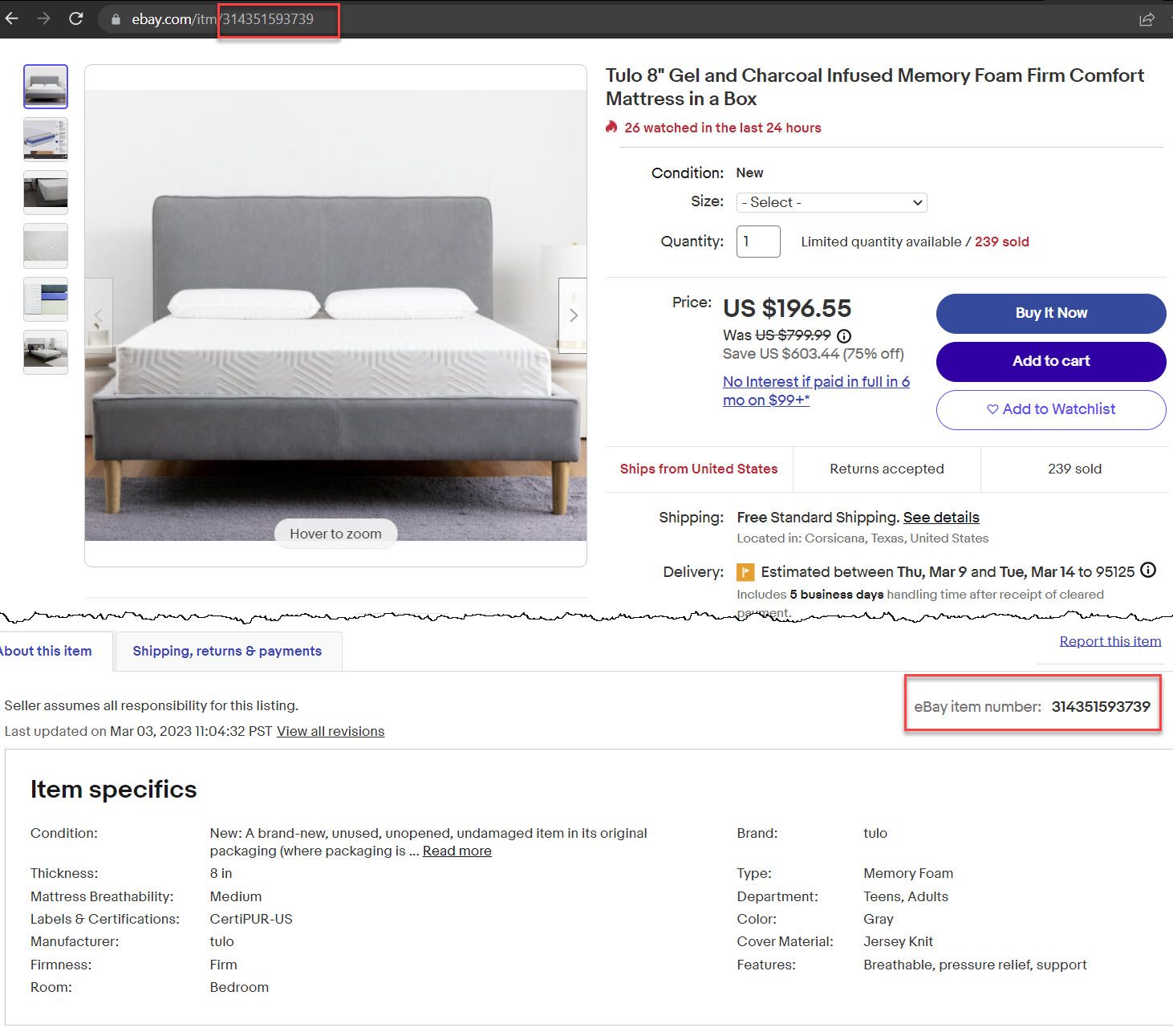 eBay's corporate Business Ethics policy has a whole section on "avoiding conflicts of interest" and "acting with integrity" that would seem to apply here, not to mention the section about advertising honestly and not making false or misleading claims.
Marketing and advertising honestly
Every claim in our advertisements and marketing materials must be accurate, objective and verifiable.



This means that we must research and document our claims prior to publication. Laws governing comparative advertising, including pricing, vary from country to country, so it's important to obtain guidance from Legal when making such claims to ensure that we comply with applicable laws.



Making false or misleading claims contradicts Our Beliefs. Legal can provide guidance if you are unsure whether something is false or misleading.
Their Code of Business Conduct and Ethics for Third Parties also makes it clear they expect companies with which they do business or have agreements to follow ethical guidelines as well.
Fair Business, Advertising, and Competition
Third Parties will comply with all applicable fair business, advertising, and competition laws, including fair trading and anti-trust laws.
Perhaps newly hired Chief Risk & Compliance Officer, Ryan Jones, should look into the longstanding serious conflicts of interest and unethical behavior by both eBay and the brands that continue to flout the FTC's very clear guidance that shows misleading strikethrough pricing is considered a deceptive business practice.
Brand lawyer Rob Freund also has several great threads on Twitter about the subject, referencing a recent Udemy settlement involving advertising fake discounts.
And Amazon is facing a class action lawsuit and possible FTC action for allegedly using fake strikethrough pricing to present false Prime Exclusive discounts too.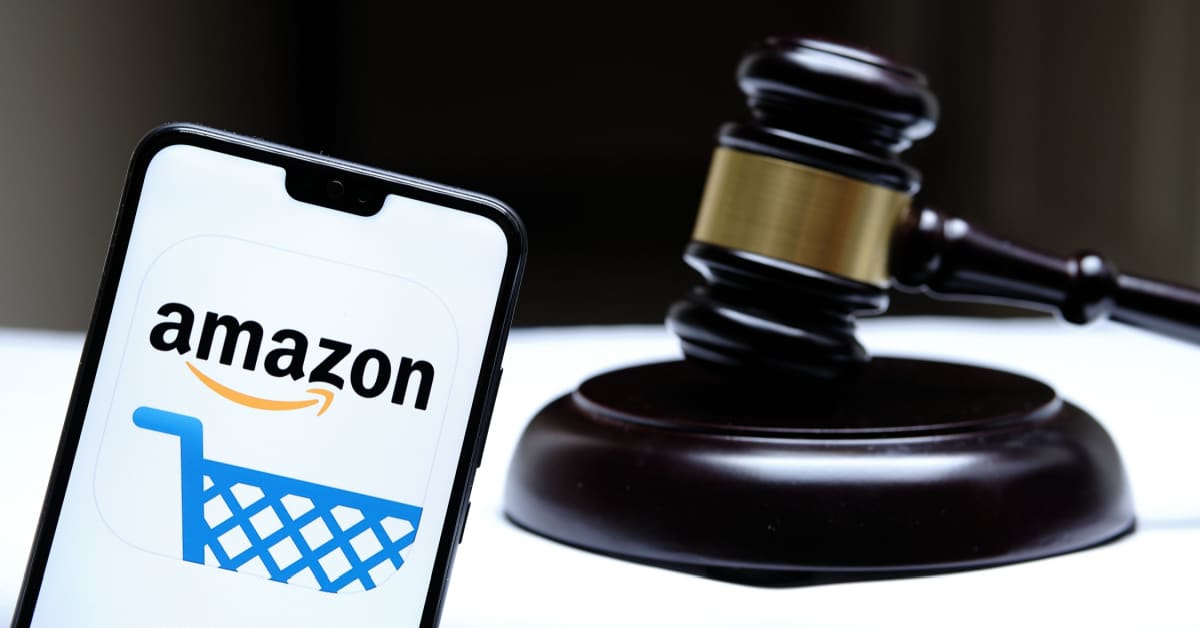 Strangely, eBay has not faced similar scrutiny from the FTC yet, which is unfortunate because it appears the only thing that will stop this practice is regulatory enforcement, like in Australia where eBay was forced to introduce a comparative pricing policy to curb these misleading strikethrough pricing claims.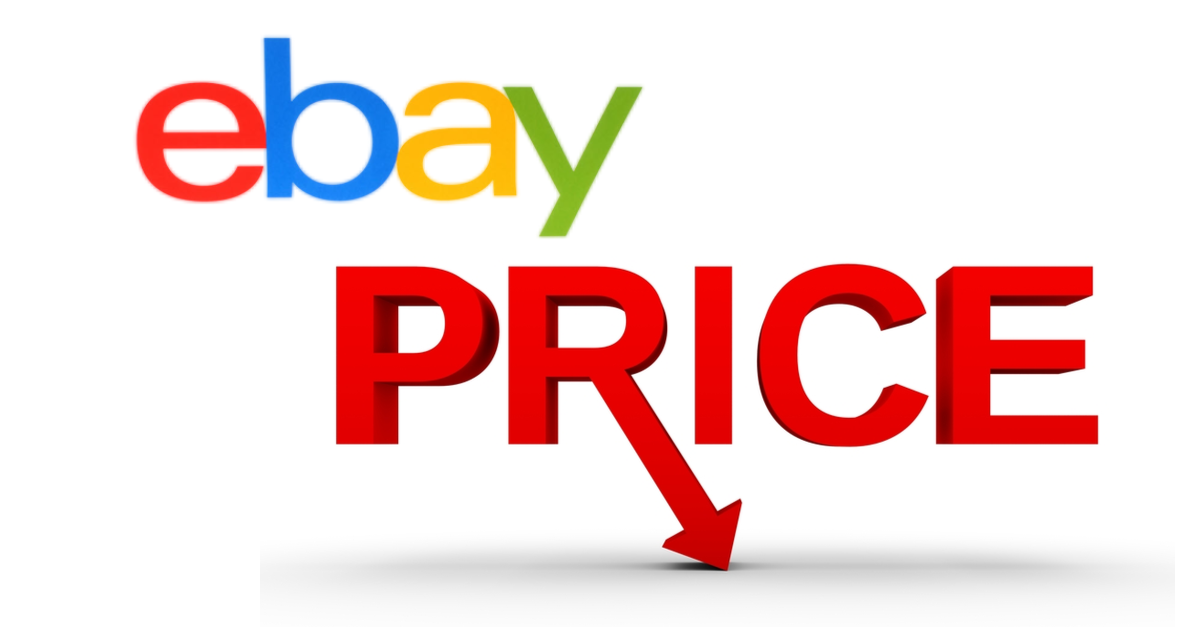 The policy applies to listings on eBay.com.au and covers all types of comparative pricing that a seller uses to establish the value of the discount to the buyer. This includes, but is not limited to, where a seller refers to:

The recommended retail price (RRP) of an item to demonstrate a discounted current price; or
Its own historical or previous pricing on or off eBay compared to the current price charged (including by using 'was/now' pricing or 'strike-through' pricing, or by specifying a particular dollar amount or percentage saving).



This policy also applies in circumstances where a seller provides eBay with the above information for the purposes of eBay displaying a discount on their item.



What's comparative pricing?
Comparative pricing refers to when a seller includes a recommended retail price or historical price for an item, and then makes a comparison to the current selling price. It can help a seller establish the value of the discount to buyers.



How do I prove a previous selling price?
Sellers should hold evidence (for example, receipts or detailed sales records) demonstrating that:

The items were sold at the previous selling price; and
The previous selling price was offered for a reasonable period of time immediately prior to the product being advertised with comparative pricing using a previous selling price. What is a reasonable period of time may vary depending on the product and the frequency of price changes.



Other important notes:
To ensure that any comparative pricing representations are not false or misleading to consumers (or otherwise in contravention of the Australian Consumer Law), the seller further confirms the following:



In relation to the use of RRP:

The referenced pricing will be accurate and current throughout the entire duration of the listing;
RRP will only be used in cases where the product has been previously offered and sold at that RRP for a reasonable period of time; and
RRP will not be used for products that are only supplied by the seller;



In relation to the use of a previous selling price (including 'was/now' pricing, 'strike-through' pricing or by specifying a particular dollar amount or percentage saving):

The item has been offered by the seller at the 'was' price for a reasonable period of time immediately prior to the item being advertised with 'was/now' pricing;
The item price has not increased on eBay.com.au from the date that is 10 days prior to advertising a discount on the listing (such as when creating a promotion in Seller Hub or participating in eBay promotions), although you may lower the prices at your discretion;
Comparisons will not be made with prices last offered more than 6 months ago (or if they are, the seller will highlight this clearly within the listing)
Consequences for violating the eBay Australia Comparative Pricing policy can be stiff:
eBay may, in appropriate circumstances and in accordance with the terms of the User Agreement, suspend or terminate a seller's account, or impose other consequences (such as removal of eBay Top Rated seller status at an account level) if you fail to provide substantiation, or if eBay or a regulatory body determines that the comparative price is false or otherwise misleading or deceptive.
It's clear that eBay absolutely can set policies and take action to make sure sellers are not manipulating strike through pricing and misleading buyers, but they simply choose not to do so unless their hands are forced by outside scrutiny or regulation.
Unfortunately eBay has shown time and time again that consumers cannot rely on them to simply do the right thing.
As long as eBay and these brands are allowed to get away with it, consumers will continue to be harmed by these deceptive discount promotions.
It's time for the FTC to get serious about protecting consumers from misleading discount offers and holding marketplaces accountable for the false advertising they allow to proliferate on their platforms.
If you see fake discounts being presented on eBay or anywhere else, here's how you can report it:
---