eBay Flouts Consumer Safety With Paqui One Chip Challenge Inaction
UPDATE 9-17-23
Sales on Paqui One Chip Challenge on eBay have slowed but definitely still not stopped as new active listings continue to pop up and over $60,000 worth of sales have been made since the product was recalled from stores on 9-7-23.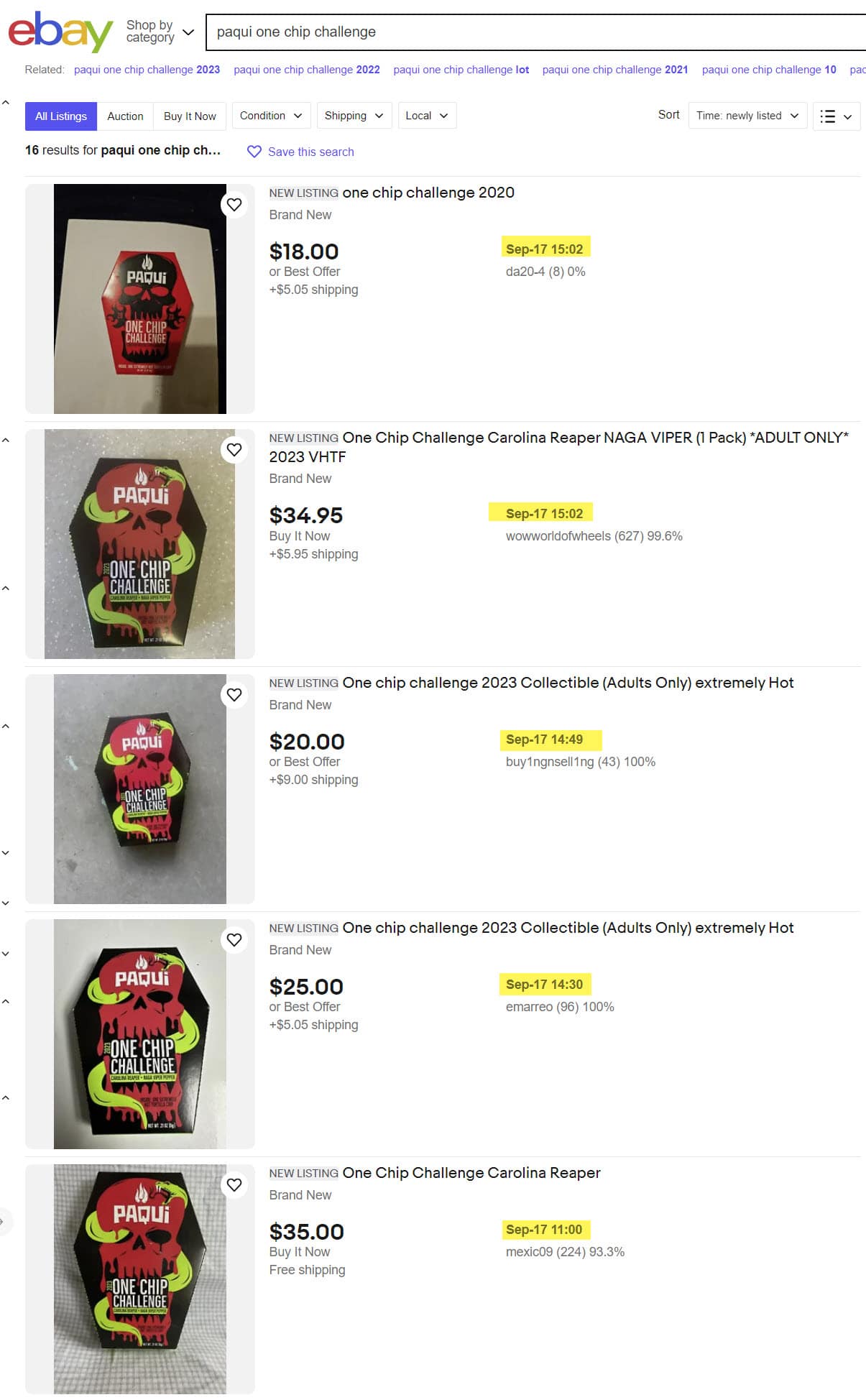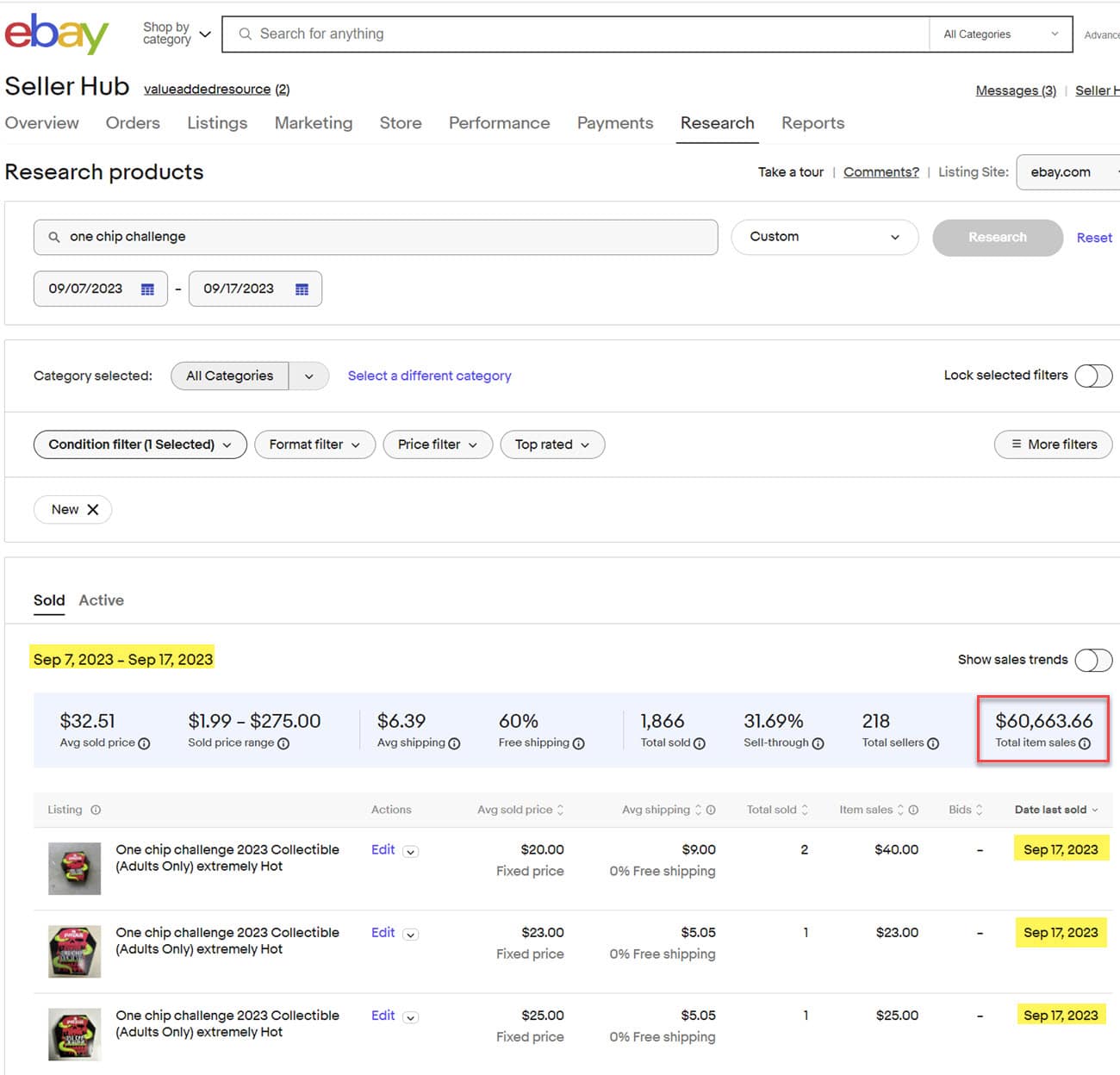 ---
UPDATE 9-12-23
Paqui One Chip Challenge continues on eBay with over $57,000 worth sold since being recalled on 9-7-23 due to safety concerns.
Note: ~1700 units is low as many are cases of 10. Real number likely 5,000+ units based on eBay's own Terapeak research tool.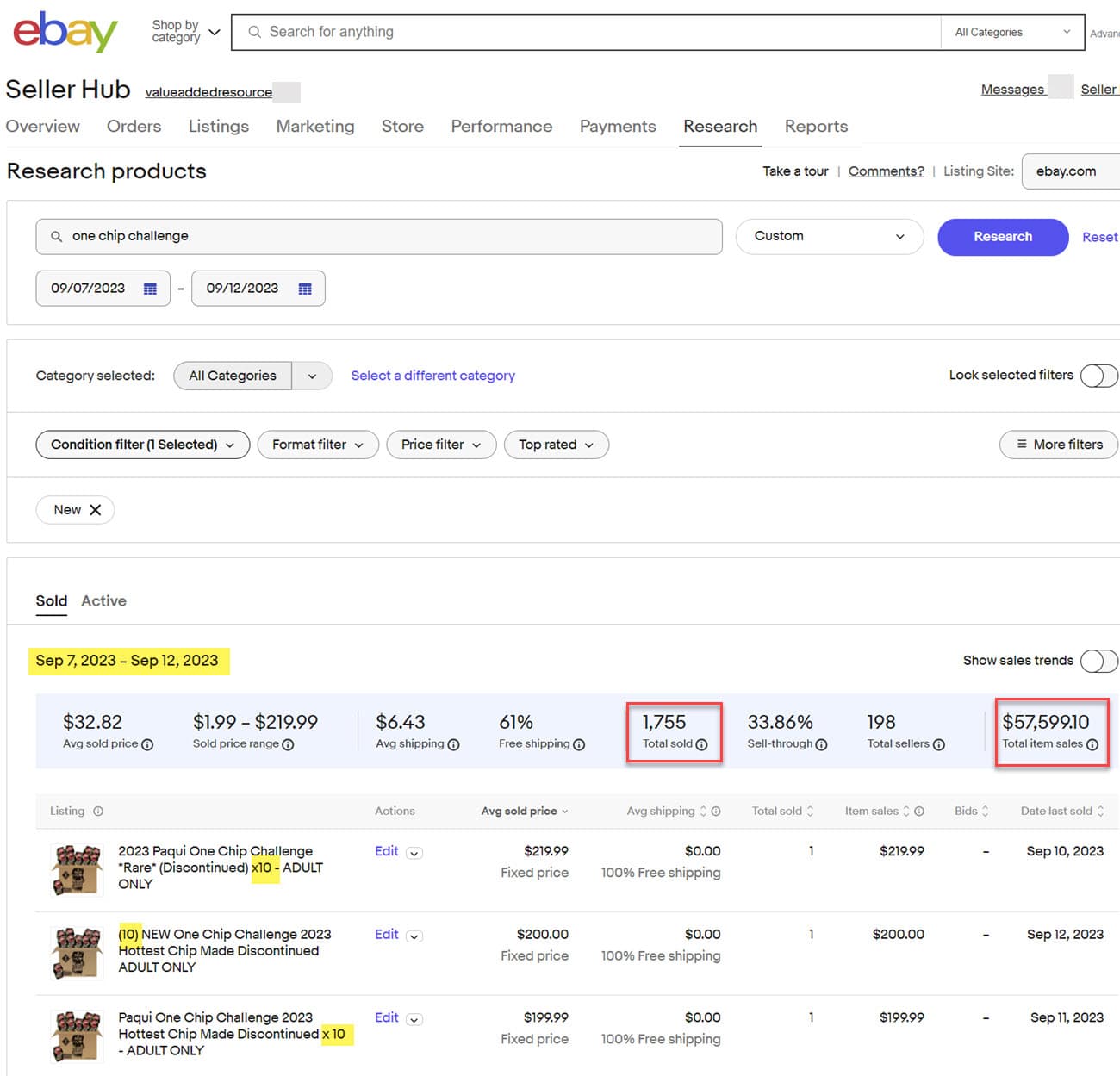 ---
UPDATE 9-11-23
eBay has told the Associated Press they have "blocked sales" of the Paqui One Chip Challenge, but active listings can still be found on the site and tens of thousands of dollars in sales are still flowing.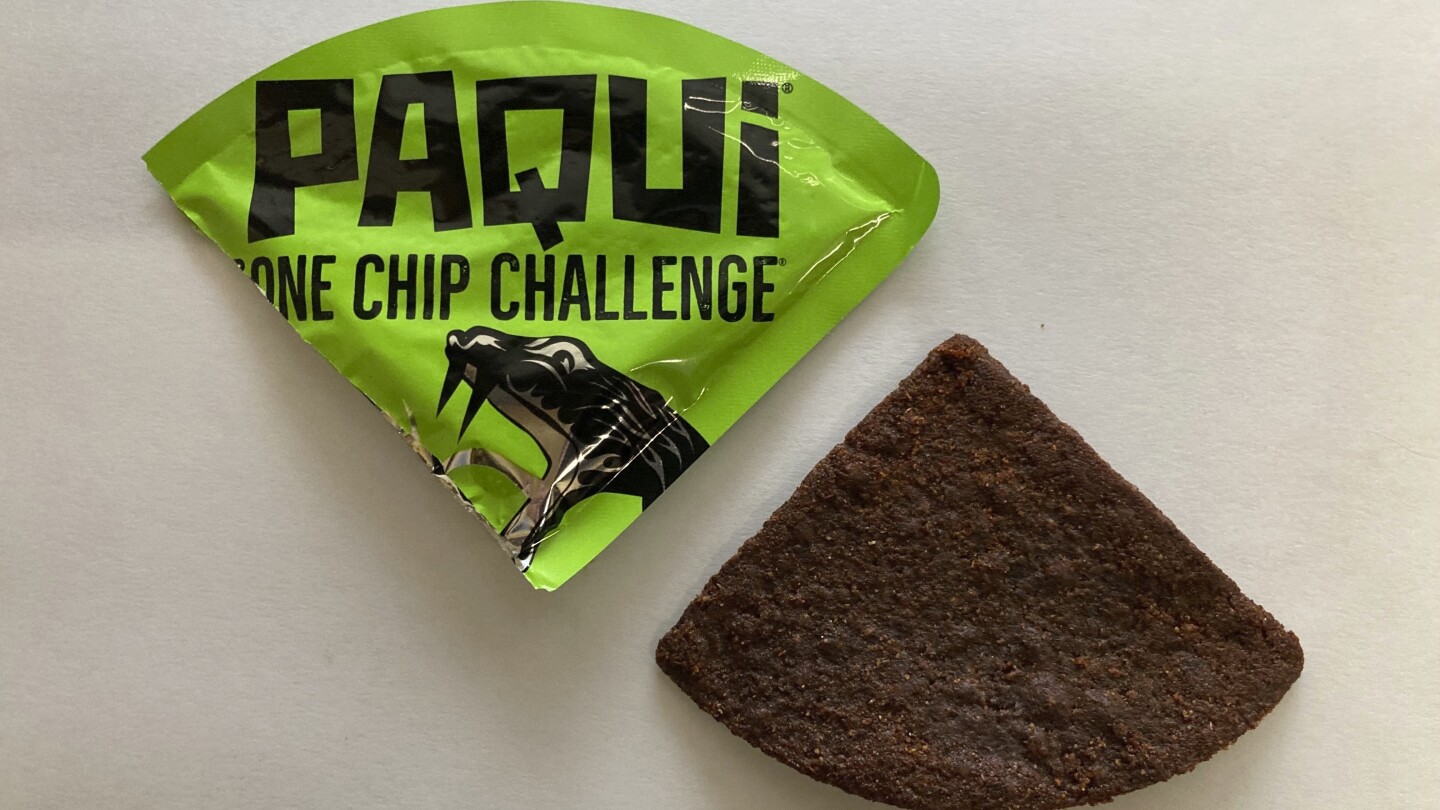 Although the chip could still be bought in some stores as of Thursday, by Friday it had disappeared from the shelves of major retailers, including 7-Eleven and Walgreens.



Amazon halted sales and was notifying customers who bought the product recently that Paqui was removing it. And eBay said it was blocking One Chip Challenge listings.
Current newly listed items actively for sale on eBay:
And eBay's own Terapeak research tool shows over $48,000 in sales since Paqui pulled the product from shelves on September 7, with some listings selling over 100 units.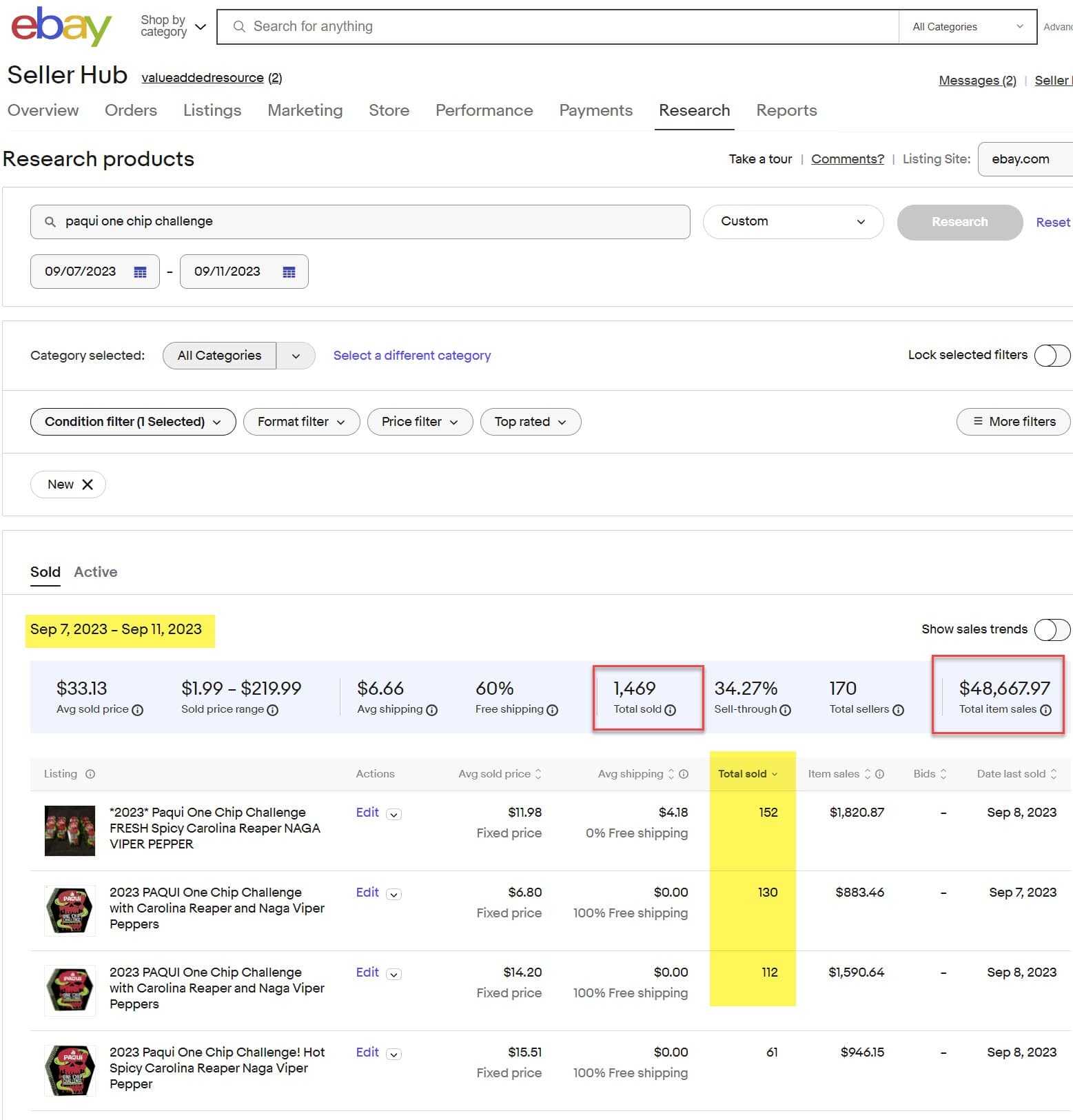 How can eBay continue to say they are blocking these listings with a straight face and when will they be held accountable for clearly putting ad revenue and sales commissions ahead of consumer safety?
---
UPDATE 9-10-23
Paqui pulled One Chip Challenge from shelves on September 7, 2023.
Since then, ~$45,000 worth have sold on eBay despite claims the platform has consumer safety as a top priority, sales were being stopped, and the site is being actively monitored to prevent listings.
---
UPDATE 9-9-23
eBay continues to allow new listings and sales of the Paqui One Chip Challenge product that has been removed from retail shelves due to safety concerns.
Sorting search by "time: newly listed" shows the ongoing problem that eBay is not proactively taking action to stop.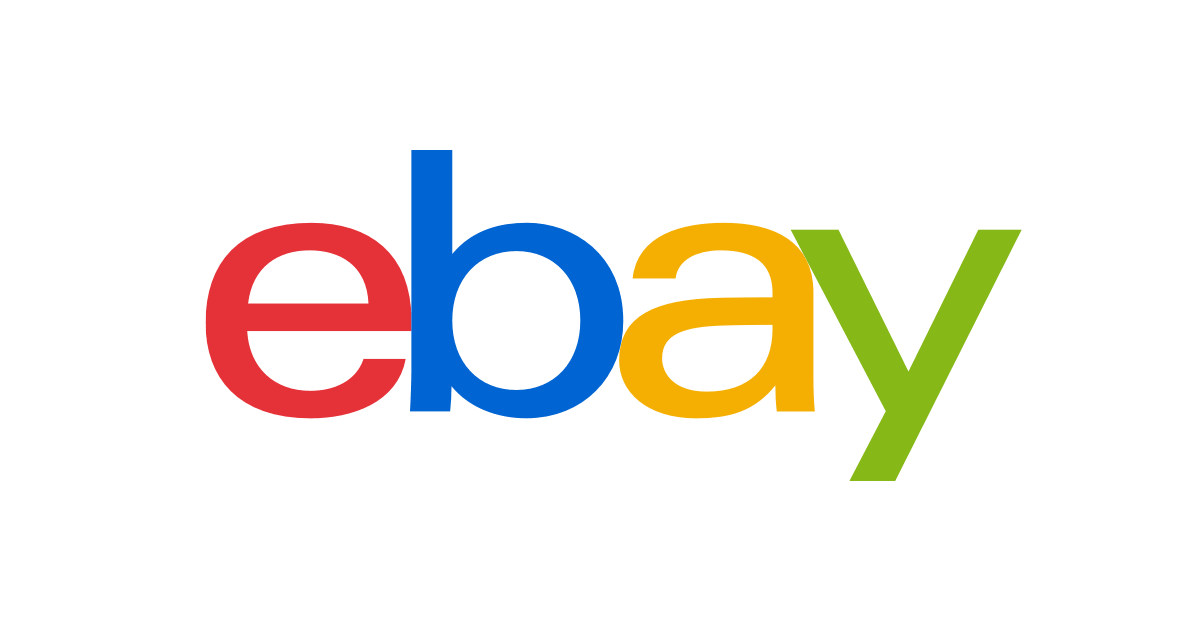 eBay's own Terapeak research tool shows over $42,000 in sales and multiple listings selling over 100 units just since September 1, 2023.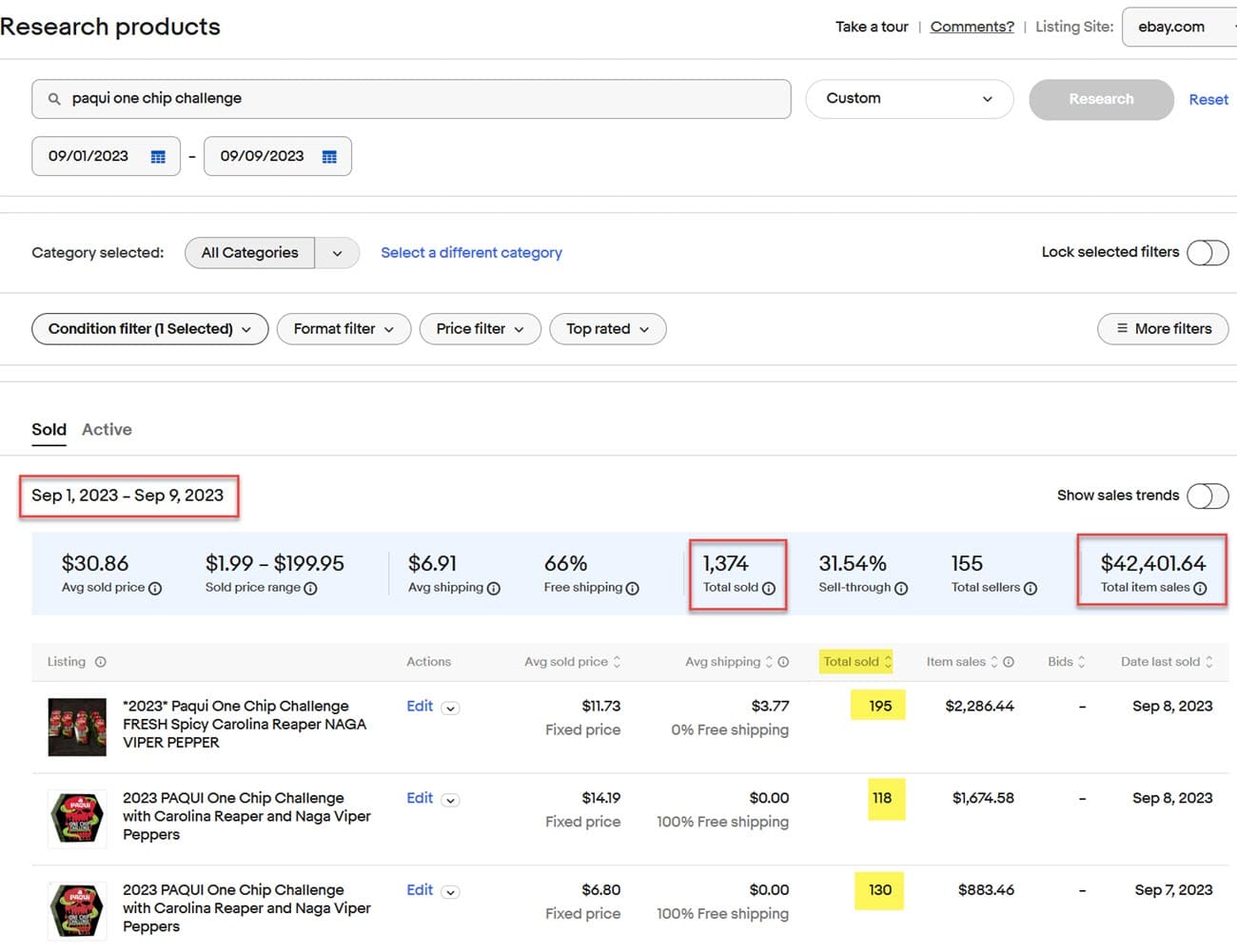 More than half of that (~$26,000) has been sold just since yesterday! So much for monitoring the site closely and removing any other listings if they arise.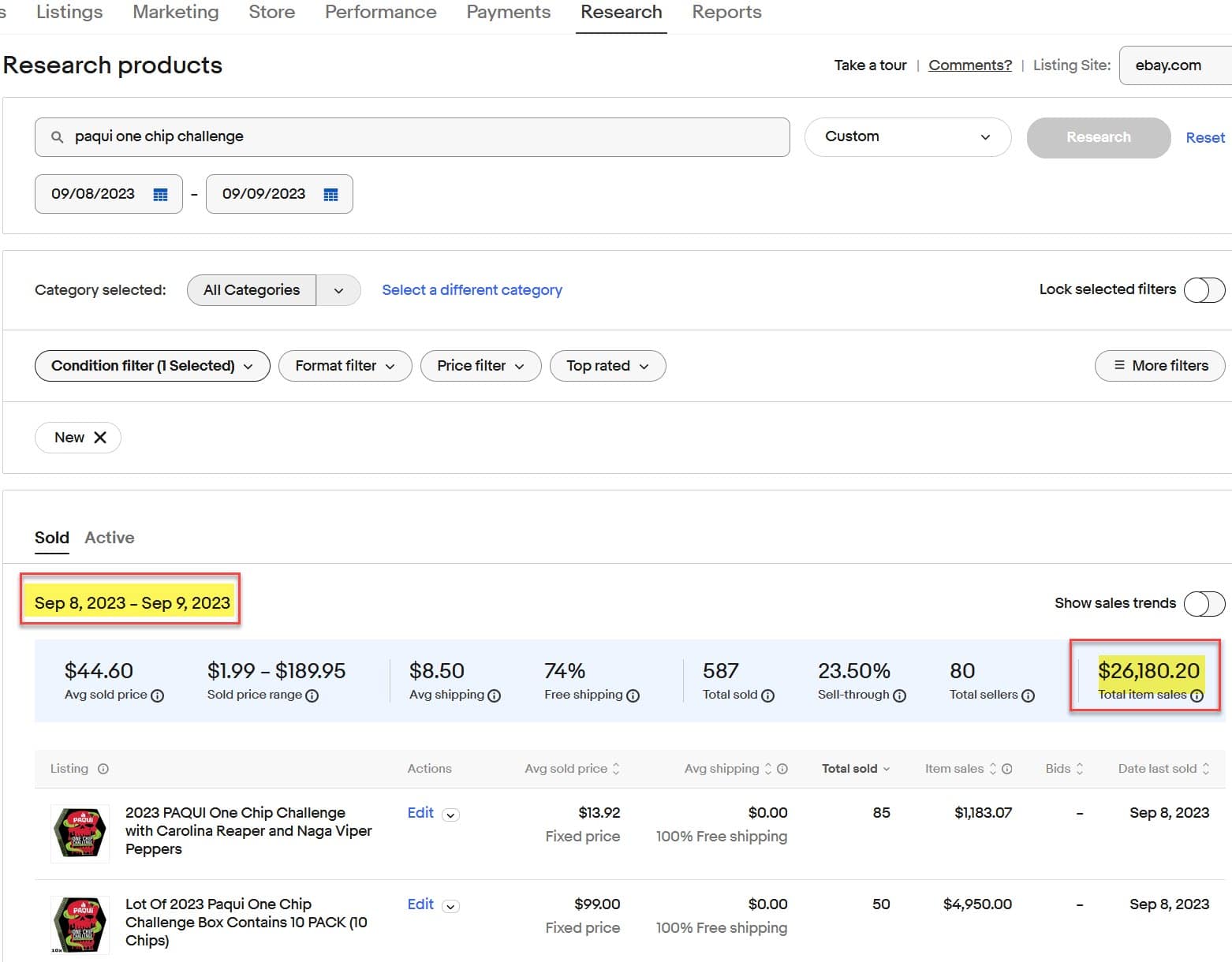 ---
A super spicy snack food has been taken off the market due to concerns it may have led to at least one death, but despite eBay's claims that consumer safety is a "top priority", the product can still be found listed by many sellers on the site.
Parents of a Massachusetts teen who died hours after taking part in the "One Chip Challenge" have called for the product to be banned and the makers of the product, Paqui, have since removed it from their website and recalled it from retailers.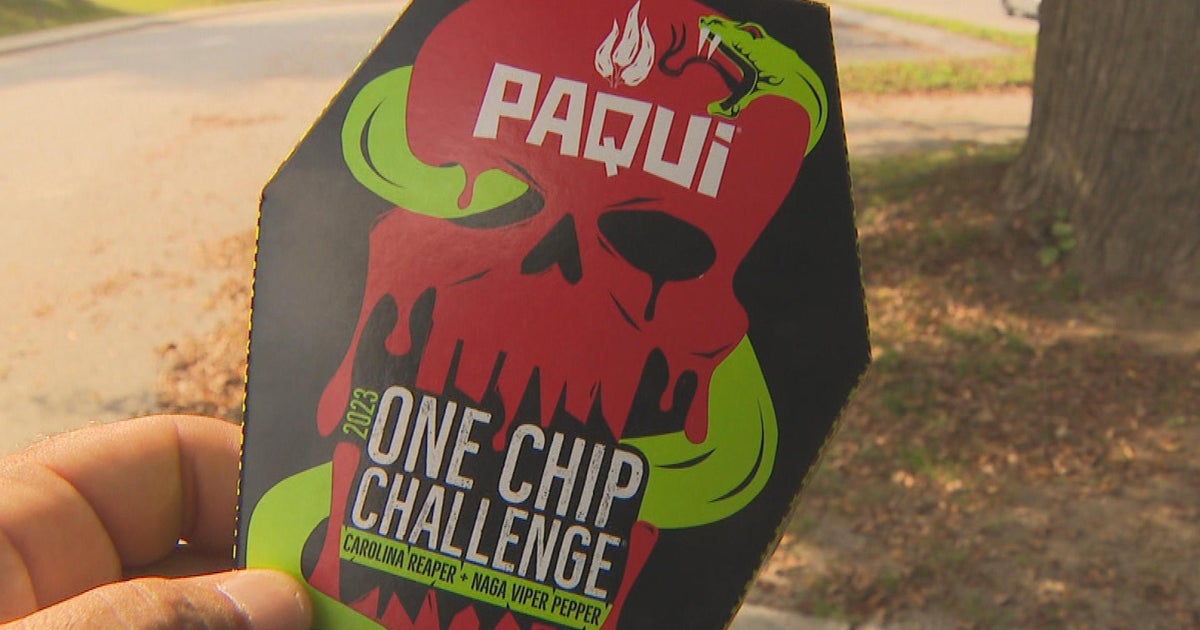 WORCESTER - A Worcester family says 14-year-old Harris Wolobah died hours after taking part in the "One Chip Challenge."



The Wolobah family has been so devastated, they haven't been able to talk about it publicly, until now. They desperately want to get a warning out about a spicy tortilla chip they say he ate hours before he died last week...



...She said she picked him up from Doherty High School in Worcester Friday after a call from the nurse's office saying he had fainted after eating the chip a friend gave him. "When I went there, he was laying down and I said, 'what was the chip you ate?' And this is what he showed me," said his mother, holding up her phone with an image of the Paqui brand 2023 One Chip Challenge.



It comes in a box with a single wrapped chip, labeled "Carolina Reaper" and "Naga Viper Pepper." His mother says he later passed out again at home, went to the emergency room, and died.



"No pre-existing condition," said his father, Amos Wolobah. "Not to my knowledge."



The family is waiting for a cause of death from the Massachusetts Medical Examiner's Office pending an autopsy. A spokesperson told WBZ Wednesday they don't expect to have a finalized cause "for several weeks."



But the Wolobahs are convinced it was the chip that made their son sick. They say he was a healthy basketball player with no known allergies.
A school in Boynton Beach, Florida has also said 6 elementary school students needed medical attention after ingesting the product as well.
Hershey-owned Paqui has voluntarily removed the One Chip Challenge from stores and is offering refunds on the single serve package of the product.
THE PAQUI ONE CHIP CHALLENGE IS INTENDED FOR ADULTS ONLY, WITH CLEAR AND PROMINENT LABELING HIGHLIGHTING THE CHIP IS NOT FOR CHILDREN OR ANYONE SENSITIVE TO SPICY FOODS OR WHO HAS FOOD ALLERGIES, IS PREGNANT OR HAS UNDERLYING HEALTH CONDITIONS.



WE HAVE SEEN AN INCREASE IN TEENS AND OTHER INDIVIDUALS NOT HEEDING THESE WARNINGS.  AS A RESULT, WHILE THE PRODUCT CONTINUES TO ADHERE TO FOOD SAFETY STANDARDS, OUT OF AN ABUNDANCE OF CAUTION, WE ARE ACTIVELY WORKING WITH OUR RETAILERS TO REMOVE THE PRODUCT FROM SHELVES.



WE ARE ALSO OFFERING REFUNDS ON OUR SINGLE-SERVE ONE CHIP CHALLENGE PRODUCT.
---
Both Amazon and eBay told the BBC they are removing the product from their marketplaces as well - with a spokesperson from eBay proclaiming that safety is a "top priority", sales have been ended and the site is being actively monitored to remove listings.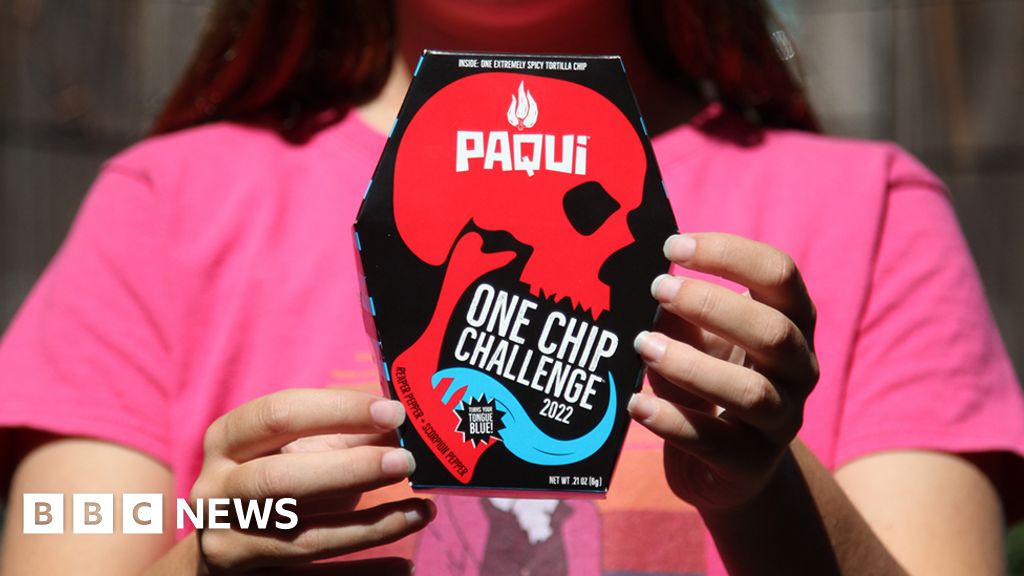 Amazon and eBay have removed a super-hot tortilla chip linked to the death of an American teenager from sale.



The parents of Harris Wolobah, 14, believe that the One Chip Challenge caused his death last week.



It was taken off shelves in the US, where it was widely sold, but imports from global sellers remained on-sale.



Amazon said it would remove the product from its sites in the US, Britain, Europe, the Middle East and Africa after BBC Newsbeat contacted the firm.



The online retailer also plans to contact any international buyers who'd recently bought the snack to inform them.



An eBay spokesperson said user safety was a "top priority" and it had removed sale listings.



"We are monitoring our site closely and will remove any other listings if they arise," they added.
However, despite those assurances, there are still many active listings for the product on eBay.
Not only is eBay profiting from final value fees every time one of these listings sells, they are also profiting in ad fees - specifically these top sponsored spots are likely Promoted Listings Advanced Cost Per Click ads (based on the placement), which means that eBay has a financial incentive to allow these listings to remain since they may be making money off of every click.

In addition to the apparent lack of care for consumer safety concerns, it would seem from sold item history that eBay isn't terribly interested in enforcing their own price gouging policies either.

---
During the height of the pandemic, eBay made a big public show out of removing prohibited items and stopping price gouging of essential products using automated algorithms and human manual review.
Excerpts from eBay's March 26, 2020 press release regarding steps taken to actively remove price gouging and prohibited items from the marketplace (emphasis mine).
Editor's note: We have a zero-tolerance policy on price gouging on our marketplace to ensure buyers are able to find essential items at reasonable prices. As of August 2021, eBay has removed or blocked 85+ million listings in violation of policies related to COVID, including price-gouging and false medical claims.
...This week, we expanded the restricted items list to include toilet paper, baby formula and baby wipes, tampons and diapers, which will only be permitted for sale by business sellers in a fixed price format...
How We're Removing Prohibited Items
We use a rules-based filtering system with algorithms that identify and block prohibited items and have a team of customer service agents dedicated to round-the-clock manual review to remove any listings not caught by our tools. The manual reviews include removing all listings for certain items, like masks and sanitizers; products with inflated prices; and products making false health claims, including test kits.
If eBay can supposedly automatically block 85+ million listings violating price gouging/prohibited items policies during peak pandemic when the site was flooded with massive amounts of listings, there is absolutely no excuse for not deploying the same systems now - especially with the supposedly "magical" advances in AI powered technology that have been unlocked just in the last 6 months.
eBay can and must do better - and if they are not inclined to do so voluntarily, it's time for media and regulators to stop taking the carefully crafted PR statements at face value and start demanding real accountability.
---