eBay Exec Pay Down, Focus On ESG Up In 2023 Proxy Statement
eBay has released their preliminary 2023 proxy statement ahead of Annual Meeting of Stockholders to be held on June 21, 2023.
Longtime board member and former CFO Bob Swan will not be seeking re-election to the board and will retire at the end of his current term.
Executive compensation was down this year, according to the statement, due to "macroeconomic conditions."
2022 was a challenging year with macroeconomic headwinds such as the ongoing war in Ukraine and lower consumer confidence influencing changes in consumer behavior.



Because the Company was impacted by these changes and, consistent with our pay-for-performance philosophy, our NEOs [Named Executive Officers] received 2022 bonus payouts below target, and the 2021-2022 PBRSU cycle also paid out below target.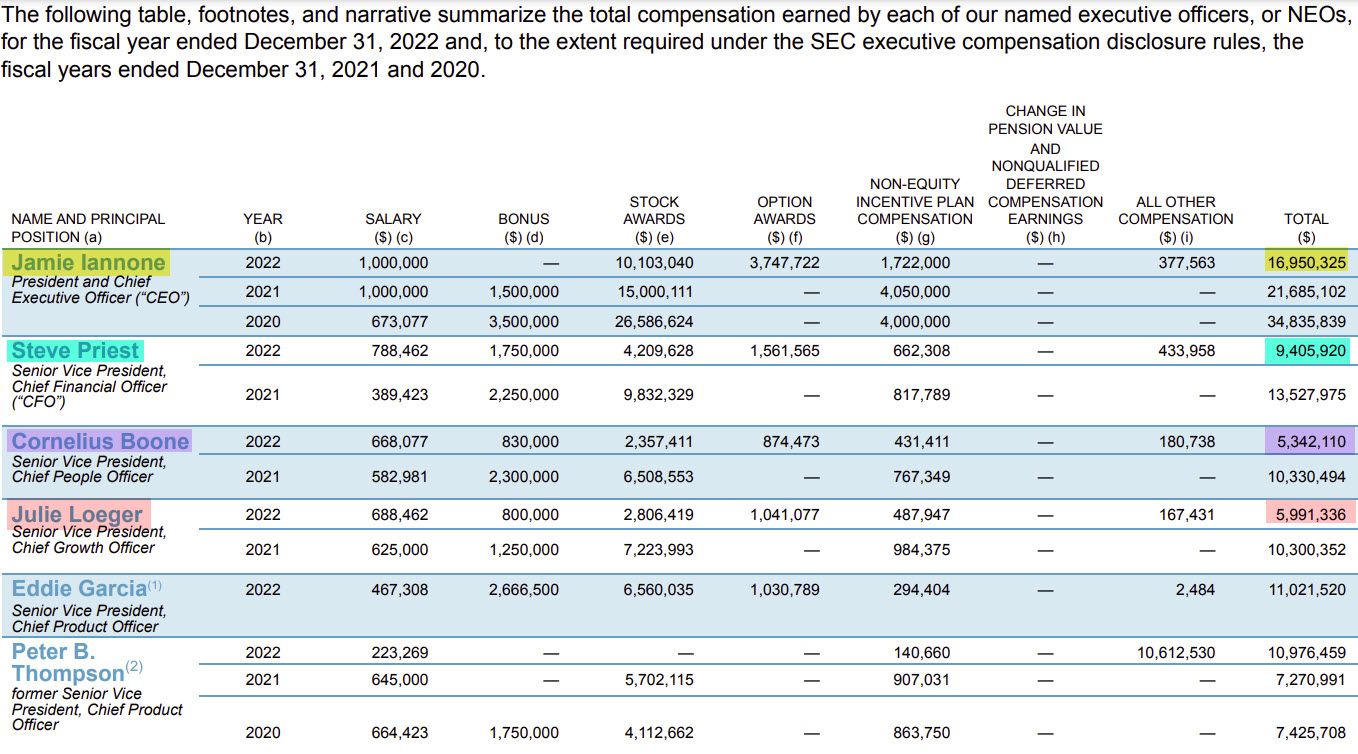 CEO Jamie Iannone's total compensation fell from $21M+ to $16M+ in 2022, coming in at 124 times the median employee salary at the company.
2022 Ratio Calculation
This year, the median employee's annual total compensation was $136,754. Mr. Iannone's annual total compensation, as reported in the 2022 Summary Compensation Table, was $16,950,325.



Based on this information and the disclosures provided in this section, the ratio of the annual total compensation of Mr. Iannone to the median employee's annual total compensation is 124:1.
Interestingly, former Chief Product Officer Pete Thompson received a total payout just shy of $11M after departing the company last year.
As usual per previous proxy statements, Chief Legal Officer Marie Oh Huber's compensation was not disclosed.
---
The proxy statement highlighted the following new key areas of focus:
New in this Proxy Statement Adopted or enhanced in recent years in response to stockholder feedback or as part of ongoing assessment of governance best practices.

Oversight of Sustainability and Human Capital Initiatives
Enhanced Self Evaluation Process
Spotlight on eBay's Information Security
Compensation Design Changes in 2022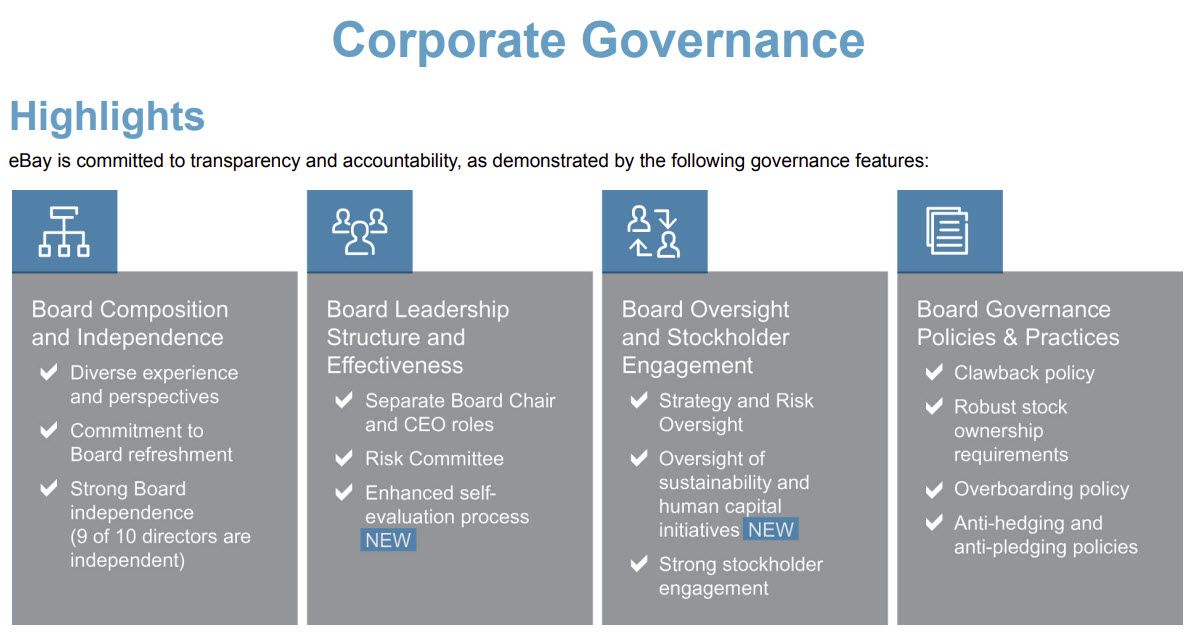 The Compensation and Human Capital Committee has had the following added to their list of responsibilities:
Oversees human capital management strategy and practice, including activities such as talent recruitment, development and retention, employee engagement, succession planning, and diversity, equity and inclusion.
And the board will undertake a new enhanced self-evaluation process.
It is important that the Board and its committees are performing effectively and in the best interests of the Company and its stockholders. The Board and each committee annually evaluate its effectiveness in fulfilling its obligations.



As part of this annual self-evaluation, directors are able to provide feedback on the performance of other directors. The chairs of the Board and of the Corporate Governance and Nominating Committee lead the Board in its review of the results of the annual self-evaluation.

Self-Evaluation Questionnaire - Provides director feedback on the Board and each of the Committees as well as each director.
Director Interviews - Chairs have 1v1 conversations with individual directors based on themes of questionnaire responses.
Results Analyzed - Results of the self-evaluations are analyzed and discussed with Corporate Governance and Nominating Committee.
Summary of Results - Summary of Board and Committee self-evaluation results provided to full Board.
Ongoing Feedback - Directors are encouraged to provide ongoing feedback in addition to the annual self evaluation.
Feedback Incorporated - Policies and practices updated as appropriate as a result of the annual selfevaluation and ongoing feedback.
Review of Process - Our Corporate Governance and Nominating Committee periodically reviews the selfevaluation process.
Information security is being made a higher priority for the company with a new section highlighting the importance of board oversight for this critical aspect of the business.
Spotlight on Board Oversight of Information Security
Risks relating to information security are a continued area of focus for eBay, managed within our ERM Program. The Board's oversight of these risks has included the following activities:

At least 3 deep dive reports at the Risk Committee level and at least 1 Board level discussion annually on information security risks including payments security, data security, regulatory compliance, platform security and other categories of risk.
Audit Committee discussion of relevant Sarbanes-Oxley Act and internal audit activities.
Periodic Risk Committee reviews of management's strategies to detect, monitor and manage information security risks.



The foundation of our marketplace is built upon openness, honesty, integrity and trust. For more information, please visit our eBay Impact
website at https://www.ebayinc.com/impact/.
There were also major changes made to the executive compensation design in 2022, specifically focusing on CSAT (customer satisfaction), relative total shareholder return, ESG factors, and revenue from Payments and Advertising.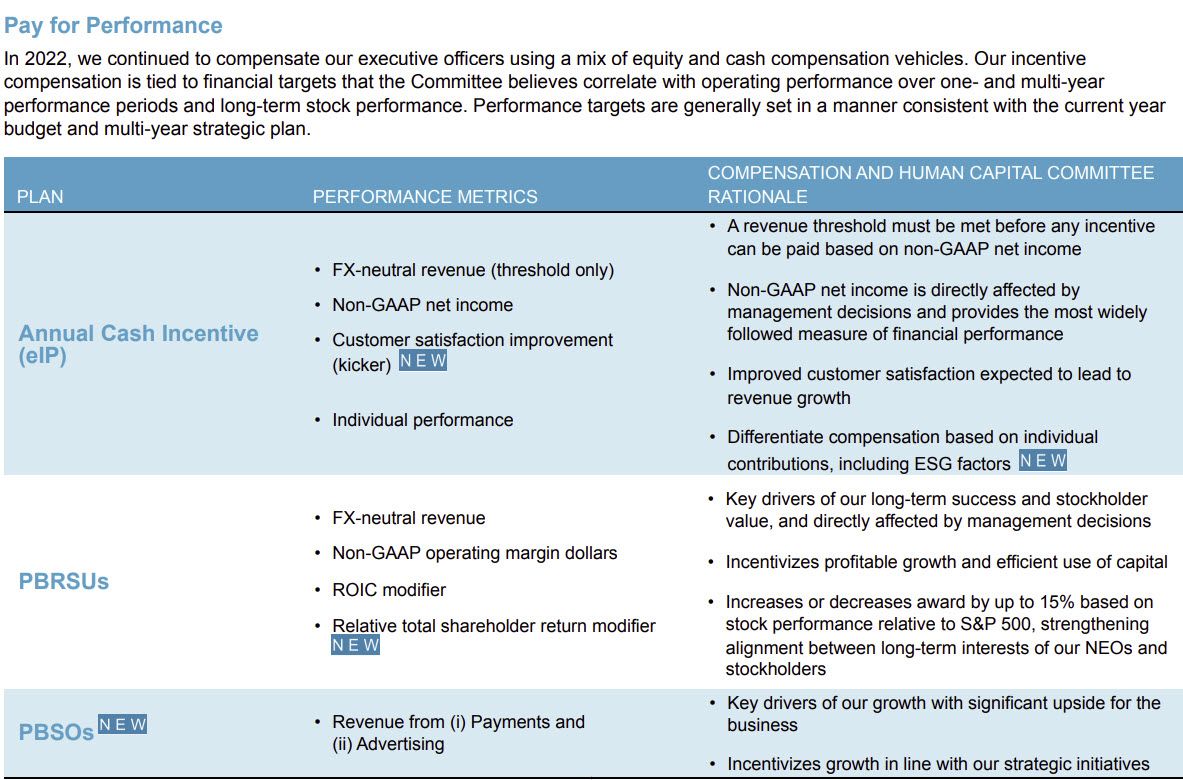 If you've been wondering what's behind eBay's most recent Promoted Listings money grab, look no further than those performance based stock options directly tied to "incentivizing growth" in advertising.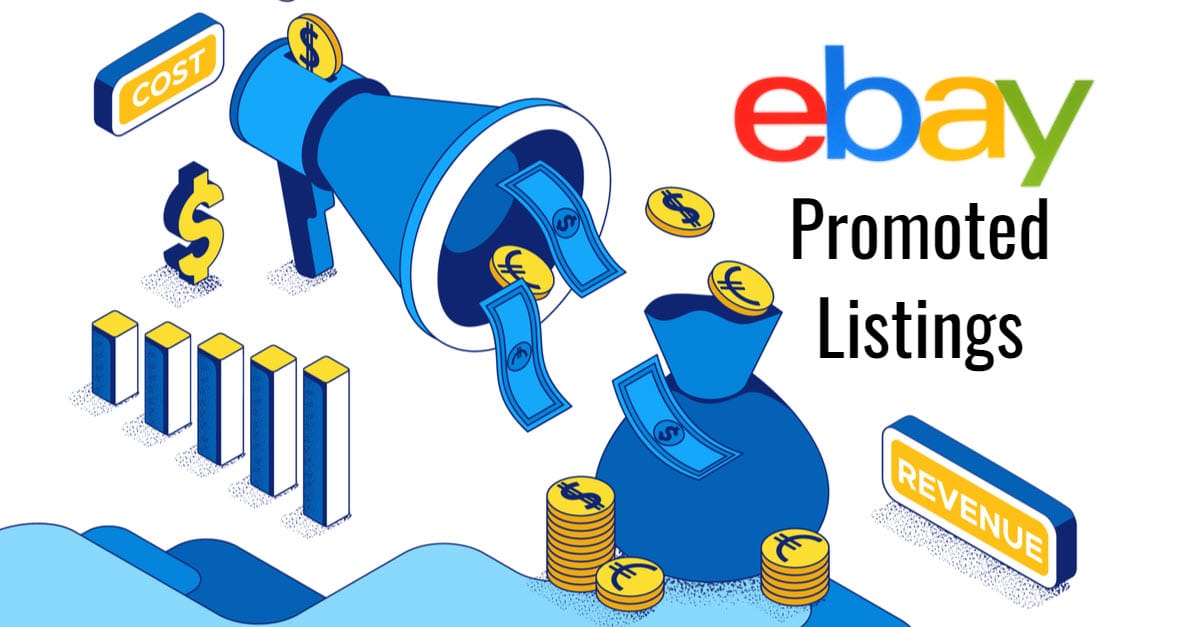 Compensation Design Changes in 2022
Our compensation plans provide flexibility to make decisions to adapt to changes in our business designed to promote long-term, sustainable growth. The Compensation and Human Capital Committee ("Committee") evaluates plan designs annually to determine their appropriateness and implemented the following changes in 2022.

Performance-based RSUs: Added relative TSR modifier and lengthened performance period from two years to three. Our Performance-based Restricted Stock Units (PBRSUs) had historically been earned based on financial performance over a two-year period, subject to additional time vesting. The Committee added a three-year relative total shareholder return modifier to the PBRSUs awarded to our NEOs in 2022, based on feedback from shareholders and a desire to extend the performance period to three years and incorporate a metric related to stock price performance against peers. The Committee also modified the performance periods for the core financial measures from a two-year period to a three-year period comprised of a series of three one-year periods to better align with management's annual financial planning and the constantly changing internet retail segment in which we compete.
Performance-based Stock Options: Created new performance vehicle to promote key revenue growth initiatives. In addition to Restricted Stock Units (RSUs) and PBRSUs, which had historically comprised 40% and 60% of equity compensation awarded to our NEOs, the Committee determined to allocate a percentage of target equity value to Performance-based Stock Options (PBSOs). These PBSOs can be earned if predetermined Payments and Advertising revenue goals are satisfied during a three-year performance period. In addition to these performance-based vesting conditions, the PBSOs are also subject to time-based vesting over the same three-year period. As a result, the target equity value in 2022 was comprised of 40% RSUs, 40% PBRSUs, and 20% PBSOs.
eIP: Included comprehensive review of ESG scorecards and potential CSAT kicker in annual cash incentive. Under our annual cash incentive program (the eBay Incentive Plan, or eIP), the assessment of our executive leadership team's performance continues to include ESG factors related to sustainability and DE&I goals (including relating to diversity representation, inclusion and belonging, recommerce and carbon emissions). Success against these goals was a factor considered in the Committee's subjective assessment of each of our NEOs' individual performance under the eIP. Additionally, if certain threshold financial performance metrics are achieved, the Company performance component of the eIP payout can be increased based on a customer satisfaction (CSAT) improvement measure.
---
eBay's increasing focus on ESG (environmental, social, and governance) factors is particularly interesting, especially with recent 10-K disclosures of $64 Million+ set aside for "legal issues" stemming from the 2019 cyberstalking scandal and growing questions around due diligence and disclosure in last year's TCGPlayer acquisition.
In early 2023, the Committee reviewed the financial results under the eIP, which were above threshold. As part of its review of the Company's financial performance against the annual cash incentive plan targets and in accordance with its authority under the cash incentive plan, the Committee considered whether the impact of any significant corporate events not contemplated at the time the targets were set should lead to an adjustment of any of the performance results.



The Committee determined that it was appropriate to adjust non-GAAP net income performance for certain unforeseen impacts—the ongoing war in Ukraine and certain litigation and M&A activity and a recent marketplace closure—which resulted in an upward adjustment. Accordingly, the Company financial performance component was certified by the Committee at 84% of target for all eIP participants, including the NEOs.



Because financial performance was below target, the CSAT kicker was not factored into the Company performance component. The financial performance result also resulted in a 16% downward modification of the individual performance component.



The Committee considered the factors listed above when assessing Mr. Iannone's individual performance. Mr. Iannone's individual component of the annual cash incentive was established at 110% of target but was modified downward by 16% as a result of the belowtarget Company financial performance component. Mr. Iannone's total earned annual incentive award for 2022, including the Company financial component and the individual component, was 86% of target.
Adjusting out tens of millions of dollars in possible legal expenses and fines due to extremely "inappropriate" conduct by past executives is absolutely mind boggling.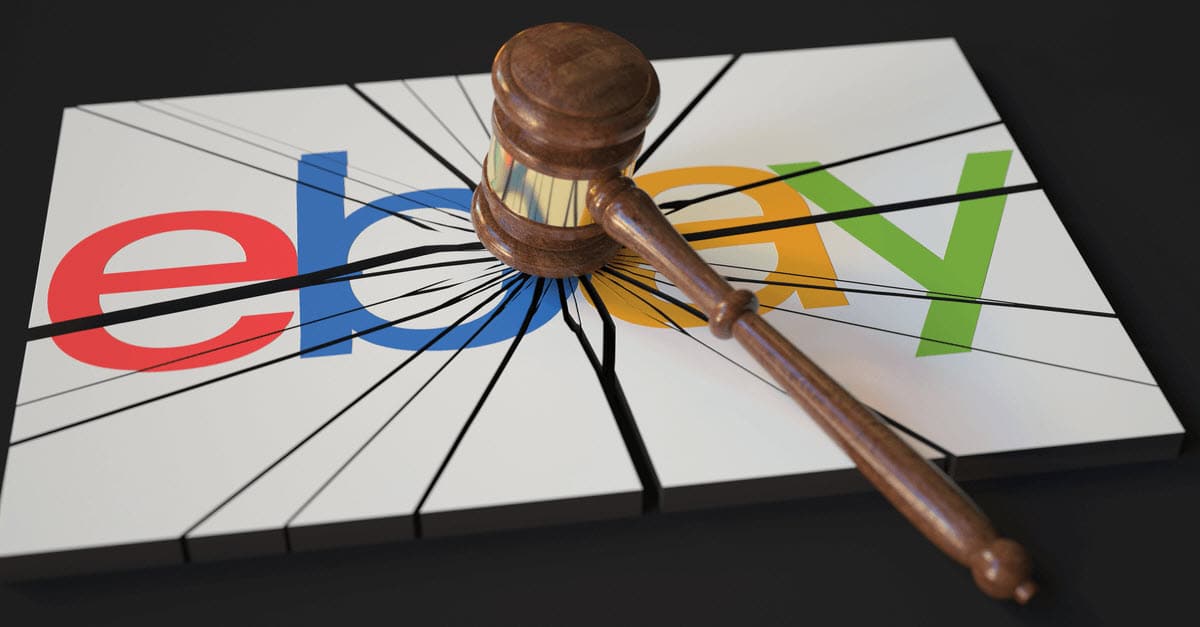 It's impossible to see how that can be squared with any definition of good corporate governance or social responsibility, especially when considering the free speech and first amendment implications of the cyberstalking scandal.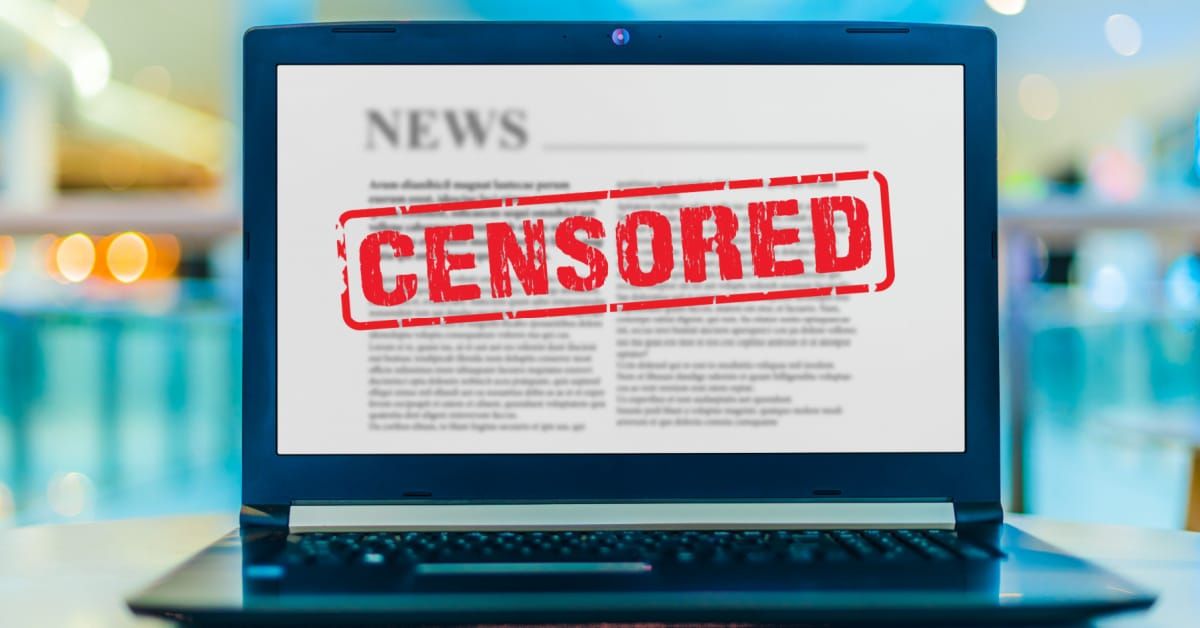 If eBay wants us to believe they are serious about ESG, they must take full accountability and bear the full consequences for the governance failures that have been revealed by this scandal.
A leading independent analyst remarked, "Really shocking how blind investors and Wall Street analysts have been, surely this behaviour - and excluding $50m legal charge in 'Adjusted' earnings - must preclude EBAY from being owned by ESG funds."
In addition, eBay's Chief Accounting Officer, Brian Doerger, recently announced his departure, coincidentally agreed to on the same day that TCGPlayer founder Chedy Hampson also agreed to step down following contentious unionization battle that racked up multiple unfair labor practice complaints with the National Labor Relations Board.
eBay has appointed Robert Bigler to take the helm of TCGPlayer but has given no clear indication whether they intend to stop fighting against the successful vote to establish TCGPlayer authentication workers as the first union in eBay history.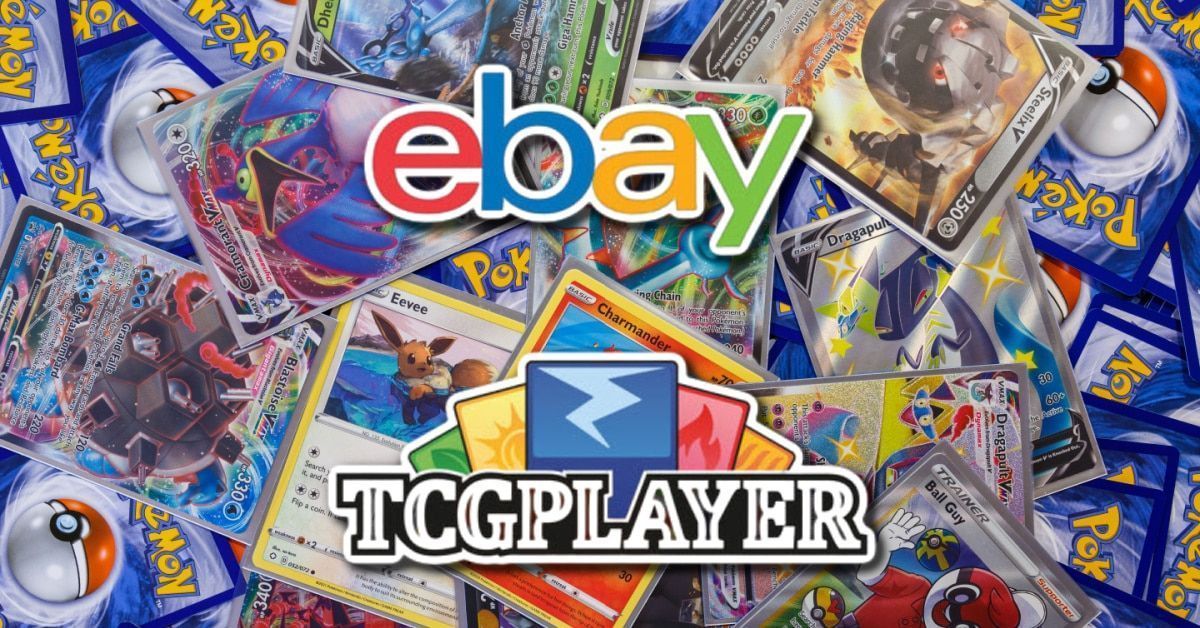 Despite a majority of authentication workers voting to unionize, TCGPlayer management has so far refused to accept the decision - first issuing a statement saying they were "disappointed" in the outcome and then filing multiple objections with the NLRB.
Those objections were rejected on March 22 when the NLRB ruled that the "Employer's objections are wholly without merit" and overruled them in their entirety, officially certifying the vote and establishing TCGUnion-CWA Local 1123.
However, TCGPlayer is still fighting the decision and filed an appeal on April 5, basing their objections on the disputed status of Operations Leads.
TCGPlayer is represented by Littler Mendelson P.C., a law firm that proudly bills themselves as "the largest global employment and labor law practice in the world exclusively devoted to representing management."
Here's how Littler Mendelson describes their services:
Today, unions are deploying a variety of tactics in the pursuit of members. They actively engage with social media outlets to reach a broad audience. They tap into technology through electronic authorization cards that expedite and expand the organizing process. And they initiate corporate campaigns involving tactics that seek to turn public opinion away from a company.

With significant depth in traditional labor practice, Littler understands the mindset of union organizers and stands ready to advise employers facing such tactics. Our deep experience in representing management serves as a strong counterpoint to the world's most powerful labor organizations. We guide companies in developing and initiating strategies that lawfully avoid unions or effectively respond to unconventional corporate campaigns.
The significant pushback from TCGPlayer management would seem to stand in stark contrast to eBay's human rights policies on unions, which states:
eBay also respects workers' rights to unionize, and commits to bargain in good faith with any relevant associations or labor unions.
How does this ongoing refusal to honor that human rights policy and bargain in good faith with TCGUnion-CWA reflect on eBay's supposed commitment to ESG principles?
It will be interesting to see if any of these issues are raised at the Q1 2023 earnings call on April 26 or the Annual Stockholders' Meeting on June 21.
---