Etsy Hits Active Buyer Record, Sales Remain Flat in Q2 2023
Etsy released Q2 2023 earnings on August 2nd, reaching a new record high of active buyers while sales remain relatively flat.
Full earnings call transcript here.
Important stats from the press release:
Second quarter 2023 performance highlights include:

Consolidated GMS was largely flat at $3.0 billion, down 0.6% year-over-year and down 0.4% on a currency-neutral basis.
Etsy marketplace GMS was $2.6 billion, down 0.7% year-over-year and down 0.4% on a currency-neutral basis.
Growth in active buyers accelerated to a 3% year-over-year increase in the second quarter and reached a new all time high of 91 million. We acquired 6 million new buyers, reactivated 21% more buyers than during the prior year period, and retained active buyers at levels above pre-pandemic rates on a trailing twelve month basis. On a quarterly basis, active buyer retention trends improved both from the prior year and prior quarter.
While GMS per active buyer on a trailing twelve month basis for the Etsy marketplace declined 6% year-over-year to $128 in the second quarter, trends in this metric began to stabilize on a sequential basis. Our number of habitual buyers was largely flat on a sequential basis at 7 million, another encouraging early sign of stabilization, as the strong pandemic related periods have fully rolled out of the trailing twelve month metric.
GMS ex-U.S. domestic for the Etsy marketplace was 47% of overall GMS, with GMS ex-U.S. domestic up 5% year-over-year as positive year-over-year growth resumed in the second quarter.
The company reported 6.3 million active sellers and 90.6 million active buyers on the Etsy marketplace alone (excluding Depop, Reverb, and Elo7) for Q2 2023.
Etsy highlighted several product initiatives they have undertaken to provide a more "curated and organized" experience.
Making Etsy More Curated and Organized
We continued to invest in Search & Discovery to make Etsy more curated and organized. Several initiatives during the quarter positively impacted our average order value, such as elevating the best of Etsy by incorporating Etsy's Pick listings into our search results for weddings, vintage items, and certain occasions.



We improved the buyer experience by making purchasing journeys more efficient. For example, in our 'Suggested' filter, we prioritized listings with useful item details and higher-rated reviews, and we moved price and sale details above the listing title to better emphasize key information. We also added recommendations to our homepage by providing buyers organized shopping pathways based on the perceived mission, which drove conversion higher.



We made progress creating category experiences and building brand association for Home & Living, Style, and Gifting purchase occasions. We added a curated 'Shop the Look' in Home & Living on our homepage, driving higher conversion. We launched Etsy Registry to shoppers globally, with Registry GMS growing on an overall steady weekly trajectory from the May launch through the end of June. Since the success of that launch, we've fast-tracked our expansion to more categories, including a baby Registry, which will be live this month. Early indications are that our 'Etsy has it' campaigns in our top three markets, which emphasize Home & Living, Style, and Gifting, are driving brand association for these purchase occasions.
But many sellers are concerned that Etsy is too often diverting buyers away from their listing pages to competing items with several recent tests that add additional images, overlay a "find similar items" button on top of sellers' pictures, or convert seller-provided titles to links back to search for related items.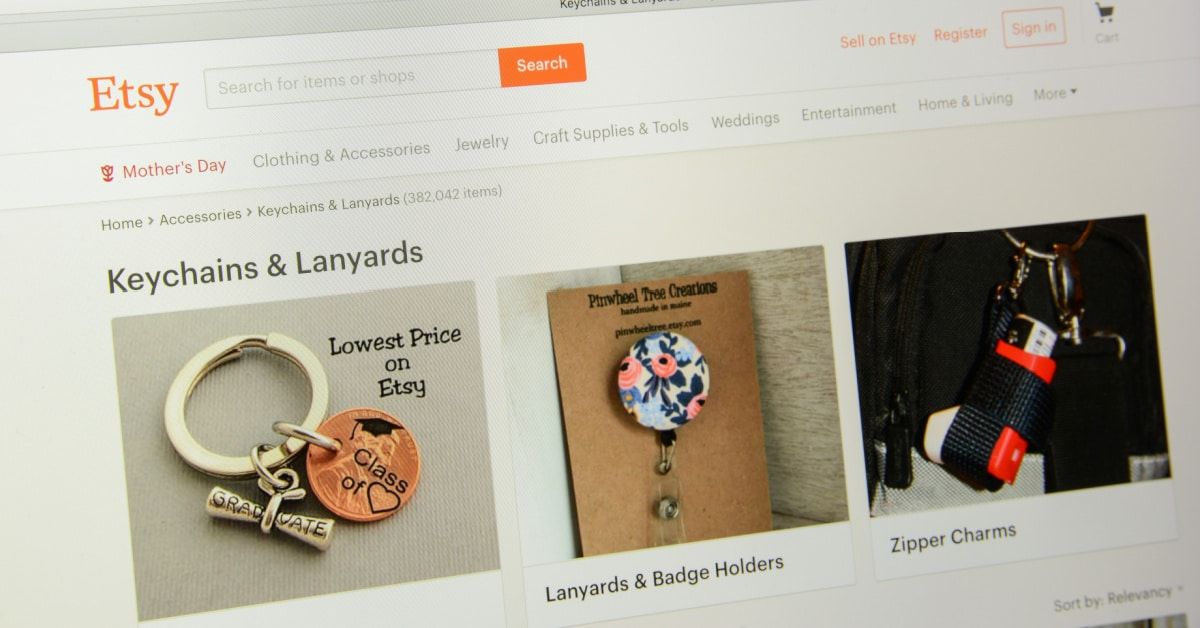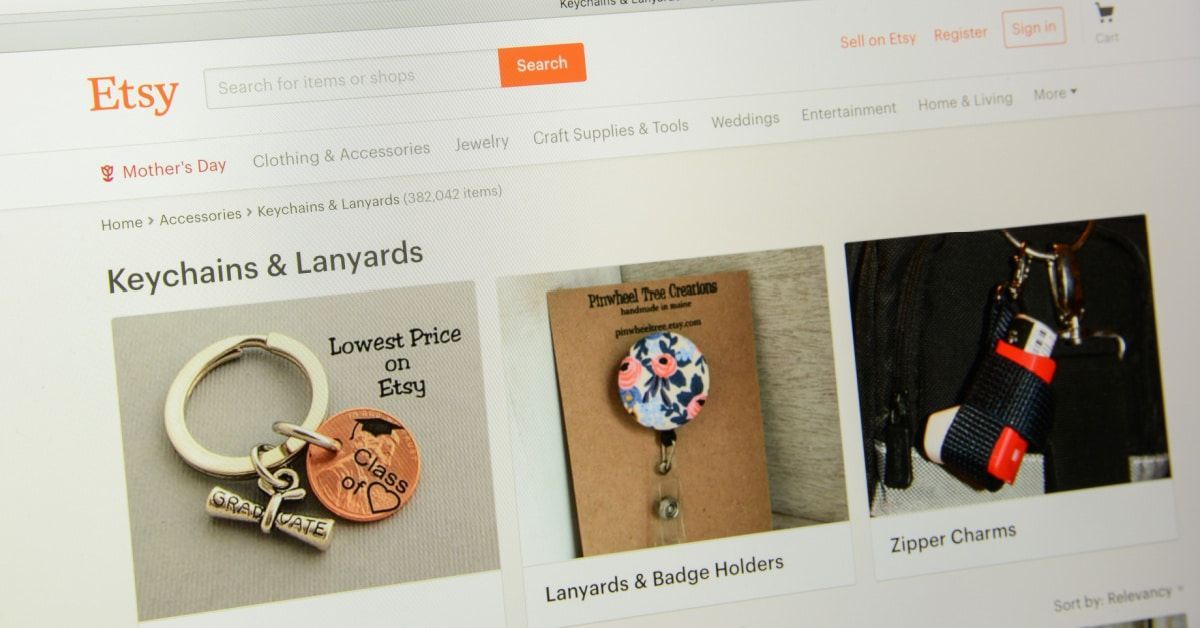 Etsy also called out their new Make An Offer feature, which many sellers are concerned will lead to race to the bottom pricing and habituating buyers to expect to be able to haggle for discounts on every order.
We are investing in our sellers by providing them the tools and insights needed to grow. For example, we launched our 'Make an Offer' feature that provides United States vintage shop owners the option to receive offers from buyers, allowing sellers to drive sales and build longer term buyer relationships. This feature experienced strong opt-in rates among vintage sellers (nearly 20%) and high engagement among habitual buyers.
The Make An Offer feature started with Vintage listings earlier this year and testing has since been expanded to include non-vintage as well.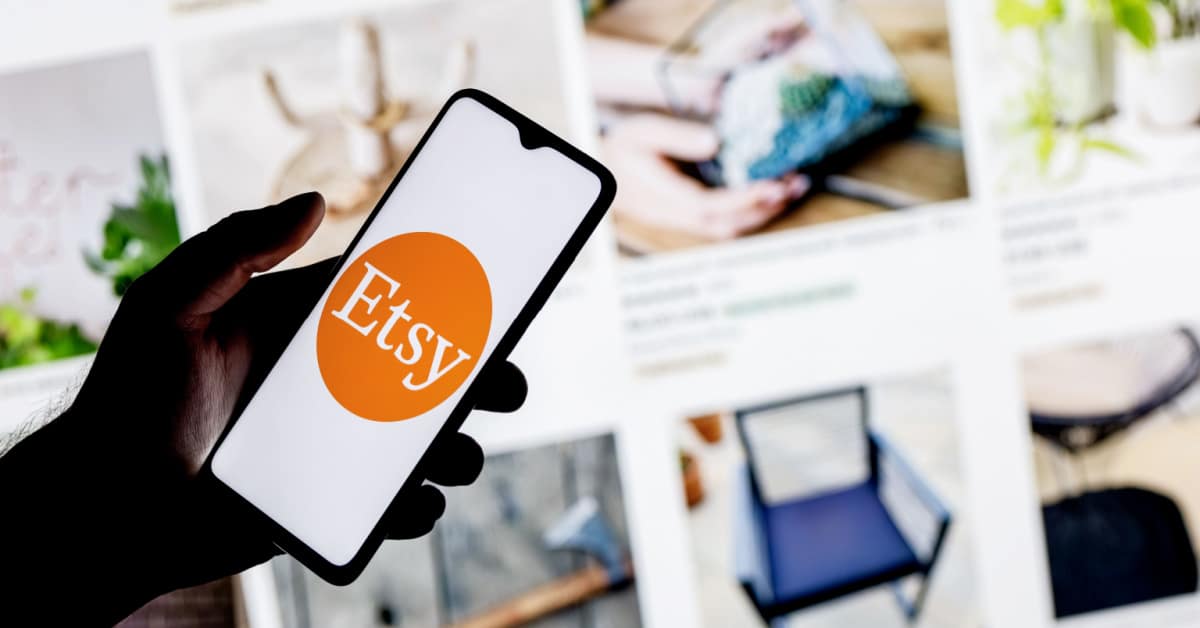 Seller concerns about increased pressure to offer discounts or accept lower offers may be well founded - CEO Josh Silverman explicitly says that Etsy is looking to highlight specific merchandise by budget and prominently promoting "great deals" to price-conscious buyers.
In addition to solving for a buyer's tastes and preferences, we're also working on several compelling initiatives to better highlight specific Etsy seller merchandise, which fits an individual buyer's budget. We're starting to elevate great deals on Etsy, such as through prominent on-site promotional merchandising on our homepage. And we're developing a new feature on the Etsy app, which will help buyers find deals for items in which they've already shown an interest.
This new focus is already on display with multiple large above the fold banners on the Etsy home page.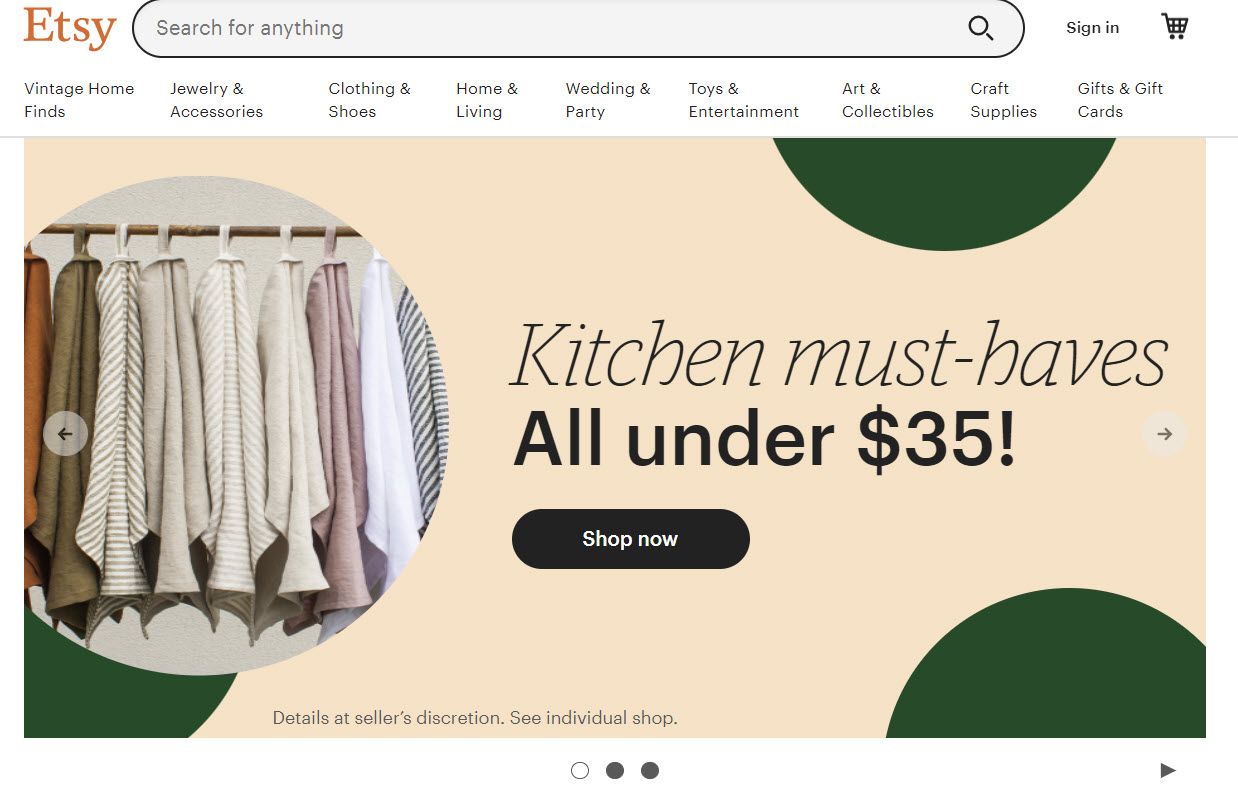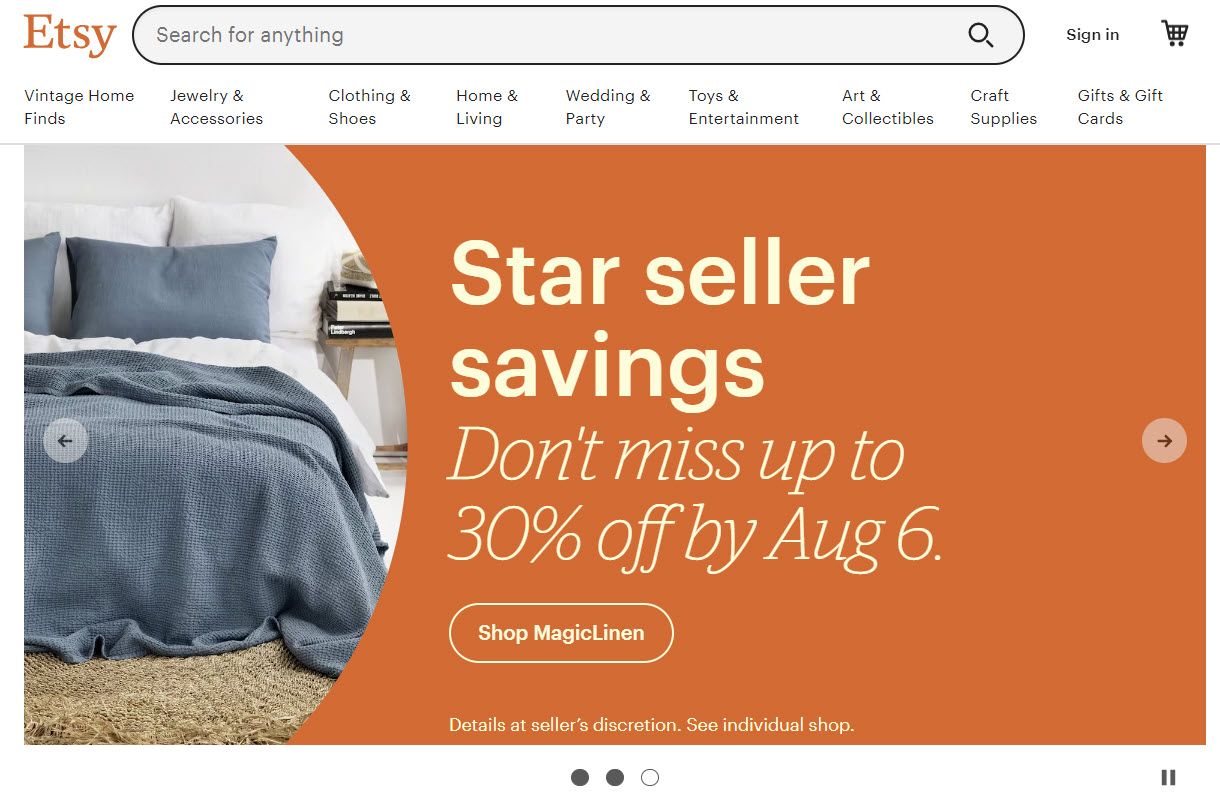 Sellers have also recently noticed changes to the sales settings clearly meant to "nudge" them to give higher discounts by defaulting the setting to 25% and suggesting up to 50% off - sellers can still do a "custom" discount to go lower, but it requires extra steps that weren't necessary before.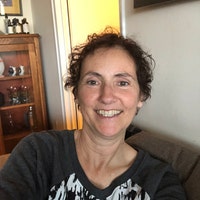 That's really disgusting that they want to devalue sellers like that. So the preset options are 25-50% off. Then if you choose custom and put in say 5 or 10%, they try and dissuade you by saying 'set a discount of at least 20% to give your orders a boost'.



So do they give preferential treatment to those items in search that are discounted at least 20% or more? We already know their idea of discounts is skewed - just look at the 'free shipping' recommendation - just mark your item up to include that cost in the price. Everything to them is just an illusion.



Mark everything up so you can put it on sale. Technically you can make the sale price more than what it would normally be, but it's so much better to appear to be giving them a great deal of at least 20%, but ideally in the 25-50% range they've preset.
Silverman also says that Etsy has been doubling down on policy violation enforcement using AI and Machine learning combined with "human knowhow."
Etsy's been on a journey to make shopping and selling in our marketplace more joyful and more reliable than ever before. We're doing this by focusing on quality, doubling down on enforcement and up leveling customer support.



Specific to our trust and safety work, advances in ML capabilities have enabled our enforcement models to detect an increasing number of policy violations, which combined with human knowhow is starting to have a meaningful impact on the buyer and seller experience.
Many sellers would say the increased automated bot takedowns with no explanation and little recourse have certainly had a "meaningful impact" on their experience (and businesses), though not in the positive way Silverman attempts to portray here.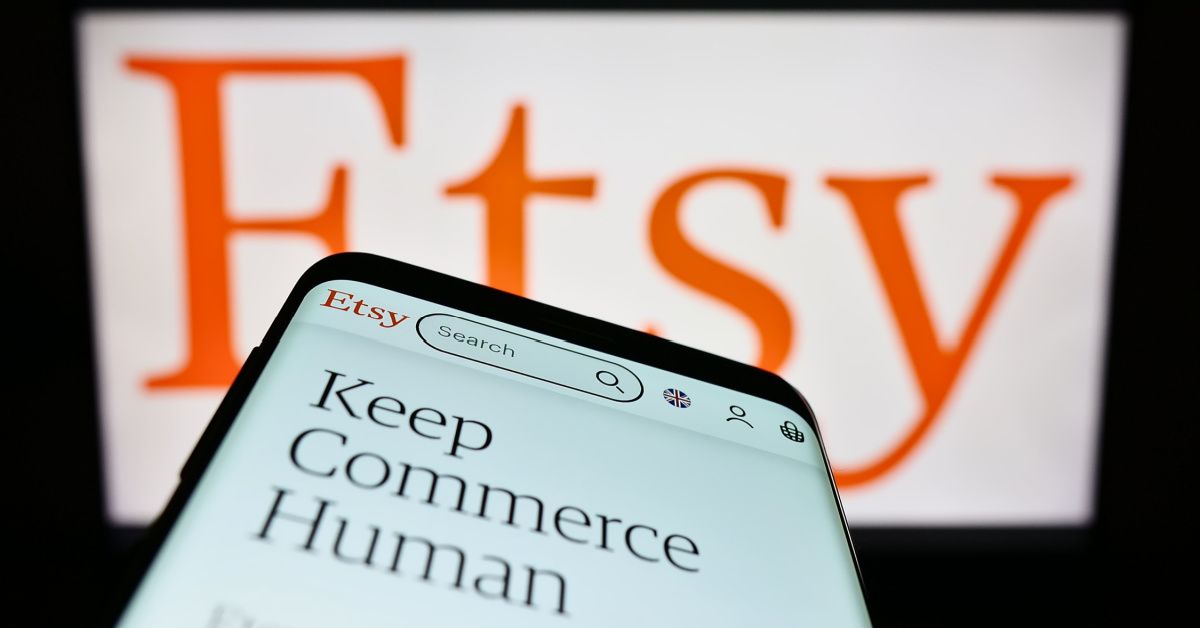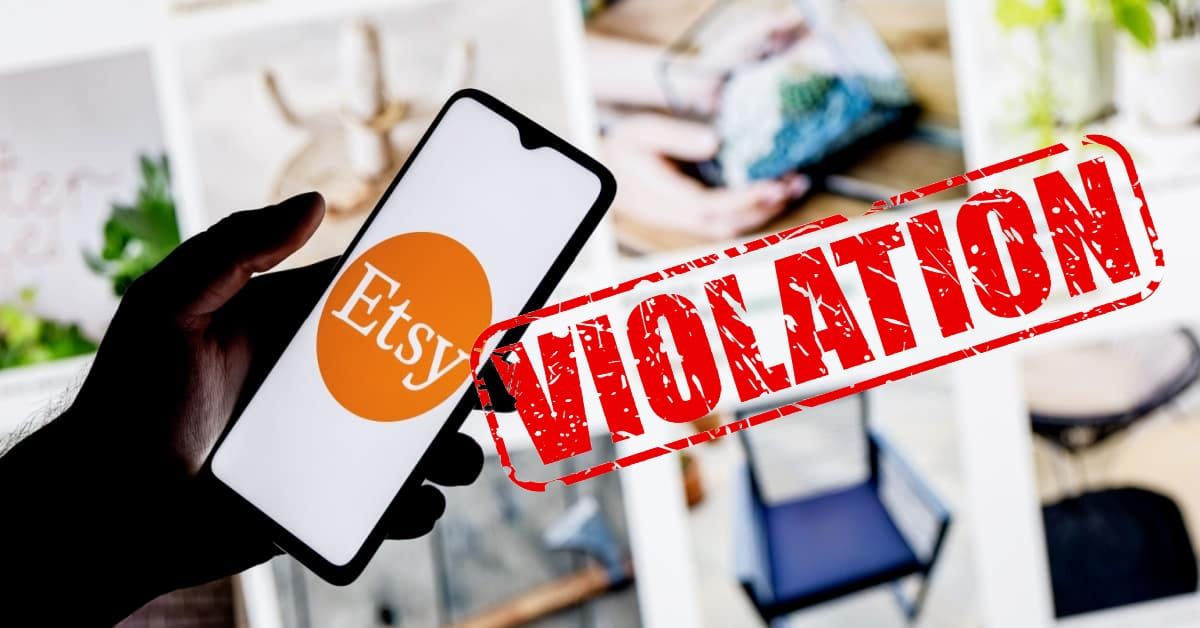 In the Q&A segment, Silverman fielded questions about selling off Brazilian marketplace Elo7 and the recent media buzz about Payment Reserves.
Recently, there have been reports of some sellers taking issue with the company's reserve system and its process for withholding and distributing funds. Can you first refresh us on what that policy is around payment reserves and why it's important to the overall health of the marketplace? And maybe comment on how you are addressing this cohort of sellers who are unhappy with the current policy.
So Etsy has an unusually generous payment policy relative to most marketplaces. And that historically, when a buyer buys an item, 100% of that money is transferred to the seller right away. We take it on faith that the seller is going to ship the item to the buyer. And the good news is the vast majority of the time, that happens. But things do go wrong, and sometimes, for example, seller sales really ramp faster than they can deliver on, and things go wrong. And Etsy, of course, steps in to the gap in those times to make sure that the buyer has held whole so that the Etsy brand is a great brand and other sellers' reputations are not hurt by that.



So it's really important for the overall health of the marketplace that we can always stand behind every single sale and buyers have a lot of confidence that Etsy will always have their back. As part of that then in 2021 we introduced a payment reserve, where a very small number of sellers that are high risk, perceived to be high risk, predicted to be high risk, we withhold some of the payment from those sellers.



And we continue to iterate. We continue to learn on that program, how do we make the models more precise, how do we withhold the smallest amount that we need to and how do we communicate better with sellers about what the thresholds are, why they're in that program and not. And so we just announced yesterday some improvements in being even clearer with sellers about why they're in the program. We announced actually we're going to be reducing the amount we're holding from the vast majority of sellers.



So we continue to listen. We continue to learn. We continue to work together with sellers and buyers to make sure that the marketplace stays safe. And just to put some dimension around this, it's in the low single digits of sellers that are in reserve right now. 70% of those sellers have less than $50 in payment reserve. And I don't want to -- we recognize for every seller being in payment reserve is -- can be a hardship. So we want to do it only when necessary, only the mount one necessary, and we want to be communicating as well as we can with the sellers and get them out of reserve as quickly as possible. And so we're working hard to make sure all those improvements happen.
After months of silence on the subject, Etsy announced changes to the Payment Reserve policy, promising to reduce the amount of money on hold for most sellers and provide more transparency around why accounts are put on Payment Reserve.
However, the timing and lack of specific details left many sellers believing this was much more a last ditch attempt to deflect scrutiny ahead of earnings than a sincere effort to "keep commerce human."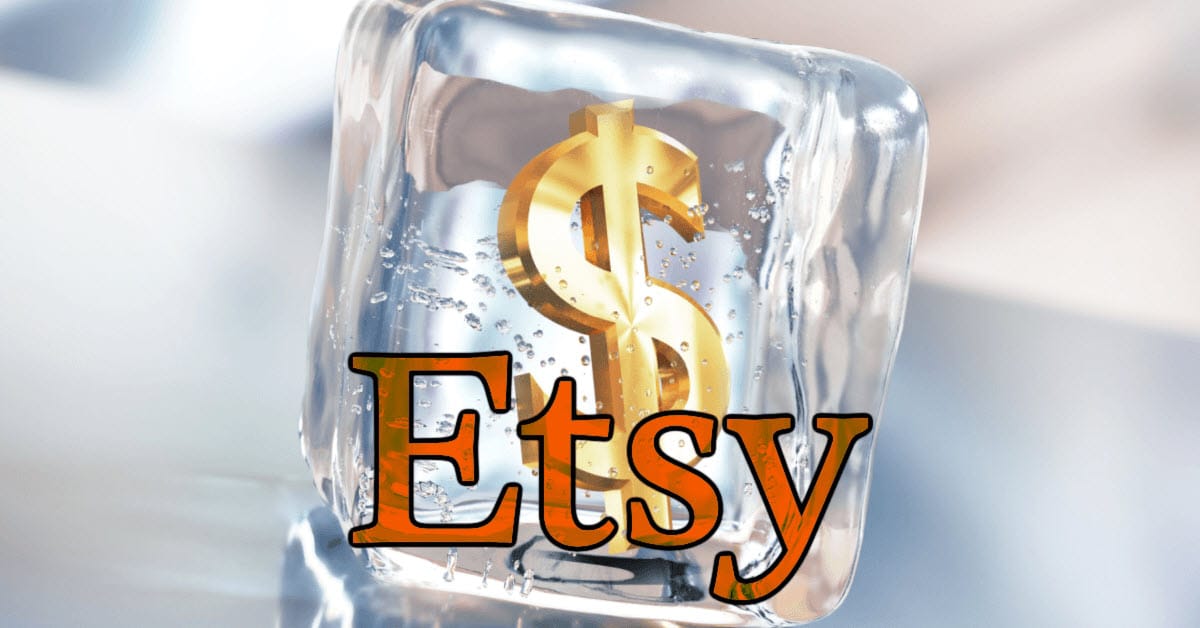 Etsy stock fell after the earnings report, primarily due to weak guidance for Q3 and concerns about softening demand.
---