Etsy Bows To Pressure On Payment Reserves Ahead Of Earnings
Etsy has been taking very public broadsides as sellers's struggles with Payment reserves hit mainstream media ahead of Q2 2023 earnings.
Much of the media attention started in the UK, but US coverage has followed suit this week.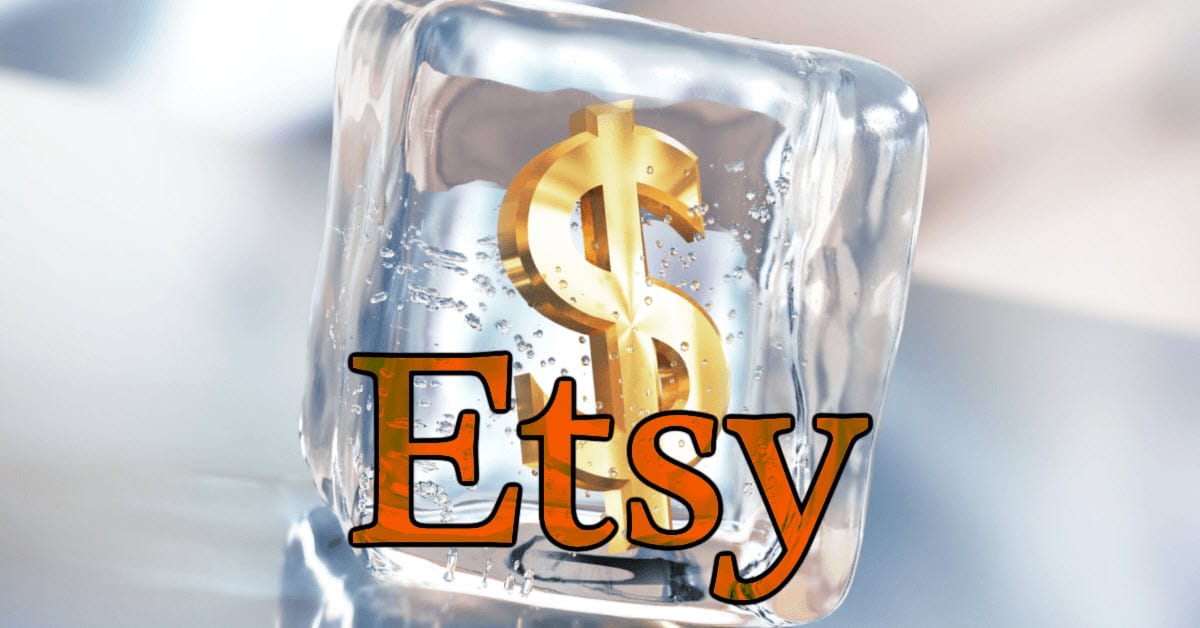 Etsy's reserve policies allow them to hold ~75% of seller funds for 45-90 days in certain situations but a troubling lack of transparency and apparent recent increase in the use of reserve holds have rocked the Etsy seller community.
Etsy seller and ecommerce consultant Cindy Baldassi has provided excellent in-depth coverage of the Payment Reserve issues and what sellers need to know:
Now Etsy has put out a new announcement, promising to lower the amount of reserves for most sellers and be more transparent in communication with impacted users.
Hello everyone, my name is Chirag and I lead payments at Etsy. My team works to make sure transactions on our marketplace are made securely.



At Etsy, our role is to nurture a vibrant marketplace, which means we have to balance keeping our marketplace safe, having our customers' backs if something goes wrong, and helping sellers run and grow their businesses.



We know you depend on us to not only bring you sales, but also to ensure you get paid in a timely manner. That's why we typically make funds available for deposit as soon as you make a sale, and you don't have to wait until a buyer receives the item like you might on other marketplaces. We do this with trust that you will follow through with your orders – and the great news is that most of the time everything goes as planned.



However, this generous model also creates some risk for everyone – Etsy, our buyers, and our sellers. When something unexpected happens, it can hurt everyone in our ecosystem, so we use payment reserves on a very limited basis to keep our marketplace safe.



We introduced payment account reserves in 2021, and to date it's been successful in helping us to deter fraudulent activity and ensure reliable shopping experiences. However, as we've expanded and iterated on the program to further protect our marketplace, we recognize it may have led to disruptions in how some sellers manage their day-to-day operations.



Today, we are sharing a few changes that we hope will address these pain points while enabling us to deliver on our commitments to keep our marketplace safe, including:



Making reserves more dynamic
For the vast majority of sellers, we are substantially decreasing the percentage of funds we currently hold in reserve.



Improving communications to sellers who are newly placed in reserves to help them understand our logic and how to get their funds released earlier.



Making adjustments for issues that are beyond sellers' control
We are aware that there are limited options for low-cost, tracked shipping services in the UK and other markets. We will be adjusting our criteria and making accommodations so that sellers can still have their funds released quickly.



Our team is working hard to implement these updates in the coming days, and we will notify sellers if there has been any change to the status of their reserves.



We hope that these updates make it easier for you to continue running your businesses even if a reserve is placed on your account. Longer term, we will maintain flexible payout options and iterate on the structure of the program and refine the criteria and process we use to identify when and where reserves are most appropriate.



We are also committed to being more transparent along the way, and we value your feedback as we work to build the best marketplace for all of our users.
---
While that all sounds good in theory, right off the bat Etsy has failed the "transparency" test by providing zero details or actionable information in this announcement.
"For the vast majority of sellers, we are substantially decreasing the percentage of funds we currently hold in reserve" - how many is a "vast majority" and what exactly is a "substantial decrease" in the percentage of funds held in reserve?
"We will be adjusting our (tracking) criteria and making accommodations so that sellers can still have their funds released quickly" - what exactly is the current criteria and what specific adjustments and accommodations will be made?
Sellers who have suffered through weeks or months with tens of thousands of dollars on hold while their businesses hang in the balance deserve real, detailed answers and, dare I say it, perhaps even an apology.
Between the timing of this announcement and the lack of any real transparency, this looks much more like a hail Mary attempt at pre-earnings call damage control, than a sincere effort to "keep commerce human."
---
If you've had your funds put on Etsy Payment Reserve, let us know in the comments below what you think of this latest announcement!
---