More eBay Exec Losses - SVP International Joo Man Park Steps Down
UPDATE 9-12-22
eBay Australia's LinkedIn feed confirms Jordan Sweetnam took over for Joo Man Park over a month ago - which shows it happened around the same time as Rob Hattrell stepped down as Head of Europe.
So why did it take over a month for eBay to update the Leaders page to remove Joo Man Park and update Jordan's bio when Rob Hattrell was removed at the end of July?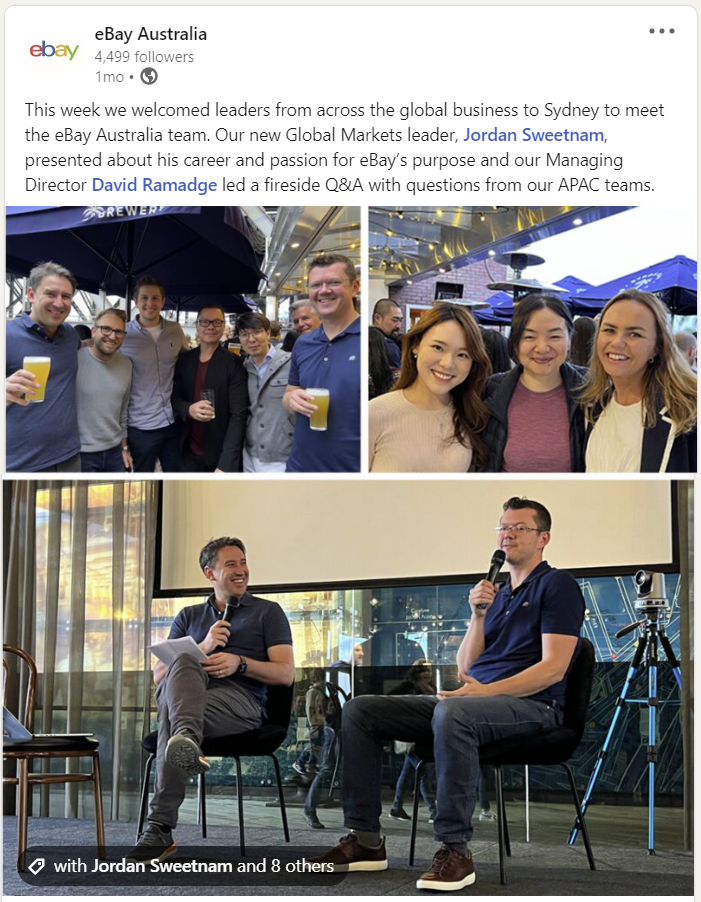 ---
While eBay has not yet made any official announcements, it appears that SVP International Joo Man Park has left the company.
Joo Man Park was still listed on eBay's Our Leaders page as recently as August 30th according to the Internet Archive Wayback Machine.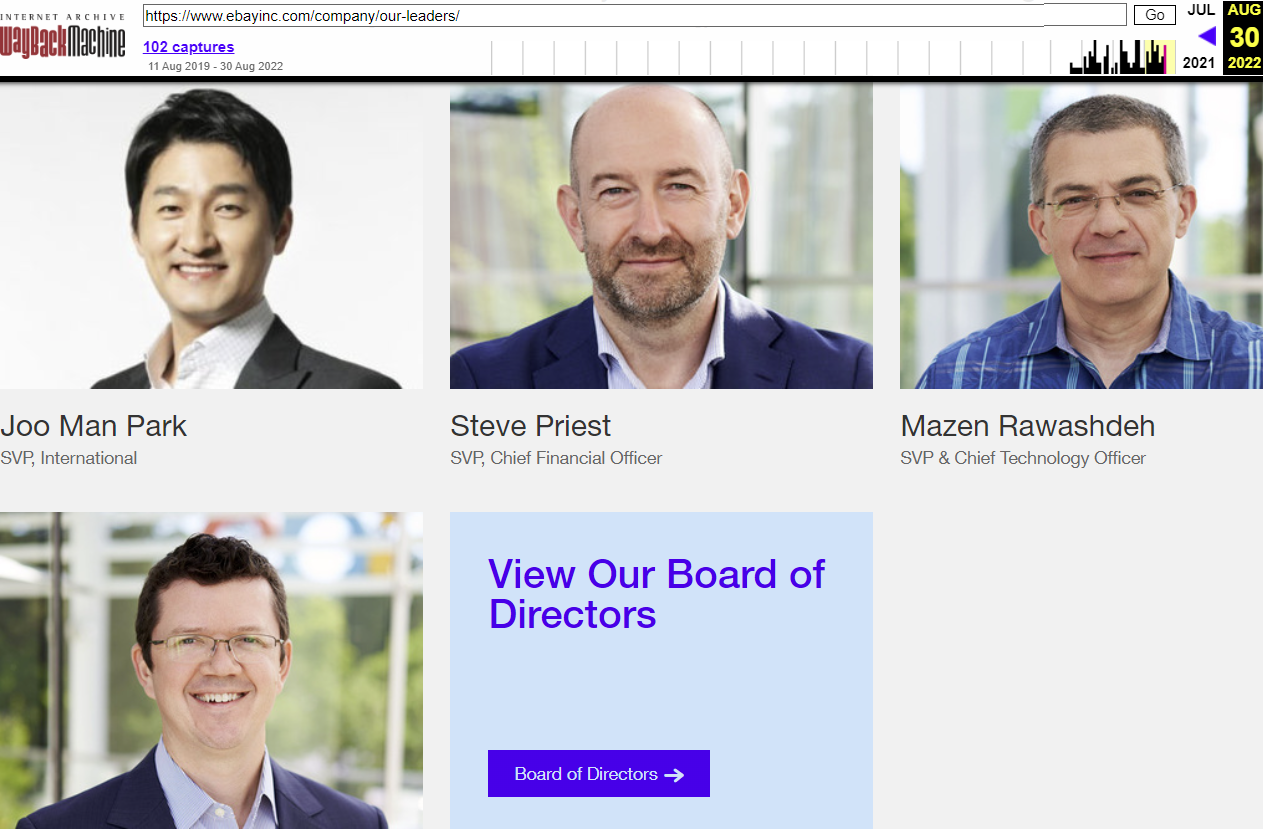 I'm not sure exactly when the page changed, but he is no longer shown as of today, September 11, and the link to his direct bio now simply redirects to the Our Leaders home page.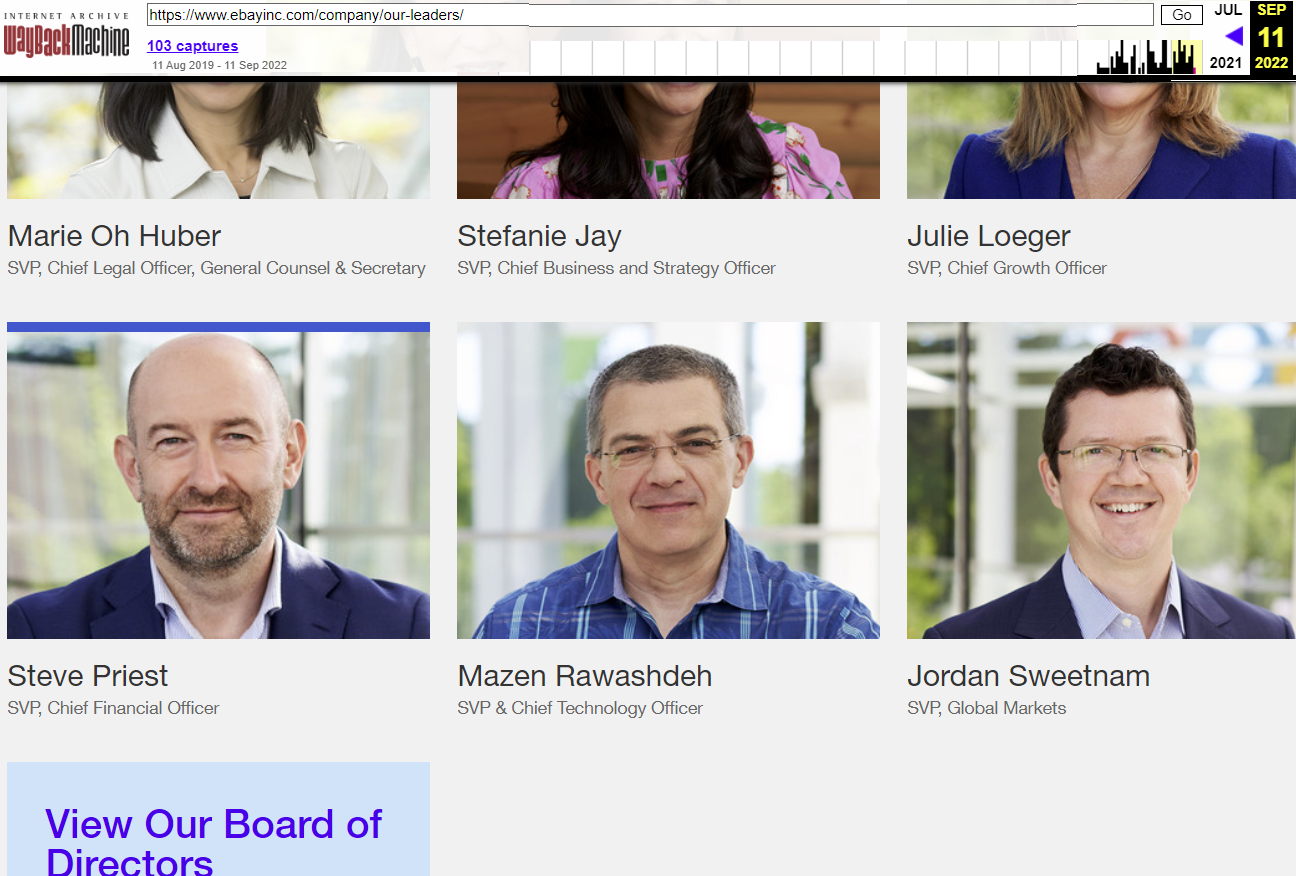 According to his LinkedIn profile, it appears he may have left the company at the end of July, but if that is accurate, it's odd that eBay would wait so long to disclose his departure and update the leaders page.
Previous SVP International Jay Lee's departure was revealed in the company's 8-K SEC filing in September 2021, but it took almost 2 months after that before they announced Joo Man Park would be promoted to fill the empty spot on the leader board.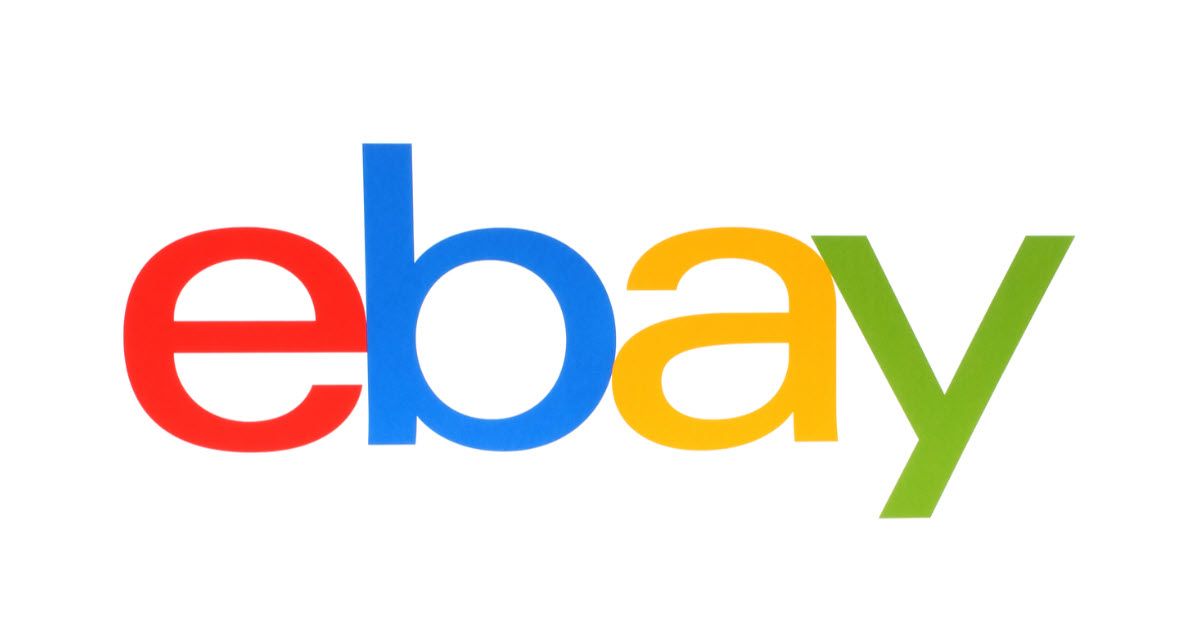 ---
This news continues a wave of notable SVP and VP level departures from eBay over the last 6 months.
SVP Chief Product Officer Pete Thompson left in April, no new position announced yet.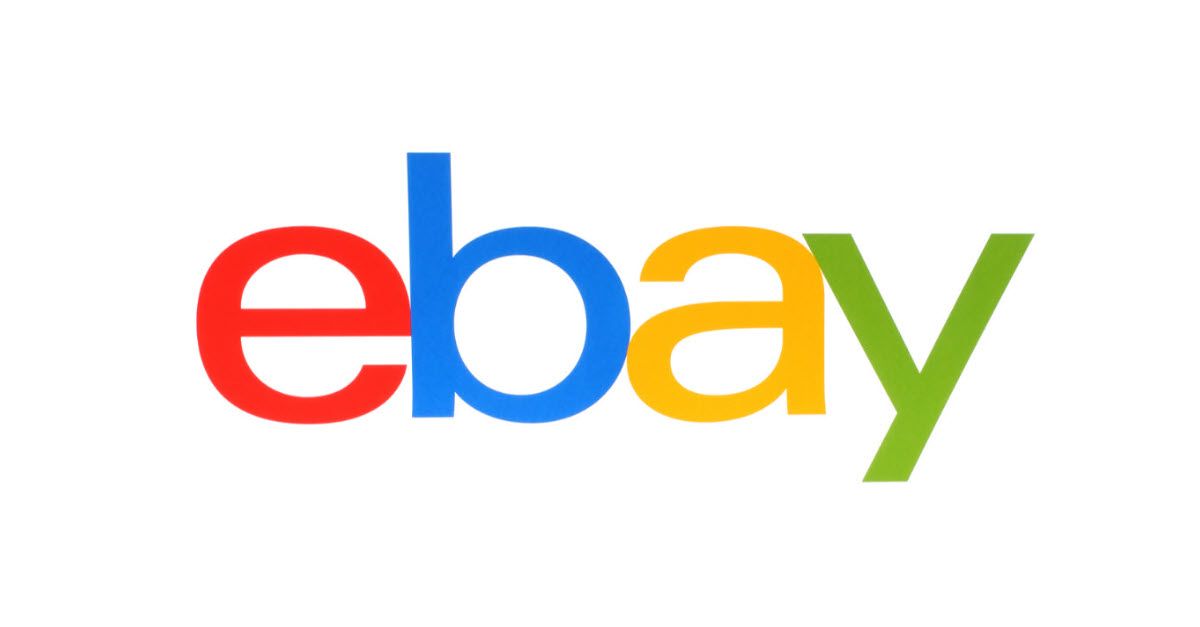 VP Buyer Experience Product & Engineering Mohan Patt left in April to become VP, Engineering, Commerce at Meta/Facebook.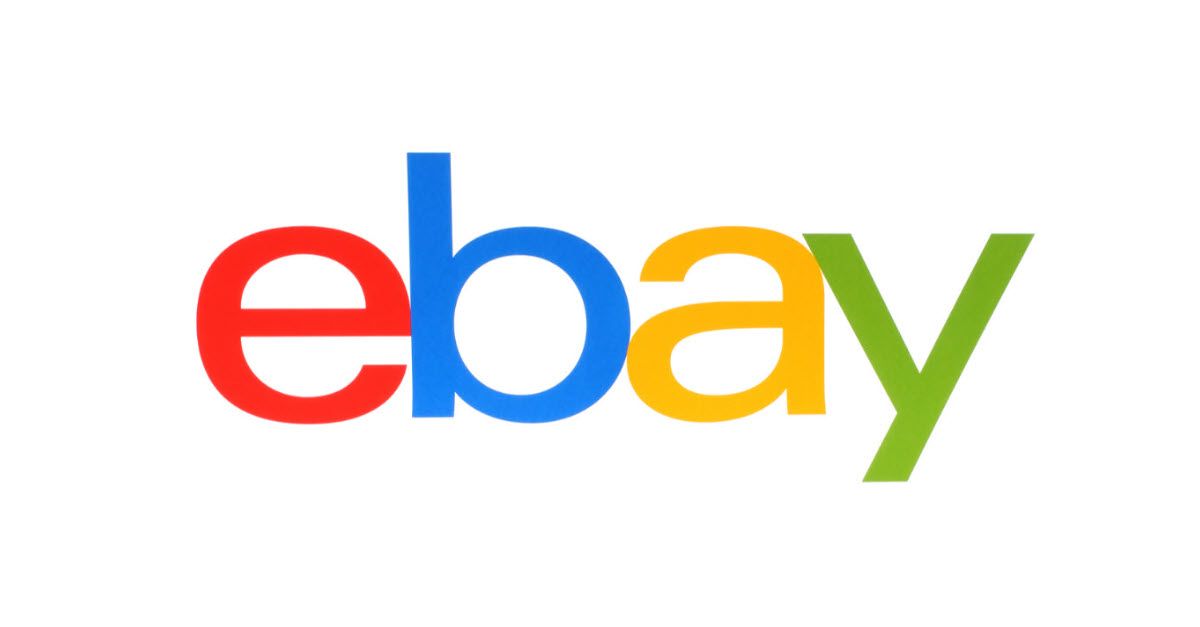 VP Buyer Experience Bradford Shellhammer left in June to become Chief Product Officer at Etsy owned musical instrument marketplace Reverb.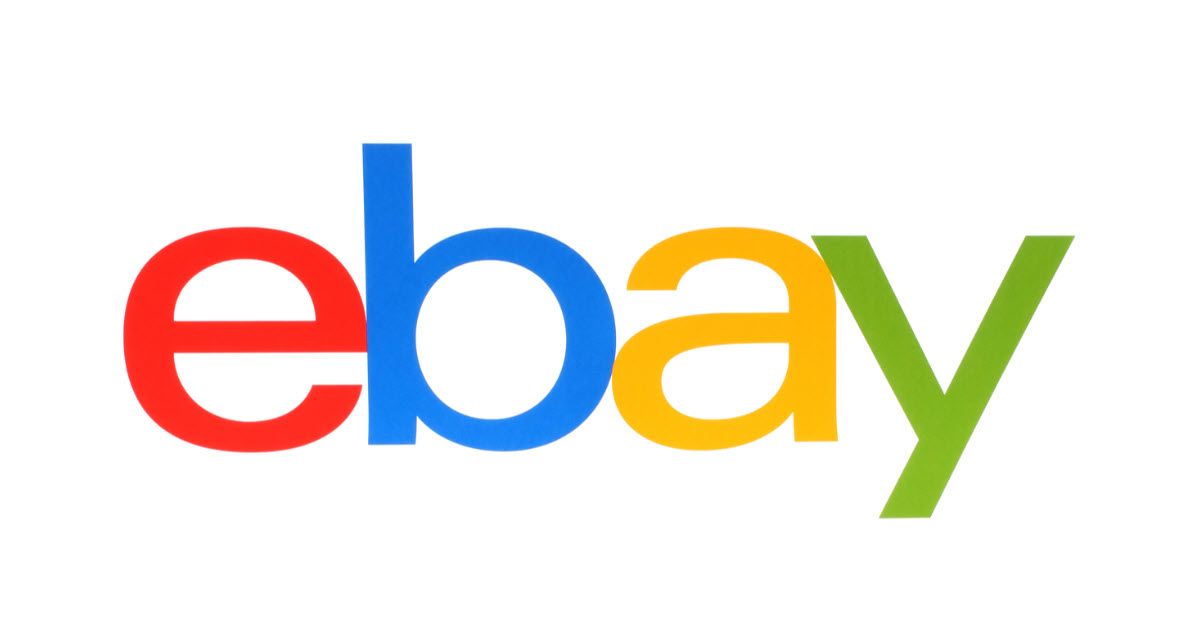 Head of Europe Rob Hattrell left in July to join private equity firm TDR Capital.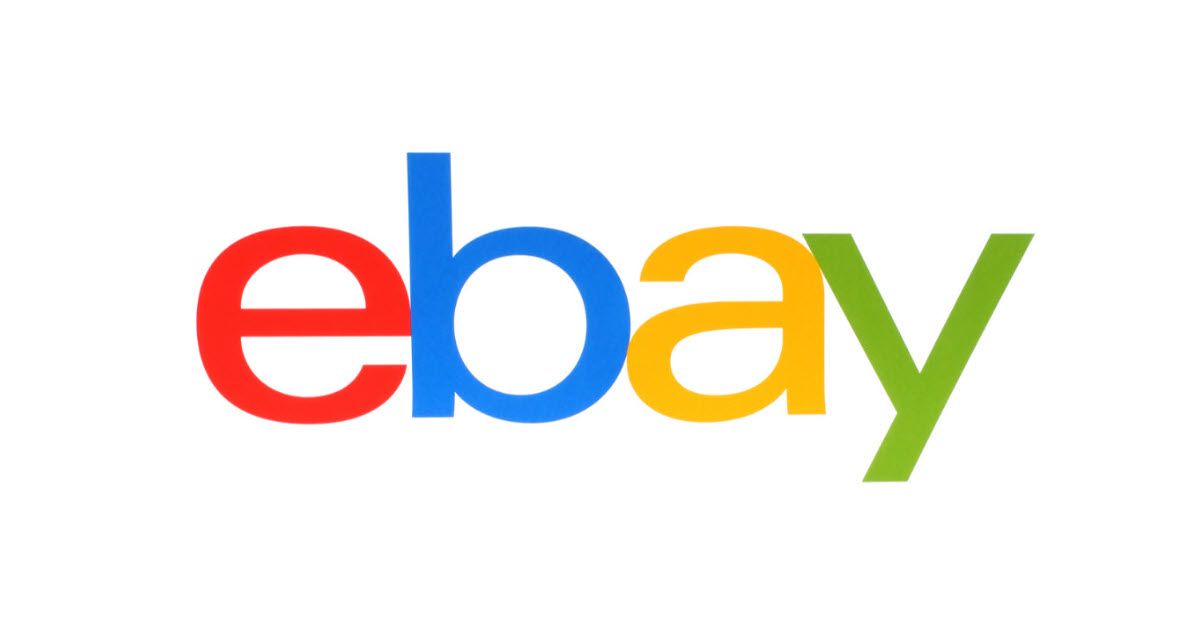 VP Engineering Seller Experience Scot Hamilton also left in July to take a role at Amazon tackling last mile delivery as VP Planning and Routing Technology.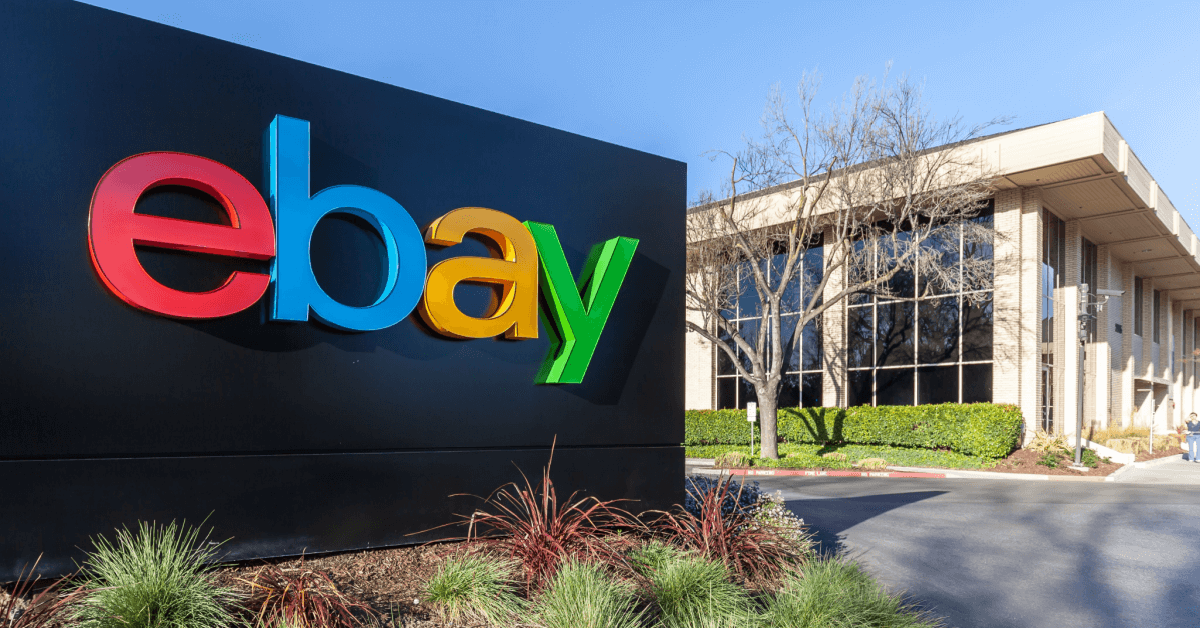 VP Stores Tom Pinckney left in July and VP Core Product Engineering Mark Weinberg quietly slipped out the door in April.
As I've said before, I know some amount of turnover is to be expected at any large company, but it's concerning to see so many high level, long time people exit in such a short span of time.
Mohan Patt and Scot Hamilton had each been at eBay over 16 years - that's a lot of institutional technical product knowledge that not only walked out the door, but went to competing marketplaces as a next stop.
According to his now redirected bio page, Joo Man Park had been with eBay since 2002 and had been overseeing eBay's Asia Pacific Operations since 2017 before stepping up to SVP International in 2021.
His LinkedIn page does not give any hint at where he may be headed next.
Who will step in to fill those shoes? Will it be an internal promotion or will eBay bring in some new blood for a fresh perspective?
Or have they combined all markets under Jordan Sweetnam's purview now?
When it was announced that Rob Hattrell would be leaving, instead of hiring a replacement, eBay said Jordan's role would be expanding to cover that role.
In the past eBay has split international markets up, but I noticed today, in addition to Joo Man Park being taken off the list, Jordan's bio has been updated with his new title - SVP Global Markets, responsible for the company's North American, European and International businesses.
If so, that's quite a consolidation, with what were previously three separate roles (Americas, Europe, and International) now rolled into one.
Also if so, I have to wonder why there was such a long delay in updating the leaderboard? Rob Hattrell also left in July and he was removed from the Our Leaders page by the end of that month.
If they knew that Joo Man Park was also leaving and both positions would be consolidated into Jordan Sweetnam's new role - why not just update everything at the same time? 🤨
Stay tuned as this developing story unfolds.
---