eBay International Operations Shake Up Flies Under The Radar
eBay has quietly made some significant personnel changes in their international operations in the last 2 months with very little public attention or scrutiny.
On September 7th, a notice in eBay's 8-K filed with the SEC stated:
On September 7, 2021, Jae Hyun Lee, Senior Vice President, International of eBay Inc. agreed to step down from his role effective immediately. Mr. Lee will continue in a supporting function to aid transition until September 30, 2021.

As SVP International, Lee was  responsible for "leading eBay's core Marketplaces' international business outside the UK, Germany, France, Italy and Spain. He oversees a diverse portfolio of businesses: off-platform businesses in Korea, Japan and Turkey; our fourth largest on-platform business, in Australia; cross-border trade out of Greater China; and 180+ unsited markets in Asia, Latin America, Eastern Europe, the Middle East and Africa."
That's a significant amount of control over key aspects of the overall eBay business and while this departure may not have been particularly noteworthy in the US, it seems odd that it was not more widely announced.
Even more odd, despite the statement saying Mr. Lee's stepping down was "effective immediately" and he would continue to aid transition until September 30th, eBay made no announcement about who would be taking over the role and did not update their "our leaders" page at that time.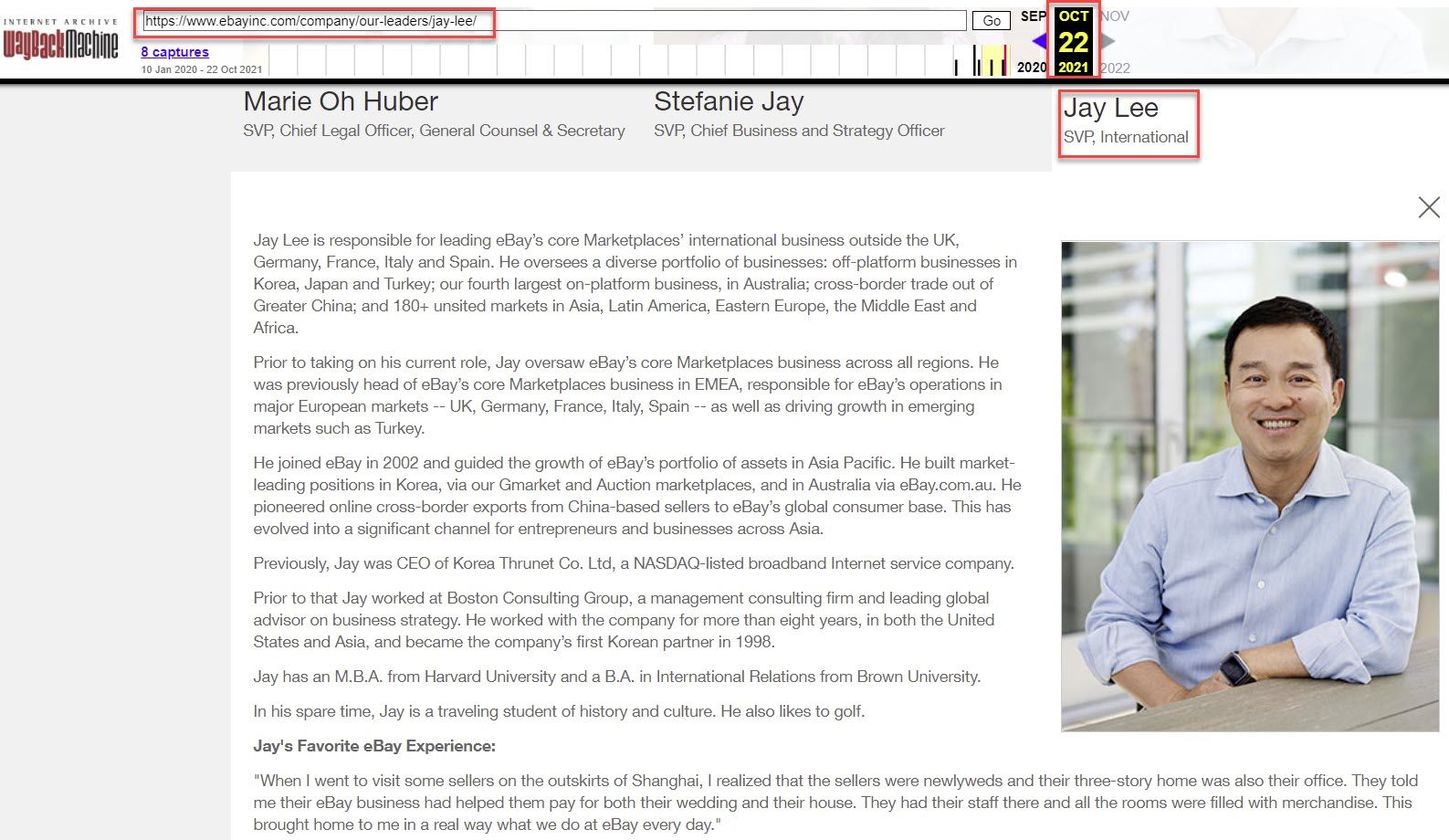 It appears eBay finally removed Jay Lee from the "our leaders" page on October 29th, almost a full month after his "supporting function" time was up and conveniently also after eBay's Q3 earnings call.
eBay has replaced Lee with internal promotion of Joo Man Park.
Aside from swapping out the info on the leader board, there has been no other public announcement or information made available about this significant change in leadership to date.
Lee has apparently found a new home at Kornit Digital.

---
This is reminiscent of another big personnel shakeup earlier this year that eBay also tried to keep on the down low.  VP Seller Experience Harry Temkin abruptly left the company back in June in a move that surprised and concerned many sellers.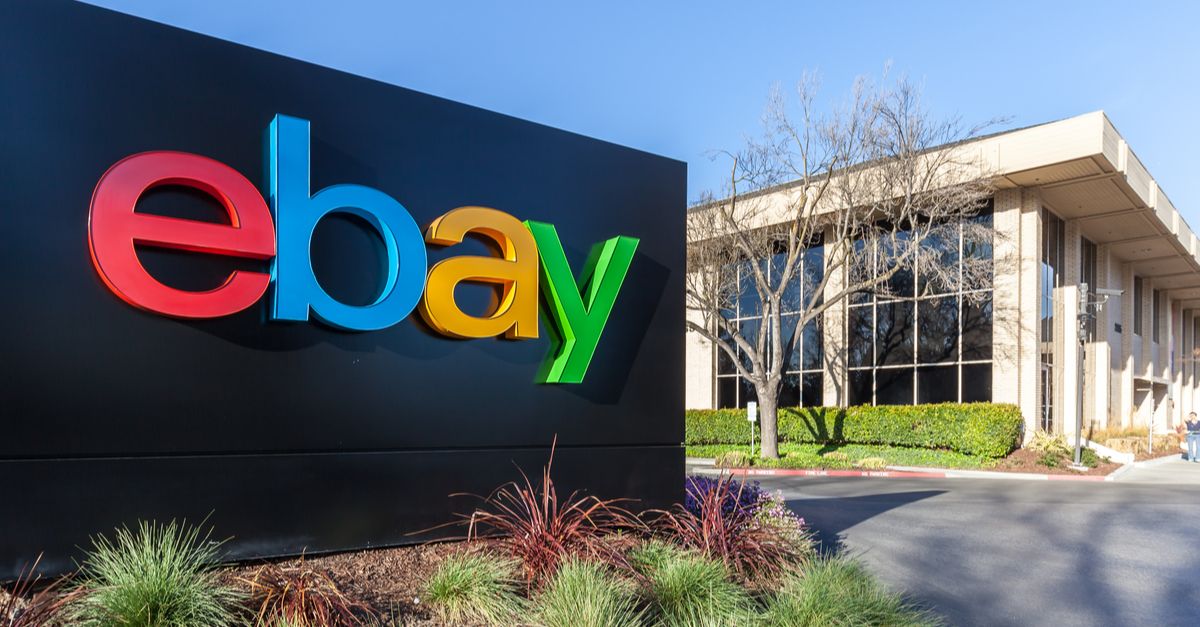 The only announcement of Harry's departure and acknowledgement of his service to the company came as a hastily thrown together last minute segment in the June Seller Check In.
That was the last public eBay appearance Harry made and presumably it was effective immediately or shortly thereafter.  Again, no formal announcement was made and no public explanation for the departure was ever offered.
It's not clear if the decision to part ways came from Harry or eBay, but interestingly it took almost 2 months for Harry to find his way back to his old stomping grounds at DriveWealth.
No direct replacement for Harry was ever announced and it appears they may have simply rolled his responsibilities into a few other positions - most notably Pete Thompson SVP & Chief Product Officer and Michael Cuttone Senior Director Seller Experience Product Management have both stepped up to fill in gaps that would have normally been covered by Harry at eBay Open Online and recent seller check ins.
From an organizational/overall business perspective, Temkin leaving may not be as significant as losing an SVP of International, but the news hit the US selling community pretty hard.
Harry was the public "face" of many of eBay's seller initiatives especially new tools, reports, and features.  It's worth noting that many of those initiatives that were "works in progress" at the time of his departure have languished since - some missing promised timeframes for initial rollout and others appearing to simply have fallen down a blackhole all together.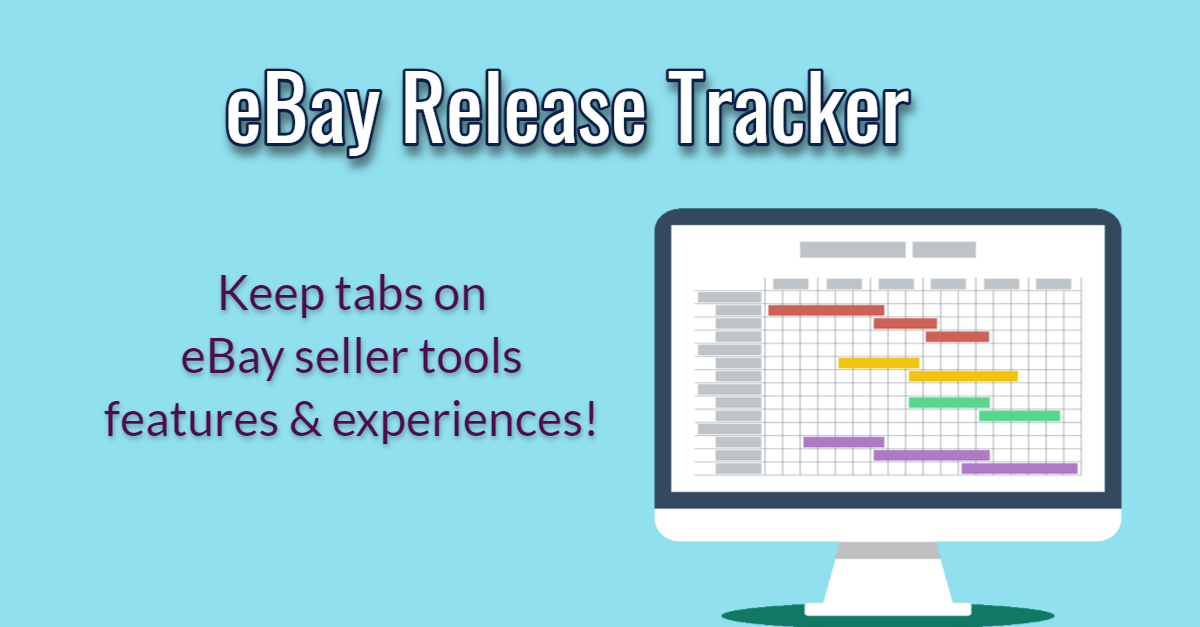 ---
It would appear that CEO Jamie Iannone prefers to keep such high profile shake ups under the radar as much as possible - which doesn't seem to fit the "transparency" narrative he has tried to craft since returning to lead the company 18 months ago.
That begs the question - what's really going on in eBay's leadership ranks?
---