Amazon CEO Sees AWS Headwinds, Touts AI Investment In Shareholder Letter
Amazon CEO Andy Jassy has released his yearly letter to shareholders ahead of Annual Shareholder Meeting scheduled for May 24, 2023, revealing "short term headwinds" for Amazon Web Services (AWS) and a major investment in Large Language Models ("LLMs") and Generative AI.
Jassy acknowledged the difficult decisions made in the last year to shutter some business operations and undertake multiple rounds of layoffs that impacted ~27,000 jobs at the company.
Over the last several months, we took a deep look across the company, business by business, invention by invention, and asked ourselves whether we had conviction about each initiative's long-term potential to drive enough revenue, operating income, free cash flow, and return on invested capital. In some cases, it led to us shuttering certain businesses. For instance, we stopped pursuing physical store concepts like our Bookstores and 4 Star stores, closed our Amazon Fabric and Amazon Care efforts, and moved on from some newer devices where we didn't see a path to meaningful returns.



In other cases, we looked at some programs that weren't producing the returns we'd hoped (e.g. free shipping for all online grocery orders over $35) and amended them. We also reprioritized where to spend our resources, which ultimately led to the hard decision to eliminate 27,000 corporate roles. There are a number of other changes that we've made over the last several months to streamline our overall costs, and like most leadership teams, we'll continue to evaluate what we're seeing in our business and proceed adaptively.
He also reiterated his commitment to Amazon's return to office plans which have sparked contention between pro and anti-RTO employees.
Amazon Web Services (AWS) has long been one of the solidly profitable parts of the business and it's clear Jassy is trying to set expectations for "challenging macroeconomic conditions" while reassuring shareholders that AWS remains strong.
AWS has an $85B annualized revenue run rate, is still early in its adoption curve, but at a juncture where it's critical to stay focused on what matters most to customers over the long-haul. Despite growing 29% year-over-year ("YoY") in 2022 on a $62B revenue base, AWS faces short-term headwinds right now as companies are being more cautious in spending given the challenging, current macroeconomic conditions.



While some companies might obsess over how they could extract as much money from customers as possible in these tight times, it's neither what customers want nor best for customers in the long term, so we're taking a different tack. One of the many advantages of AWS and cloud computing is that when your business grows, you can seamlessly scale up; and conversely, if your business contracts, you can choose to give us back that capacity and cease paying for it. This elasticity is unique to the cloud, and doesn't exist when you've already made expensive capital investments in your own on-premises datacenters, servers, and networking gear.



In AWS, like all our businesses, we're not trying to optimize for any one quarter or year. We're trying to build customer relationships (and a business) that outlast all of us; and as a result, our AWS sales and support teams are spending much of their time helping customers optimize their AWS spend so they can better weather this uncertain economy. Many of these AWS customers tell us that they're not cost-cutting as much as cost-optimizing so they can take their resources and apply them to emerging and inventive new customer experiences they're planning. Customers have appreciated this customer-focused, long-term approach, and we think it'll bode well for both customers and AWS.



While these short-term headwinds soften our growth rate, we like a lot of the fundamentals that we're seeing in AWS. Our new customer pipeline is robust, as are our active migrations. Many companies use discontinuous periods like this to step back and determine what they strategically want to change, and we find an increasing number of enterprises opting out of managing their own infrastructure, and preferring to move to AWS to enjoy the agility, innovation, cost-efficiency, and security benefits. And most importantly for customers, AWS continues to deliver new capabilities rapidly (over 3,300 new features and services launched in 2022), and invest in long-term inventions that change what's possible.
As with other marketplaces like eBay, ads remain an important source of revenue for Amazon.
Akin to physical retailers' advertising businesses selling shelf space, end-caps, and placement in their circulars, our sponsored products and brands offerings have been an integral part of the Amazon shopping experience for more than a decade.



However, unlike physical retailers, Amazon can tailor these sponsored products to be relevant to what customers are searching for given what we know about shopping behaviors and our very deep investment in machine learning algorithms. This leads to advertising that's more useful for customers; and as a result, performs better for brands.



This is part of why our Advertising revenue has continued to grow rapidly (23% YoY in Q4 2022, 25% YoY overall for 2022 on a $31B revenue base), even as most large advertising-focused businesses' growth have slowed over the last several quarters.
Jassy also made it clear that Amazon sees Buy With Prime as a critical growth initiative.
Buy with Prime allows third-party brands and sellers to offer their products on their own websites to our large Amazon Prime membership, and offer those customers fast, free Prime shipping and seamless checkout with their Amazon account. Buy with Prime provides merchants several additional benefits, including Amazon handling the product storage, picking, packing, delivery, payment, and any returns, all through Amazon Pay and Fulfillment by Amazon.



Buy with Prime has recently been made available to all US merchants; and so far, Buy with Prime has increased shopper conversion on third-party shopping sites by 25% on average. Merchants are excited about converting more sales and fulfilling these shipments more easily, Prime members love that they can use their Prime benefits on more destinations, and Buy with Prime allows us to improve the shopping experience across more of the web.



Expanding internationally, pursuing large retail market segments that are still nascent for Amazon, and using our unique assets to help merchants sell more effectively on their own websites are somewhat natural extensions for us.
However, despite Amazon's lofty goals for the product, Marketplace Pulse reports adoptions rates have been very low.
One huge obstacle for Amazon has been the ongoing fight with Shopify over Buy With Prime integration.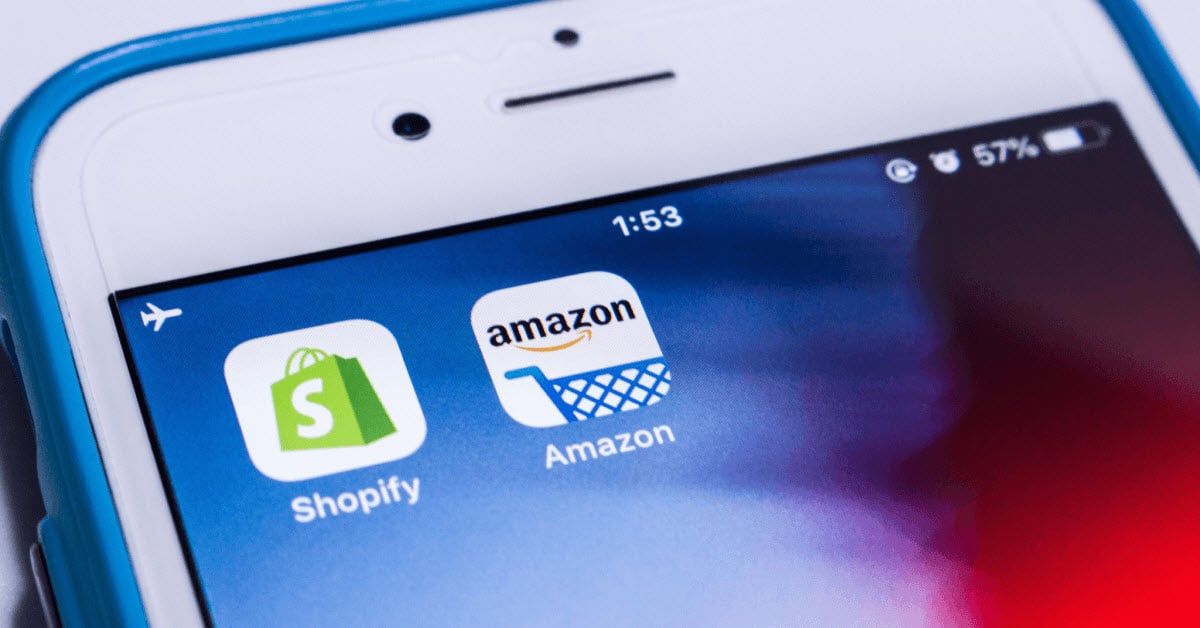 Shopify has made waves recently with their ChatGPT enabled shopping assistant and Jassy is obviously feeling the pressure to use AI and LLMs to bring innovative new technologies to Amazon as well.
One final investment area that I'll mention, that's core to setting Amazon up to invent in every area of our business for many decades to come, and where we're investing heavily is Large Language Models ("LLMs") and Generative AI.



Machine learning has been a technology with high promise for several decades, but it's only been the last five to ten years that it's started to be used more pervasively by companies. This shift was driven by several factors, including access to higher volumes of compute capacity at lower prices than was ever available.



Amazon has been using machine learning extensively for 25 years, employing it in everything from personalized ecommerce recommendations, to fulfillment center pick paths, to drones for Prime Air, to Alexa, to the many machine learning services AWS offers (where AWS has the broadest machine learning functionality and customer base of any cloud provider).



More recently, a newer form of machine learning, called Generative AI, has burst onto the scene and promises to significantly accelerate machine learning adoption. Generative AI is based on very Large Language Models (trained on up to hundreds of billions of parameters, and growing), across expansive datasets, and has radically general and broad recall and learning capabilities.



We have been working on our own LLMs for a while now, believe it will transform and improve virtually every customer experience, and will continue to invest substantially in these models across all of our consumer, seller, brand, and creator experiences. Additionally, as we've done for years in AWS, we're democratizing this technology so companies of all sizes can leverage Generative AI.



AWS is offering the most price-performant machine learning chips in Trainium and Inferentia so small and large companies can afford to train and run their LLMs in production. We enable companies to choose from various LLMs and build applications with all of the AWS security, privacy and other features that customers are accustomed to using. And, we're delivering applications like AWS's CodeWhisperer, which revolutionizes developer productivity by generating code suggestions in real time.



I could write an entire letter on LLMs and Generative AI as I think they will be that transformative, but I'll leave that for a future letter. Let's just say that LLMs and Generative AI are going to be a big deal for customers, our shareholders, and Amazon.
More information:
---
Amazon's full 2023 Proxy Statement can be read here:

One interesting note - Jassy's compensation for 2022 was significantly down, mostly due to not being granted any equity awards and the decline in value of restricted stock units.
Our emphasis on periodic grants of time-vested restricted stock units that vest over the long term strongly aligns our executives' compensation with the returns we deliver to shareholders. For example, our CEO's Compensation Actually Paid (as defined by the SEC) for 2022 was negative $148 million, largely attributable to the 2022 decline in value of restricted stock units scheduled to vest over the next 8 years, while his 2022 realized compensation declined by 25% from 2021.



Following our 2022 Annual Meeting of Shareholders, at which 56% of the votes cast supported our advisory vote to approve the compensation of our named executive officers, we engaged in extensive outreach to our shareholders, with the Chair of the Leadership Development and Compensation Committee holding one-on-one or small group meetings with most of our 20 largest shareholders.



The Committee did not grant any equity awards to our CEO during 2022, and our Compensation Discussion and Analysis addresses other questions and concerns with respect to our named executives' 2021 compensation.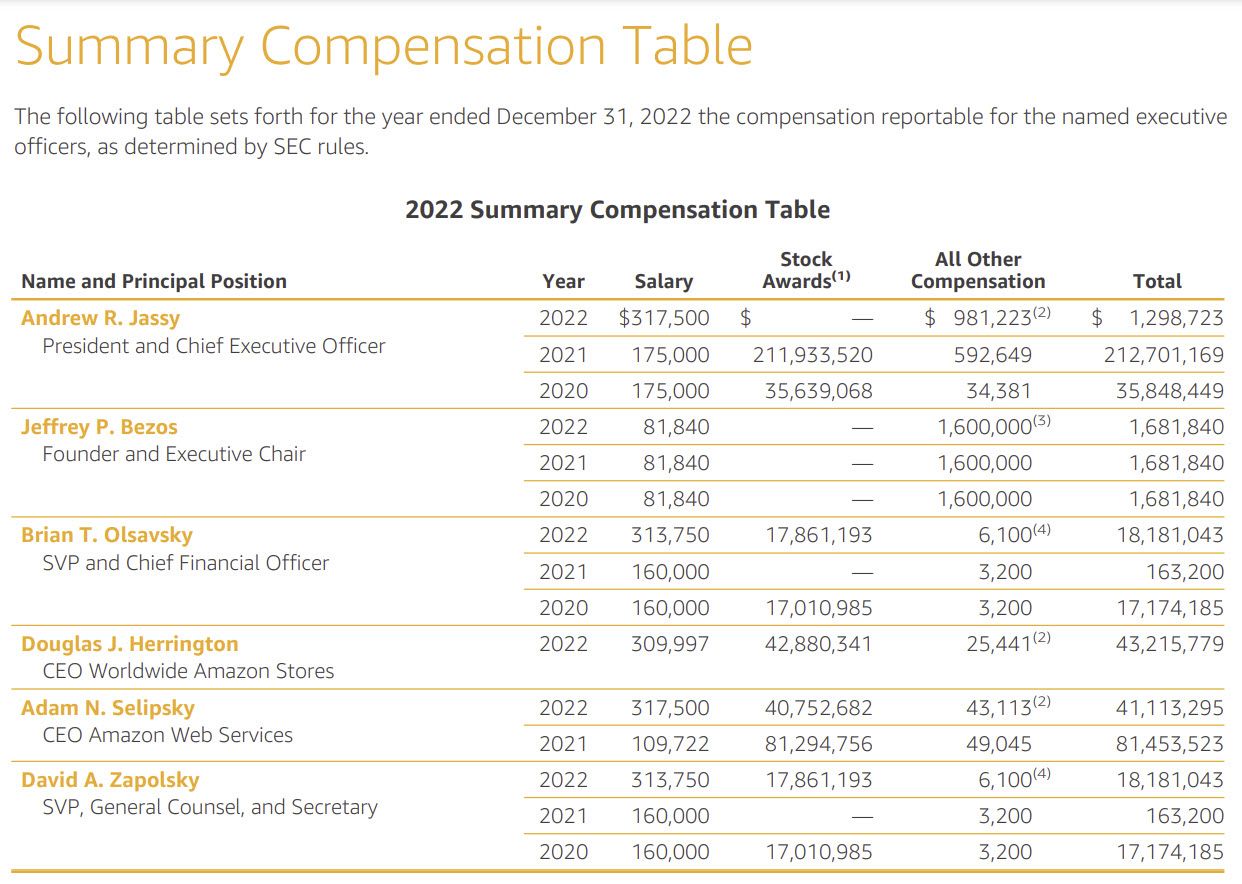 Jassy ended his letter on an optimistic note.
So, in closing, I'm optimistic that we'll emerge from this challenging macroeconomic time in a stronger position than when we entered it. There are several reasons for it and I've mentioned many of them above. But, there are two relatively simple statistics that underline our immense future opportunity.



While we have a consumer business that's $434B in 2022, the vast majority of total market segment share in global retail still resides in physical stores (roughly 80%). And, it's a similar story for Global IT spending, where we have AWS revenue of $80B in 2022, with about 90% of Global IT spending still on-premises and yet to migrate to the cloud. As these equations steadily flip—as we're already seeing happen—we believe our leading customer experiences, relentless invention, customer focus, and hard work will result in significant growth in the coming years. And, of course, this doesn't include the other businesses and experiences we're pursuing at Amazon, all of which are still in their early days.



I strongly believe that our best days are in front of us, and I look forward to working with my teammates at Amazon to make it so.
We will see if shareholders share that optimism after the annual meeting on May 24.
---