Amazon Is Shutting Down Fabric.Com
UPDATE 12-14-22
Amazon is closing a facility in Kennesaw, GA, near Atlanta, related to the Fabric.com shutdown. The closure will be effective April 1 and Amazon is currently looking to place the 219 impacted employees in other positions at the company, according to the Atlanta Business Chronical.
Amazon.com Inc. (NASDAQ: AMZN) will close its ATL5 facility in Kennesaw at 4190 Jiles Road, 2 miles west of Kennesaw State University. The closure will be effective around April 1, according to a notice sent to the Georgia Department of Labor through the Worker Adjustment and Retraining Notification Act.



Approximately 219 employees are employed at the warehouse. The affected employees have been offered to be internally transferred at Amazon facilities in the area, according to the spokesperson. Impacted positions include managerial, engineering, human resource and financial positions, based on the notice.



The warehouse closing and mass layoff is related to the recent closure of the company's sewing supply subsidiary Fabric.com, a company spokesperson said.



The Marietta-based online fabric store was bought by Amazon in 2008. Four years later, the sewing retailer moved to a 200,000-square-foot building in Jiles Commerce Center in Kennesaw, spending $4 million and expecting to employ 250.
---
UPDATE 10-22-20
It appears Amazon pulled the plug early, not even waiting until the end of the year as they had reportedly stated in communications with vendors.
Visitors to the site are now greeted with the following message:
As of October 20, 2022, we will no longer sell products on fabric.com. Thank you so much for supporting our business over the years. We appreciate the role we played in bringing your creations to life, and wish you the best as you continue to make this world a more beautiful place with your handmade designs! Amazon.com continues to offer more than a million fabrics and sewing supplies, and we encourage you to explore the Amazon fabric shop to meet your creative needs.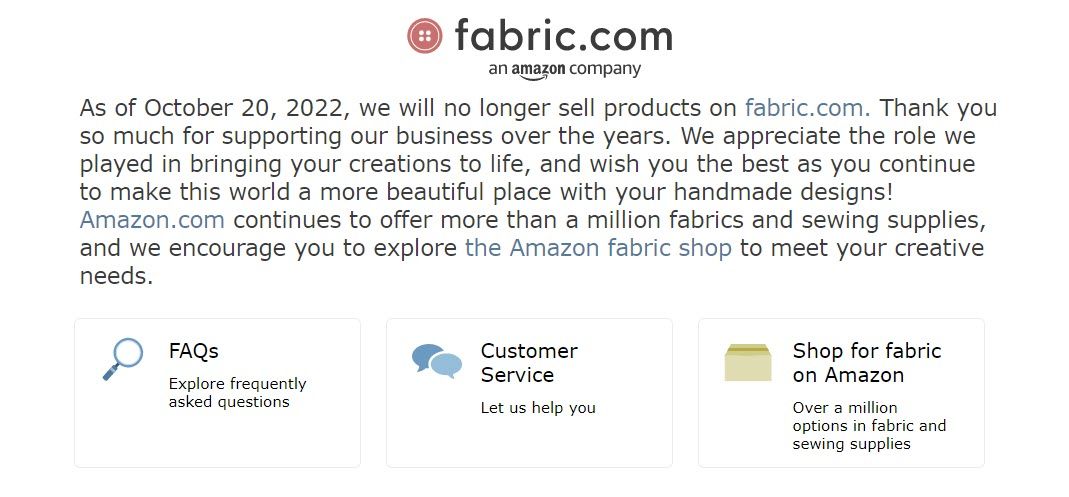 ---
Amazon is shutting down Fabric.com at the end of the year, according to the Craft Industry Alliance.
In a letter to vendors today, Fabric.com announced that it will be shutting down. The company, which is owned by Amazon, said it alerted employees to news on Monday.



Fabric.com was originally the website of Phoenix Textile Group, a company founded in 1993 as a wholesale distributor of apparel fabrics. Phoenix Textiles launched the website in 1999 in order to experiment with selling yardage directly to consumers online. Amazon acquired Fabric.com in 2008 in an effort to expand its inventory of craft and hobby materials. Fabric.com was one of a suite of freestanding websites acquired by Amazon that also included Audible and Zappos...



...For many fabric companies, Fabric.com was the industry's largest buyer...



...Fabric.com will be open through the end of 2022. Employees have been offered a severance package or the opportunity to seek employment in another Amazon division. Fabric.com is headquartered in Kennesaw, Georgia.
The move reportedly comes after years of complaints about Fabric.com being late to pay vendors and management that didn't seem to understand the industry.
Another fabric company executive we spoke with also said that Fabric.com's payments to vendors had been slow over the last few years.



About six months ago, Amazon reached out to Fabric.com vendors to say that all fabric would soon need to be sold directly on Amazon.com. Vendors were told to upload all of their products to Amazon in one, three, or five-yard increments, seemingly with no regard to the fact that fabric manufacturers sell wholesale by the roll or bolt, and not by the yard.
---