eBay Server Errors Impact Ad Delivery, Listing Page Loading
eBay users are increasingly reporting server loading errors that are impacting delivery of both 3rd party ads and 1st party Promoted Listings ads on the site as well as other page loading problems
The issue is causing the first two rows of Promoted Listings ads to show as blank grey boxes that pulse as if they are trying to load, but never do.
It is also blocking the space where there is usually an ad module serving either 3rd party Google ads or 1st party Promoted Display ads as well, even with all ad blockers or privacy extensions disabled.
Side note - yes, there are still many active listings for the Paqui One Chip Challenge product that was recalled by the manufacturer on September 7th due to a possible connection to at least one teen death, despite eBay claiming they are blocking listings and preventing sales.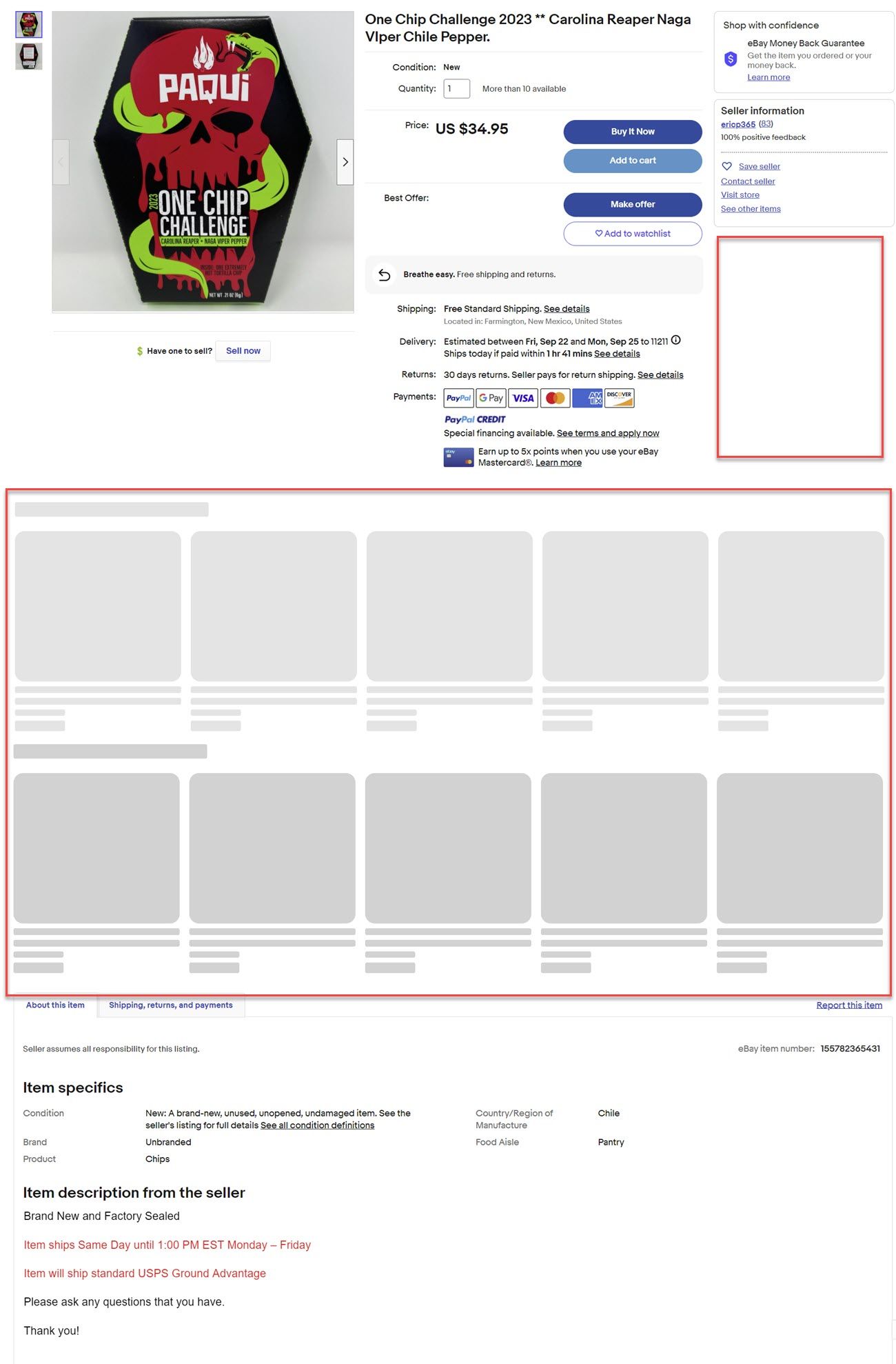 When i view an item, I can no longer see similar items. It comes up with blank boxes.
Maybe, someone has already explained, but I missed it. What are all the grayed-out ads on our listings? Where the promoted ads used to be? Are they changing something?
on my listing there are 10 large grey blocks after my listing pictures and before anyone can get down to my item's description. How to get rid of these large blank grey blocks
Yes, I see what you mean. Normally, that's where eBay advertises similar items, usually from other sellers. Be glad they are greyed out...for as long as it lasts before they "fix" it.
While some sellers may be somewhat happy that competing ads are not showing above their descriptions when this happens, the blank boxes still push the description down out of view and of course buyers who encounter this strange experience may be more likely to exit the page without purchasing if they believe something is wrong with the site or they may encounter further technical issues if they were to try to check out.
Another user reported seeing an error message instead of a blank box where the 3rd party ads are usually served, both on the listing page and in search results.




looks like the ad they are trying to put there is not linking?
Now I'm seeing it on searches.......not just on listings



Many users are also reporting they are still receiving a message that says "There seems to be a problem serving the request at this time" when trying to view items from a Store's homepage.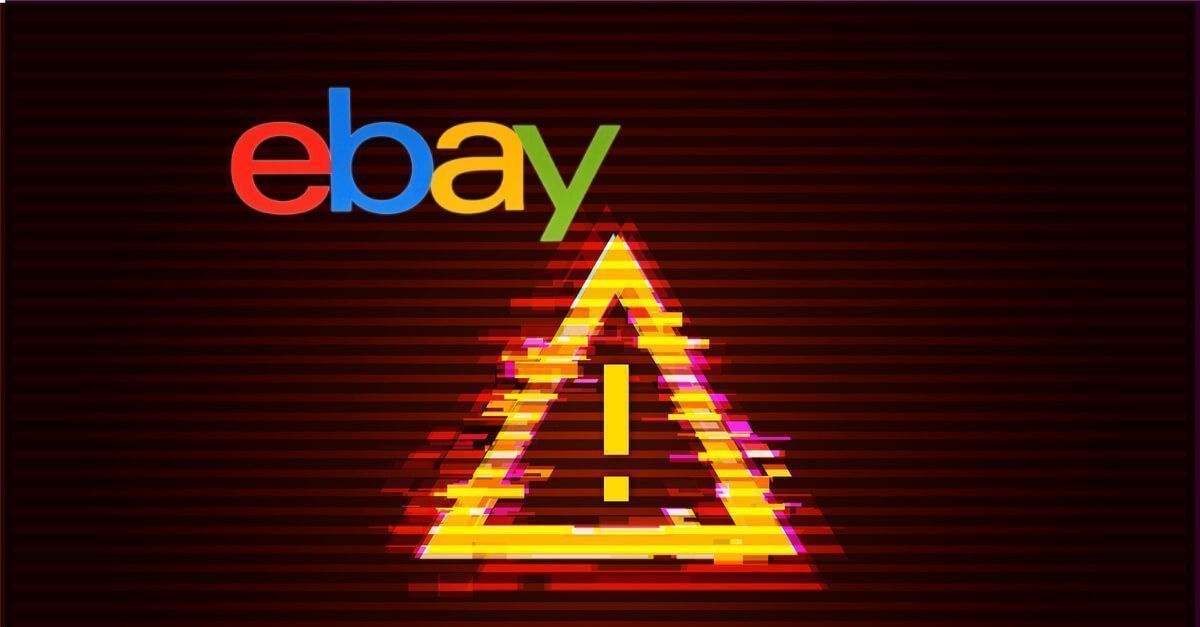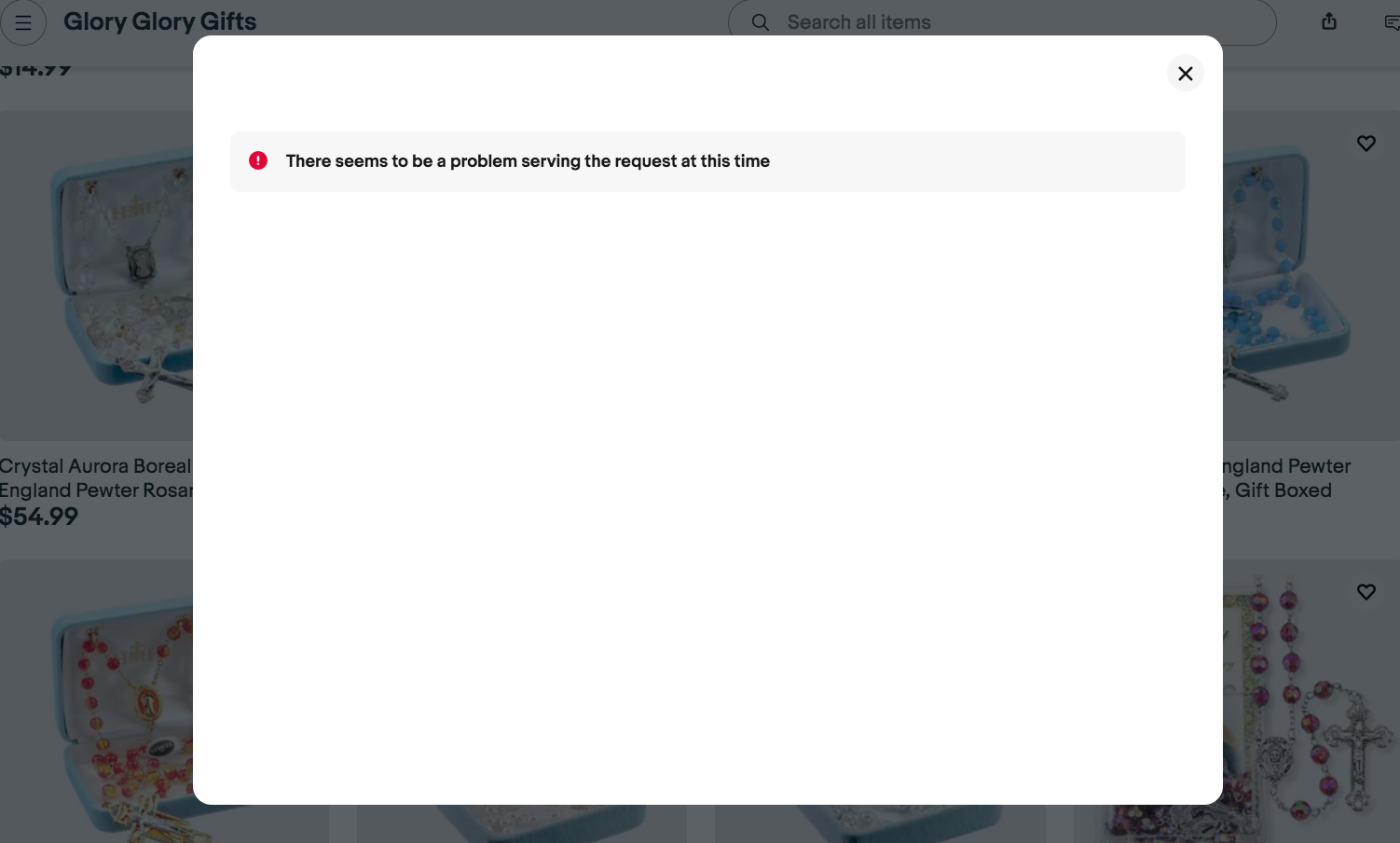 ---
CEO Jamie Iannone has been an a multi-year "tech-led reimagination of the platform" with growing ad revenue from Promoted Listings as a major priority for the company, yet critical site functionality continues to falter under almost daily technical problems.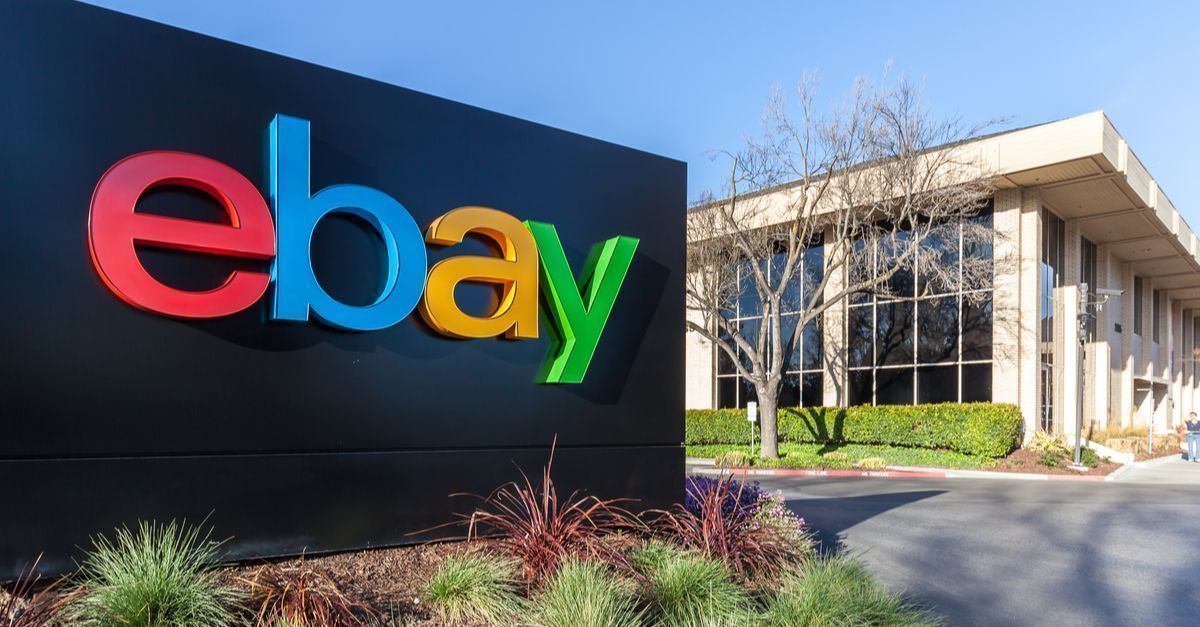 Ex-CEO Devin Wenig infamously said at eBay Open 2018 that technical glitches are unacceptable and really pissed him off.
There've been a lot of site glitches recently on eBay. What are you guys doing to get rid of them?
Here's the simple answer - unacceptable, unacceptable. And we're making a lot of changes. When you make changes there are times that things happen but that's not an excuse and it's not ok with me and this summer in particular there have been a number of issues that directly impacted sellers like people not being able to see their view counts and a few other things and it's just not ok.

I'm extremely proud of a lot of things we've done, I'm not proud of that and in fact I hold my team accountable and it's not important, it's an internal matter but, we made changes to people and teams because shipping product that isn't ready is not ok. It's not ok with me and it's not ok with my team.

So the short answer is it's not like we don't get it. We are making a lot of changes and I want to make those changes, we need to make those changes, but making changes and then having to back up and fix things is not cool and I totally get it. Most of the issues from this summer have now been remedied but I was pissed off.
Those business impacting glitches and other executive failures caught the attention of activist investor Elliott Management, resulting in a very public letter calling for substantial changes at the company in their Enhancing eBay plan (emphasis mine).
...As an online marketplace that provides a critical forum for millions of buyers and sellers, the efficient and effective functioning of the platform is paramount. Unfortunately,eBay has been plagued by technical problems and operational challenges for years...



...Fast forward to recent years and the platform still faces issues. In 2018, eBay sellers complained about countless technical issues including incorrect billing, lost photos, warped titles and many others. On this month's end of year podcast, eBay senior management apologized to sellers and admitted, "This is a 2018 that we don't want to repeat on a number of levels. And the technology issues that we have had with the platform is top of the list."



We agree:The consistent reliability of the platform is central to eBay's success, and management must do all that it takes to achieve it.



While innovative endeavors in new pursuits like machine learning and augmented reality are promising future technologies,eBay's publicly touted initiatives in these areas will add little value if the core platform continues to have critical functionality failures.
eBay Open 2023 will be taking place next week, but it's unlikely Jamie will face similar tough questions from sellers as his segments are completely pre-recorded and he is not scheduled to take part in any live Q&A portions of the event.
However, even though Elliott has since divested their shares in eBay, consistent technical misexecution under Iannone's leadership is still on the radar for investors and may come under increased scrutiny when Q3 earnings are released - especially if it continues to interfere with critical functionality like ad delivery that could have a serious impact on eBay's bottom line.
---