eBay Open 2023 Registration & Agenda Now Live!
UPDATE 9-26-23
CEO Jamie Iannone posted on LinkedIn today that he will be kicking things off at the eBay Open Studio event in Philadelphia - though it's not clear if he will be there in person or joining virtually.
Today I'm kicking off #eBayOpen2023 in Philadelphia with hundreds of eBay sellers. It's an opportunity for me and other eBay employees to hear directly from our sellers about their ideas and suggestions for the platform.



eBay Open is the biggest seller event of the year - it's three days of coming together, in person and virtually, to build community and share information that will help their businesses thrive. We also have a lot of exciting updates this year - about our evolved eBay strategy, our tech and AI innovations, and the new Up & Running grantees!
Interestingly, eBay has now removed the first keynote with Jamie and other executives originally scheduled for 12:oo PM- 1:50 PM from the official agenda.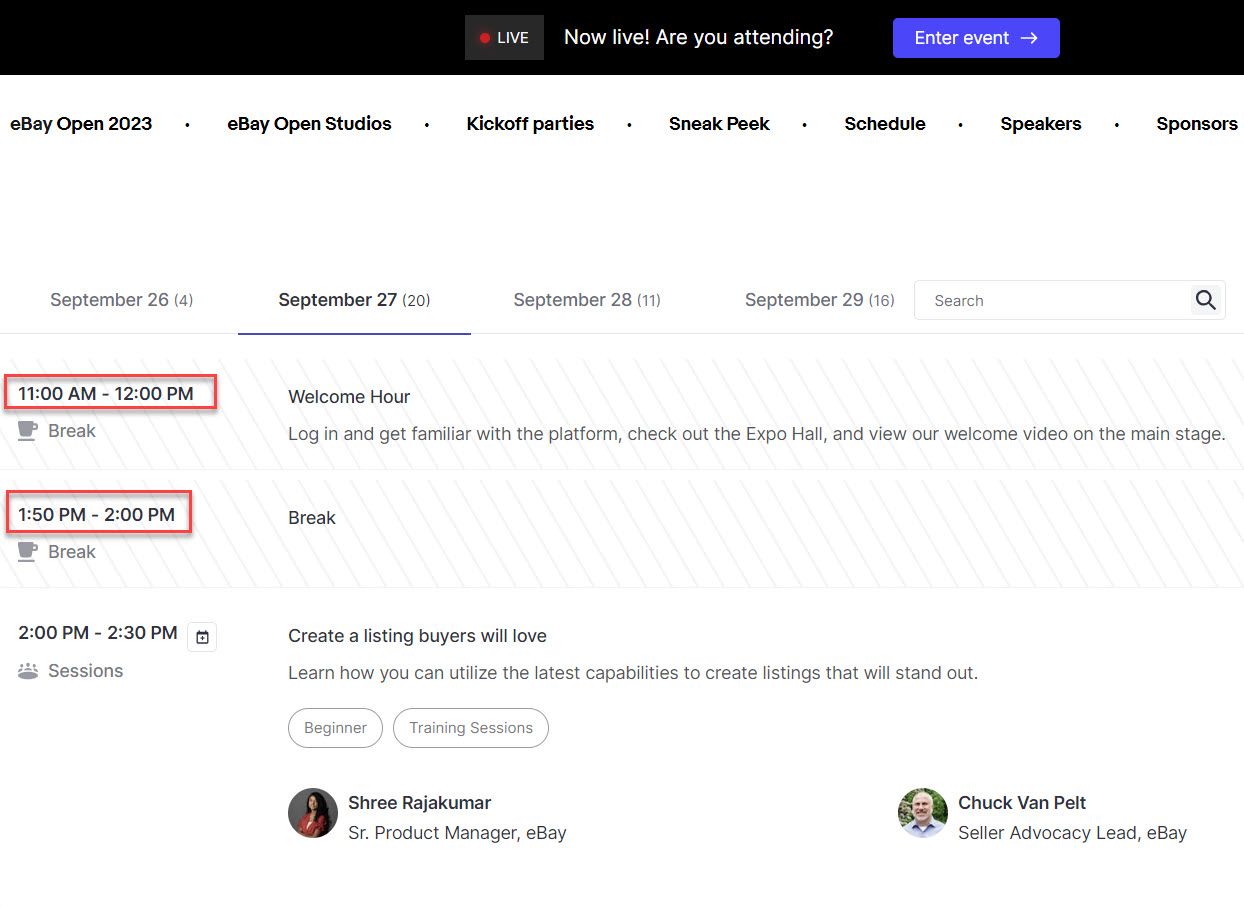 ---
UPDATE 9-24-23
Director of Seller Engagement and Community Rebecca Michals and VP and General Manager of eBay US Adam Ireland revealed in the eBay Open Sneak Peek that category breakouts and seller-led sessions will have a live, on camera Q&A session with each segment host after the pre-recorded content is played.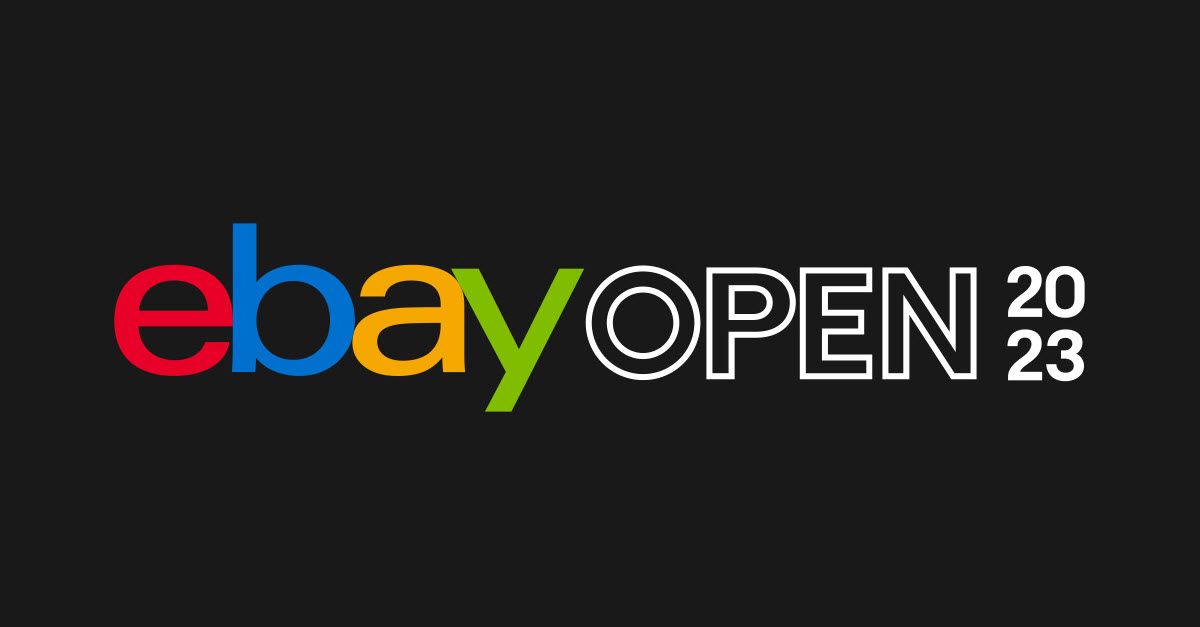 Unfortunately, CEO Jamie Iannone, Chief Business Strategy Officer Stefanie Jay and other execs who are only slated to appear in pre-recorded keynotes or interviews will not be participating in any live seller engagement during the virtual event.
Yes, Adam and Rebecca announced that after each Category, Training and Seller-led session, we'll have the presenters come on live to answer some questions in addition to having staff answering questions in the Q&A tab per usual.



During the Keynote presentations, we will not have live Q&A. The executives will be covering high-level topics, and we are encouraging all questions to be directed to the booths in the Expo Hall. The booths will be staffed from 8am-2pm (PST) every day to answer questions. Various eBay executives will be doing live Q&A at our four eBay Studio events in Atlanta, Philadelphia, Chicago and Phoenix.
---
Registration is now live for eBay Open 2023!
Highlights from the agenda below show eBay is leaning heavily on seller hosted segments this year with many overlapping sessions - but don't worry if you can't make them, like last year, most of the sessions will likely be pre-recorded (not live) and will be posted to eBay's YouTube channel to watch after the fact.
There will also be seller networking virtual chat rooms and an expo area where sellers can interact with reps from various eBay departments as well as conference sponsors like Asendia, List Perfectly, Channel Advisor, Linnworks, Easyship, Avalera, CedCommerce, Vendoo, Wonderlister and more.
September 26
eBay Open Studios and Seller-hosted kickoff parties will be taking place in Atlanta, Chicago, Philadelphia and Phoenix from 5pm-8pm local time.
---
September 27
11:00 AM-12:00 PM
Welcome Hour
Log in and get familiar with the platform, check out the Expo Hall, and view our welcome video on the main stage.
12:00 PM-1:30 PM
Opening Keynote – Day 1: Fueling passions and growing businesses
In this opening session, eBay President & CEO Jamie Iannone shares how we are innovating with our sellers' needs in mind.



Jordan Sweetnam, SVP of Global Markets, talks about growth, trust, Focus Categories and our future-facing plans; Eddie Garcia, Chief Product Officer, and Xiaodi Zhang, VP of Seller Experience, discuss some of our newest products and tools designed to help our sellers thrive. eBay Leaders share more on our company strategy and how it is centered around our customers' success.



Finally, Adam Ireland, VP & U.S. General Manager, discusses international growth opportunities and Stuart Reichenbach, Senior Director of Shipping, talks to a few sellers about eBay International Shipping.
1:40 PM-2:10 PM
Create a listing buyers will love
Learn how you can utilize the latest capabilities to create listings that will stand out.



Shree Rajakumar - Sr. Product Manager, eBay

Chuck Van Pelt - Seller Advocacy Lead, eBay
Save time and money with shipping labels
Avoid common shipping mistakes by learning some best practices when it comes to setting shipping options. We'll also share how you can save money with eBay Labels.



Kelly Jo McIntyre - Director, NA Shipping, eBay

Zen Liu - Director, Product Management, eBay
The evolution of Promoted Listings Advanced
The eBay Ads team discusses enhanced visibility and reporting tools for Promoted Listings Advanced.



Julie Klein - Director, Ads Marketing, eBay
Economic forces shaping consumer spending patterns
Kelsey Robinson from McKinsey & Company discusses their research on consumer behaviors and current splurge categories.



Kelsey Robinson - Senior Partner at McKinsey & Company
2:25 PM-2:55 PM
Turn your death pile into cash: tips for inventory management
Learn how to maximize your business as well as your time, your money, and your energy when it comes to managing your inventory



Alex Carrera - eBay seller
Ship internationally and make money worldwide
Understand the basics—including shipping options and tips and tricks to expand your business worldwide.



T.A. Ewart - eBay seller
Resources for sellers
eBay provides you with several resources that you can take advantage of to grow your business. Learn what they are, where to find them, and how to best utilize them.



Alec Larson - eBay seller
3:30 PM-4:00 PM
Collectibles (Comics, Toys, Coins, etc.)
Come hear what's new in the collectibles categories, including new formats such as eBay Live, exciting brand partnerships and best practices to prep for the holiday season ahead! We'll also talk with eBay Seller Mayumi Roehm about how she got started selling collectibles.



Mayank Hajela - Director, Collectibles, eBay

Mayumi Roehm - eBay seller
Collectible Card Game Trends & Growth Opportunities
eBay and TCGplayer have come together to offer the best collectible card game experience in the market. Learn about the latest industry trends and discover how we can help grow your business utilizing some of the best tools on each platform.



In addition, we'll be interviewing eBay Seller Aaron Ottensman about how he got started in ecommerce and buying and selling cards on eBay.



Luke Meyer - Sr. Category Manager, eBay

Anthony Ferreira - VP, Seller Growth & Success, TCGplayer

Aaron Ottensmann - eBay seller

Shawn Singh - Category Manager, Trading Cards, eBay
Fashion Apparel
Learn how eBay is taking advantage of the fashion industry's evolution by offering both new and pre-loved pieces in our "whole outfit" offering. Learn about top-selling brands, key retail moments, and other details to help you grow. eBay Seller Michelle Nguyen, will talk about why she became a small business owner and what she wants to accomplish in the world.



Kirsty Keoghan - Global Senior Director of Fashion, eBay

Michelle Nguyen - eBay seller

Kathryn Danielsen - Category Manager, Preloved Apparel US, eBay
Home interior
Discover eBay's home interior strategy, best practices, and industry insights on how to use this category to grow your eBay business. In addition, hear from eBay Seller Michael Swoape, who has over twenty-five years of retail sales and marketing experience overseeing One4Silver's day-to-day operations and leading a team of tabletop experts with a focus on customer service.



Todd Elledge - Sr Category Manager Home Decor & Kitchen, eBay

Michael Swoape -eBay seller

Chelsea Walsh - Home Interior Category Lead, eBay
Electronics
Discover how global events have changed trends in eBay's electronics business and hear from eBay seller Jude Lugo, who has had an interest in business and selling since he was 13 years old.



Mikhaila Amora - Director, Hard Home and Emerging Verticals, eBay

Jude Lugo - eBay seller

Mari Corella - General Manager, Home & Hard Goods, eBay
Luxury at eBay
Find out how eBay is currently investing in its luxury category. Also, learn about innovative initiatives driving growth within the watches, handbags, and jewelry categories. Also hear from eBay Seller Caroline Bui, founder of CovetThy, an online store that offers the most sought-after luxury handbags to passionate collectors.



Kristina Driggs - Head of US Watches, eBay

Nina Skol - Director, Luxury Handbags, Jewelry and Accessories, eBay

Caroline Bui - eBay seller

Tirath Kamdar - GM, Luxury, eBay
eBay Motors, Parts & Accessories
Join us to learn about eBay's renewed focus on automotive parts and accessories, see how you can grow your motors business and discover the latest P&A features. Then hear from eBay Seller Marisa Torres' journey to becoming a small business owner after joining her husband's online automotive parts business.



Ron Jaiven - GM of US Auto Parts & Accessories, eBay

Paul Stathacopoulos - VP, Product & Technology, eBay Motors & Refurbished, eBay

Marisa Torres - eBay seller
Sneakers & Streetwear
Discover what the red-hot sneakers market will bring next. You'll also learn about eBay's growth plans, including insights on sales, products, and strategy. You'll also hear how eBay Sellers and influencers Glen Zubia and Ken Gaitano make the most of selling sneakers and streetwear on eBay.



Garry Thaniel - GM, Sneakers, eBay

Glen Zubia - eBay seller

Ken Gaitano - eBay seller
---
September 28
12:00 PM-1:15 PM
Keynote - Day 2: Reinventing the future of ecommerce for enthusiasts
Learn more about what it means to reinvent the future of ecommerce for enthusiasts from our SVP, Chief Business and Strategy Officer, Stef Jay. Then Thomas Walker, VP of Consumer Insights, Julie Loeger, Chief Growth Officer and Adrian Fung, Chief Marketing Officer, discuss inspiring enthusiasts and what eBay is doing to attract the next generation of buyers.



Blair Ethington, VP of Buyer Experience, double-clicks into how eBay is connecting our sellers and buyers through product and technology. Hear from Gen Z consumers in a panel discussion. And then hear from Adam Ireland, VP & U.S. General Manager, as he recaps key updates and insights from the event.
1:25 PM-1:55 PM
Turn your hobby into a full-time eBay business
Set your future business up for success by making strategic, data-driven decisions and leveling up your marketing and operations.



Adi Behara - Product Management, Seller Experience, eBay
Utilizing eBay data for your sourcing decisions
Learn how you can leverage eBay's Terapeak research tool to examine historical sold prices and plan your inventory.



Shelley Ball - Senior Product Manager, eBay
Marketing tools and strategies to bring in buyers
Drive sales and attract buyers by using eBay's marketing tools—including promotions, coupons, and social.



Jessica Vayo - Product Manager, eBay
Retain loyal buyers with marketing strategies
Run your business more efficiently by improving your margins, selling excess inventory, and driving customer loyalty.



Amit Rawat - Senior Manager, Product Management, eBay
2:20 PM-3:20 PM
Keynote - Day 2: Up & Running: Empowering businesses to thrive
Come meet the 2023 Up & Running Grantees – and hear from previous grantees as they reflect on their experience in the program, including how easy the process was and how the $10,000 grant helped them grow their businesses.
3:30 PM-4:00 PM
The point of more return: practical tips for sourcing high-ROI inventory
From setting up effective guardrails for sourcing to knowing where to look and how to identify inventory—this session has something for all eBay sellers who want to maximize returns on their investments.



Anna Packer - eBay seller
Turn your eBay side hustle into a full-time income
Tips and tricks to help successfully transition your side hustle into a full-time income.



Heather Hardy and Alicia Wright - eBay sellers
Take action & support causes you care about with eBay for Charity
Learn how you can make your eBay store stand out, sell more often, lower your fees and still support your favorite charity in the process.



Laurie Wong - eBay seller
---
September 29
12:00 PM-12:30 PM
Customer service: intent and execution
Get insights from an eBay Growth advisor on how to understand your customers and set expectations. They'll also demonstrate how you can turn feedback into opportunities and concepts into action.



Casey Yardley - Growth Advisor & Webinar Lead, eBay
How to win with Gen Z
Hear from the eBay Global Insights team on how to market to Gen Z customers.



Effie Harland - Sr. Manager, Consumer Insights, eBay
12:40 PM-1:10 PM
Practical tools for the new or aspiring eBay seller
Whether you're new to eBay or looking to transition your current business onto the platform—learn the fundamental steps for running a successful eBay business.



Michelle Nguyen - eBay seller
Social media: why it's beneficial to your business
Mastering social media can help grow your network and produce positive growth for your business. Learn tips and tricks on how to make the most of your social media accounts.



Stephanie Garcia - eBay seller
Learn how to gain financial independence with the FIRE movement
What is the FI/RE movement? Learn about that and how eBay plays a role at each stage of your journey toward financial independence.



Camilla MacKenzie and Khang Tran - eBay sellers
1:20 PM-1:50 PM
Use eBay's tools and analytics to grow your business
From Terapeak to the listing quality report, eBay provides you with the tools and relevant insights to take your business to the next level.



Ashley Moulder - eBay seller
How to grow your business using PL, coupons, and SIO
You've got a hang of listing and shipping. It's now time to amp things up by learning about selling strategies with Promoted Listings, coupons, and Seller Initiated Offers.



Jude Lugo - eBay seller
Nail the Sale! Are Your Listings Up To Snuff?
Learn the basics of listing optimization to ensure you create a listing that stands out and converts browsers into buyers.



Philip Jackson - eBay seller
2:15 PM-2:45 PM
eBay payments - flexible payouts and simplified finances
The eBay Payments team walks you through the different ways you can simplify your finances



David Gandhi - Dirrector, Product Management, Tech, eBay

Ragesh Kumar Chettiary - Director of Product of eBay Seller Payments, eBay
Debunking myths about eBay International Shipping
Learn more about the eBay International Shipping Program and how you can take your business global.



Stuart Reichenbach - Sr Director, Shipping, eBay

Erik Selberg - VP for Shipping, Monetization, and Member Communications, eBay
3:00 PM-4:00 PM
Keynote - Day 3: Celebrating our community
On our final day of eBay open, we'll celebrate what sets eBay apart – our vibrant seller community. Jamie Iannone, eBay President & CEO, highlights how eBay is fueled by the partnership with our seller community, sellers take the stage, and Adam Ireland, VP & U.S. General Manager, brings it all together.



Jamie Iannone - President and Chief Executive Officer, eBay

Adam Ireland - VP & U.S. General Manager, eBay
---
Which eBay Open sessions are you most looking forward to? Let us know in the comments below!
---