eBay September Seller Check In
Note from Liz - this post is not meant to be an exhaustive synopsis of the September eBay Seller Check In. I've chosen to highlight sections I personally found interesting, but I always encourage watching for yourself to get the full experience.
---
6:05-12:34 Welcome & Seller updates: Andrea Stairs, VP, CMO & Seller Engagement NA
12:35-34:50 Seller Experience Demos Michael Cuttone - Senior Director of Seller Experience
34:52-47:03 Promoted Listings  - Elisabeth Rommel GM eBay Ads NA
47:05-59:07 Q&A
1:00:00-1:20:35 Part II Collectibles Breakout with Nicole Colombo, Senior Director and GM, Collectibles and Trading Cards and Steve Halupka, Senior Category Manager,
1:21:00-1:29:00 Collectibles and Toys Collectibles Q&A.
---
Welcome & Seller updates: Andrea Stairs, VP, CMO & Seller Engagement NA
Andrea started off with how important the seller "feedback loop" is for eBay, stating there are a lot of ways eBay collects feedback - direct emails, social media, the eBay community and eBay Expressions.
eBay Expressions is a program where sellers agree to give eBay feedback on a confidential basis (eBay requires these sellers to sign non-disclosure agreements). eBay Expressions uses a random, representative group of 15.000 sellers, gathering feedback through surveys and Zoom conferences.
Michael Cuttone - Senior Director of Seller Experience

It looks like Michael has stepped in to fill the seller tool demos segments that were previously hosted by Harry Temkin.
New Experiences for eBay Stores
Most of the new features for stores were already announced in August at eBay Open Online.  Here's the video from eBay Open with Adam Conderman showing these new features "coming soon".
Michael gave almost exactly the same presentation - right down to reusing most of the same slide deck.
Visual category navigation -upload images to display categories in a strip at top of store.
Curate inventory - highlight specific inventory grouped into modules.
Marketing banner - bold image to draw attention. Phase one will allow sellers to upload images and link to an item or category.
Policies module - one place for buyers to view all your policies.
Coupons - the original agenda for this event said Michael would be covering "Sending coupon codes to specific customers groups."  However, Michael just went through the same type of demo Harry Temkin provided months ago with a basic rundown of how to set up coupons - there was no mention of sending to customer groups and no new features on display.
eBay promised this was "coming soon" in the Fall Seller update.  Maybe it's not ready yet?
Terapeak - Terapeak sourcing insights now includes "Top Categories" and Terapeak research is now accessible directly within the create a listing flow.
Note from Liz: Terapeak sourcing insights still doesn't work for eBay Motors.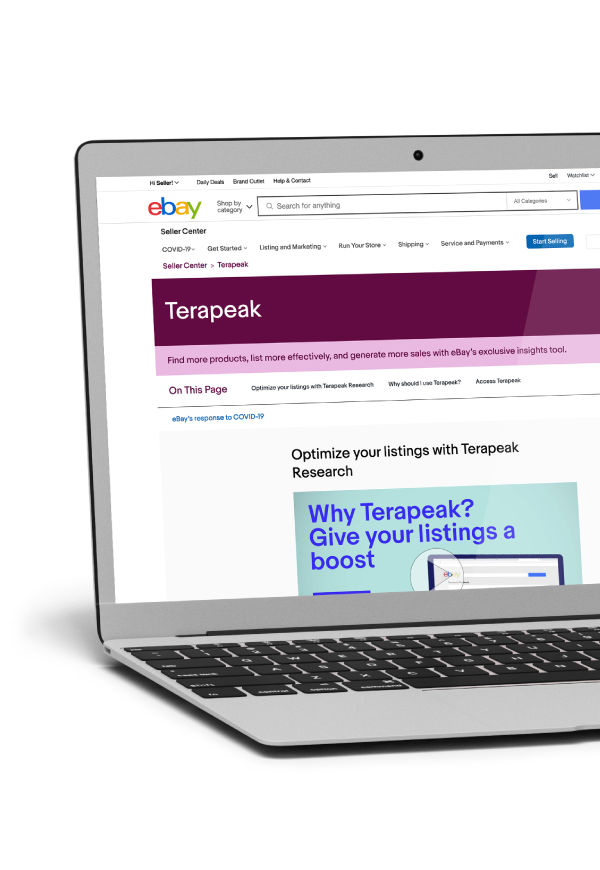 Category and classification changes to item specifics - just a reminder about category and item specifics changes from Fall Seller Update that will be active October 12th.

New Listing Quality Report and Sales Report features - this was also on the agenda and in the Fall Seller Update, but not actually mentioned in check-in.
Another not ready for prime time feature? That seems to be an ongoing problem with the Listing Quality Report, as I detailed back when it first rolled out at the beginning of the year.
---
Promoted Listings expansion and rebrand - Elisabeth Rommel GM eBay Ads NA
Elisabeth gave a basic rundown of the differences between Promoted Listings Standard, Promoted Listings Express for Auctions, and Promoted Listings Advanced Cost Per Click.
Interesting note in regard to Promoted Listings Express - Elisabeth said "this is available for everyone today." My understanding is it is currently only available in the app and only for sellers using My eBay, not Seller Hub.  It's unclear if they have opened up availability to more sellers or if Elisabeth misspoke, but I've asked eBay for clarification.
---
Q&A
Do Promoted Listings Advanced appear any differently than other promoted listings on the site?
Answer from Elisabeth Rommel:
"No they don't, Promoted Listings Advanced and Promoted Listings Standard and Promoted Listings Express all have the sponsored tag under the listing but there's no difference in the way they appear."
Will Promoted Listings Pay Per Click really affect collectible sellers?
"As I mentioned in the presentation, there's no one size fits all answer. It really does depend on your business goals, experience, and what products you're selling. To address the collectibles question, there also is not one category fit and if i think about collectibles, there are very relevant keywords related to collectible items that will help that item surface at the top of search.  And when you think about a pay per click model vs a cost per sale model it really can be economical depending on the price of the item."
"So for example, if it's a high priced item and even if your ad rate is at 1% that will end up taking from your margin.  With the pay per click model, you can also drive visibility and more interest in that product at a very low CPC. And as you probably know from other marketplaces, from industry research cost per click fees are usually in the sub $2 range and even now on eBay much lower than that."
"So if you're thinking about driving visibility for a collectible item, particularly something in the news where there is query demand for that type of item, the promoted listings advance option can help your item stand out in search.  That said, I would recommend that you do that with Promoted Listings Standard as the breadth that you get from the standard product showing up on view item product page, showing up throughout search results can also help drive that broad visibility."
Where does the coupon show up to the customer when it's listed as public?
Answer from Michael Cuttone:
"Public coupons show up on the item pages as I noted before. And it has a dedicated destination page buyers can visit so when the buyer sees the item page if you do a search and click on there, the coupon will be right on there for this limited time until this limited date you can take 15% off this item."
---
Part II - eBay added an extra segment to this seller check-in specifically devoted to Collectibles.  This was a "make up session" designed to quell seller discontent after the Collectibles break out session at eBay Open was dedicated almost exclusively to trading cards.

This sessions was hosted by Nicole Colombo, Senior Director and GM, Collectibles and Trading Cards and Steve Halupka, Senior Category Manager, Collectibles and Toys Collectibles Q&A.
Category Updates
eBay Standard Envelope - overview of eBay standard envelope, no new information.
Store selling fees for Coins & Bullion - coins and bullion added to Managed Payments in early 2021.  Again just an overview of the existing fees, nothing new here.
Changes to Toys and Collectibles - category and item specifics changes from Spring and Fall 2021 updates.
NFTS - eBay added NFTs to the collectibles category back in May.  Several sellers in the check-in chat asked what NFTs are, underscoring the point that eBay's idea of "collectibles" may not quite be in line with what a lot of collectibles sellers think the term means.
Best Practices
Photos, Item Specifics, Descriptions - everything in this section was eBay listing 101 stuff. It might be helpful for new sellers, but many of the collectibles sellers who stuck around for this session are 15-20 year veterans on the platform.
Future State
Hot and in demand - Funko Pops, comic books, and sports memorabilia collectibles.
Holiday moments - Focus not only in toys, but also sports memorabilia, collectible coins, and stamps.
Activations & campaigns - eBay will be at New York ComicCon. Steve also talked about being at the National sports card show - again it's pretty clear where eBay's focus is when it comes to collectibles.
Listening to feedback & communication policies - Steve talked about the Voices:Collectibles section in the eBay community, which is an initiative launched back in July that was supposed to allow select sellers to provide feedback and have direct communication with category managers on a monthly basis.
I had called this one out earlier in the day on Twitter, so I was happy to see that eBay apparently heard the "feedback" and Steve promised in this segment he would be stopping by the community "tomorrow" (that would have been Friday, October 1st) to respond to the top questions in the Voices:Collectibles forum.
Unfortunately there was no follow through and neither Steve nor any other eBay staff made an appearance, much to the disappointment of community members.
Despite all of the lip service to the importance of feedback and seller engagement, apparently eBay still hasn't quite figured out how to put those words into action - showing up when you say you are going to would be a good start.
---
Did you tune in to the September eBay Seller Check In? Leave your thoughts in a comment below!
Follow ValueAddedResource on Twitter & Facebook ✔
Subscribe to receive eBay news, tips, and insights in your inbox 📧
---