Is eBay Making A Play For NFT Market?
UPDATE 5-11-21: eBay SVP & General Manager, North America Jordan Sweetnam has officially announced eBay's plans to expand into the NFT market.
Today we are updating eBay's policy to include the sale of NFTs. In the short term, NFT inventory will be provided by trusted sellers who meet our high standards, across categories like trading cards, music, entertainment and art.



This is only the beginning. This initial rollout will help us learn more about what's important to our community. Expect to see programs, policies and tools that will allow our audiences to buy and sell NFTs with greater ease and confidence, across a broader range of categories.



In the coming months, eBay will add new capabilities that bring blockchain-driven collectibles to our platform. I'm looking forward to bringing on new creators to share their passions in ways we can't even imagine yet. Together we will ensure eBay remains the preeminent marketplace for collectibles of all kinds and serves the next generation of collectors.
---
This question in the weekly chat with eBay staff today caught my eye - most interestingly because it didn't receive a response.
Hi community team,



There is a new category (Collectibles>Virtual & Crypto Collectibles) that eBay created specifically for NFTs. VeVe NFTs are very commonly sold on eBay now.



The issue is you do not have an option for "no shipping". If you choose Local Pickup" you can avoid this, but that cuts out international sellers. If you choose International shipping, you have automatic shipping charges that apply.



Selling under the classified ads section is not a viable option, because the new category was created precisely for this. What is needed is a "Digital delivery" option rather than standard shipping.



Any ideas on getting around this until eBay updates the shipping in this category? Also when might that happen?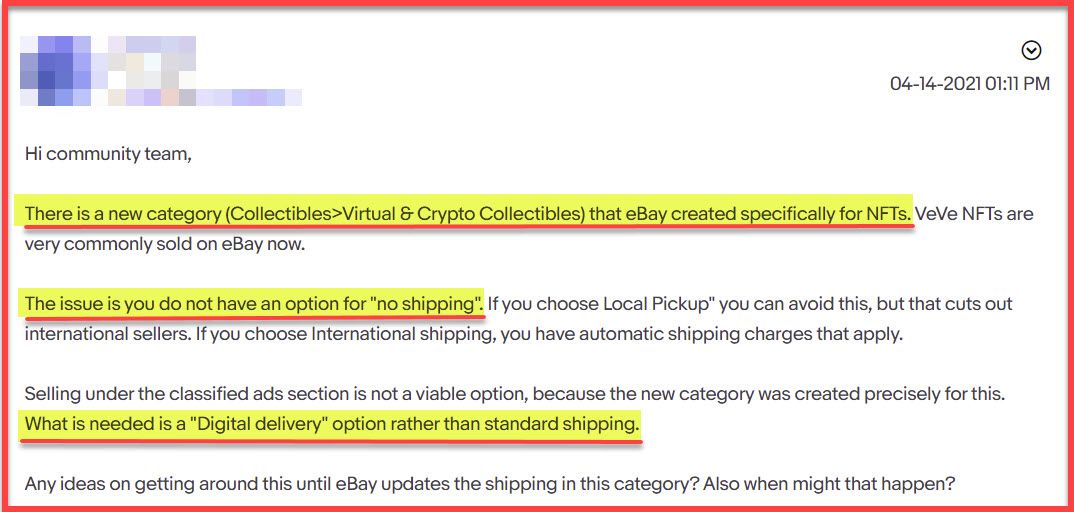 ---
This is the first I've heard of this category and there doesn't appear to be much publicly available information at this time - is eBay keeping this one under the radar for now?
If eBay is going to make a serious move into this category, they need to get that shipping setting issue ironed out ASAP.
I'll update as more info becomes available.
---