Terapeak Sourcing Insights Not Working For eBay Motors
eBay rolled out Terapeak Sourcing Insights about 3 months ago.  There were some bumps in the road with the initial setup, so I wanted to give it some time before doing a full review.
Unfortunately, it looks like it still isn't quite working right, at least in the eBay Motors categories.
I added a variety of Motors sub-categories to test, but all of them are showing 0 search volume and 0.0 search-to-listing ratio. This has to be a technical problem or data error - with over 2.7 million listings for  Brake Pads & Shoes for example, I don't believe it's possible no one is searching for those items on eBay.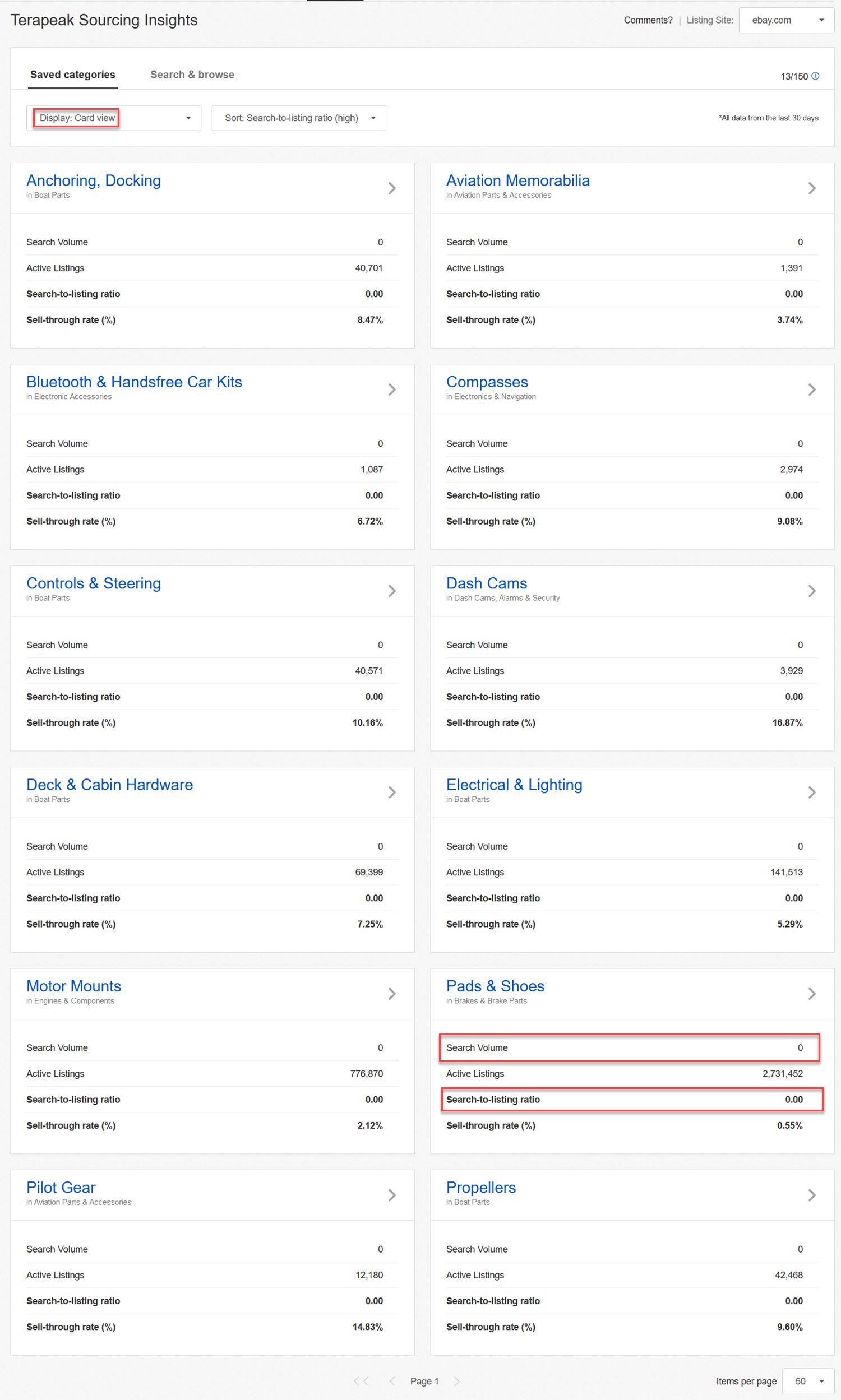 If I switch this page to Table View instead of Card View, it still shows 0 for search volume and search-to-listing ratio.
Table View also adds a column for Market Share. If you hover over it, a note pops up showing that Market Share is defined as "the share of the market owned by the top 10% of sellers in this category."
While I don't have hard numbers to verify, these percentages don't make sense to me - if the top 10% of sellers in a category really do own 99%+ of the market, what does that say for the other 90% of sellers?
Anecdotally, I've spoken to a seller who is consistently the #1 seller in one of these categories according to their Listing Quality Report and they said there is no way the market share of the top 10% is that high.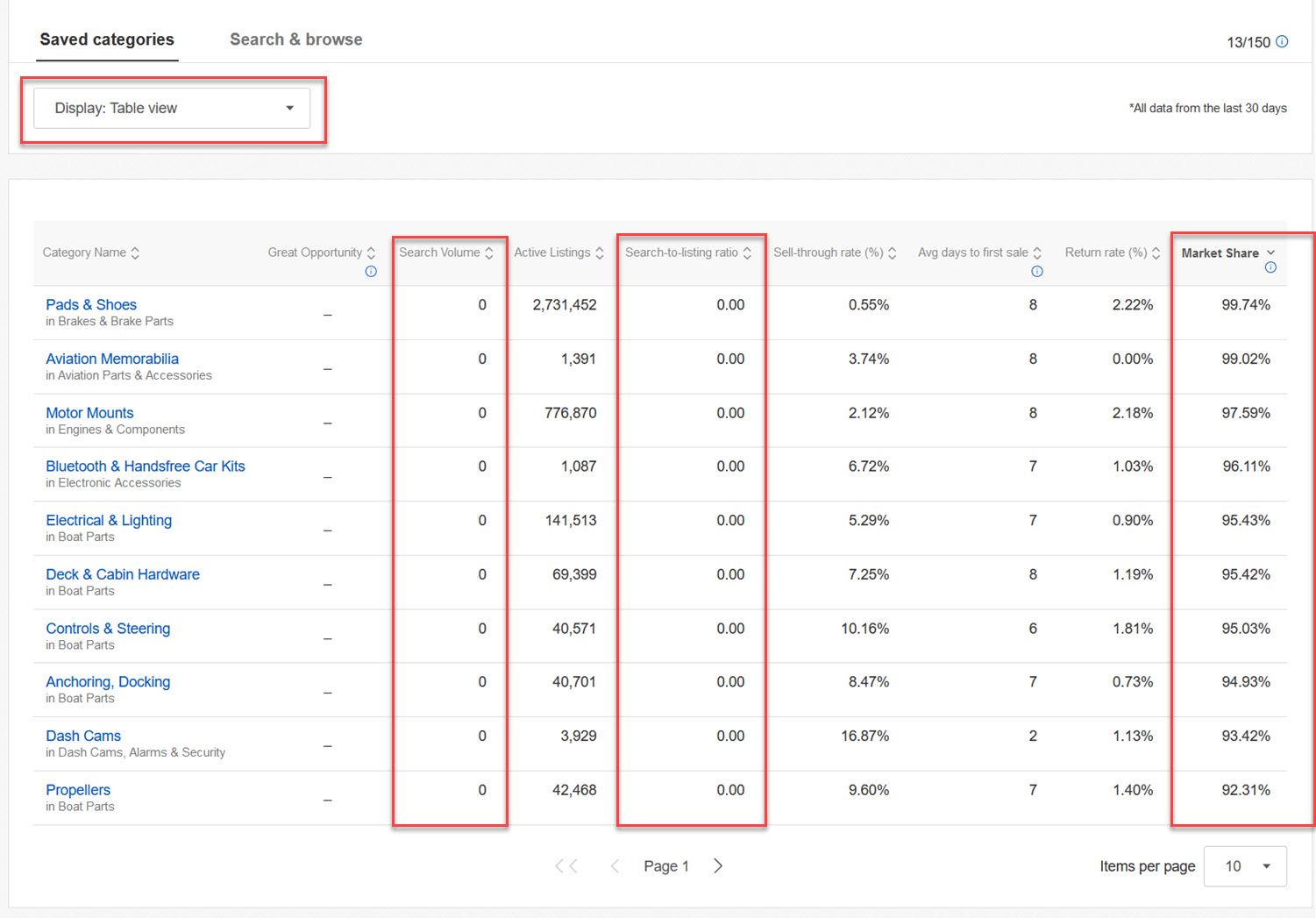 Navigating through to view the details of a particular category shows one possible issue with the data - Item Specifics.
For example, the Dash Cams category shows a top opportunity with Manufacturer Part Number: Does Not Apply, Color:  Black, and Number of Cameras: 2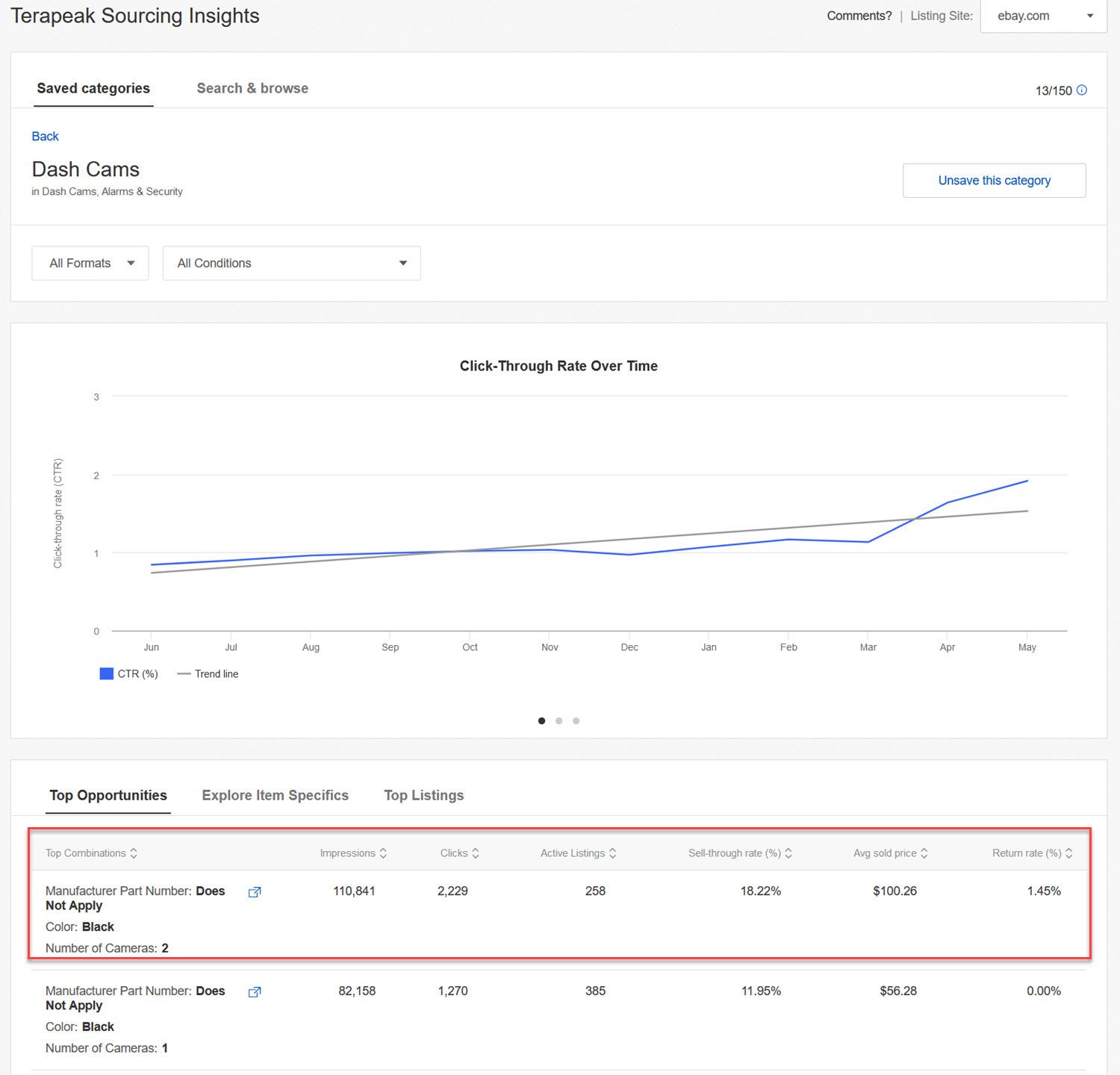 Clicking the pop out icon for that top combination opens Terapeak Research in a new tab where it appears to just drop those item specifics into the search box. The resulting data doesn't seem to match up to what was shown under Terapeak Sourcing Insights.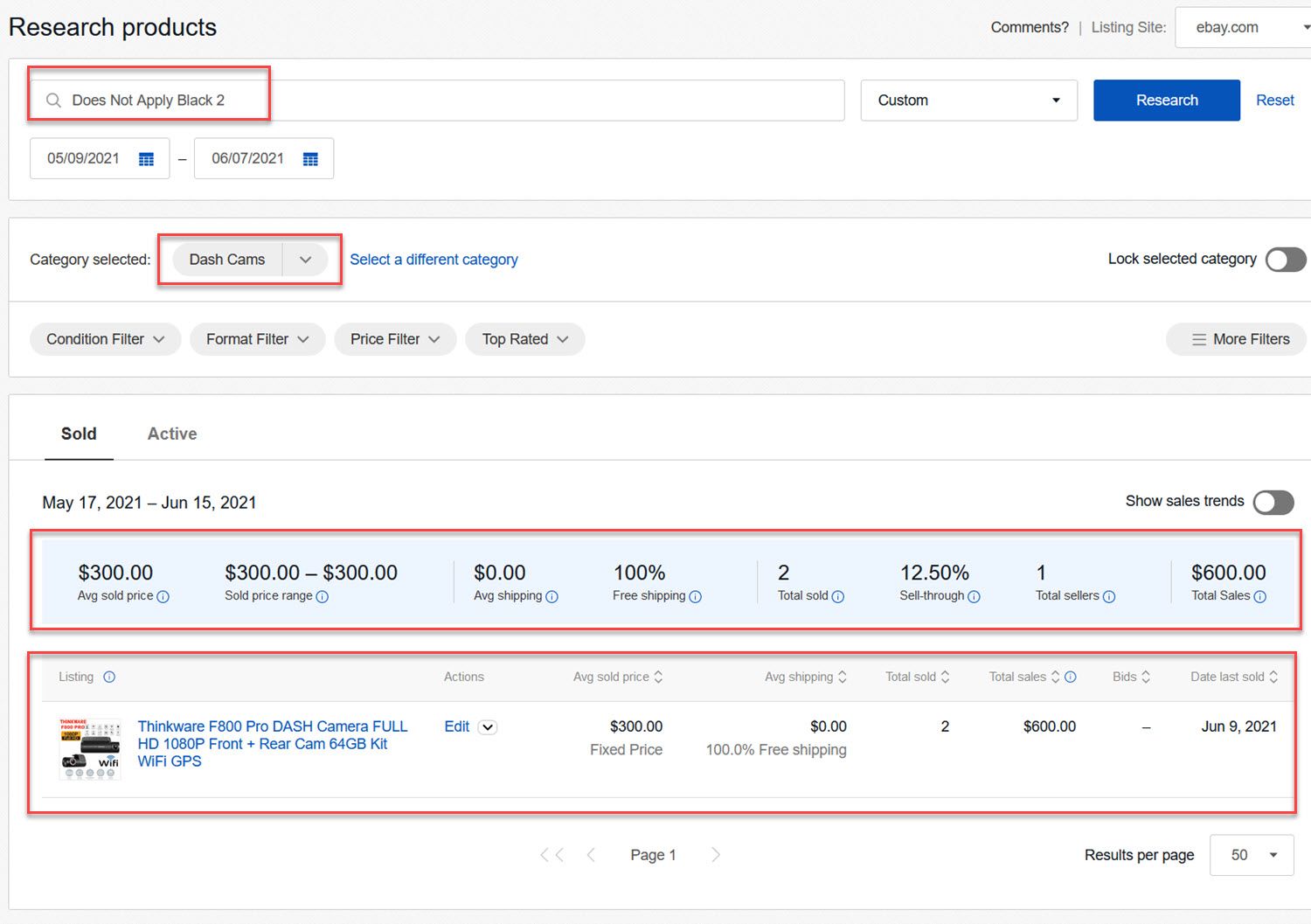 Picking an "opportunity" with an actual part number does give better results on this one, but still doesn't really seem to match up once you click through to Terapeak Research.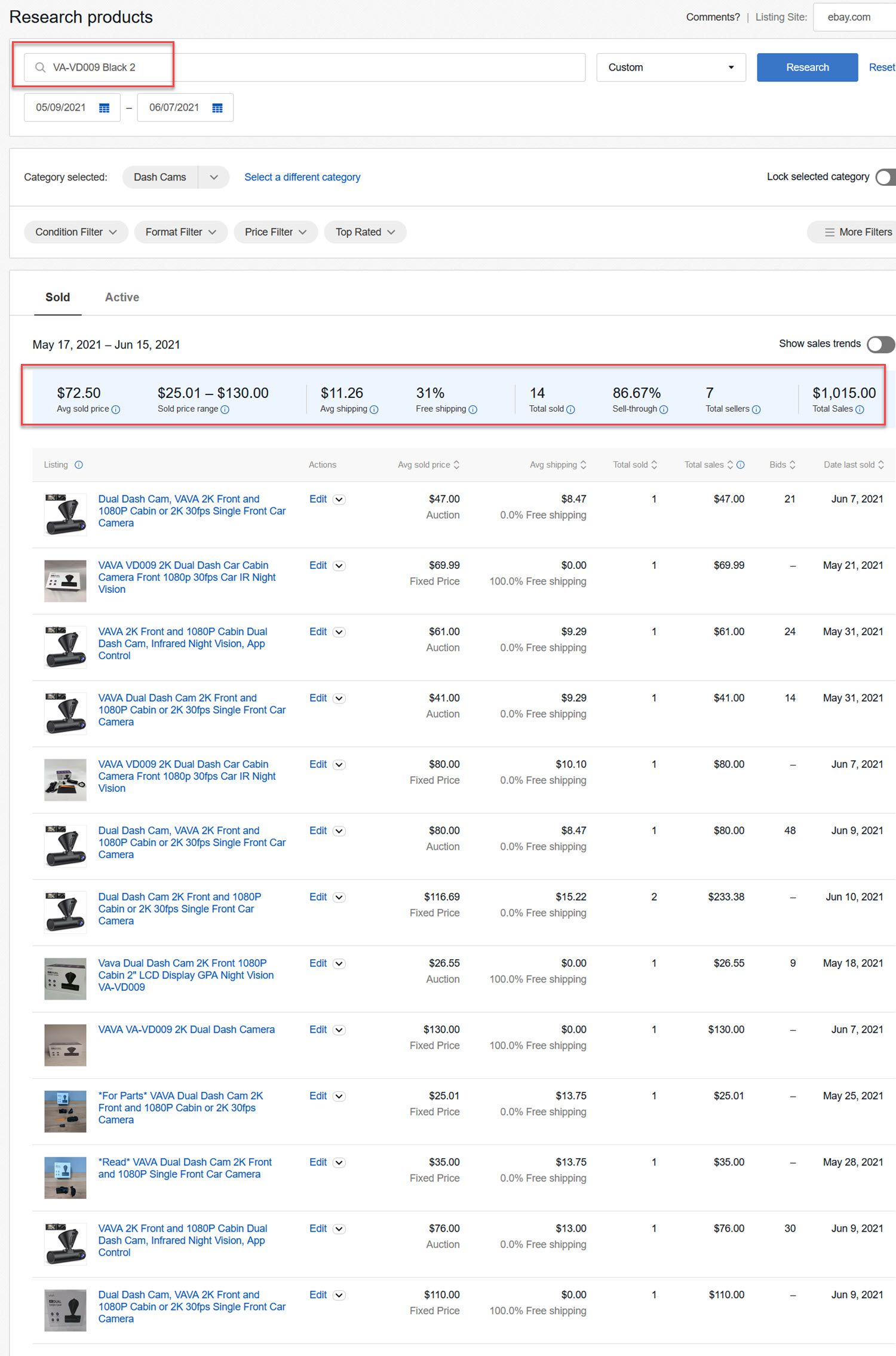 The Motor Mounts category shows even further issues with Item Specifics and different data in Terapeak Sourcing Insights vs. Terapeak Research.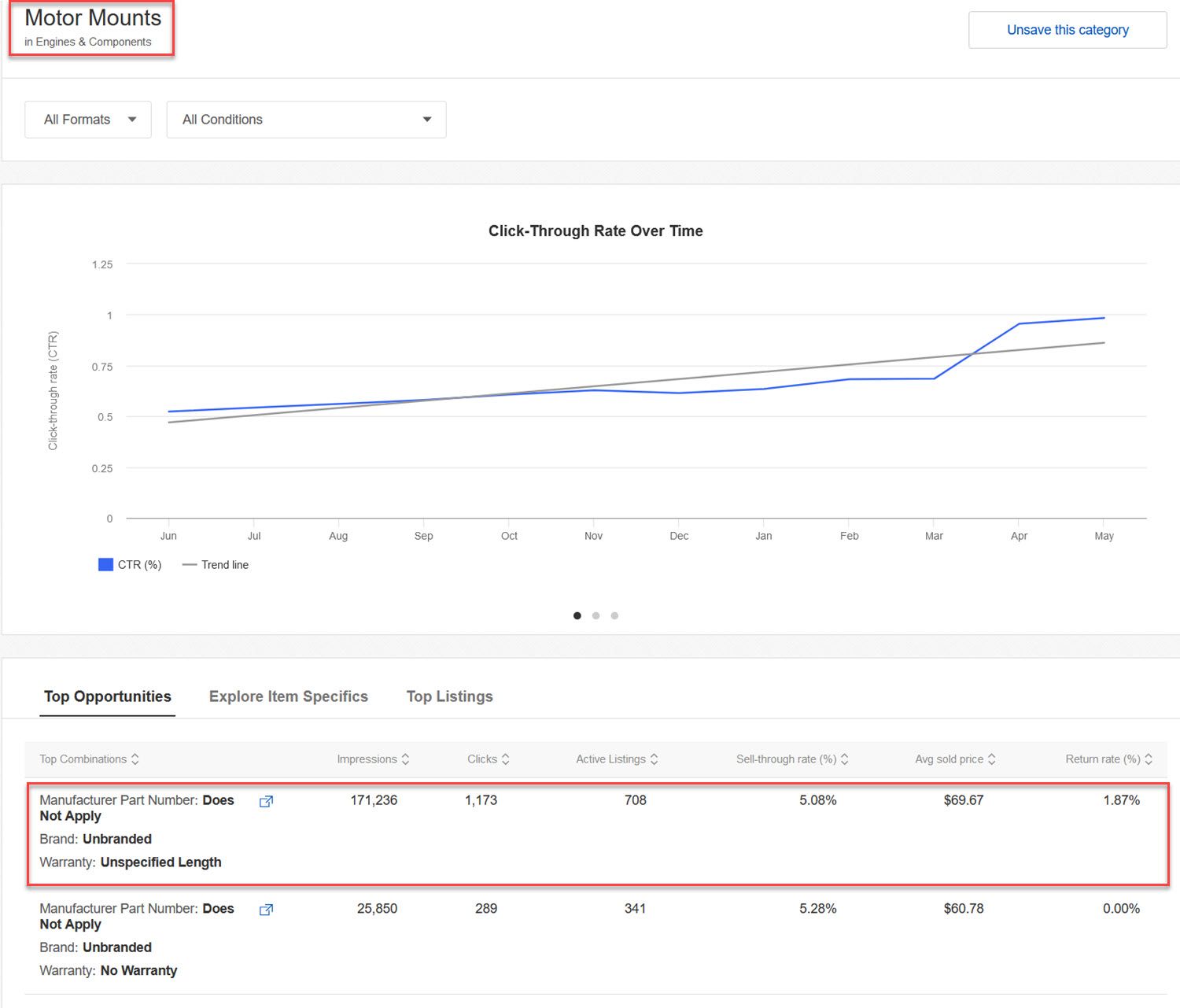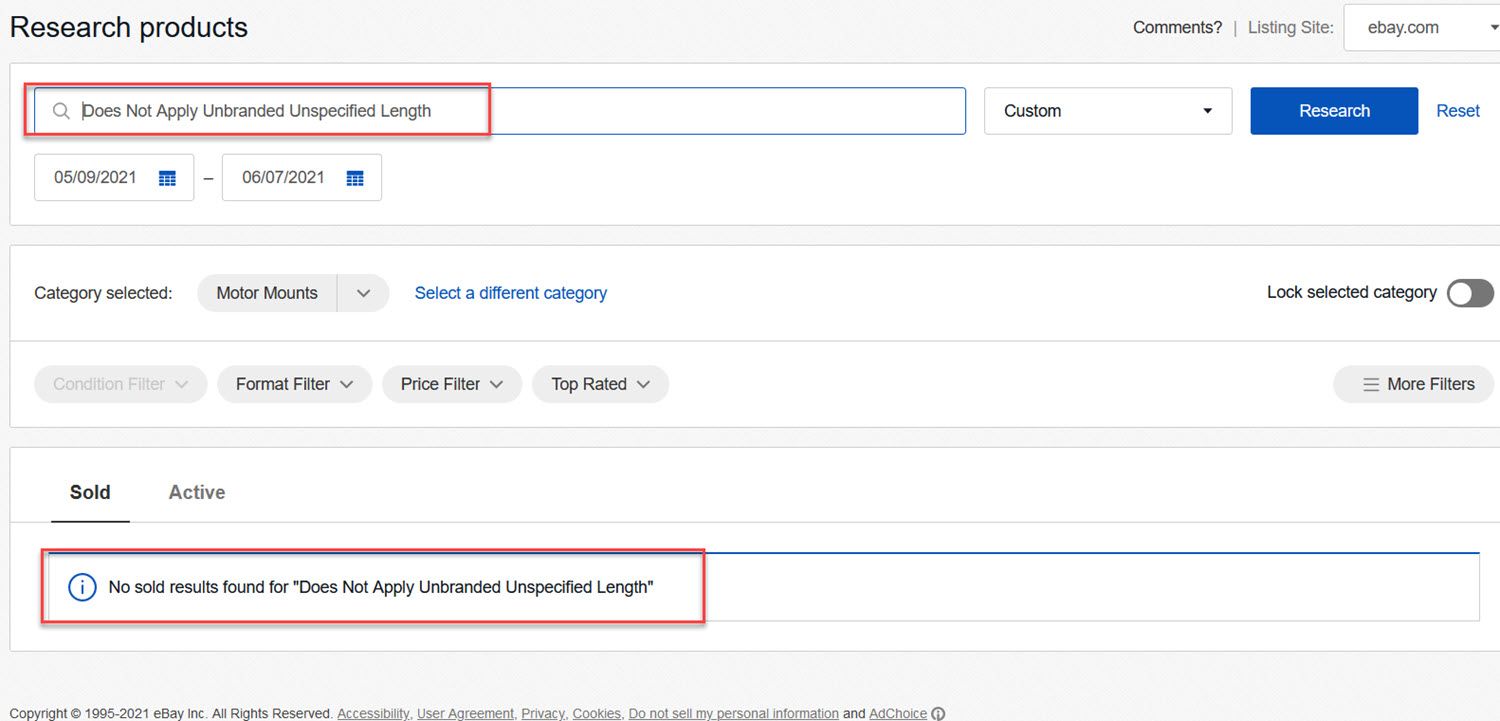 If you jump to the Explore Item Specifics tab you can see that the vast majority of listings have Does Not Apply, Unbranded, or Unspecified.
The problem here is all of the items that are lumped together under "Does Not Apply" are not actually the same item, so these data points are useless for helping a seller identify products that could be a good sourcing opportunity.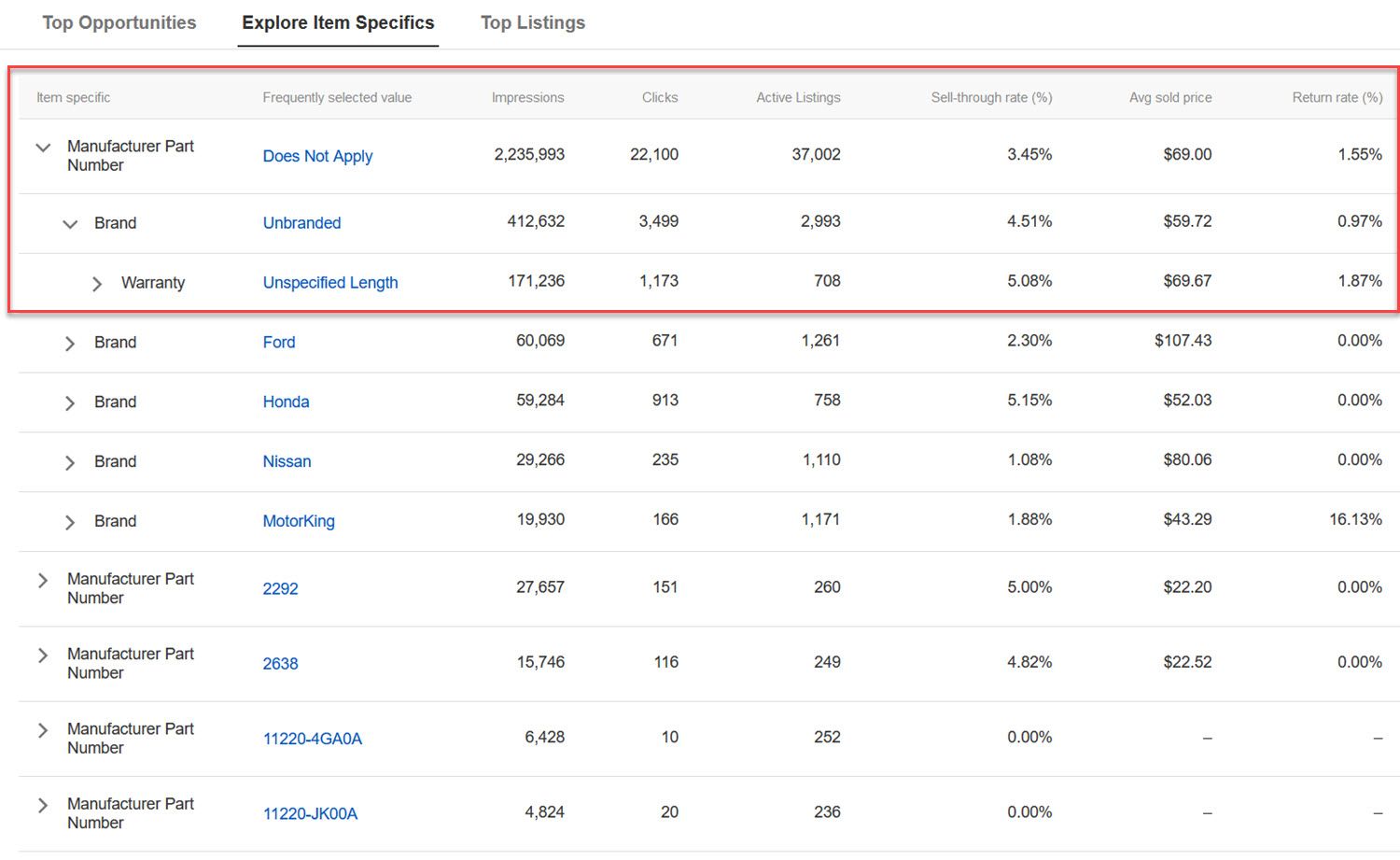 ---
Why Do So Many Listings Say "Does Not Apply"?
Back in the Spring 2015 Seller Update, eBay announced they were going to start requiring Product Identifiers such as Brand, Manufacturer Part Number, and UPC. Sellers were told this information was critical for best search engine optimization both on eBay and for outside search engines like Google.
These were required fields - leaving them blank was not an option and doing so would result in receiving an error message when trying to complete the listing or upload listings in bulk via File Exchange or a third party listing tool.
Since leaving these fields blank was not allowed, what were sellers supposed to do in instances where there was no Brand, MPN, or UPC available? eBay's official advice was to simply enter "Does Not Apply" in those cases.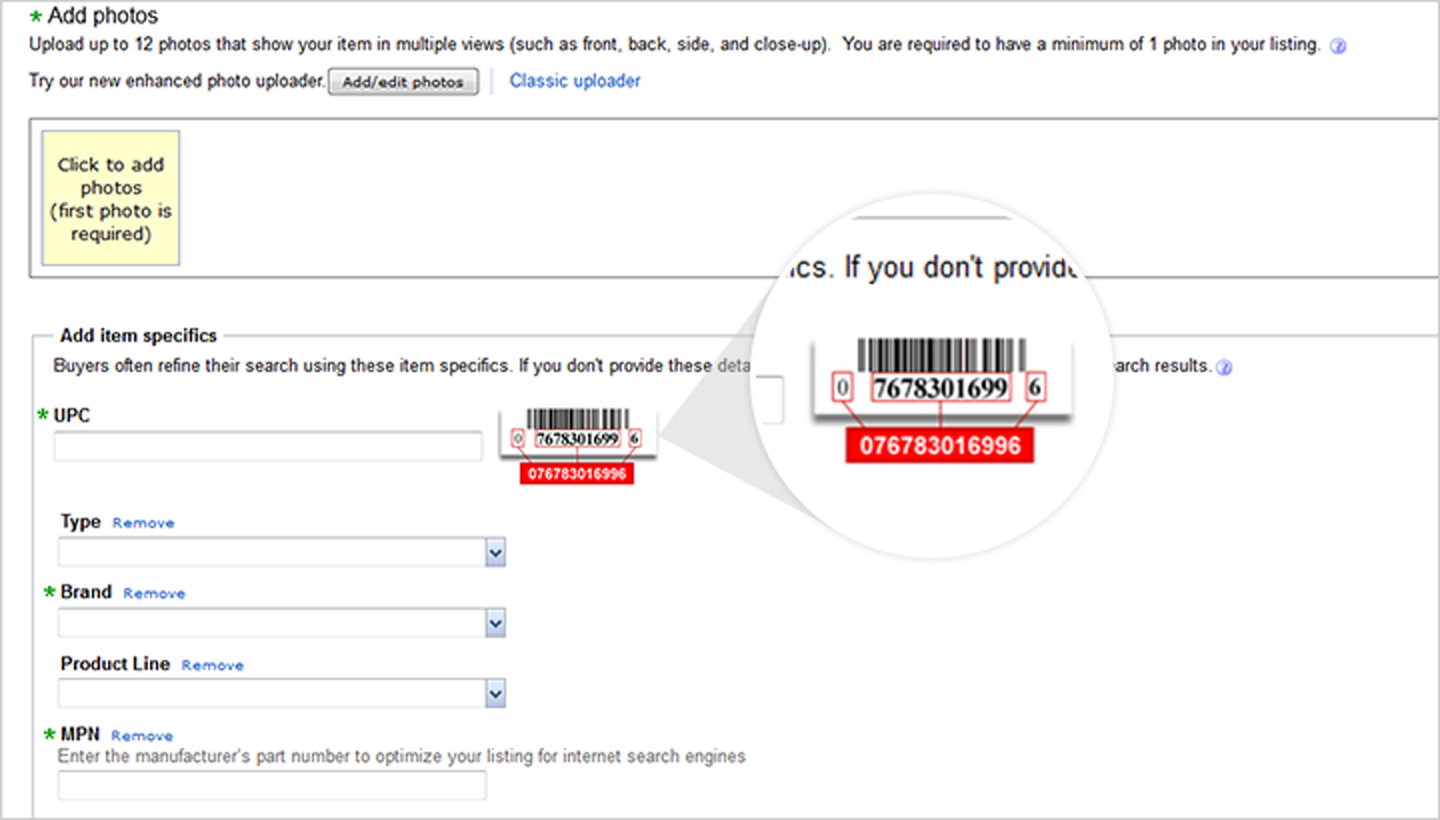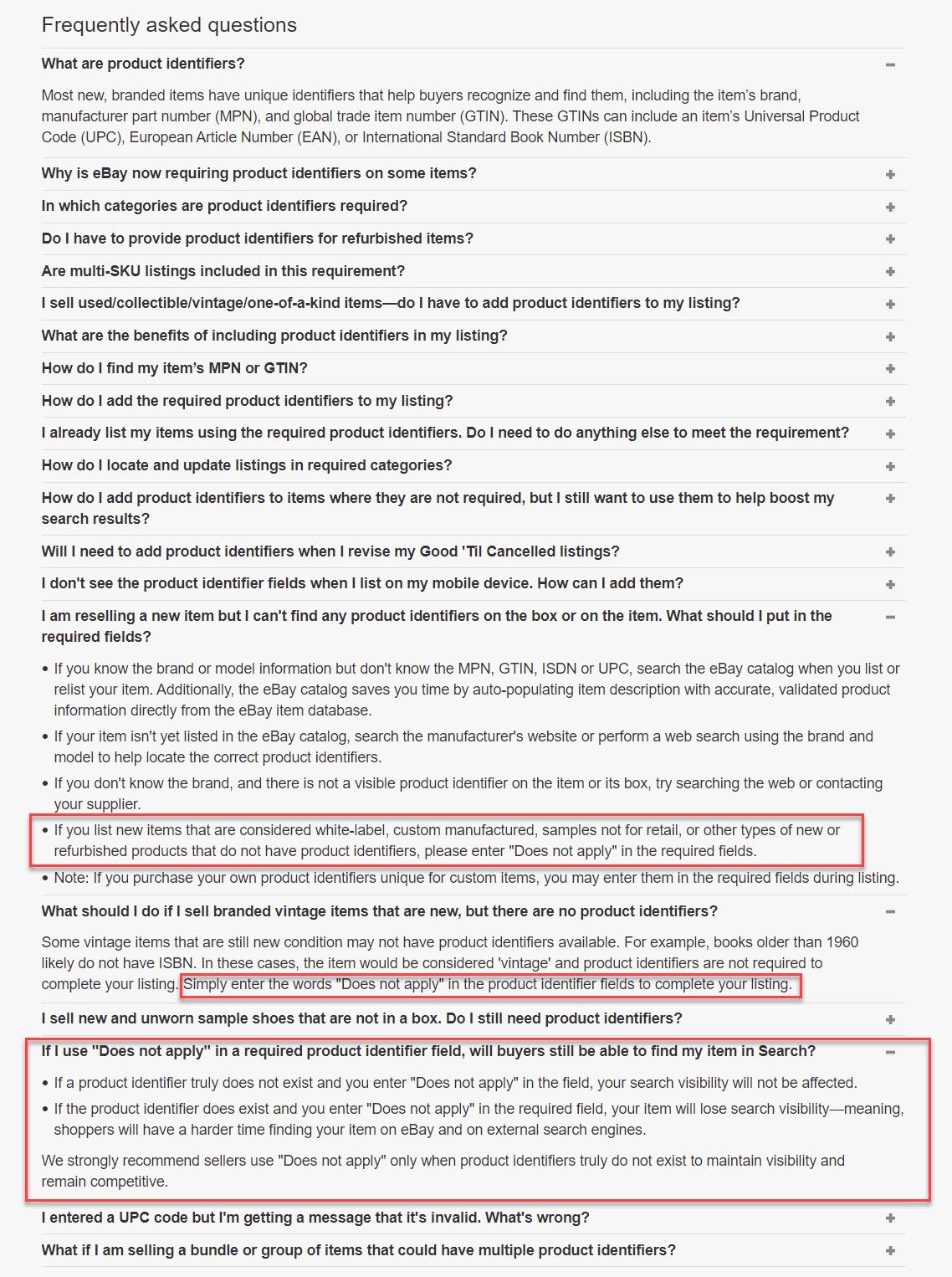 Whether so many sellers really did not have the accurate data available for those fields or simply chose to take the easy route to get their listings into compliance with the requirements I'm not sure, but it seems clear that at least in some Motors categories it became fairly common practice and many listings still use "Does Not Apply" for those fields.
Fast forward to 2021 and eBay has expanded Product Identifiers to Item Specifics with some specifics being required and others being optional. Now the advice from eBay is if an optional item specific does not apply, just leave it blank and do not enter "does not apply", "not applicable" or anything else.
Terapeak can only be as accurate as the data fed into it - if a large amount of listings in a category are using "does not apply" it seems to render this tool pretty much useless.
---
Does Terapeak Sourcing Insights Work In Other Categories?
This account only sells in Motors categories, so unfortunately that is all I can test at this time because it doesn't give the option to view other categories.
However, this post in the eBay community seems to show it may be working better in other categories. I can't speak to the accuracy of the data, but at least it does show something higher than 0 for search volume.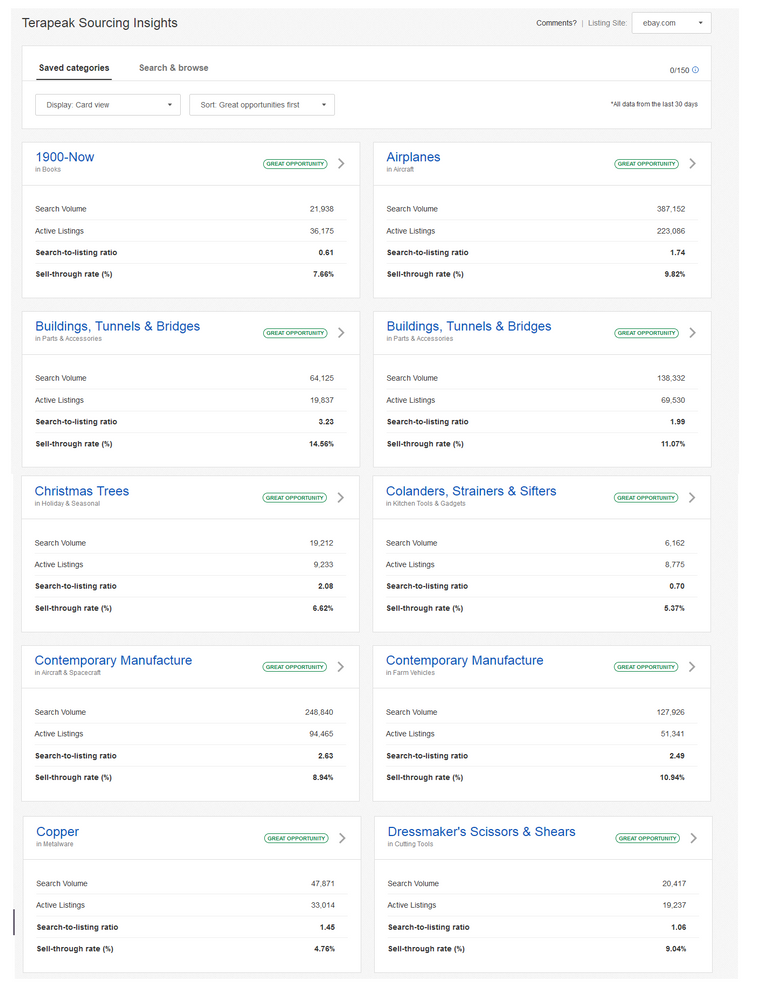 ---
Ex-eBay CEO Devin Wenig once said "I hold my team accountable. It's not important, it's an internal matter, but we've made changes to people and teams, because shipping product that isn't ready is not okay. It's not okay with me, and it's not okay with my team."
However, despite that statement and current CEO Jamie Iannone's vision of a tech led reimagination of the platform, eBay continues to ship product that isn't ready.
The Listing Quality Report was full of bad data when it was first rolled out and took months for them to bring it up to "minimal viable product" standards.
The original version of the new Unified Listing Experience was almost universally panned by sellers. There was so much pushback that VP of Seller Experience Harry Temkin even had to admit in the March Seller Check-In that they had miscalculated and needed to go back to the drawing board on several features of the listing tool.
While the new listing tool has improved somewhat over the last few months, the Image Background Removal Tool still doesn't live up to the hype. Here's an actual listing that used it and you can see the results are less than ideal.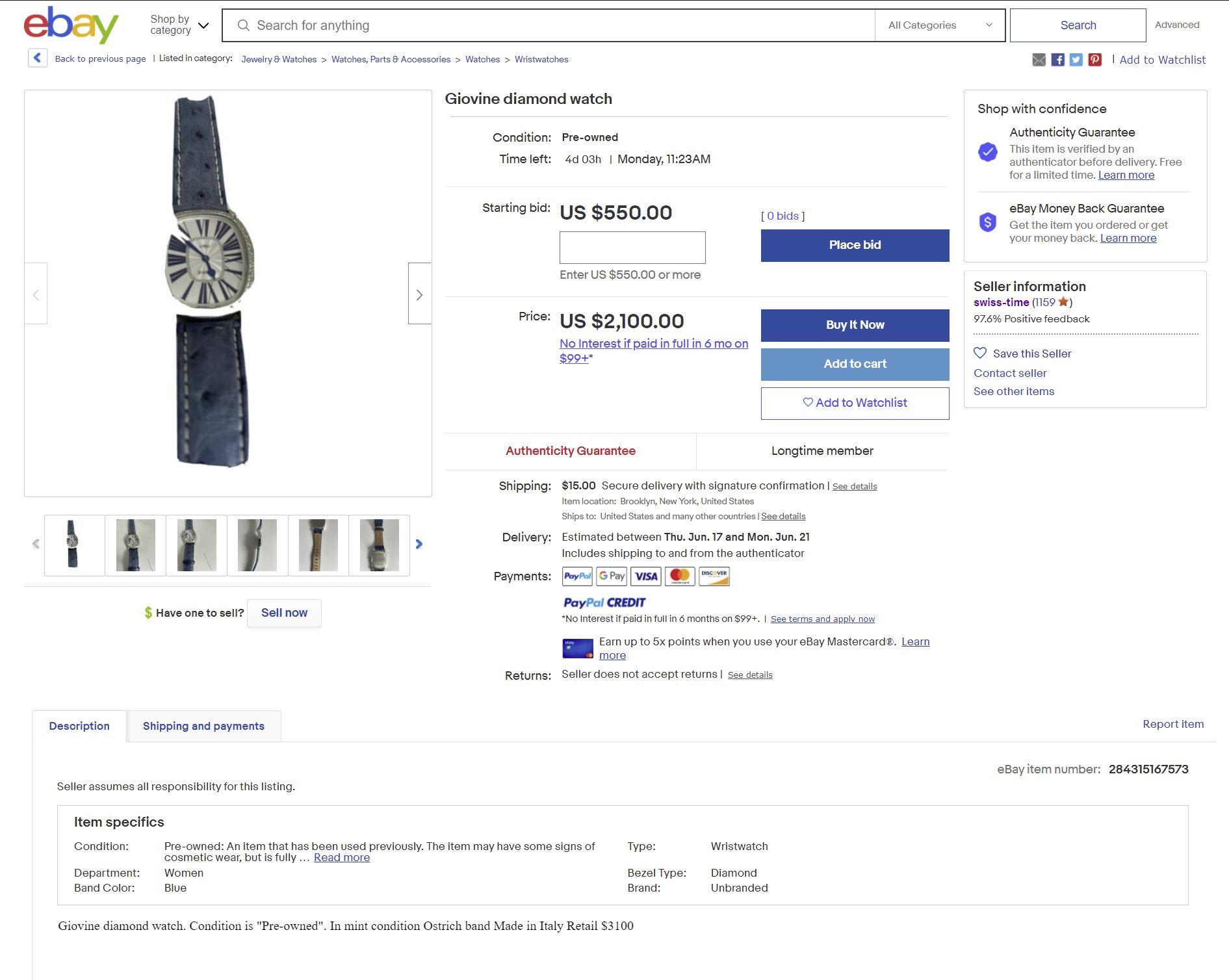 At this point, it looks to me like Terapeak Sourcing Insights is just another example of a "work in progress" that isn't quite ready for Prime Time, at least for some categories.
I'll continue to monitor the stats and update if anything changes.
---