eBay March Seller Check In
Note from Liz - this post is not meant to be an exhaustive synopsis of the March eBay Seller Check In. I've chosen to highlight sections I personally found interesting, but I always encourage watching for yourself to get the full experience.
Agenda:
0:00​ Welcome with Rebecca Michals
1:45​ Marketplace updates with Andrea Stairs
19:55​ Seller engagement updates with Rebecca Michals
23:41​ Seller experience updates and demos with Harry Temkin
44:42​ Shipping updates with Nate Heyward
49:33​ Understanding seller and buyer protections with Suman Chhabria
---
Marketplace Updates - Andrea Stairs VP, CMO & Seller Community of North America
Feedback Character Limit Increase - from 80 to 500 characters
Change was made as a result of buyer and seller research as well as competitive research. Across competitors, standard has changed, range is 500-2000 characters.
Based on the very strong reaction from sellers on this one, I suspect eBay's decision may have been heavily weighted to the buyer and competitive research.
Verticals & Buyer Campaign Updates - Sneakers, Watches, Trading Cards
Nothing particularly new here - eBay continues to "lean in" to these verticals, with special policies, promotions, experiences, and social media influencer campaigns.
---
Seller engagement updates with Rebecca Michals - Director, Community
Seller Engagement Channels - I have to note, yet again, the @askeBay Twitter support channel is conspicuously absent.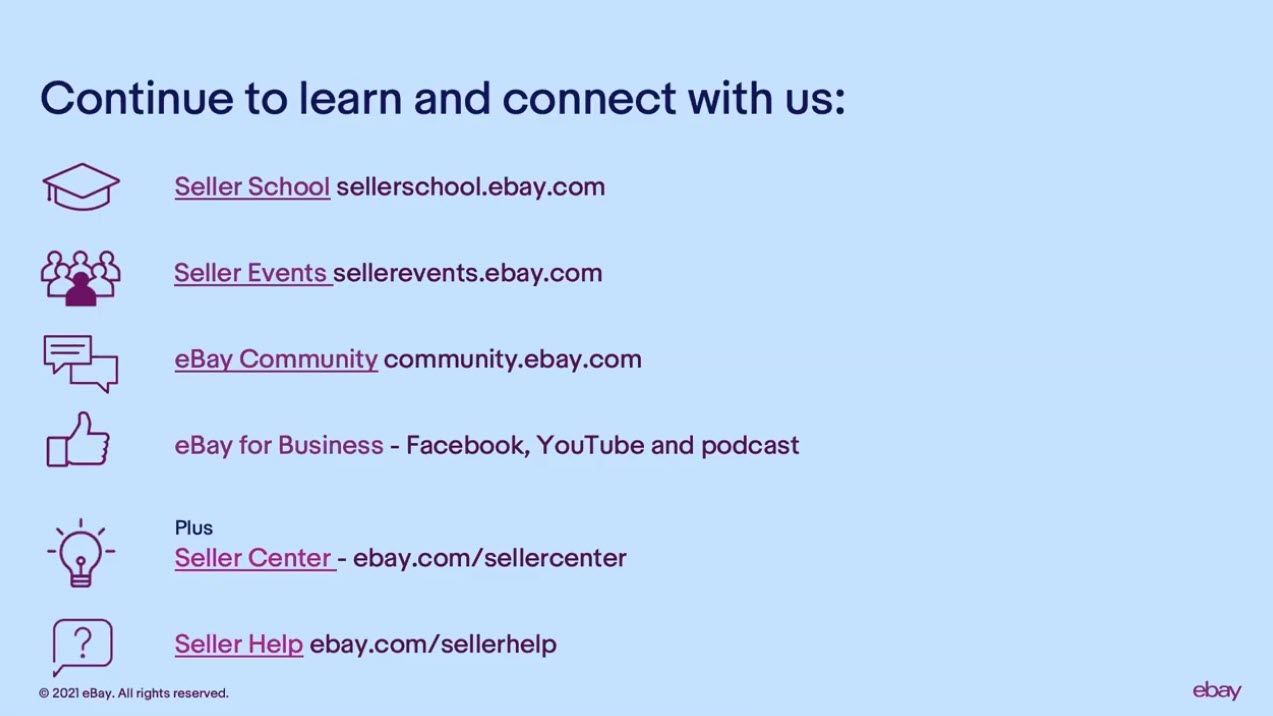 ---
Seller experience updates and demos with Harry Temkin, VP Seller Experience
Unified Listing Tool - Harry emphasized this tool is in "early access" and that it's built on a modern technology stack to more easily update the tool with new capabilities like the background removal tool.
I wrote an email a while back about my thoughts on eBay & legacy tech that made its way to some of the eBay execs - so I'm pretty sure Harry is already well aware of my opinion on this one.
I am a huge advocate for eBay making some much needed tech advances, so this all sounds great, but I have to say if the MS Paint-level functionality of the background removal tool is the benchmark for "modern technology"...there may still be some work to do here.
Harry goes on to say they are committed to listening and incorporating seller feedback - "we heard you".
We went a little too mobile on desktop, right? Too many clicks and mouse moves to complete your listings. Based on this feedback we're in the midst of making some significant modifications to bring back a lot of the inline editing to the listing tool so when you're on the desktop you don't have the right fly out as much.
We're going to move that to a centered pop up and we'll only open that pop up when you need to make advanced changes to the listing.  So key elements like title, description, condition, price, quantity - all of those are going to be single click inline actions. And with additional enhancements to the center pop up, adding item specifics is actually going to be to easier and faster than before.
He concludes this section by assuring sellers eBay is not forcing this migration and you can switch back any time from the link in upper right hand corner.
Demos
Coded coupons
Coded coupons will be available to all store subscribers mid April - I did a write up of my thoughts on this when it was announced in the Spring seller update and it looks like most of the functionality works about how I guessed it would.
Upcoming features for coded coupons will roll out "over the course of the year." Examples were: ability to print coupons to include in shipments, URL for sale event page for social sharing, coupons targeted to a specific buyer, adding repeat buyer indicator to order so you can send a special coupon, automation rules to trigger coupons, adding to app for more exposure with push notifications and marketing emails.
Promoted Listing Automated Campaigns
This feature is not yet released and is "a couple of weeks away."
You can use filters and rules to select items by categories and price range.
Set rate strategy - options are automate suggested ad rate with max % cap (will not exceed the max even if suggested rate is higher), % above or below suggested ad rate, or apply single ad rate.
Any time you add new listings that fit the rules, they will be automatically added to that campaign.
Invoices and packing slips
There was a bit of a flub on this one when the real-time live demo ran into the dreaded page can't load system error, twice.  To Harry's credit, he kept right on rolling and was still able to continue the demo with screenshots.
Most interesting points: Store link QR code, item thumbnails on packing slip, and it will automatically resize for printing.  Sellers have complained in the past the old packing slip was not thermal label printer size friendly, so that last one could be a big one!
Up and coming (no specific time table given) - Pick lists that will help streamline the process of picking and matching products from your warehouse or storage area to the correct orders.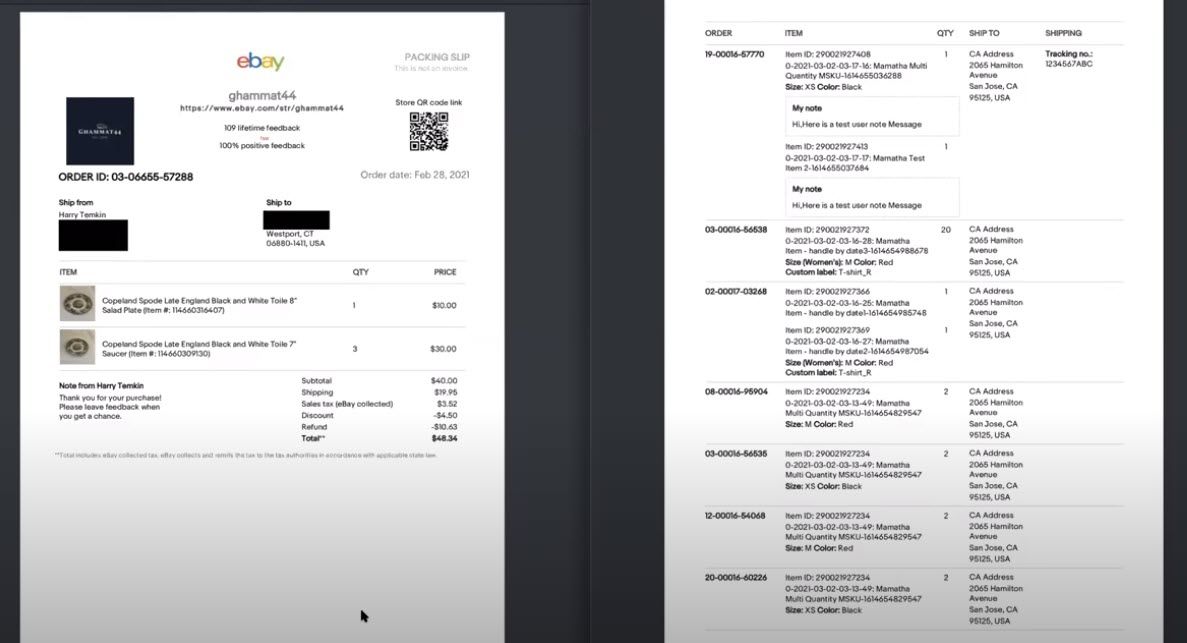 ---
Shipping updates with Nate Heyward - Senior Manager Shipping
UPS rates through eBay going up about 5% on April 11th
QR codes for buyer return labels expected in Q2
Simplified Shipping Badges
eBay announced in February they are replacing the "Fast N Free" badge with new simplified badges that show shipping speed upfront.  They've also changed the previous "guaranteed by" language with "get it by", saying the dates displayed are estimates, not guaranteed.
We've removed the guaranteed badging because we are no longer guaranteeing delivery dates to buyers.
This is an interesting statement for several reasons. eBay says they made this change because "the 'get it by' promise is better aligned with delivery expectations set by sellers and logistics networks."
With the old guaranteed delivery eBay provided a voucher, shipping cost refund, or free return to buyers if the delivery was late.  The page about the new shipping badges says "if their items don't arrive on time because of any reasonable shipping issue, we'll make it right" - but doesn't give a lot of specifics about what that means.
My guess is eBay may also be looking to gently move away from the added costs of the previous guaranteed delivery program.
Nate also put a lot of emphasis on sellers making sure they are meeting handling time promises - clearly he isn't aware of the problems sellers are reporting where these new shipping badges are displaying "Free 4 Day Delivery" on items where the seller has set a 10 day handling time!
---
Understanding seller and buyer protections with Suman Chhabria
eBay Money Back Guarantee claim vs payment dispute
eBay Money Back Guarantee - claims open through eBay for Item Not Received or Item Not As Described.
Payment Dispute - claim filed with the card issuer/financial institution for Merchandise or Fulfillment related reasons (INR, INAD), unrecognized transaction, billing issue (charged twice, didn't receive refund).
Payment disputes have precedence over eBay disputes - if they file an MBG, then also file a chargeback, the MBG claim will close and the claim will be handled as a Payment Dispute.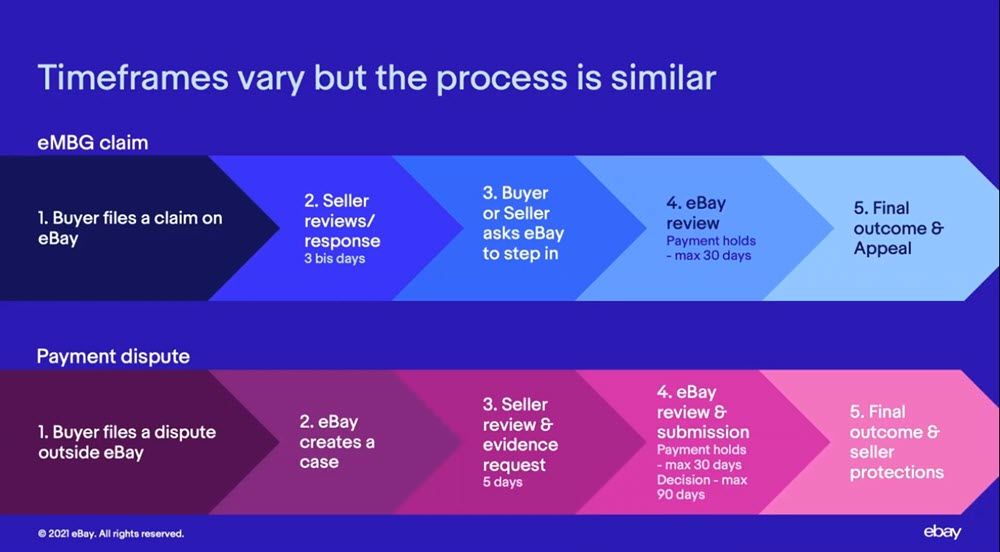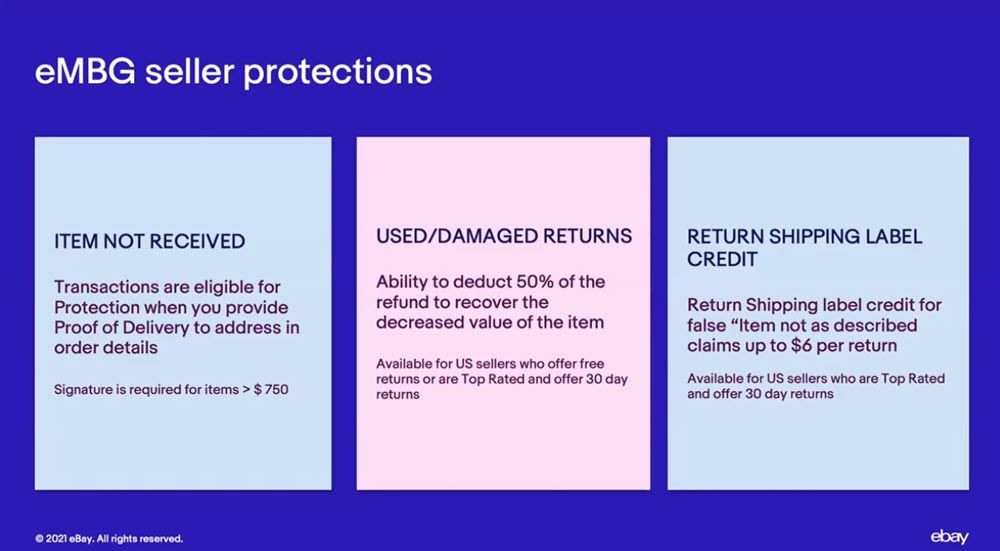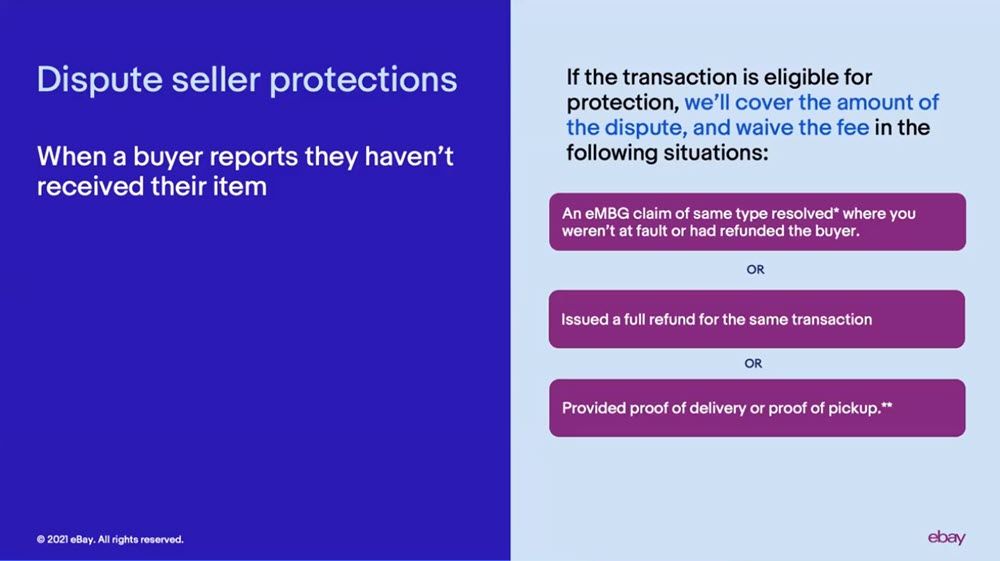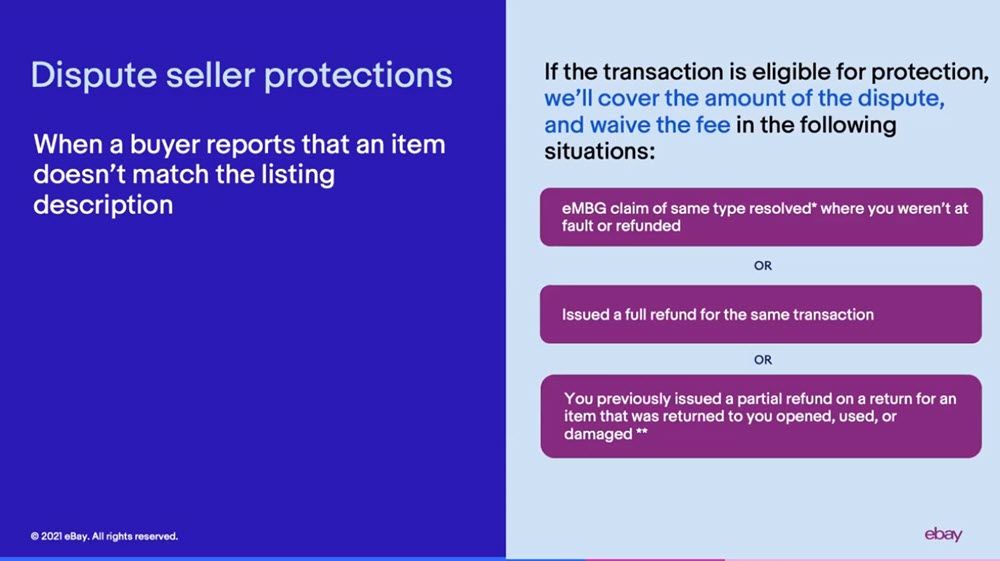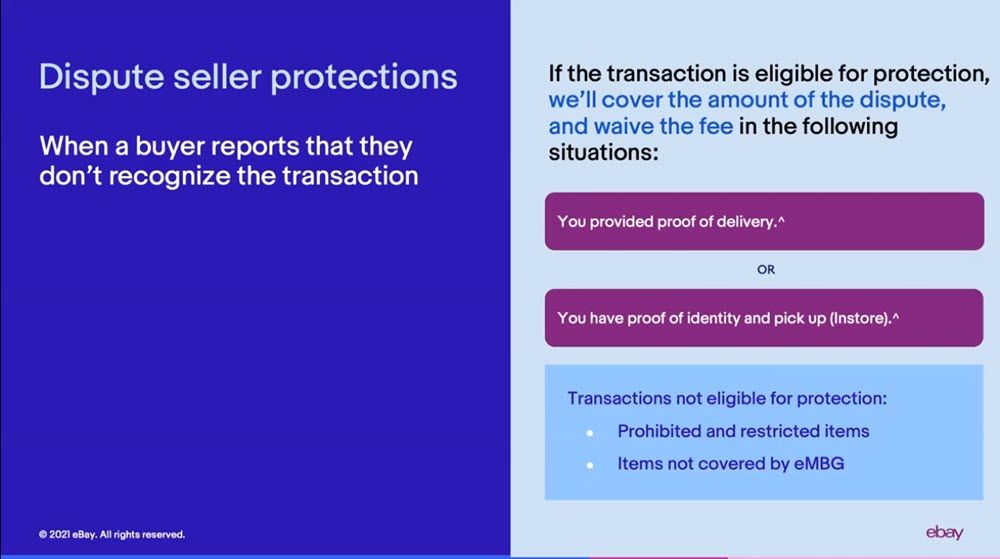 See eBay's Handling Payment Disputes Help Page for all the relevant policies, caveats and addendums.
I've been hearing some troubling reports that sellers are sometimes not getting the protections they should based on the above slides.
In particular, it seems that disputes filed for "didn't receive refund" may be falling through the cracks - even when no refund was promised or due, sellers have had these claims decided against them and been assessed the additional $20 dispute fee.
Some have been successful in appealing and getting those claims and fees reversed, but only after bringing attention to the issue online.
It should go without saying, but sellers shouldn't have to have a large social media fan base just to get the basic protections they are entitled to or to get even the most basic level of customer service from eBay on these issues.  There's just no good reason for it and eBay can and must do better.
---
That's it for my thoughts - now it's your turn! Let me know what you think of the March eBay Seller Check In in the comments below.
---