eBay Sellers Report More Problems With New Simplified Shipping Badge
eBay announced in February they were replacing "Fast n Free" badges with a new "simplified" badge that highlights the shipping speed.
The Fast 'N Free badge highlighted listings with shipping speeds of 4 business days or less, but didn't include any other details that buyers look for. To help your fast shipping speeds stand out to buyers, we're updating Fast 'N Free to a simpler, more informative design.

This updated shipping message will include shipping speed, from next day up to 4 business days. The way we estimate delivery dates isn't changing, and is still based on your handling time, location, and the delivery services you offer.
I've seen multiple reports this new feature is causing major headaches for sellers.  One seller even says eBay is showing the "Delivery in 4 Days" badge on items that have a 10-15 day handling time!
This example was from March 19th, showing the seller was clearly being held to shipping and delivery times much faster than his stated handling time on the item.
When this seller called eBay support, he was first told he doesn't need to worry because he will only be held to the terms in the listing, but then was told it would be best to work with the buyer in these situations.
Not only is this terrible for sellers, but what kind of experience is this for buyers? When a buyer selects on item based on eBay displaying inaccurate delivery times and the item doesn't arrive "on time", who is that buyer going to blame? What is going to happen when those "item not received" cases start rolling in?
---
The seller above has been reporting this issue to eBay for almost a month with no resolution. Other sellers in the eBay community are also reporting being affected by this issue.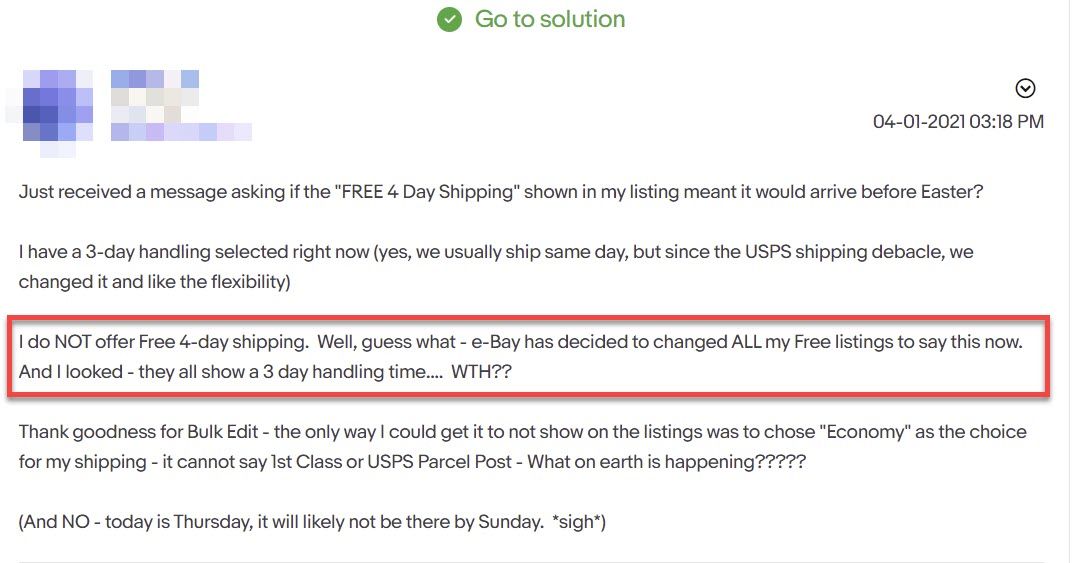 One suggested workaround was to change from "free shipping" to $0.01 shipping cost to circumvent eBay applying the "simplified" badge.
However, that may have negative effects on "best match" search placement and not offering free shipping would also exclude your listings if a buyer chooses the "free shipping" search filter, so this is hardly an acceptable solution.
---
Are you a seller affected by this issue? I'd love to know if eBay is applying seller protections in these cases.  Comment below or contact me privately if you'd prefer.
---