eBay Terapeak Sourcing Insights Not Working?
UPDATE:
It appears that there is a minimum sales threshold of $1000 in the last 90 days for sellers to use this tool. Harry Temkin did not mention this in the demo, saying only that the tool will be available for Basic store subscriptions and above. There was also no mention of it in any of the announcements or detailed pages about the Spring Seller Update.
However, sellers who are unable to access the tool report getting this message when trying to click on the "search and browse" tab.  I also see it when trying to view data for international eBay sites - so currently it appears you can only get data for eBay sites and categories where you have $1000+ in sales in a 90 day period.

---
One of several new tools announced in the eBay Spring 2021 Seller Update is Terapeak Sourcing Insights.  This tool will be available for eBay sellers with a Basic or higher store subscription and is presumably meant to compliment the existing Terapeak Product Research tool that is already available to these sellers.
Here's what eBay says about the new tool
The new Terapeak Sourcing Insights tool helps you identify the top categories to sell in, and find top-selling products in those categories to help you source your inventory.
And here's VP of Seller Experience Harry Temkin giving a demo in the February Seller Check-In
---
I've seen reports from several sellers who are having difficulty accessing this new tool, saying they get a message that they haven't sold anything in the last 90 days even though they have.
This seller commented on the demo video posted on the eBay for Business Facebook page, but didn't get a response.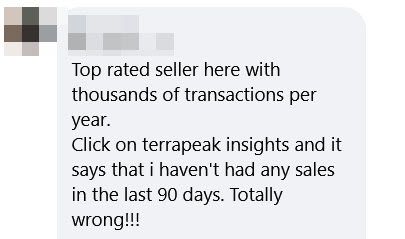 Another seller in the eBay community voiced the same frustrations, saying they have contacted support multiple times and have been told it is a "known issue" that has been reported to the technical department.

In working with a different seller on an unrelated project, I noticed they too had this message under Terapeak Sourcing Insights, when in fact they had almost 300 orders in the last 90 days, so I set out to investigate.
Here's what most sellers seem to be seeing

And here's what the same page looks like in Harry's demo:

---
What Are Saved Categories?
There are no help pages or how to guides available for this tool yet. The view defaults to "saved categories" but nothing on this page gives sellers any idea what that means or how to "save" categories for which they wish to view insights.
"Categories that you sell in will appear here, once you've made a sale" leads sellers to think there is nothing they need to do and they should expect categories to auto-populate in this section once sales are made, but that doesn't appear to be the case.
Harry seems to have completely forgotten this step in his demo as well!
I resorted to the old stand by of trial and error to see if I could make it work.
Clicking on the Search & Browse tab brings up a search box or browse by category option.
Harry's demo makes it seem like sellers should be able to select any category on eBay, but the seller in this example sells boat parts exclusively listed in eBay Motors categories and Motors was the only category available to them.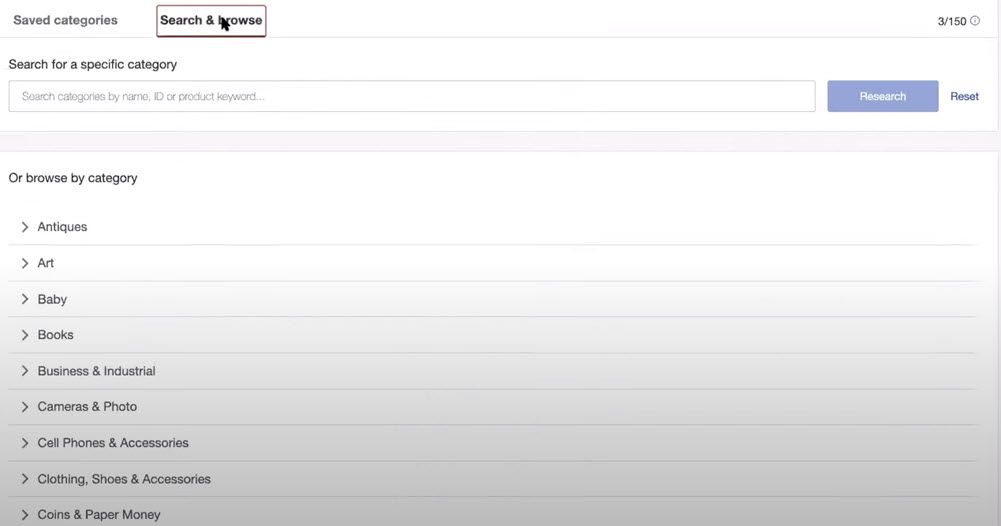 It's not clear to me if this is working as intended or not.  I would hope that this tool would give insight into all categories, as shown in the demo, as it would be more helpful for sellers to be able to have insight into opportunities to expand beyond their existing categories.
I'll update if I get a better answer on this one - but for now it appears it may be limited to categories you are already selling in, at least in the one case I've personally seen.
---
Once you search or browse to narrow down to a specific sub-category, you then get the option to "save this category"

If you go back to the Saved Categories tab, you should see information populating for any of the categories you selected.
I'm planning on doing a full rundown in the near future, but wanted to get this out first for any sellers struggling to get started with Terapeak Insights.
Hopefully Harry Temkin and his team will release an in depth guide and some help page documentation soon too.
Terapeak Sourcing Insights can be found in Seller Hub under the research tab or by going to https://www.ebay.com/sh/research/sourcing-insights

If the above steps still don't work for you, let me know in the comments below!
---
---