eBay User Agreement Changes 9-28-22
As part of the Fall 2022 Seller Update, eBay has update the User Agreement as well, effective October 28, 2022.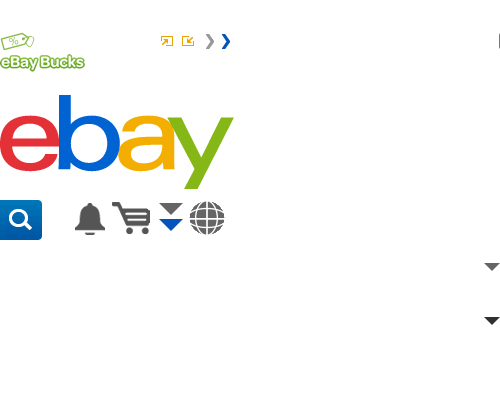 eBay gave the following overview of what changed:
Noted the terms applicable to users resident in India
Clarified the seller payment method authorization
Provided more information on the eBay International Shipping Program terms
Clarified responsibility for user fraud losses
However, as in the past, they did not provide explicit details pointing to the exact changes that were made.
I did a quick comparison and here are some highlights of the most important changes - old version on the left side, new version on the right.
Terms applicable to users in India

Added language:
If you reside in India and you register for our Services, you further agree to the eBay.in User Agreement.
Nothing important here for US users, simply stating that users in India will have additional user agreement terms specific to their country.
---
Clarified seller payment method authorization

Most of this section is just cleaning up language to make it more clear. They did remove reference to eBay collecting sales tax from the seller's payment method on file (bold section in the old version) but that is likely due to the fact that most state's marketplace facilitator laws have now gone into effect, so eBay collects the tax directly from the buyer and would not need to collect anything from the seller's payment method on file.
Old version:
You must have a payment method on file when using our selling Services and pay all fees and applicable taxes associated with your use of our Services by the payment due date. If your payment method fails or your account is past due, we may place restrictions on your account, or the eBay Payments Entities (as defined below) may collect amounts owed in the manner described in the Payments Terms of Use.



In addition, you will be subject to late fees. eBay, or the collection agencies we retain, may also report information about your account to credit bureaus, and as a result, late payments, missed payments, or other defaults on your account may be reflected in your credit report. If you wish to dispute the information eBay reported to a credit bureau (i.e., Experian, Equifax or TransUnion) please contact us at eBay Inc., C/O Global Collections, 7700 West Parmer Lane, Building D, Austin, TX 78729. If you wish to dispute the information a collection agency reported to a credit bureau regarding your eBay account, you must contact the collection agency directly.



In any jurisdiction where eBay has an obligation to collect sales taxes on sales you make using our Services, we or the eBay Payment Entities may collect such sales taxes from you via the payment method on file.
New version:
You as a seller must have a payment method on file when using our selling Services and pay all fees and applicable taxes associated with your use of our Services by the payment due date. If your payment method fails or your account is past due, we may place restrictions on your account, or the eBay Payments Entities (as defined below) may collect amounts owed in the manner described in the Payments Terms of Use, and late fees will apply.



eBay, or the collection agencies we retain, may also report information about your account to credit bureaus, and as a result, late payments, missed payments, or other defaults on your account may be reflected in your credit report. If you wish to dispute the information eBay reported to a credit bureau (i.e., Experian, Equifax, or TransUnion) please contact us at eBay Inc., c/o Global Collections, 7700 West Parmer Lane, Building D, Austin, TX 78729. If you wish to dispute the information a collection agency reported to a credit bureau regarding your eBay account, you must contact the collection agency directly.
---
Info on eBay's new International Shipping program

Added language for new eBay International Shipping program
Another way that we make eBay.com listings available to international buyers is through the eBay International Shipping Program ("EIS"). EIS enables buyers to obtain parcel processing, international shipping, and customs clearance services. It is facilitated by eBay through third-party service providers that eBay has contracted with to operationalize the program. By listing your item on eBay.com you agree to the EIS Terms and Conditions.
---
Responsibility for user fraud losses

Added language for sellers about losses arising from money back guarantee claims
You agree to make us whole for any losses, including expenses we incur to recoup such losses, arising out of your abuse of the eBay Money Back Guarantee, or any fraud you commit in connection with the eBay Money Back Guarantee.
I suspect in part this may be about eBay protecting themselves from a scam that is running rampant on the site where sellers intentionally list products in wrong categories that are not eligible for moneyback guarantee coverage.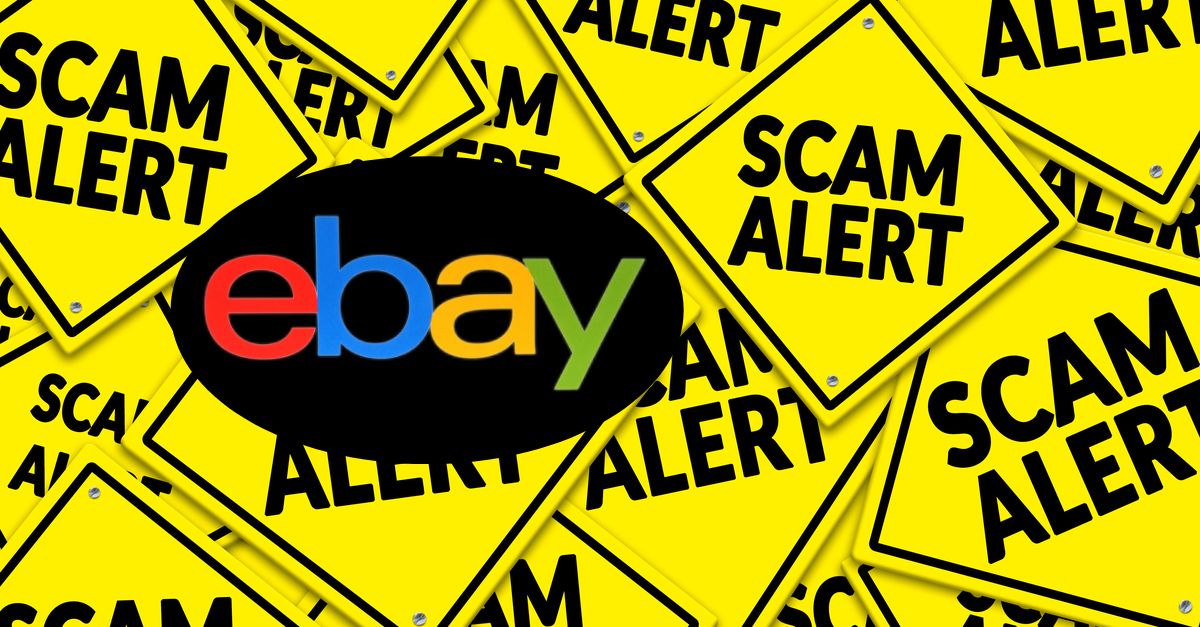 In these cases, eBay has historically had to refund buyers who complain out of their own pockets as a "courtesy refund" - it would appear eBay is tired of doing so and is putting language in the UA that will allow them to attempt to recoup those funds from the sellers who commit fraud or abuse the eMBG policy.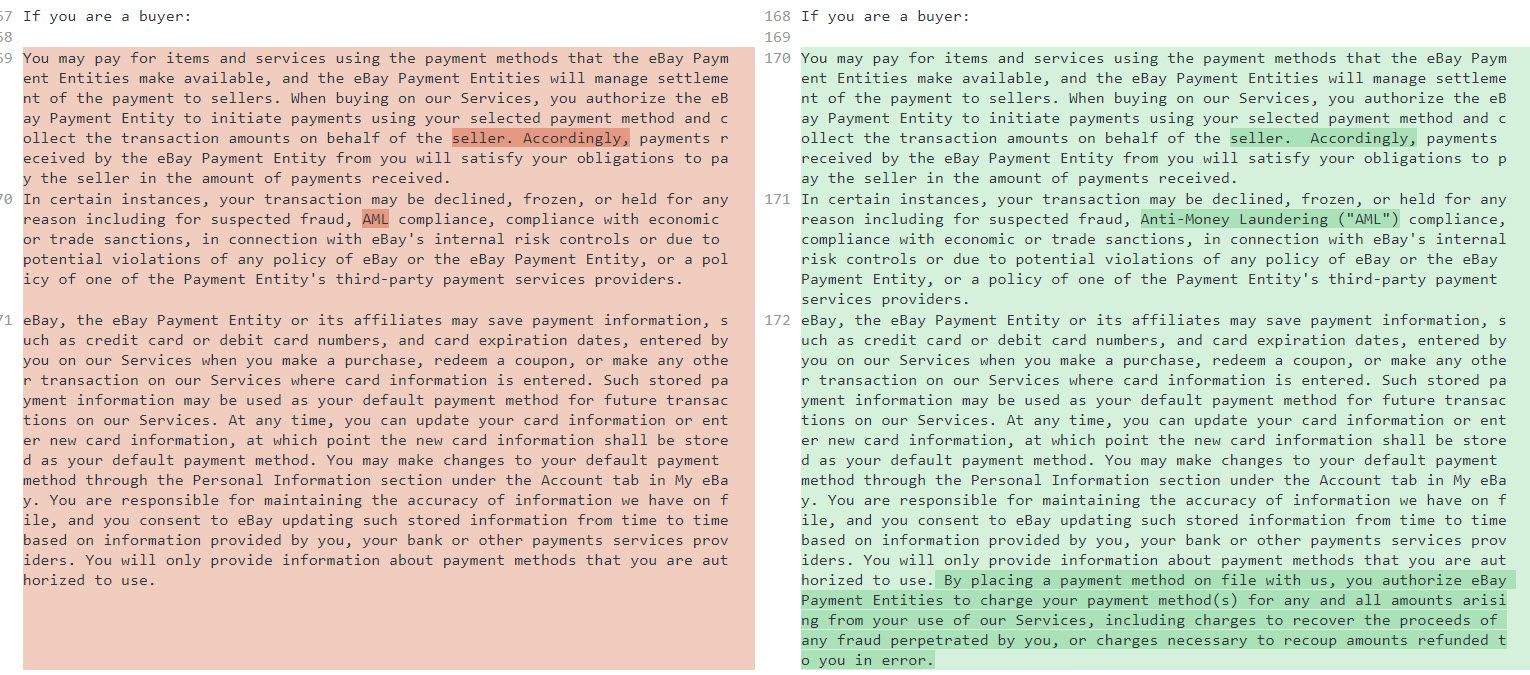 Added language about fraud for buyers:
By placing a payment method on file with us, you authorize eBay Payment Entities to charge your payment method(s) for any and all amounts arising from your use of our Services, including charges to recover the proceeds of any fraud perpetrated by you, or charges necessary to recoup amounts refunded to you in error.
Again, it looks to me like eBay is covering themselves from having to fund any courtesy refunds when the buyer is responsible for fraud or has received a refund in error.
Bottom line on this section - eBay is tightening the purse strings and giving themselves the power to collect from both buyers and sellers when fraud or abuse occur rather than having to eat the cost themselves.
The part about "refunds in error" is interesting though - wonder if that means they'll be able to re-charge on Item Not Received cases when the package is delivered after a refund has been processed. 🤨
---
That's all the noteworthy changes I'm seeing in the UA - let me know in the comments below if you catch anything else!
---