UPDATE 9-27-22
eBay has dropped a playlist with replays for the keynotes, training sessions and seller-led sessions at eBay Open 2022.
---
eBay Open 2022 Day 3 is mostly replays of breakout and seller-led sessions from the previous two days. I'll post them here once the videos are up on eBay's YouTube channel.
Stay tuned for full coverage of the closing keynote this afternoon & in the meantime, catch up with highlights & commentary from Day 1 and Day 2 👇.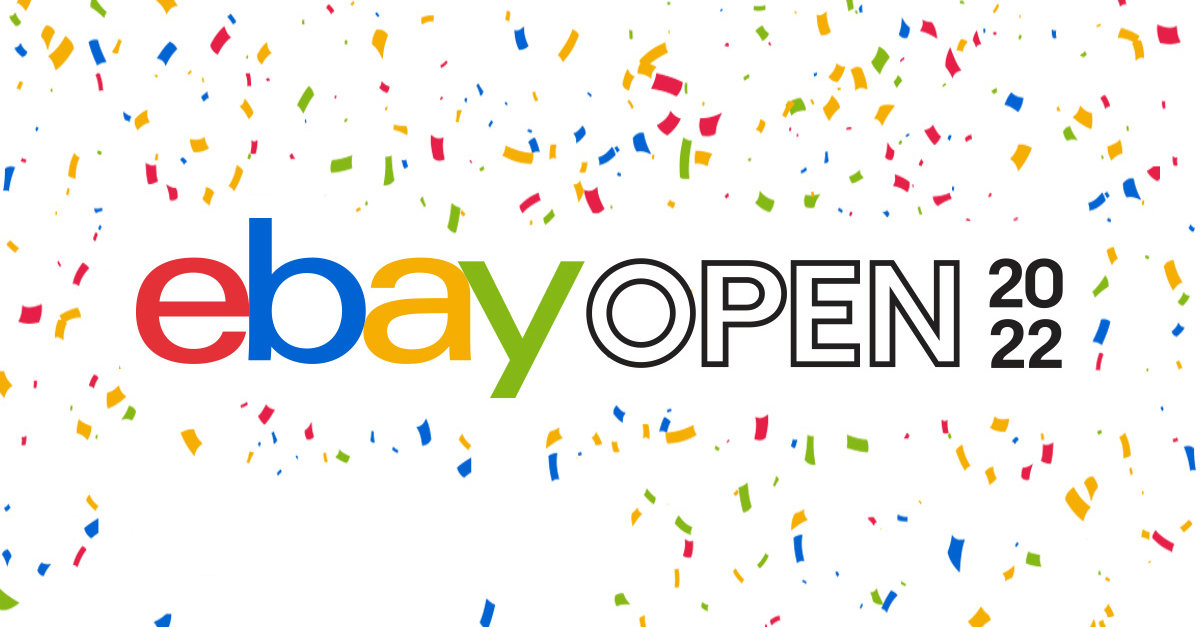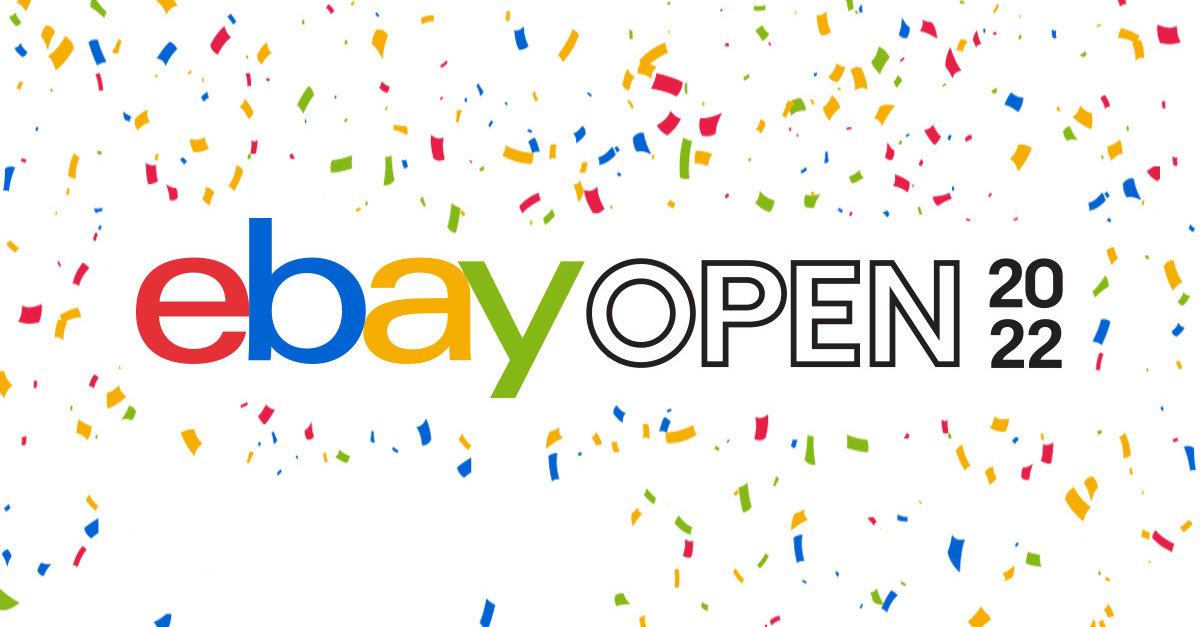 ---
Kicking off with CEO Jamie Iannone taking us on a tour of some of the offices at the San Jose HQ. Then on to Jamie interviewing eBay seller Yinka Ogunsunlade of Fashionably Legal talking fashion, athletic wear & sneakers.
Director of Product Management Buyer Engagement & Personalization, Nicole Inouye then interviewed eBay seller Laurie Wong of Reflections of Trinity to talk about eBay For Charity.
Now Rebecca Michals Director of Seller Community and Engagement interviewing eBay sllers Liz O'Kane from coloradoreworn and Angie Cardona-Nelson angiesgreengosurplus about the eBay community.
Rebecca announced the community team will be launching a seller newsletter that will highlight selling categories, YouTube videos from other sellers and current buyer trends. There will also be a new podcast that will dive into seller stories asking them about their history on eBay with some of the first episodes featuring sellers who appeared at eBay Open.
There were no specifics on the frequency of either the newsletter or podcast, but Rebecca said both are coming next quarter.
Newsletters are a great way to reach your audience - let me know if you need any pointers Rebecca. 😉
CMO Andrea Stairs and Beric Alleyne Head of Diversity, Equity & Inclusion announced the winners of this years eBay Up and Running small business grant program.
Final Thoughts and What's Next with Jordan Sweetnam, SVP Global Markets
Jordan says he's proud to say eBay connects sellers to 138 Million buyers around the world. What he didn't say is that's less buyers than they had back in 2018. 🤯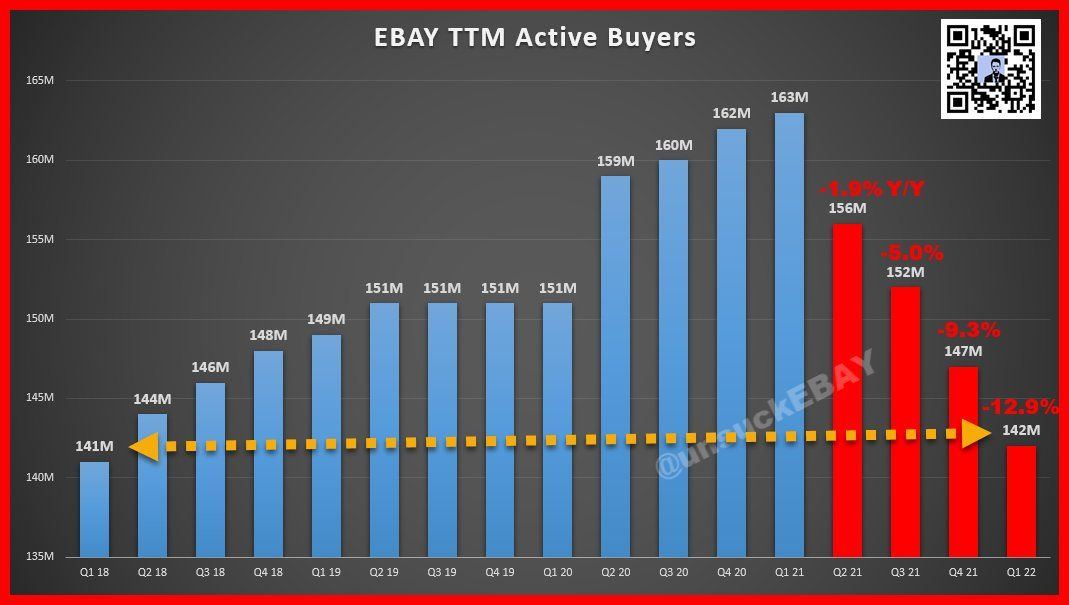 Jordan says eBay is listening and that they only win when sellers win - our input is critical and they couldn't do what they do without us - again, like Jamie's keynote speech, that strikes me as more that a little disingenuous given the complete lack of actual engagement with sellers at this event from the higher up executive ranks.
He then reiterated their commitment to reliability, simplification and trust and gave a recap of sessions and announcements from the last two days, including the new eBay international shipping option.
And of course Jordan ended with the eBay clapping tunnel, staged with the featured sellers eBay brought out to HQ in San Jose for this event.
All of the keynote segments were pre-recorded and fairly generic. I'll update more as videos of some of the breakout sessions I missed are released but for now, if you were keeping score of actually new features or announcements, we still only have:
Picture limit will be increased from 12 - 24 images, coming sometime in November.
New International Shipping option that will be slowly rolling out over the next 12 months.
I expect we'll hear more "good news sellers" in the Fall Seller Update - eBay has not given an exact date, but did confirm it would be after eBay Open so I suspect it will be in the next week or two. Stay tuned!
In the mean time, if you want to hear what sellers are saying about eBay Open over in the eBay community - this thread has over 150 responses so far!
This event is supposed to be for sellers to ask questions and dealing with selling challenges.....thus far the keynotes are entirely scripted and have not addressed any topics such as lack of sales, site updates, scam buyers etc etc etc......



The chat on the sessions have many posts that are the same.



Ebay you need to do a better job here and offer a platform where sellers can respectfully discuss the selling issues we see every single day. Please do not continue to gloss over some of the serious and underlying issues that are hurting the platform
welcome to ebay open - it was run the same way last year - thus no point in it... disclosing plans etc... are all great but avoiding current and ongoing issues that should be addressed before moving forward is and always has been this companies downfall.
Agreed, this needs to be full on in person event. Conflict and challenging management have turned into some kind of negative, bad or supposed shaming. IT IS NOT ITS BUSINESS.



"... no answer is an answer..." is political mumble jumble.



The follow up is why don't you have an answer? Whose responsibility was it to have an answer? Who in management feels its shaming to state you have failed by not having the answer? Not knowing is a failure. Failure is NOT SHAMING. When I use to be an interventionist if I used this as an answer people could get hurt. New motto, STOP FAILING AT THE SAME thing.
I have been looking all over to see where people might be going to discuss the Open now that the first day is over... have to say I am pretty disappointed in the virtual component too. Never thought that Q&A wouldn't be live, never thought that we'd get prerecorded (and badly narrated) pieces that are going to be uploaded later on YouTube anyway, and the functionality was so confusing that it wasted a lot of people's time. Really bummed.
My major take-aways from open this year:

New leadership is imperative, the people running the show currently are clueless. The stock price loosing HALF its value in a years time, says alot.



So much company capitol BEING WASTED..



Whole thing needs a top to bottom overhaul..



Still plenty of money to be made here but dont look for the leadership to do much positive.



Good sellers can only try an hold on until new leadership arrives..
This entire event is just plain amusing. What are we to expect from an IT event presentation what was put together by the worlds least renowned eBay tech department. This event is exactly how the selling platform works, like 80% working. I was not expecting any of it canned. I really thought there would be some real conversation about where the platform is going and if any of the obvious site problems are to addressed.



After 23 years on this platform with two eBay companies you would think I would know eBay just is not able to pull off any type of event that would be meaningful. Here we have the over joyous CEO, Jamie, in the Keynote address just rant and rave how wonderful things are when we all know there are many serious issues with the site of which there is no repair in near view...



...I find it interesting that most of the VP's speaking are really new to the company, 18 months on the job or less. Most are 30 to early 40 somethings with, I'm sure, great Corporate survival skills. I'm not hopeful these folks have the skill to deal with their own $2.4mil annual business (only 12% on eBay), with 4000 listings and make a profit. I am sure that if eBay were selling shoes as their main income stream they would be out of business in two months.



In closing, Jamie was saying how he really excited to speak to Sellers, like it makes his day. I would venture to guess he would not like to talk with someone like me that would ask real questions expecting real answers. Jamie has said he is focusing on the high value Seller and Buyer (really a bad way to say all that). Maybe he should be talking to someone like me and others like me. Perhaps he would find out why I only do $300k on eBay and not the entire $2.4. God forbid that a CEO of a major corp would want to hear real on the ground info. That's why there are so many teams and department in companies like eBay so the info the CEO gets is what he want to hear, like losing 18% GVM is fantastic.
I wholeheartedly agree that Jamie and the rest of the executive team would do well to get outside the echo chamber of their filtered feedback loop bubbles and actually talk to some of these sellers about the critical issues facing their businesses on the eBay marketplace. 👏
---
What was your favorite and least favorite part of eBay Open 2022? What suggestions do you have for eBay Open 2023? Let us know in the comments below!
---