Can eBay Managed Payments Funds Be Used For Purchases?
UPDATE 4-5-22
eBay Wallet Spendable Funds is rolling out to sellers by invitation only - get all the details we know so far. 👇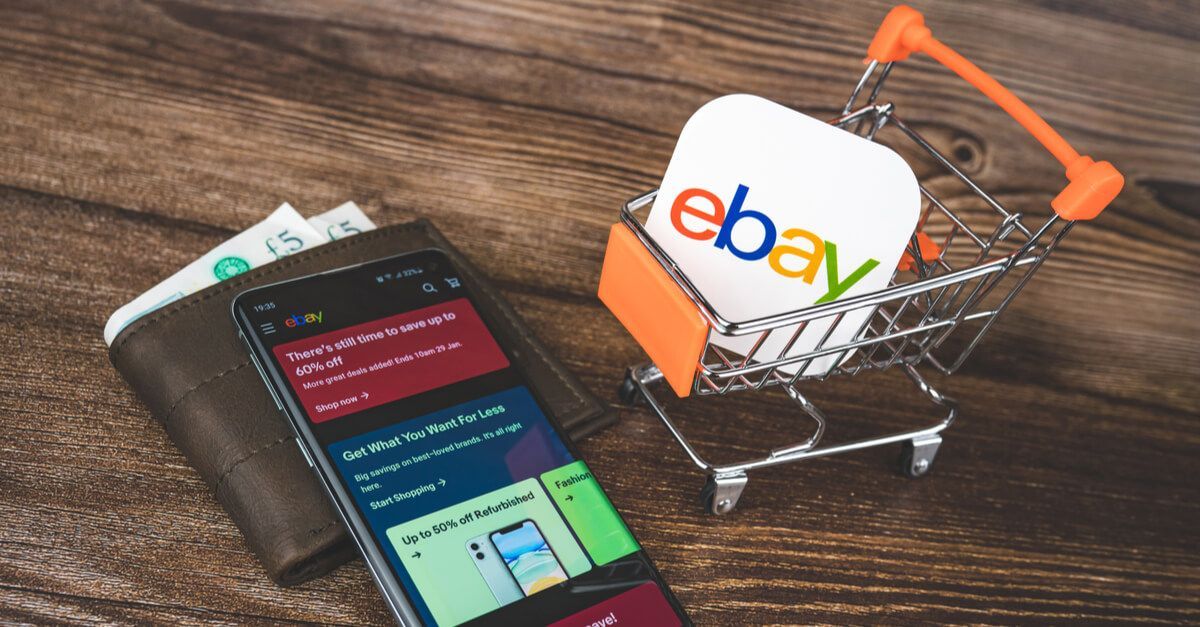 UPDATE 3-10-22
CEO Jamie Iannone announced the first eBay Wallet in today's Investor Day, coming in Q2 '22.
Today I'm thrilled to announce eBay's first digital wallet where you can store cash balance.



Customers will soon be able to easily accumulate a balance in their eBay account to spend on their next favorite item.



Allowing customers to seamlessly turn their sales into purchases is yet another example of a unique eBay multiplier effect. With our scale, resources, and talent, the opportunities for payments are just endless.
More updates and a full breakdown of Investor Day and the Spring Seller Update later today, stay tuned!
---
eBay CEO Jamie Iannone has been hinting at allowing sellers to user their payments balance for purchases since 2020 - will an eBay Payments "wallet" ever be a reality on the platform?
During the Q2 2020 eBay earnings call, Iannone was asked "what can you do to make sure that the money that they [sellers] generated on eBay stays on eBay?"
He answered:
One of the benefits of the managed payments that we're launching and scaling here, we added several new countries and now we're able to really grow and ramp that with the changes a week ago with the expiration of the PayPal agreement. It is the exact ability to do what you're saying.



So to make it easier for sellers and buyers to have their whole wallet and payments contained on the platform, it gives us more flexibility of things that we can do to really make that easy for them and so obviously transference is a huge benefit.
Jamie's keynote at eBay Open Online in August 2021 more explicitly stated that making Managed Payments funds available to use for purchases on the platform would be part of the multi-year payments journey.
Finally, I want to acknowledge the journey we've been on as we transition to our payments experience. Based on your feedback, we're implimenting a number of changes to provide you with more flexibility and control.



These changes include options to get paid out faster, more payout schedule choices, and expanding the ways you can spend your balance for shipping labels and purchases on eBay.



You'll be hearing more from us about these changes over the coming weeks.
It's been quite a few weeks since then and as of the Q4 2021 earnings call, eBay now says the payments migration is complete, so seller-buyers are anxiously wondering - is eBay ever going to allow us to use our eBay Payments balance to fund purchases on the site?
One eBay community member alluded to the possibility of a "spending balance" being available soon, but couldn't remember where he saw the information (may have been an old story referencing Jamie's previous comments.)
FYI - Unrelated but eBay will soon be allowing sellers to maintain a "spending balance" in their MP accounts and use those funds to make eBay purchases, this may have an effect on "active buyers" but I can't speculate on how much of an effect...



...I'm unable to find a link to the story, as I recall it was quoting Iannone (or maybe the payments guy) during a recent conference call or interview. It might have been on seeking alpha.
Two sellers also called into the most recent episode of the eBay for Business podcast to ask about the possibility of using payments for purchases as well. Excerpts from transcript (edited for clarity and brevity)
Brian:...My question is regarding eBay Payments. I remember back when PayPal would not only allow your payment to stay in your PayPal account, but it also gained interest via PayPal's money market. Another perk was being able to pay bills via PayPal as well. Are there any future plans to be able to keep our sales funds kept in a payments count rather than sending the payments through to the seller?



Griff:...there was a similar question that came and I'll read this one. And this is from eBay seller Ethan who says: Good morning. My question is I'm an avid seller, but also a shopper on eBay. Is there a way that I can make purchases on eBay by using my pending payouts rather than using a debit or credit card...



...let's talk about the meat of those two questions, which is the idea of keeping the funds in your eBay payment account. So you can use them as you see fit.



Brian: I believe the payments Team is considering options like those requested by Ethan and Russ. But as of now, there are no plans to allow sellers to keep their selling funds in their eBay payments account indefinitely...



Griff: Yeah. We don't have an answer yet. There's always the possibility additional features for payments in the future. We just don't know. And you'll have to stay tuned. But keep in mind whenever you're making those comparisons that PayPal and eBay Payments are very, very different products.
Keep in mind the podcast is recorded in advance, so the information may not be real time/up to date.  However, over on Facebook, Griff answered another question on the topic yesterday, very carefully leaning on the word "yet."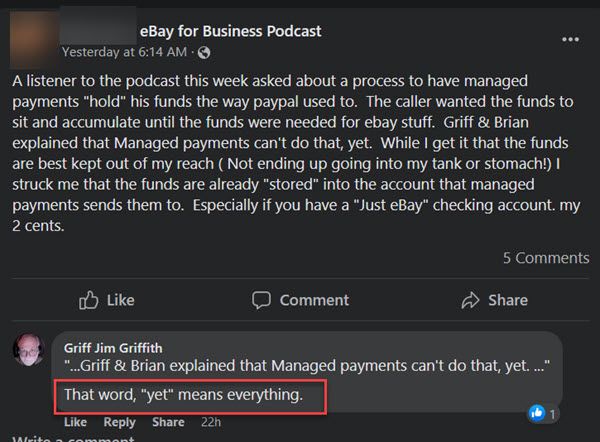 ---
My guess is if eBay is moving forward with plans to enable the use of sales proceeds to pay for purchases any time in the immediate future, they're most likely holding the news for March 10th which will see eBay's virtual Investor Day in the morning and the Spring Seller Check In in the afternoon - stay tuned!
---