eBay Magically Disappears Search Results When Using Lowest Price Sort Option
At eBay Open last month, VP Buyer Experience Blair Ethington said eBay has focused on improving search this year to create "magical experiences" for buyers, but many users disagree with that assessment.
My teams build tools and products that simplify the buyer experience and create a magical place for enthusiast buyers to find treasures they love. Today I'll touch on important ways that eBay is connecting sellers and buyers.



This past year, we've focused on creating a simple design across the site that helps buyers purchase the items they love on eBay. We've also made significant changes to our search experience, utilizing AI and machine learning to enable buyers to find your items...



...Now, let's talk about the experience for buyers who know exactly what they want when they come to eBay. For a sale to happen, a buyer needs to quickly search for and find the right items...



...At eBay, we're committed to creating a platform that is user-friendly, innovative and impactful. By improving magical experiences across the buyer journey, we're helping sellers reach more buyers and ultimately convert sales.
In addition to the questionable "similarity" of results in the find visually similar search, multiple instances of search being broken to the point of returning 0 results for common keywords that should show tens of thousands of items, and autocorrect gone wild, many users are reporting a less than magical experience when sorting and filtering results as well.
For example, when searching for items using eBay's Best Match default sort option a potential buyer may see thousands of results but if you change that same search to the Price+ Shipping: Lowest First sort option, eBay will drastically reduce the number of items shown - almost like someone waved a magic wand to make them disappear.
Here's what eBay currently shows if you search for "stratocaster" - with Best Match sort there are 57,000+ results.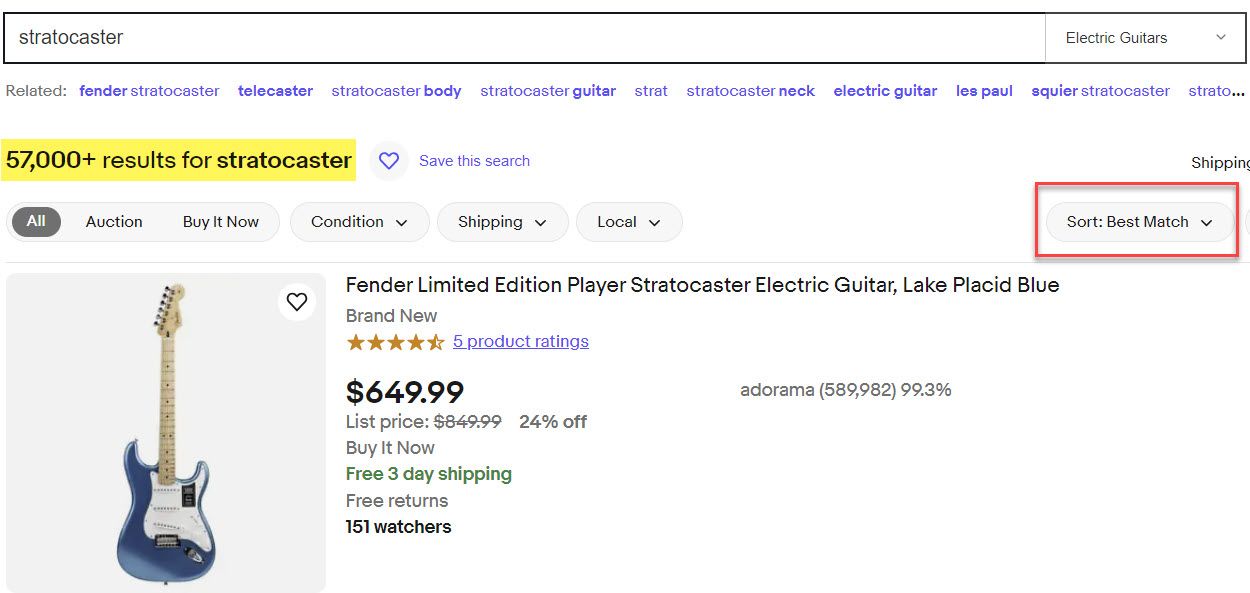 If you change to Price + Shipping: lowest first, that goes down to only 60 results. In this example eBay does at least show a "see more results" link, but in many instances they do not, rendering many available options completely inaccessible to the buyer from this view.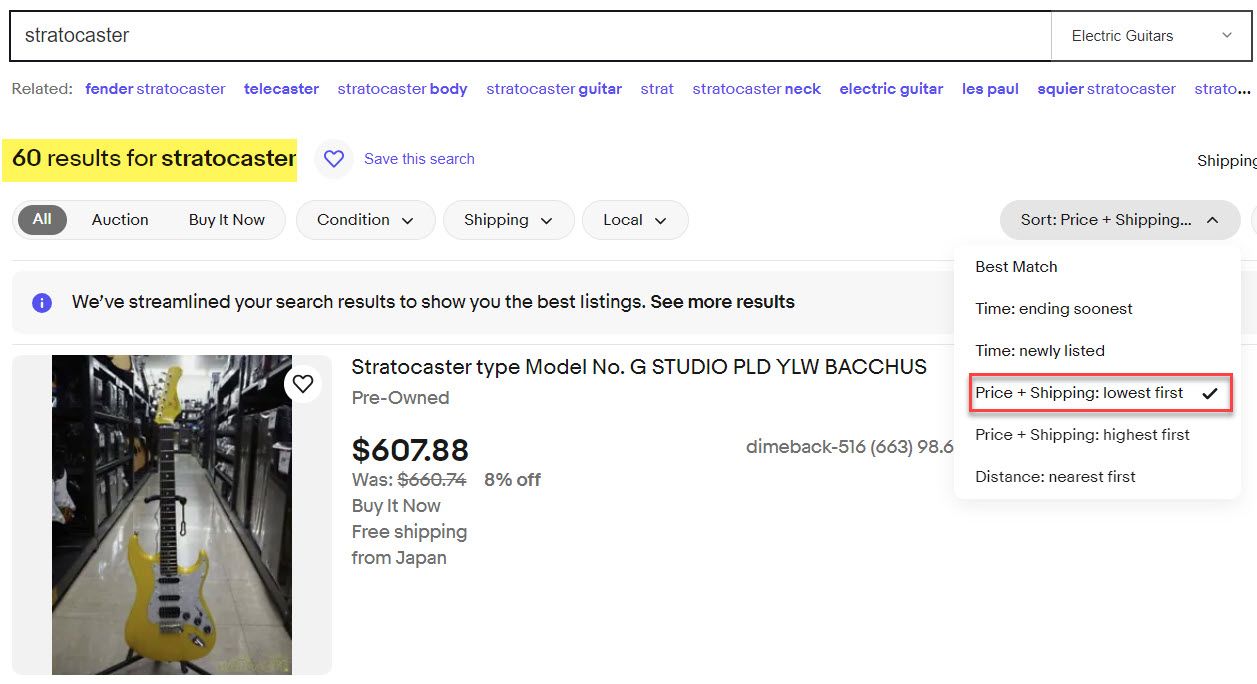 Search for Morgan Dollar in Coins-US, and check the box "uncertified".



Sort by highest price first, get 80,000 results.



Sort by lowest price first, get 2 results.
I searched for a specific motorcycle part, and there are 257 search results. When I choose list cheapest items first, it jumps down to 47 items. And, when sorting through the unfiltered, larger results, I saw many that were cheaper than the cheapest on it showed me when I sorted by cheapest first.



And this is not a "streamlining issue" There was no message that they streamlined my results as they do when you get like 35,000 hits for something. And besides, why would they streamline the search when I pick a filter of cheapest first? This is kind of lousy.



Yes, when I am buying a 50 year old bike part, I will tend to go with the cheapest item that fits my needs. The price variation in that market is crazy. This really amounts to some sort of social engineering. Maybe they'd rather I pay more so they can take more from the seller huh?



Who knows its just annoying to have to sort highest first and then run through pages of listings to get to the cheap ones. (Yeah, forgot to mention, no other filter reduces the number of results, only the cheapest first one)
This is a very critical issue - removing the ability to search by 'lowest price first' definitely will stop serious shoppers (collectors of trains, stamps, comics, such as me) from using eBay as the go-to site to shop/auction/list items.



eBay has clearly done this by design - I tried a workaround of searching by 'highest price first' and then going to the last page and working backwards. Seems they blocked that too - after page 44 or so the screen blanks out with a message saying 'We're unable to show you more than 10,000 results. Please refine your search to narrow your results'.



It's super annoying and frustrating. eBay has become greedy(ier) and have taken a chapter from Amazon's books. Amazon is the first site to block searching by lowest price.



I preferred shopping on eBay when they didn't try to pull such scammy stunts. Seems I will need to find other sites to shop from.
Not sure if this is the right place to raise this concern but I'm very tired of this bug. When searching for any item on eBay, lets say "Yeezy" for example, you can sort using several methods. Searching by "price + shipping lowest to highest" only shows about 40 listings. You can switch to any other search method, including highest to lowest price and you will get thousands of results.



This is a critical search option to eBay and needs to be fixed immediately. My friends have replicated this problem so its not just me. I'm not using any filters or location options. This problem also exists on the mobile app.



I've known of this for over a month now and no fix so I'm assuming the eBay web developers are unaware of this. I'm sure this is having a huge impact on sales as a lot of people sort by lowest to highest price. eBay please fix this. Too large of a company for something like this to go on for over a month.
When I search for say "Vince" in women's clothing. It says 10,000+ results. When I filter it drops to 160.



This is happening with a lot but not all brands and has been happening for a couple months now.
WHAT IS GOING ON?! While I usually scroll through listings on the eBay app on my phone, today I wanted the convenience of scrolling with larger images on my desktop - after doing several searches, I noticed that every search I ran - regardless of item/category - was returning exactly "160" results.



When I chose specific filters for each item, I would see thousands of listings available under each specific available filter, but no matter what I chose, each result stayed the same at 160 - WTH, eBay?!



If the desktop platform is no longer functioning normally for web users and limiting what they see because eBay is trying to force people to use the mobile app only, then this entire site has just extremely narrowed its appeal to me. I want to choose for myself what listings I see on here without restriction, not have eBay restrict what listings I see.



Is anyone else noticing this pattern of results being limited to exactly the same number, regardless of what they are searching for?? Any ideas as to what is causing this??
When searching on ebay for a term "stratocaster" I return 53000+ hits. If I try to sort it lowest Price+shipping it return 160 items... and they are not even close to the lowest price+shipping. I understand that 53000+ items is a lot to sort etc. but really 160?
The sort price+ship low to high feature unfortunately does not just sort - it often filters the results drastically.



Some buyers have found sorting price high to low then starting on the last page of results helps them find what they're looking for.



Use the feedback link on the search page to submit comments to the eBay developers about this bad buying experience.



160 is not an uncommon number of results. I don't know why that's eBay's magic number, but take a look - you're not the only one.
The suggestion to use the feedback link on that page to notify eBay of the bad buying experience is sound advice, but unfortunately such feedback may not reach the intended audience due to yet another ongoing glitch in the system.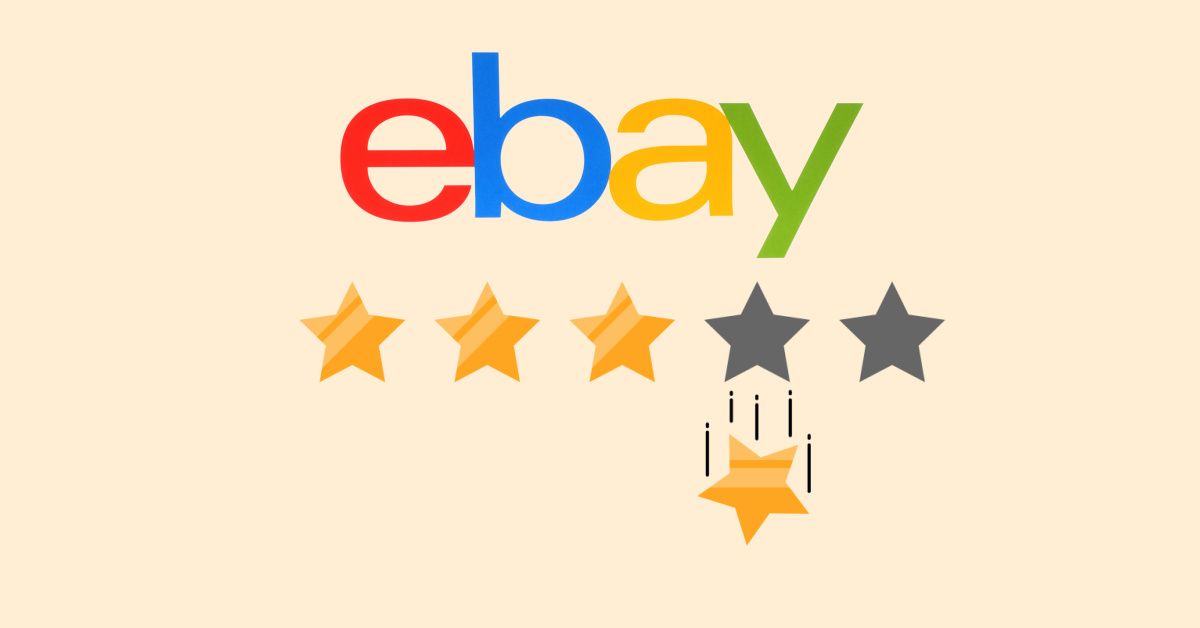 Longtime eBay community member eburtonlab has replied to many of these threads to provide a very helpful workaround that removes most of the filtering from the "price lowest to highest" sort option.
Simply add "&_blrs=recall_filtering" (without the quotes) to the end of the URL after you select that sort option and you can then bookmark the resulting URL if it's a search you perform often.
The "Price plus shipping: lowest first" sort order provides filtered results -- often drastically filtered. And the option to "see more results" may not always be shown as it should. The filtering may vary depending on the keywords used.



If you encounter a drastically filtered result for a keyword search using a desktop browser, you should be able to use the "Feedback" link in the lower right corner of the search results to provide feedback on your search to eBay developers. The more users provide info, the more likely something is to be done about the over-filtration problem.



You can avoid that problem entirely by using a different sort order.



If you have few results, try sorting by "highest first", then starting at the end of the results, scroll up instead of down. This also avoids the problem of variation listings with low-cost variations appearing at the top of the lowest-first sort.



If you have a bookmarked or saved lowest-first search that you use a lot, you can avoid the filtration by adding the following to the end of the search URL, then saving the resulting search:



&_blrs=recall_filtering
Going back to the "stratocaster" example above which showed 57,000+ results for Best Match and only 60 for lowest price first, if you add &_blrs=recall_filtering to the end of that URL, it will still sort by lowest first but is now showing 51,000+ results.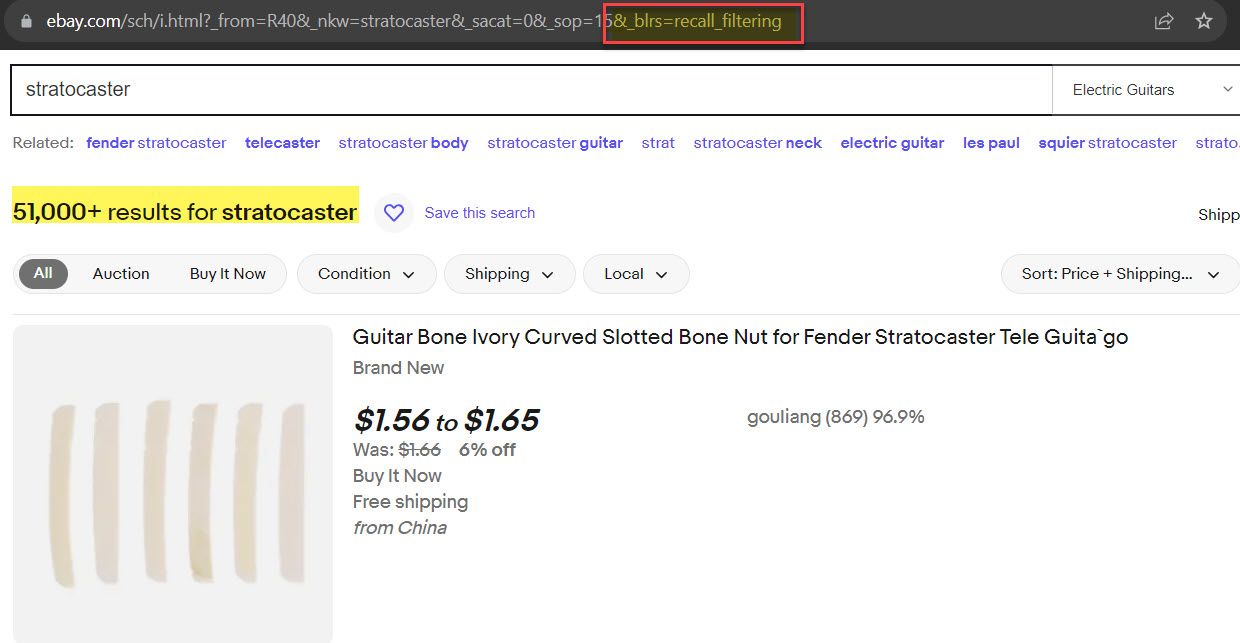 However, many buyers will not be aware of these more advanced ways to force the search/sort to do what they want and workarounds should not be necessary simply to try to get the site to show all of the relevant results.
This issue is certainly "impactful" to the buyer experience, though not in the magical user-friendly way Blair might hope.
---
Has your search and browse experience on eBay improved this year? Let us know in the comments below!
---