eBay Connect 2021 Developer Conference Part 2
eBay recently held their annual developer conference with a focus on Payments, Ads, upcoming changes to eBay's API, and other technical issues.
Full agenda, videos, and slide decks can be found here:
https://developer.ebay.com/news/connect-2021
---
Opening Remarks - Tanya Vlahovic Head of Developer Ecosystem, Lead Architect for Public APIs, eBay
---
Message from Mohan - Mohan Patt VP, Buyer Experience, eBay
Mohan gives a quick overview of projects eBay teams are working on like video in listings, authentication, certified refurbished, and auto parts compatibility.
---
Buyer Experience - Julie Katz COO for the Shopping Experience and Chief of Staff to the Head of Buyer Product & Engineering, eBay
Julie provides some interesting insight into eBay's authentication efforts.  eBay found that 5% of luxury watch sales and 3% of sneaker sales had SNAD (significantly not as described) claims filed and developed the authenticity program to address concerns and build trust in these categories.
She also highlighted the eTag for authenticated sneakers, which in my experience has not worked exactly as described.
Julie also touched on Certified Refurbished, eBay's efforts to display educational content while surfacing inventory to better promote the value proposition of key strategic programs, and updating and expanding the Brand Outlet experience to make it easier for buyers to find and shop discounted brand direct listings.
There have been many design changes made to the mobile experience to streamline the use of filters and sorting to narrow search results. These changes appear to be the driving force behind recent item specific mandates which have been met with much resistance from sellers and caused some technical issues as well.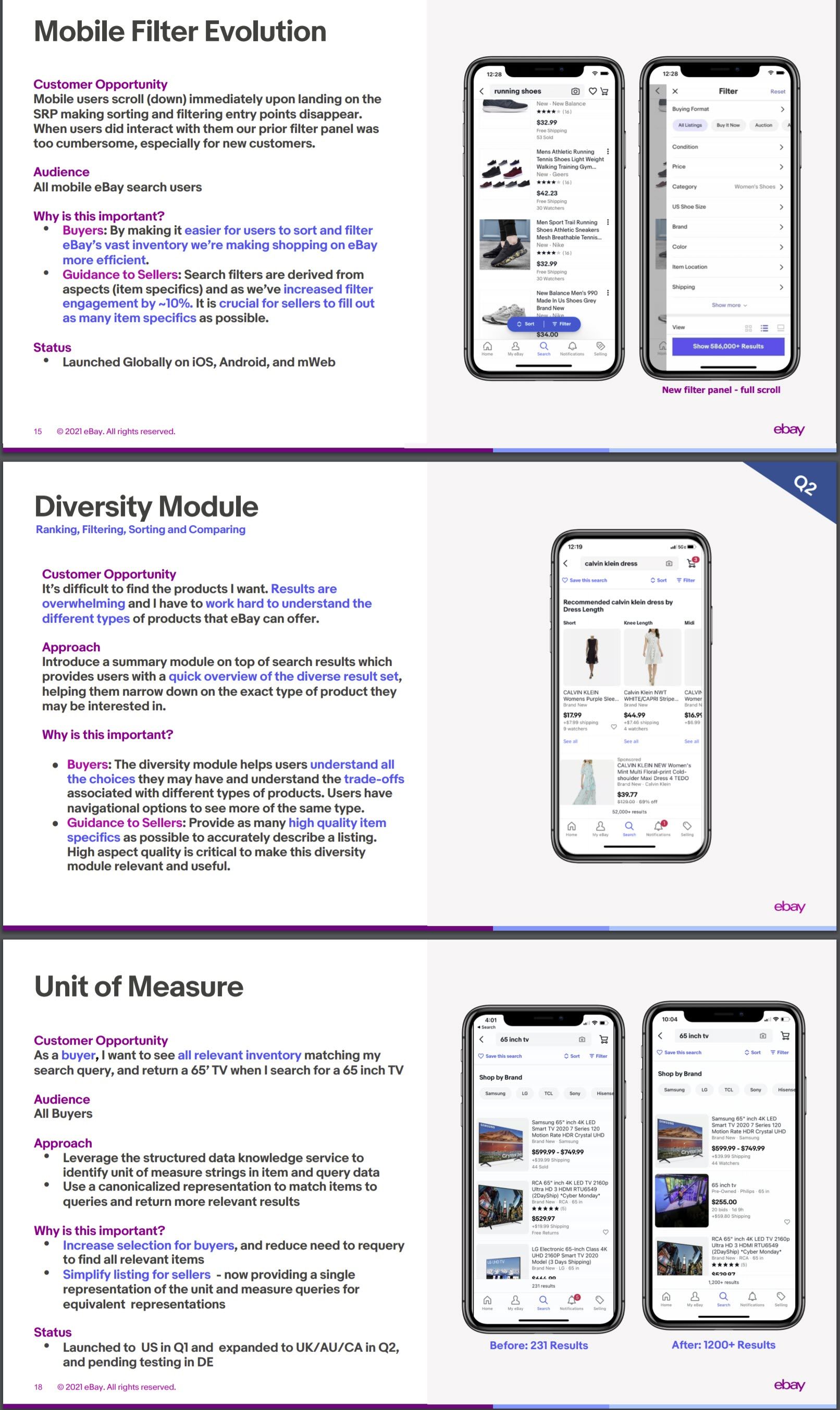 Julie also touches on Advanced Promoted Listings CPC, video in listings, and saved sellers and searches, but mostly this is just a high level overview with the same information that was presented in part 1 of eBay Connect on June 14th.
eBay is once again experimenting with ways to aggregate listings for the same item in a single catalog page.  Past attempts experienced pushback from sellers as an example of eBay trying to be Amazon rather than leaning into what makes eBay unique and different.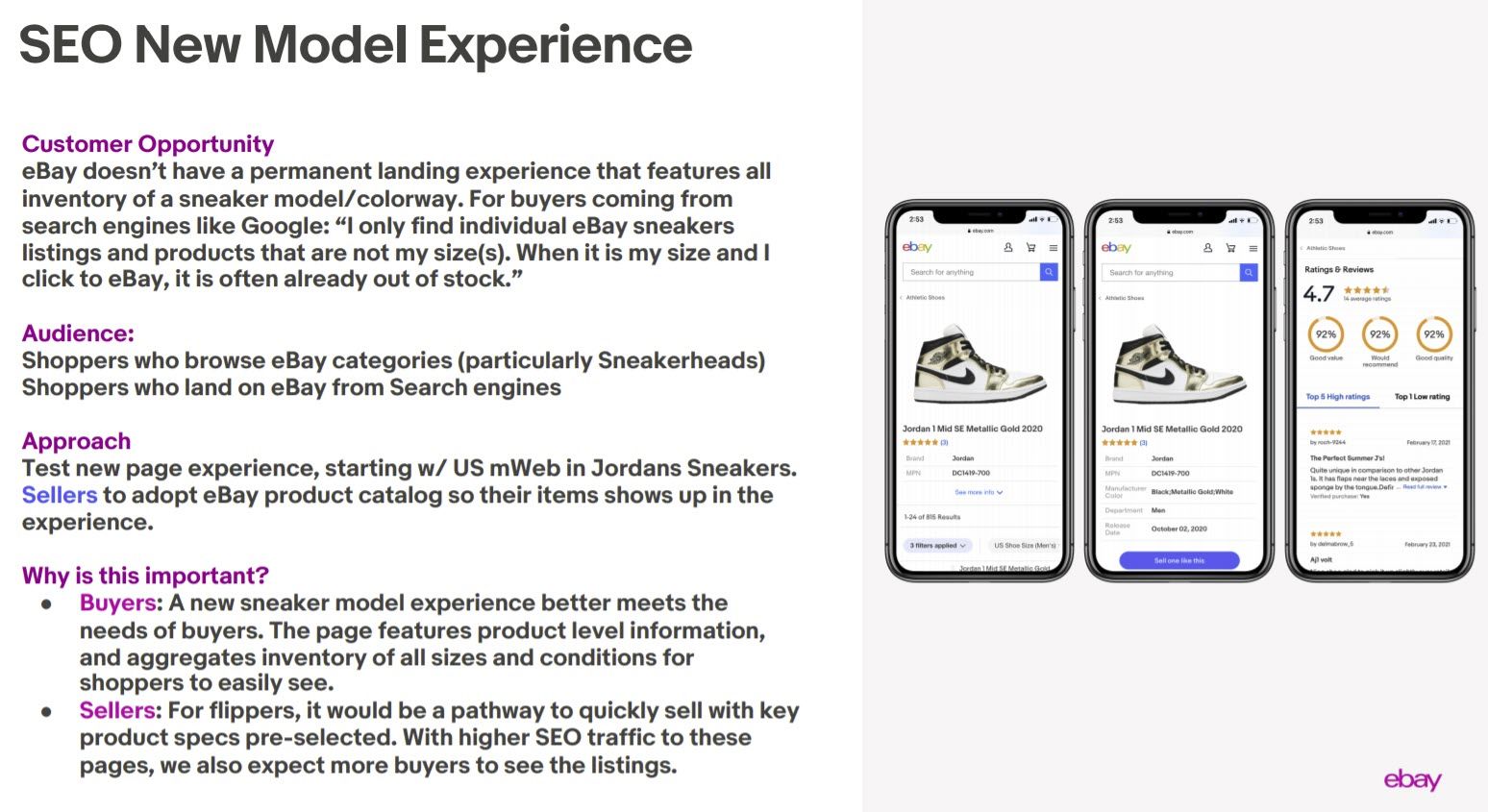 ---
Video API - Shekhar Banerjee Principal Architect, Developer Ecosystem, eBay
Shekhar gives an in-depth look into the new videos in listings and a demo showing how to upload a video via API.
eBay's API first approach for videos allows up to 150 MB. The video's input source must be an .mp4 file of the type MPEG-4 Part 10 or Advanced Video Coding (MPEG-4 AVC). The maximum upload resolution is 1080p and supported output resolutions are 240p, 360p, 480p, 720p.
Currently there is a limit of 1 video per listing and video in listings is only available for US and UK listings.
---
Buy APIs - Shruti Hulmani Sr. Product Manager, Developer Ecosystem, eBay and Jancy Vincent Sr. Engineering Manager, Developer Ecosystem, eBay
Shruti and Jancy give some insights into enhancements to the Buy APIs. This section may not apply to average sellers, but there's some good technical information here for developers.
---
Shipping & Member Communications - Erik Selberg VP, Shipping and Member Communications, eBay
Erik touches on eBay Standard Envelope, simplified shipping options for casual sellers, enhancing tracking events for authenticated items, and eBay's efforts to intermediate member communication.
There are a few interesting details in this section, including the fact that eBay is renewing efforts to provide sellers with an Amazon FBA type fulfillment program.
eBay's previous attempts at offering fulfillment services in the US were dependent on 3rd party providers, basically just connecting eBay sellers with existing logistics companies like ShipBob.
Orange Connex appears to be a joint venture between eBay and "other partners", so it will be interesting to see how this iteration of "fulfillment by eBay" differs from past efforts.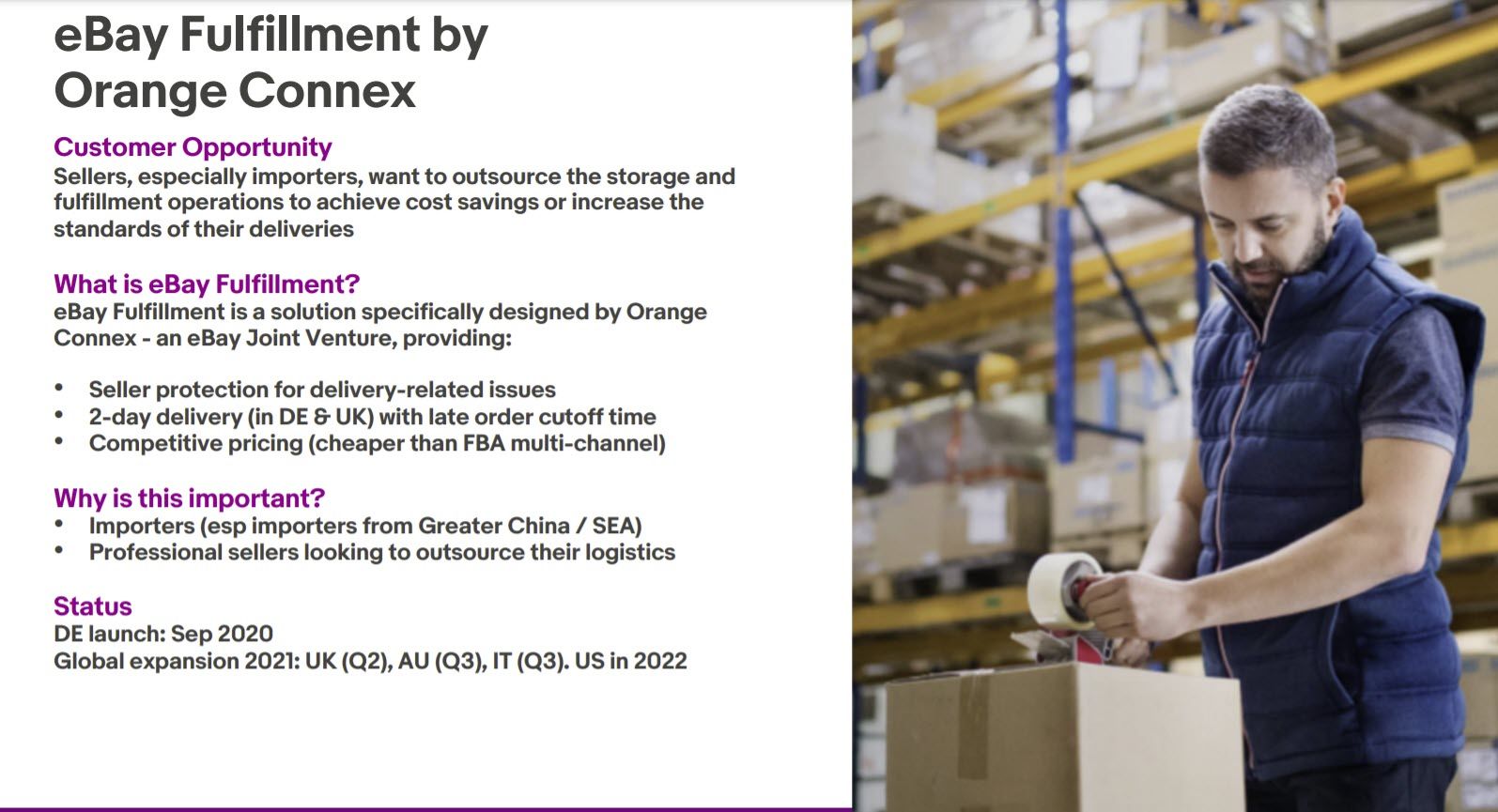 ---
API Security - Tanya Vlahovic Head of Developer Ecosystem, Lead Architect for Public APIs, eBay
Tanya gives information on updates to API security requirements, most importantly regulatory requirements to provide ways for users to request to have their personal data deleted from eBay's systems and the systems of all eBay partner's who store/display their personal data.
---
New Notifications Platform - Shekhar Banerjee Principal Architect, Developer Ecosystem, eBay
Shekhar gives a deep dive demonstration of eBay's Notification APIs.
---
Fireside Chat With Randy Shoup Chief Architect and VP of Engineering Ecosystem and Experience, eBay
---
Message from Jamie & Award Presentation Jamie Iannone President and Chief Executive Officer, eBay
---