eBay Item Specifics & Broken Search Filters
eBay made changes to category structure and item specifics requirements on May 11th that caused major disruptions.  Some sellers say their sales have been and continue to be negatively impacted by these changes.
eBay's position is they are streamlining the buying experience.  Instead of having multiple levels of sub-category structure to drill down into, they have chosen instead to move to larger high level categories with filters to narrow down results by corresponding item specifics.
For example in Comics, different eras used to have their own specific sub-categories.  If you wanted to see only Golden Age comics for example, you'd simply drill down to that sub-category level.
eBay has now taken away most of the smaller sub-categories and forced those listings into one big Comic Books & Memorabilia category, with filters on the left side.
So now to see only Golden Age comics, you would need to scroll down, open up the menu for Era, click the box for Golden Age and presumably then be shown results where the seller has selected Golden Age for the appropriate corresponding item specific on the listing.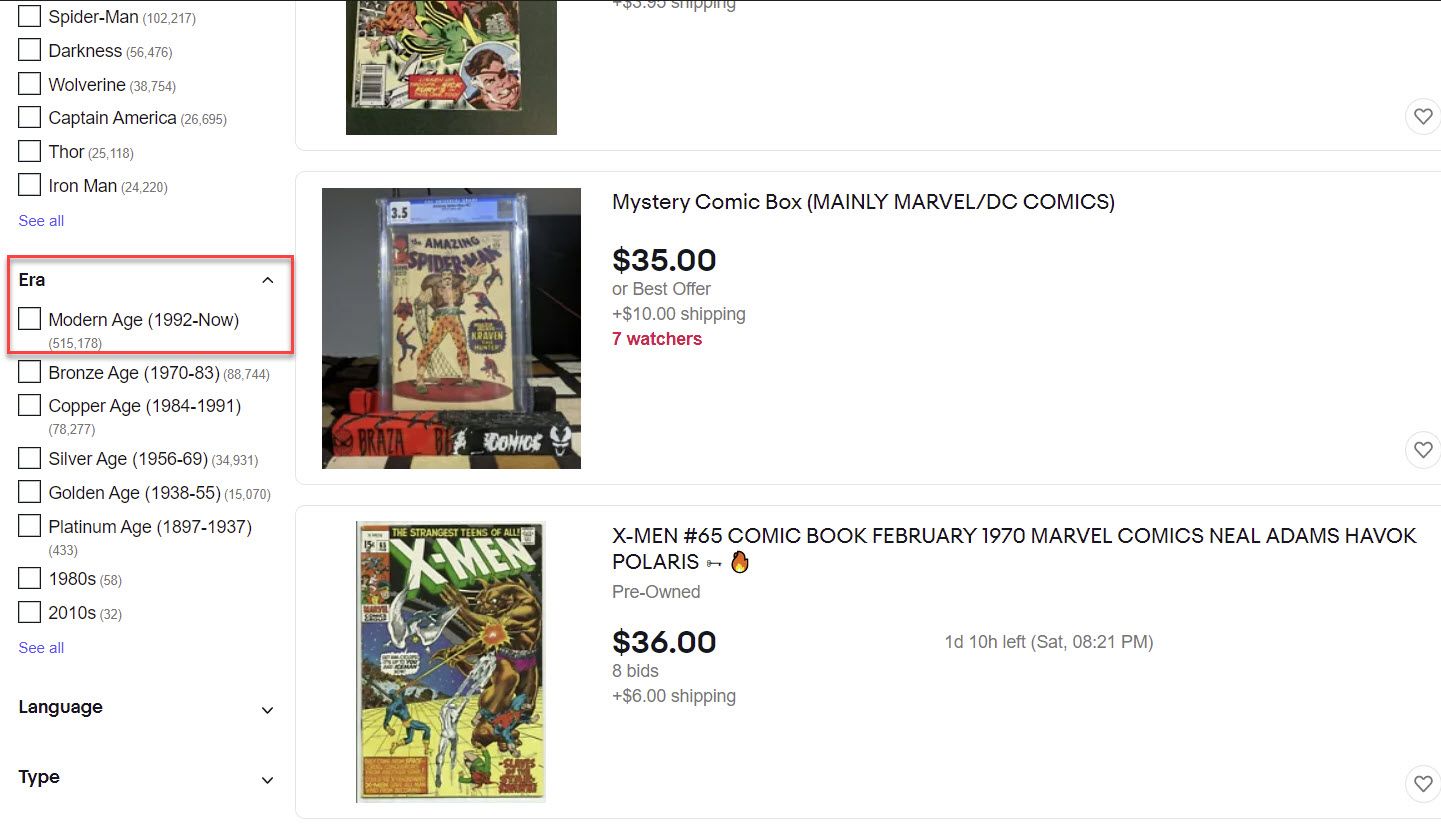 eBay says this filtering by specifics effectively accomplishes the same thing as drilling down by sub-category, but in a more streamlined, user friendly way. The actual experiences being reported by buyers and sellers would seem to contradict eBay's thinking on this one.
This example from the eBay community illustrates one of the problems with eBay's new strategy.
Sports trading cards also used to have separate sub-categories for different sports.  Previously buyers could drill all the way down to a specific "boxing cards" category.  Now all sports cards are lumped together and buyers must rely on the item specifics filters instead.
However, if you select Sport: Boxing in the filters, it brings up a bunch of other sports!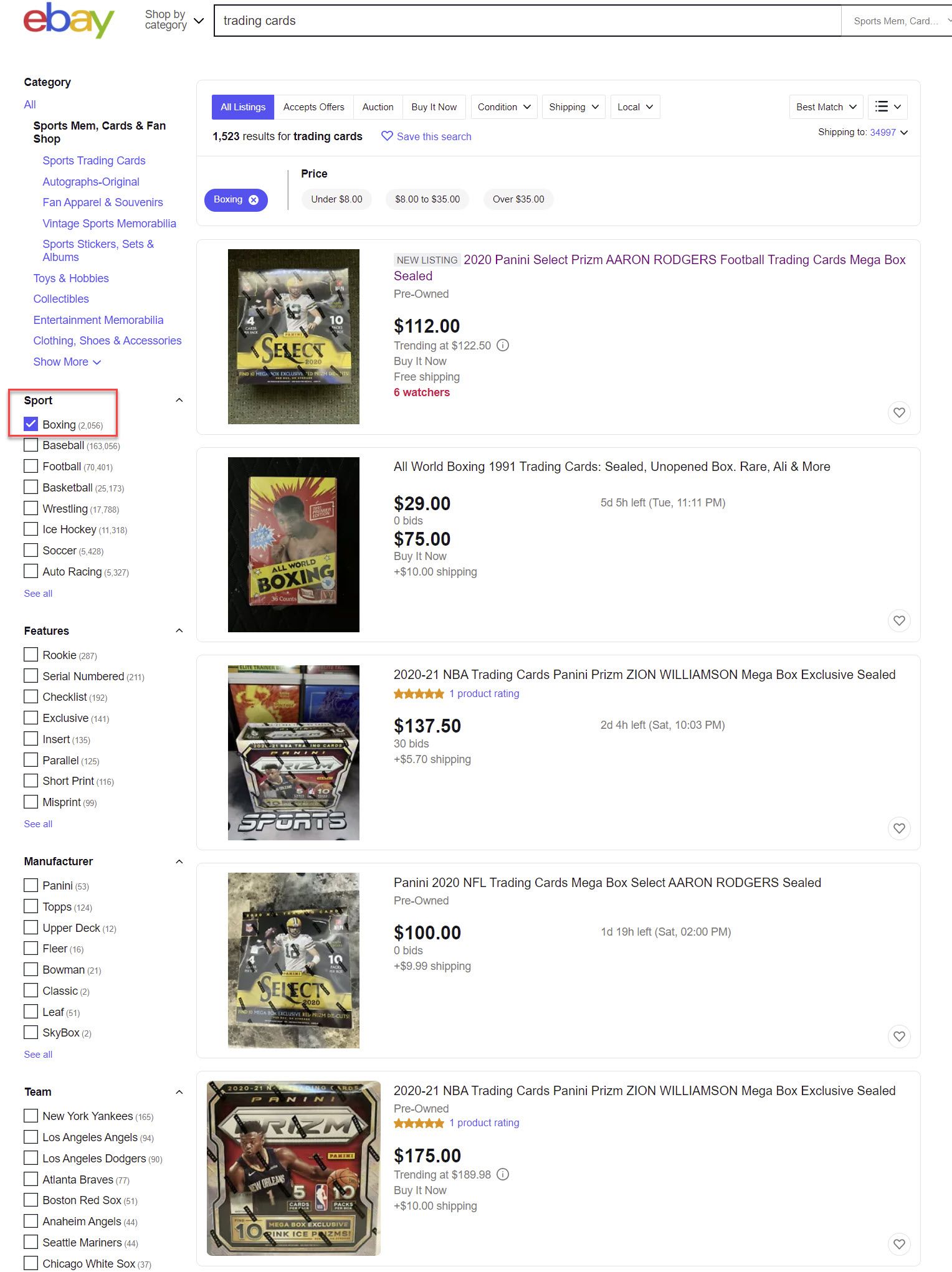 It's not entirely clear to me what's going on here - I suspect it is either picking up the word "box" from the listing titles/descriptions or it may be picking up any variation of the word "box" that is in other item specifics fields besides "sport."

What is entirely clear is that in this case, the filters are not working as most users would expect and are not returning the same kind of results you would have seen previously with category navigation.
---
Don't Most People Use Search?
In my ecommerce experience, users are generally more likely to use a site's search function rather than drill down and browse through categories.  Which begs the question, do the categories and filters really matter that much? Won't users still be able to find what they want just by searching?
When it comes to eBay search, the answer is "it's complicated." Search functionality on eBay has changed a lot over the years.  I won't get deep into all of the many iterations, but the important thing to know is it's not a simple keyword only search.  When you search on eBay, there's a complex structure of algorithms, AI, machine learning, item specifics/keywords and other factors in play that determine the results you see.
Just as one example, if you start from the main "all categories" search, eBay will often try to determine the best category to fit your search terms.  So instead of seeing all results across all categories on eBay, it may default to a specific sub-category instead.
Sometimes eBay get's this right - search for boat propeller and it automatically goes to the propellers sub-category under boat parts so you won't see airplane propellers.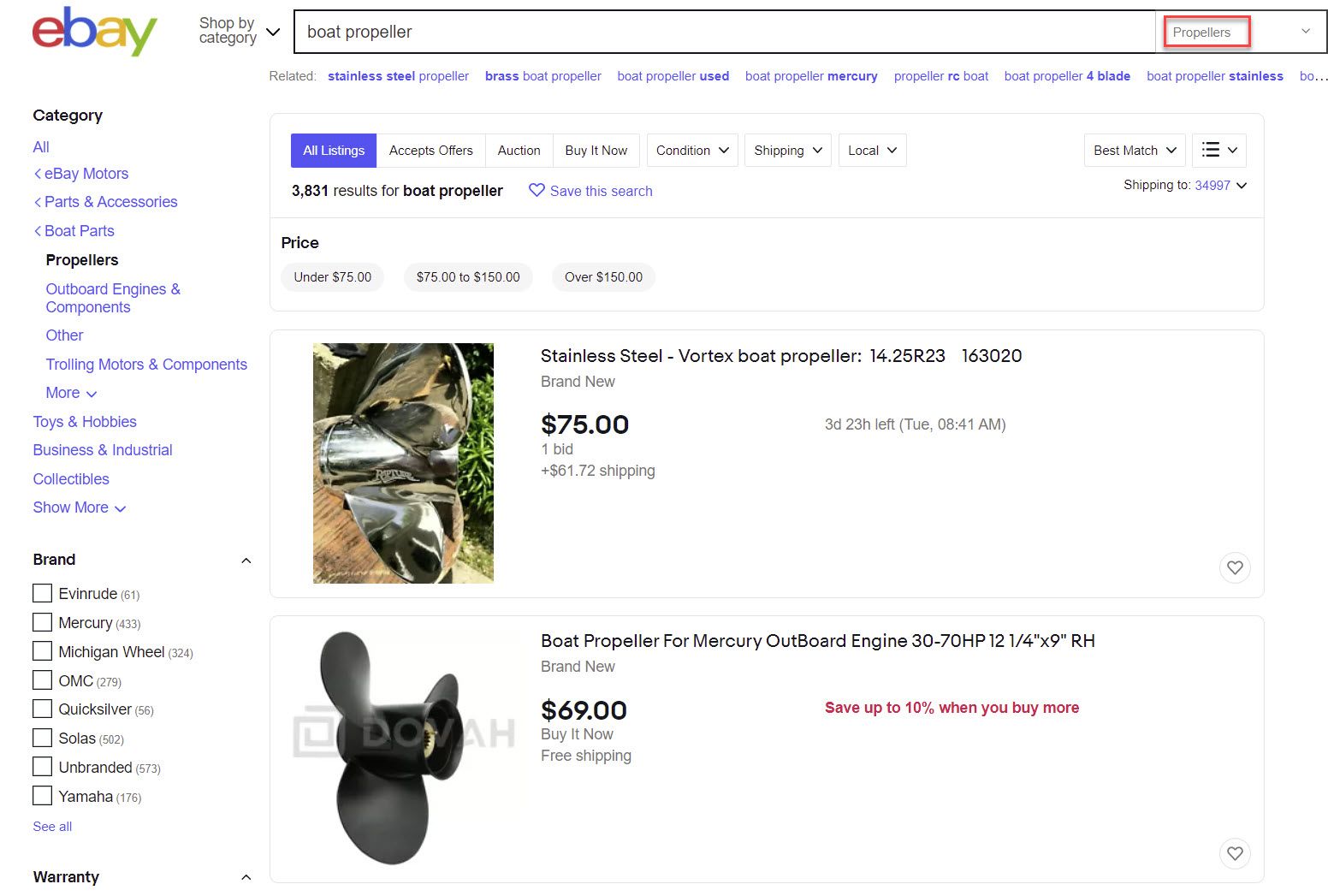 And sometimes eBay gets it very wrong.  There's a popular car care product called Bead Maker.  If you enter that into the "all categories" search, instead of returning any results for that exact phrase, eBay thinks it was a spelling mistake and defaults your search to the Bread Machines category.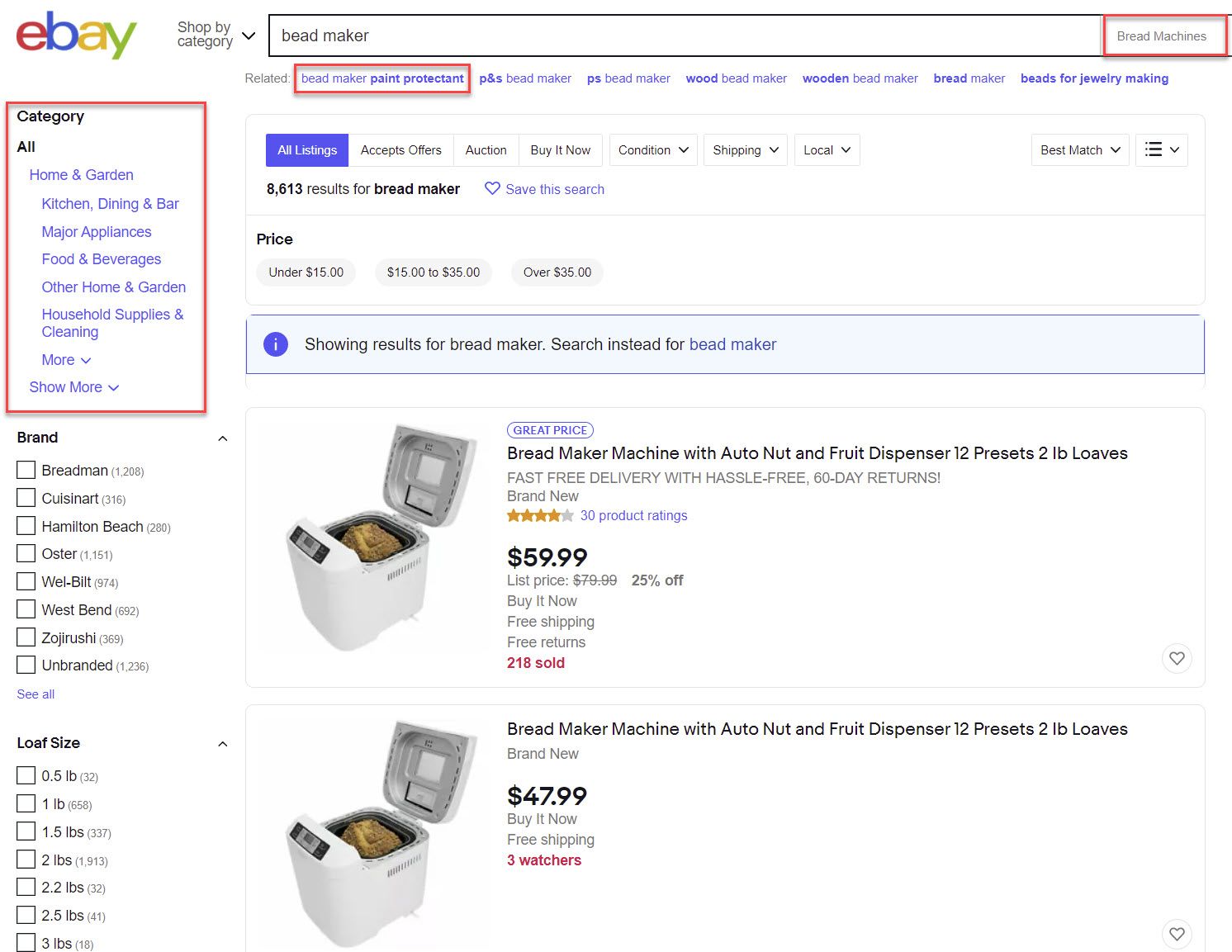 You can put quotes around your search term to force an exact match all categories search, but many eBay users may not be aware of that workaround.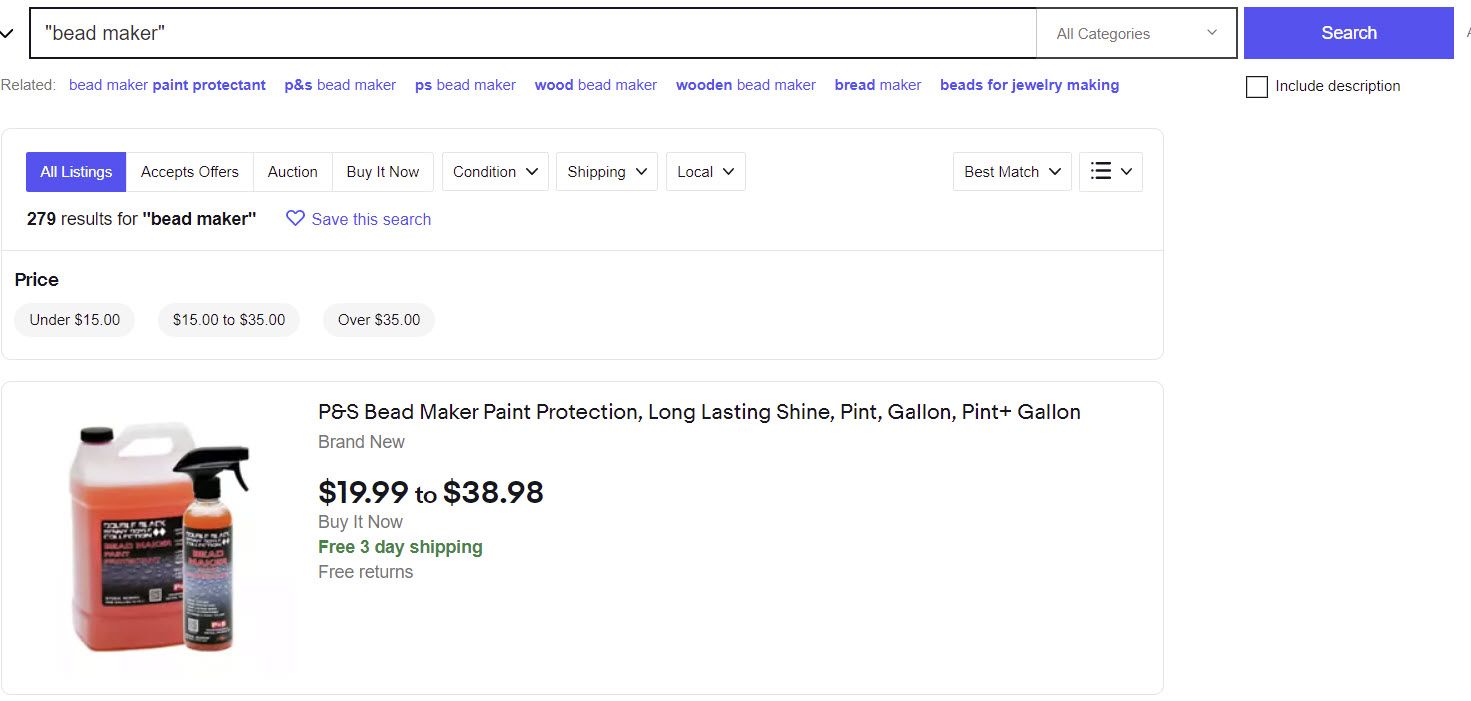 ---
How is this related to item specifics/filters? Only eBay can answer that for sure, but considering how intertwined the search and categories are, it may be possible the recent changes to categories and item specific based filters could also affect searches.
If eBay's internal algorithms or machine learning had previously linked certain search terms to specific sub-categories (like "boxing cards" or "golden age comics") but those sub-categories no longer exist, those results presumably needed to be mapped to the new category structure and/or item specific filters.  There could certainly be room for errors or mismatches as items are updated and moved around to different categories.
---
So far it's been a bumpy ride and eBay is clearly having some growing pains on their "multi-year journey of tech-led reimagination."
CEO Jamie Iannone laid out his vision for the marketplace last year
We aspire to be the partner of choice for sellers, simplifying and upleveling the selling experience for small businesses and entrepreneurs while advocating on their behalf and still delivering on their needs.

We'll double down on evolving our shopping experience so it is fresher, more enriched and simpler to not only attract and retain buyers but to cultivate life-long, trusted relationships with them.
Maybe he needs to step into the eBay community or scroll through eBay's social media support feeds for a day to get some insight into the real experience on the ground.
---