Problems With eBay Authenticity Guaranteed
UPDATE: 11-12-21
Sellers are reporting problems with the authenticity program for handbags as well, mainly that eBay is not protecting them against false SNAD returns.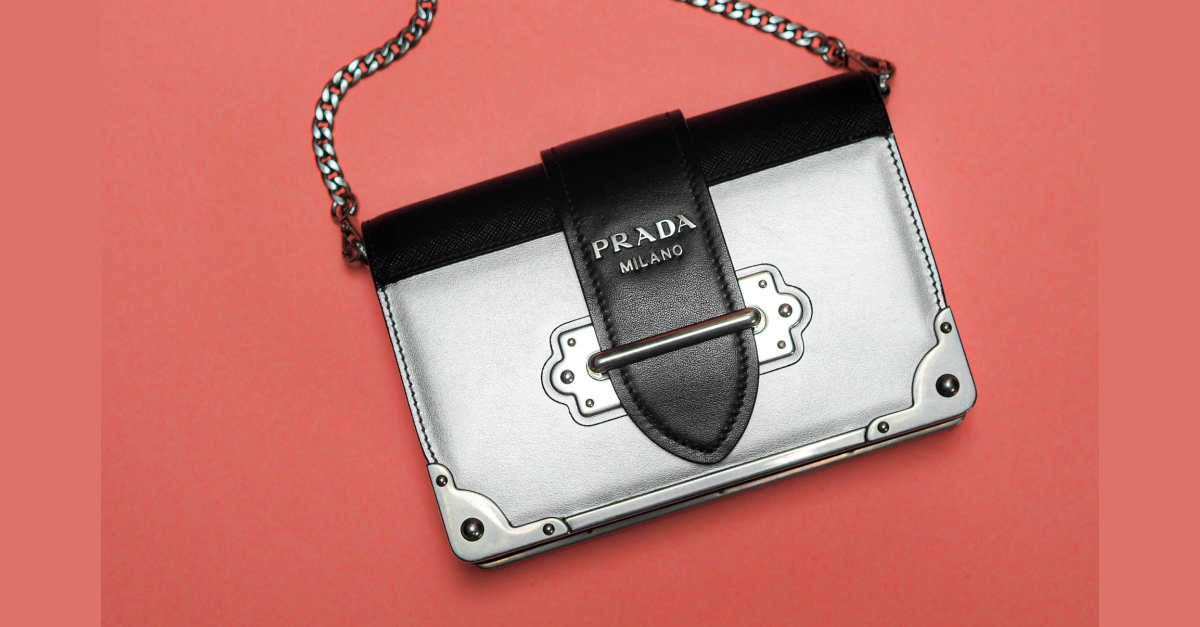 ---
Get eBay seller news in your inbox!
I've written about my experiences with eBay Authenticity Guaranteed for Sneakers before, but have since discovered more about why eBay is allowing items less then the minimum price to receive the Authenticity Guarantee badging.
One pair of shoes I won at auction for $39 and another I bought for a Best Offer of $80 had the guarantee and both went to the authentication center in New York, despite the minimum price for authentication being $150 at the time.
It appears eBay goes by the "Buy It Now" price, not the actual sold price when determining whether or not to show the Authenticity Guarantee and it also appears many sellers have figured out how to use this to "game" the system to get the benefits of authentication even on items that shouldn't qualify.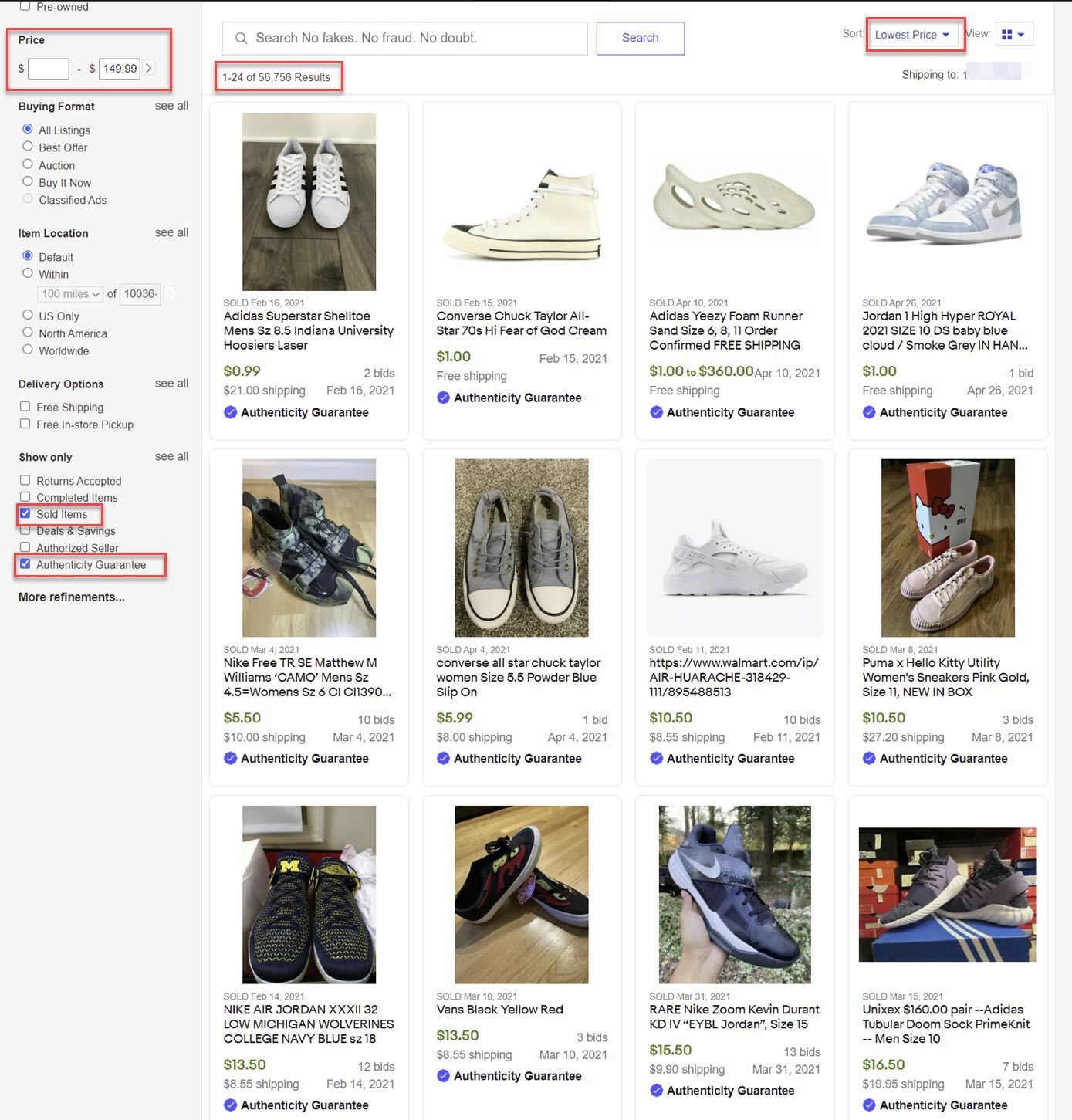 I've seen the same issue happening with eBay's Authenticity Guarantee for watches as well, though it looks to be on a smaller scale.  The minimum price for authentication is supposed to be $2,000. However, a Casio watch won at auction for $17.50 had the authenticity guarantee and was shipped to the authenticator.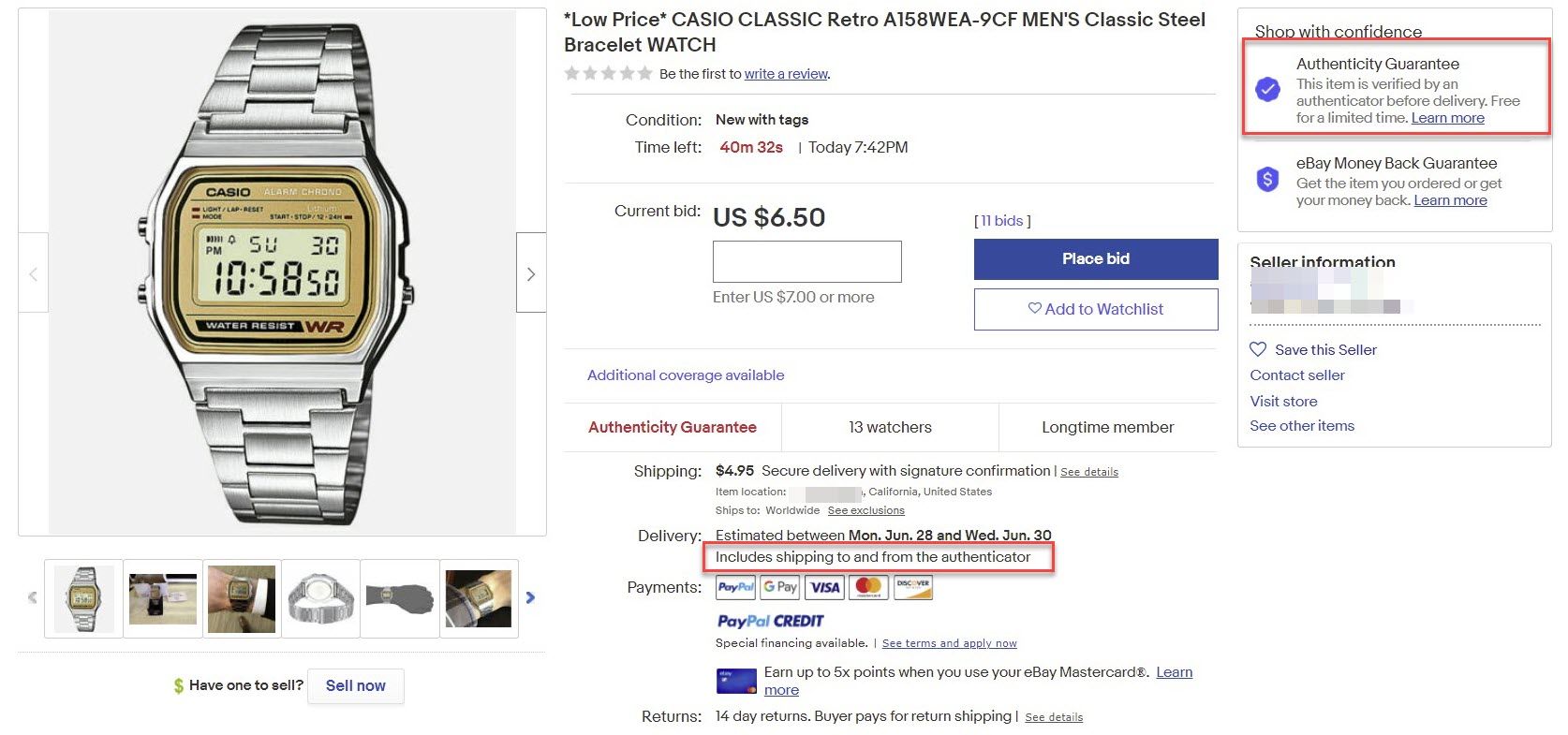 Again, it would seem some sellers have figured out if they put a Buy It Now price or Best Offer at the minimum, it doesn't matter what the item actually sells for, it will be included in search results for "Authenticity Guaranteed".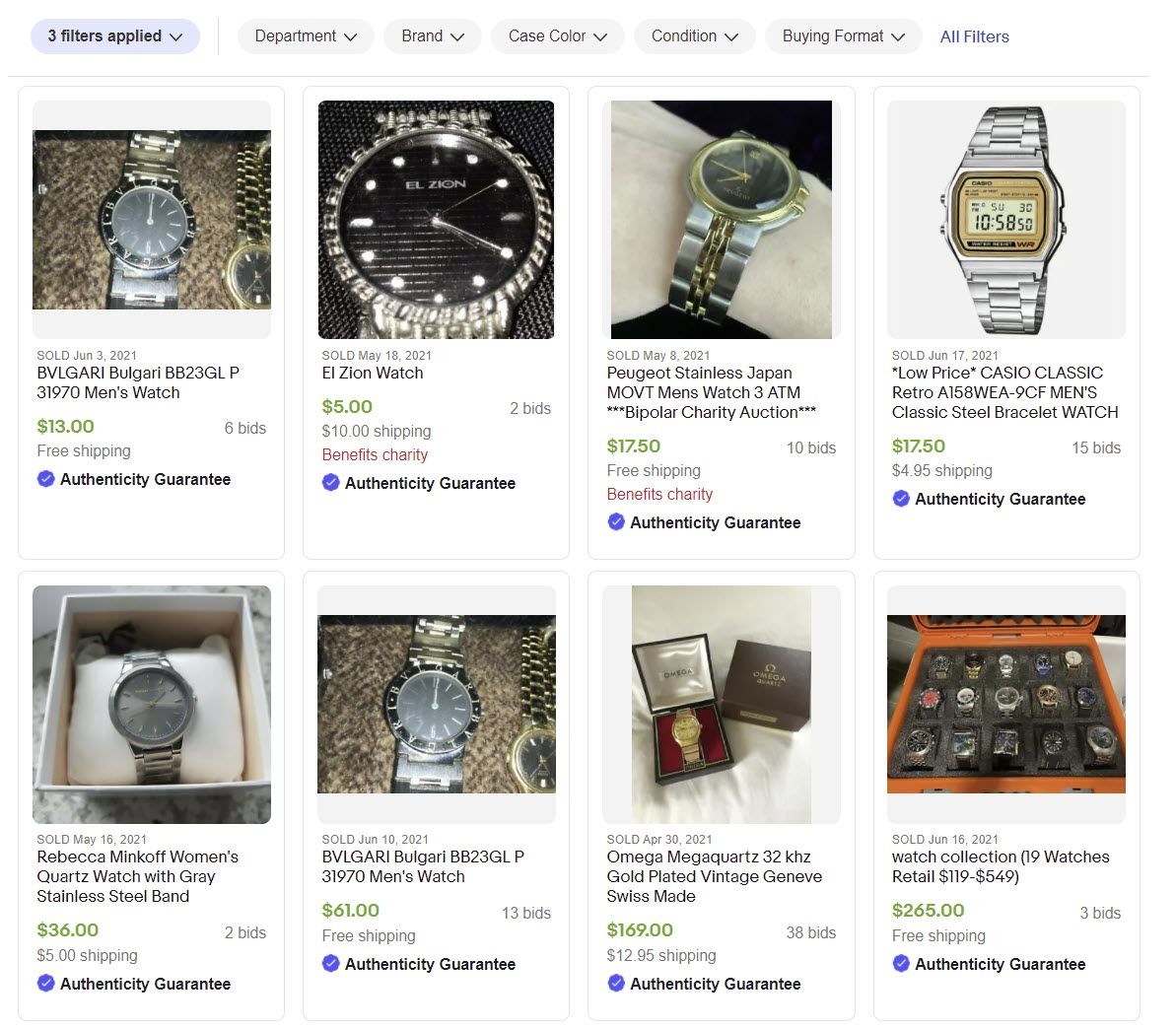 eBay recently announced they are also launching an authentication program for designer handbags.  I fully expected to see the same issues in that category, but interestingly so far every handbag listing I've seen labeled with Authenticity Guarantee has been at or above the $500 minimum.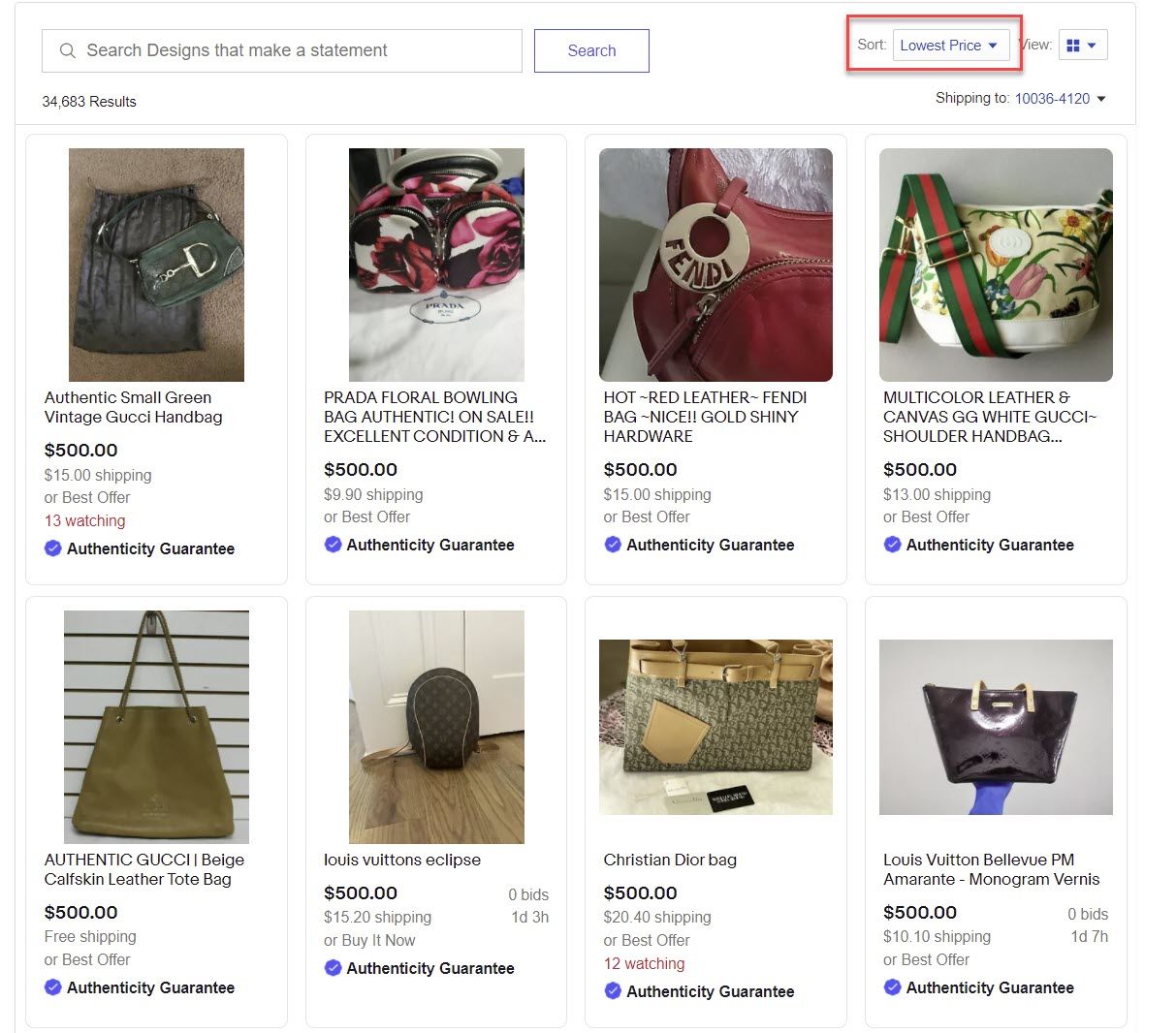 Are sellers in the handbag category just more honest and not trying to take advantage of the system or has eBay figured out a way to make sure only listings that actually meet the requirements are included?
One handbag seller raised the question in a community post because they were concerned handbag listings they had which met both the brand and price requirements to qualify were not receiving the authentication guarantee.
The answer from eBay staff was interesting and revealed that perhaps eBay is aware of issues in other categories with authentication, so they are moving slowly on handbags to make sure the same "negative impacts" don't occur here.
While the luxury handbag authentication program has launched, we're starting small to ensure all processes are working as designed and no members are impacted negatively. We'll be ramping (adding more listings) as quickly as possible once we are confident that the program is running smoothly.
---
How Does It Harm Buyers?
Clearly eBay is allowing items that shouldn't qualify to be authenticated, but does it really matter? On the surface it would seem those buyers are simply getting a higher level of service, so where's the harm?
First on my own personal experiences - there are indications the authentication process was not as complete as it should have been. It's important to note authentication is explicitly supposed to include checking the item against the actual eBay listing as well as checking for authenticity.

The pair won for $39 at auction had the word Yeezy in the title, but from looking at the info from Adidas, I don't see any mention of Yeezy associated with these shoes - just N3Xt L3V3L.
This appears to be a possible example of keyword manipulation/false advertising from the seller having the word Yeezy in the title - something the authenticator obviously missed.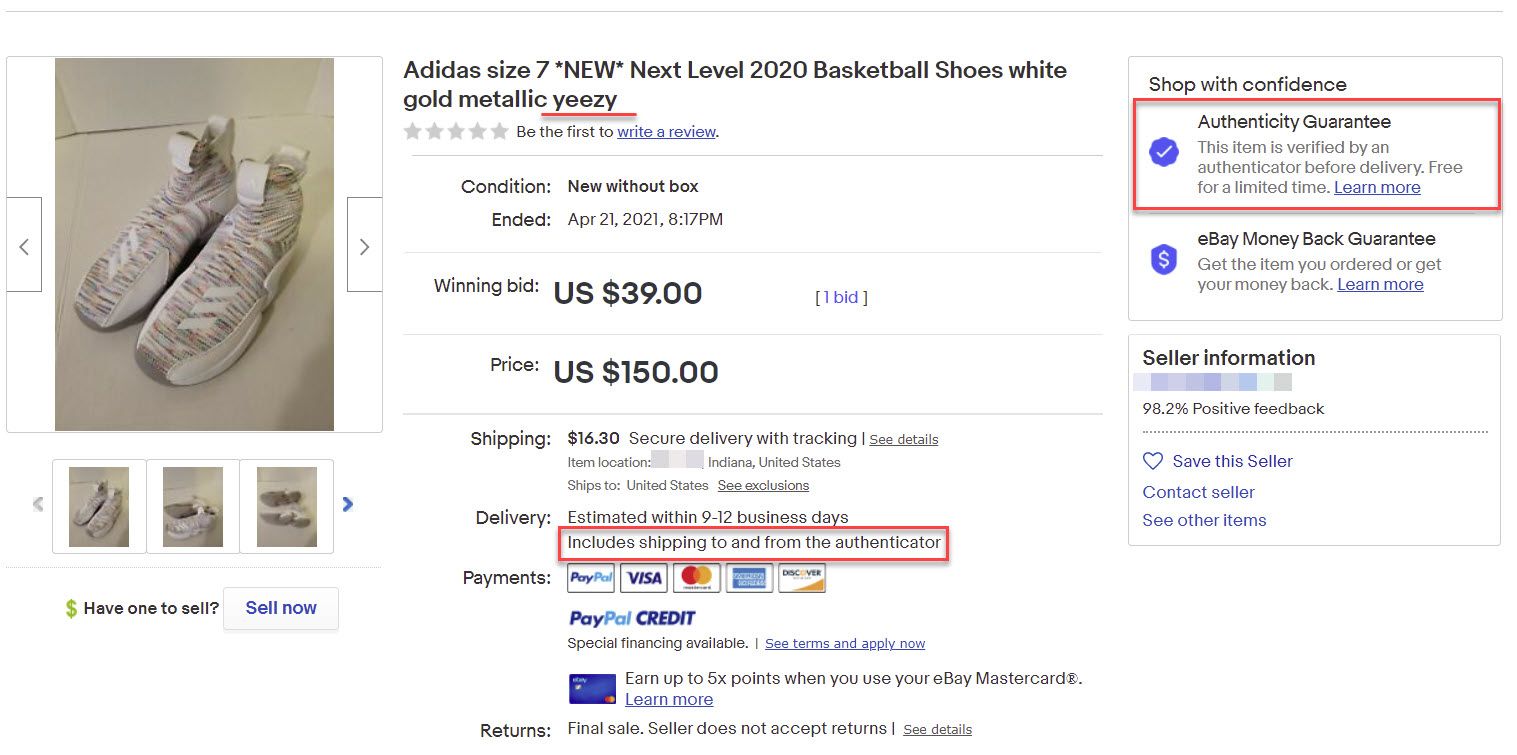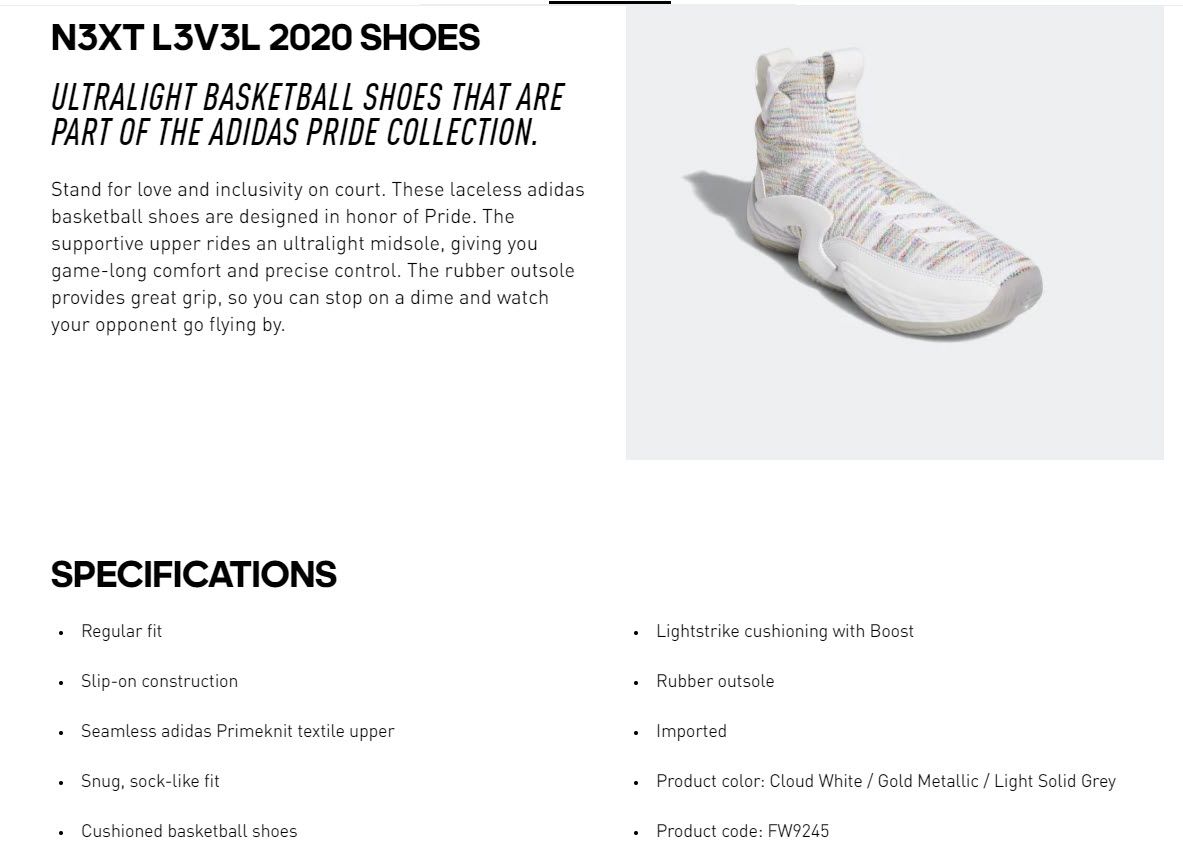 Also, the NFC enabled authentication tag is supposed to provide details to confirm the authentication. This one went to a blank/generic page with no information about the specific shoes or authentication process they supposedly went through.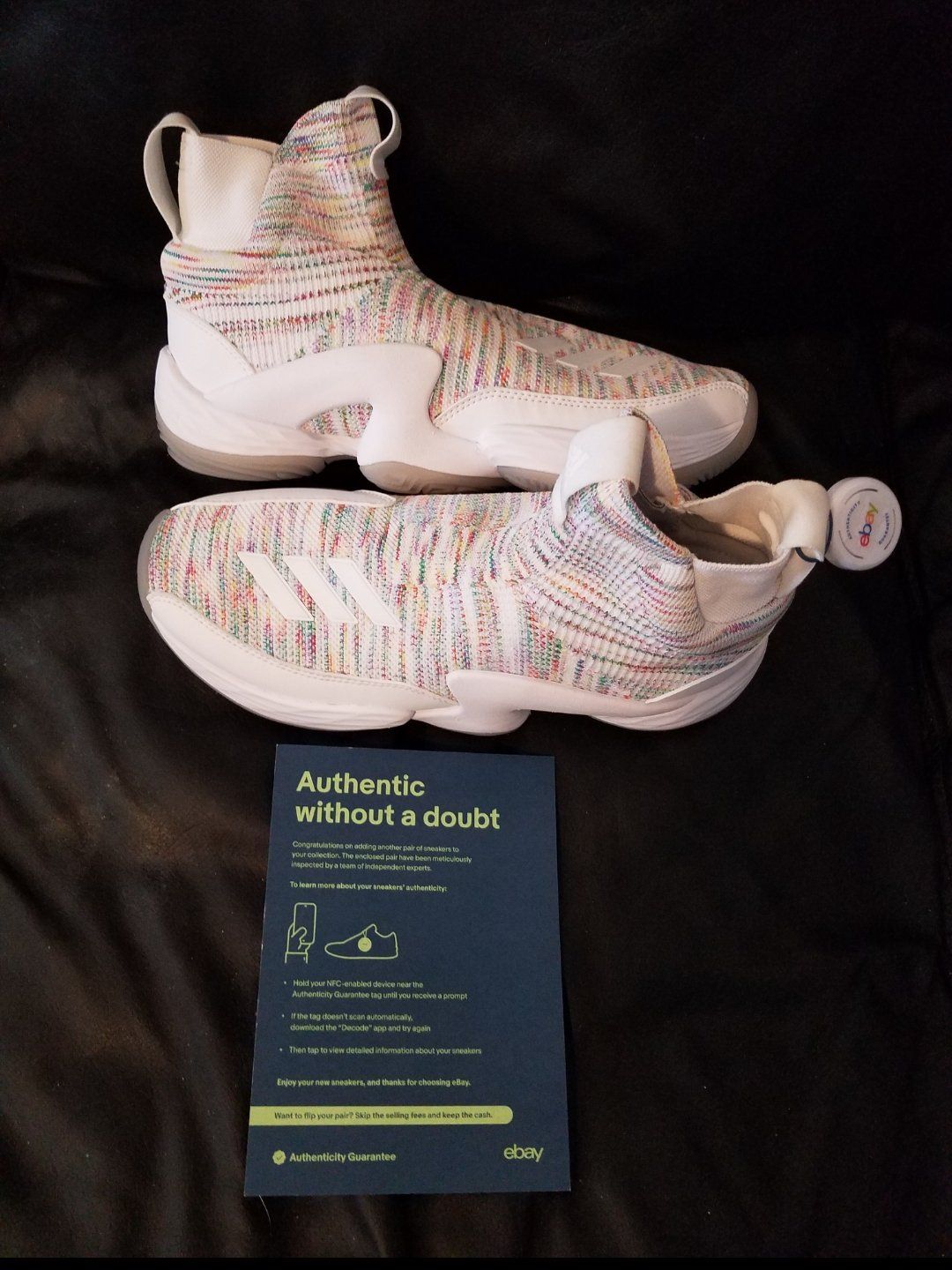 The $80 Best Offer pair also passed through the authentication center, but there was no authentication card included in the box and the NFC tag didn't register on the app, like it wasn't even activated.  Did they just slap a deactivated tag on for looks and send them on their way?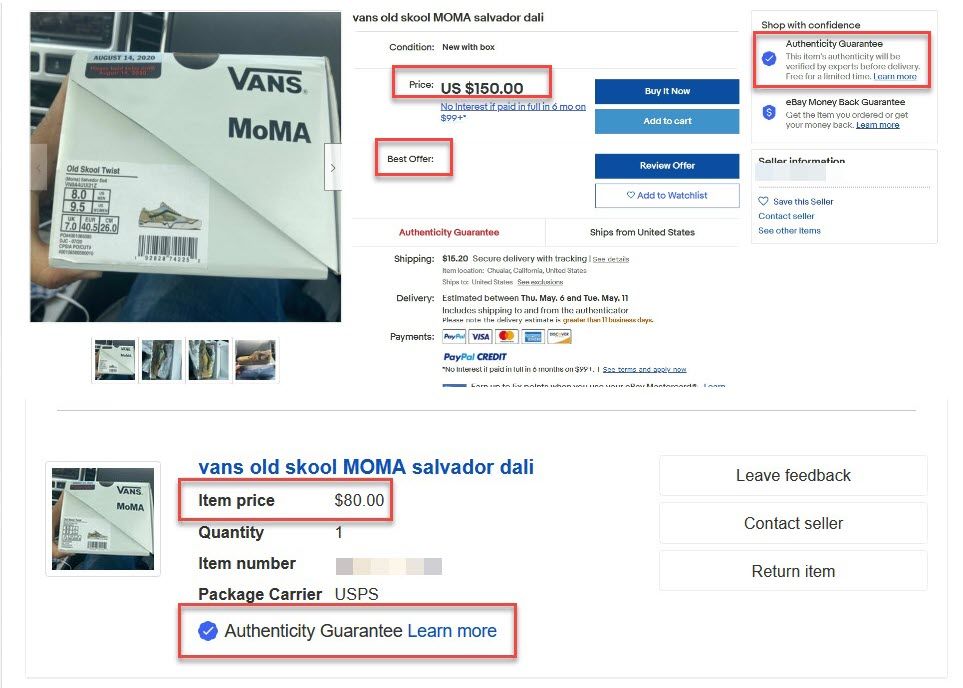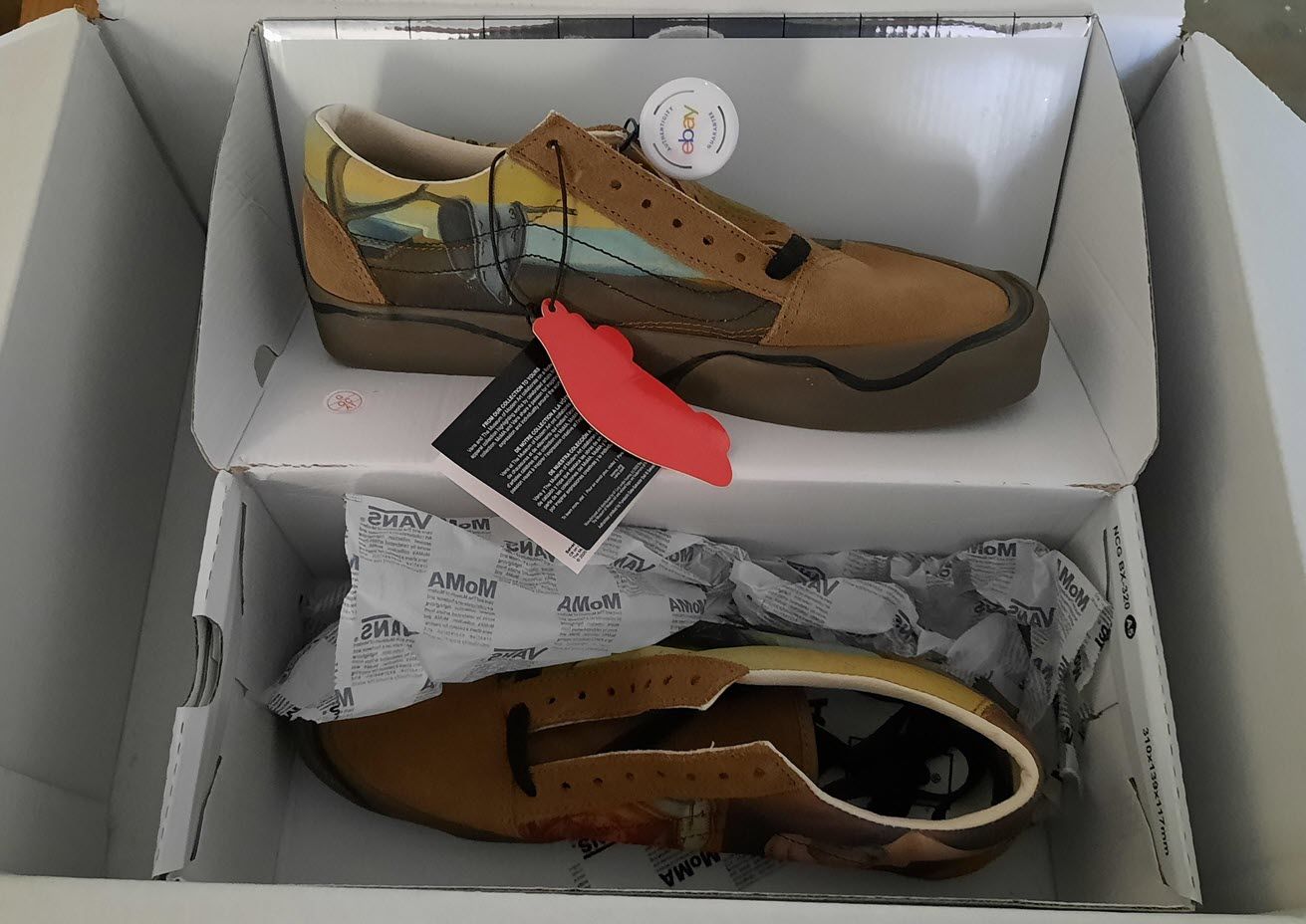 Likewise the Casio watch was shipped to the authenticator, then sent to me via FedEx 2 Day Air service with Signature Required (very expensive shipping for a $17 item).  However, there was no authentication card or tag and nothing to prove the item had even been inspected.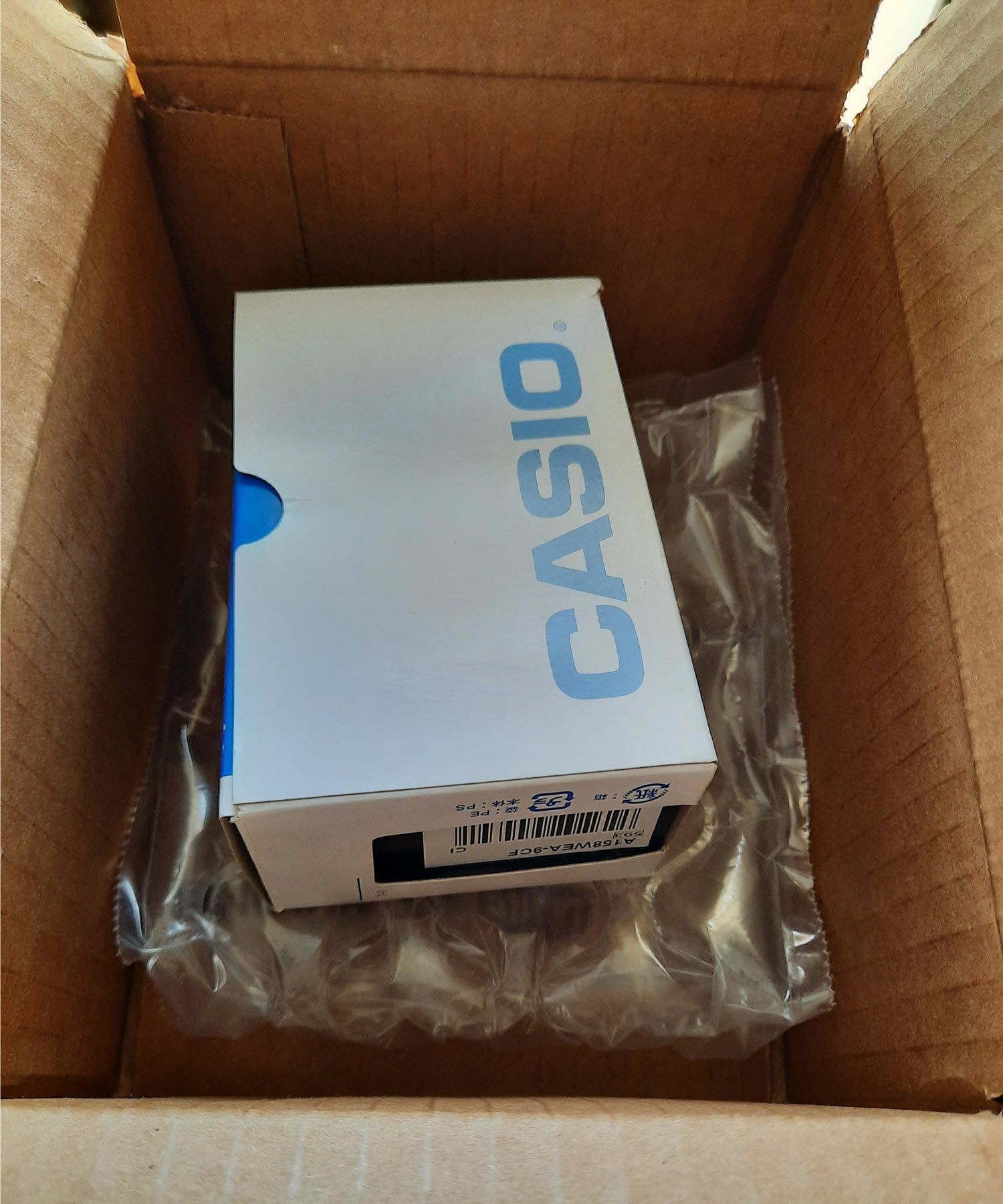 On top of that, when I requested a return due to my concerns about authentication, the return address went directly to the seller.  Per the terms of the authenticity guarantee, returns are supposed to go back through authentication on the return trip to provide protection for sellers as well as buyers.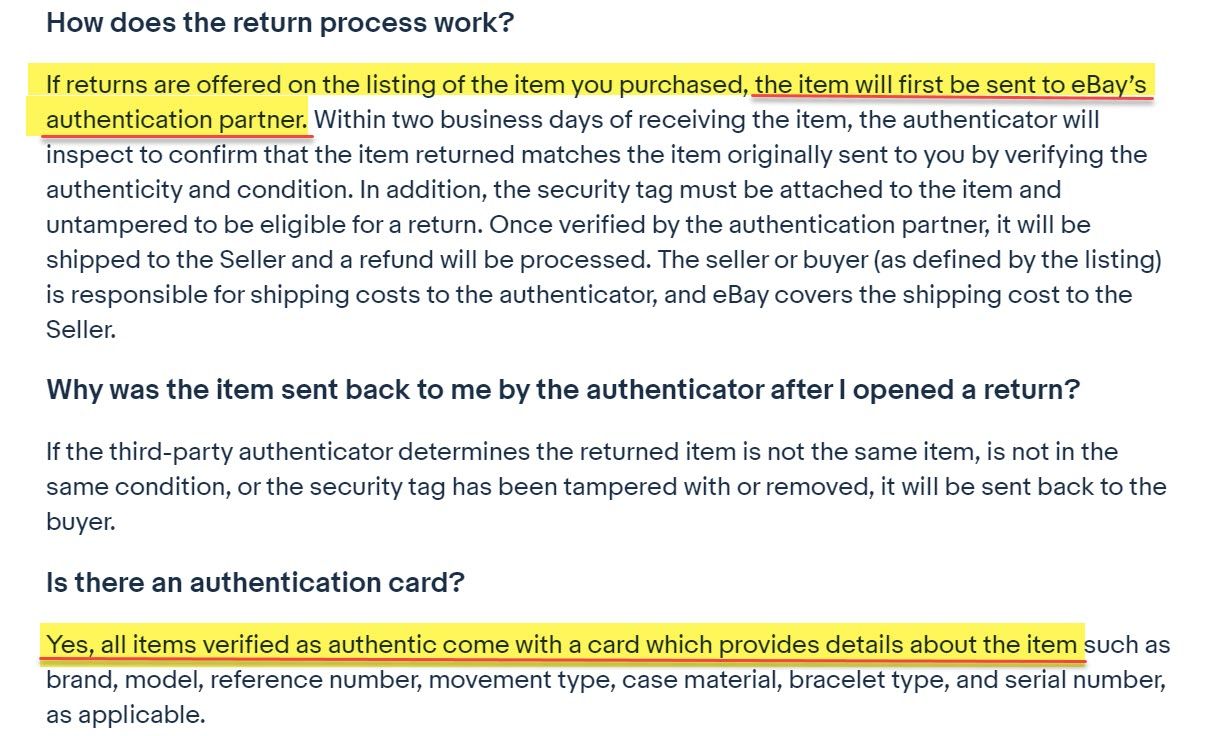 The fact that the return address was not the authenticator would seem to confirm eBay doesn't consider this an "authenticated" purchase, despite the authentication guarantee on the listing and passing through the authentication center.
---
Aside from the Buy It Now price manipulation, other problems with authentication have been reported as well .  At various times there have been delays at the authentication center of 3-4 weeks+. eBay increased the minimum from $100 to $150 in April 2021 supposedly to address these delays by slowing down the flow of shoes coming into the authenticator. However, that wouldn't seem to do much good if cheap shoes are being sent to authentication anyway.
Some buyers report receiving shoes that are the wrong size, not the condition described or in some cases completely the wrong shoes.  Many of these buyers also report their claims are denied by eBay because of the "final sale" protection provided to sellers - since the authenticator verified the shoes were "as described", eBay automatically closes any "not as described" claims. That sounds great in theory but in practice, what happens if the authenticator makes a mistake?
The issue is further complicated by the fact that eBay has decided to block messaging between buyers and sellers on authenticated items, so if there is an issue, there is no way to communicate directly.

There are many reports to choose from, but here's just a small sampling found across the web:
There have also been some troubling reports on the seller side, like this one where a seller was not initially given any protection against a "not authentic" chargeback.
Or this report where a user says the shoes passed authentication when he bought them, but later on when he sold the same pair of shoes, they were rejected as not authentic.
---
These problems may not be directly related to the issues with Buy It Now pricing manipulation, but if the authenticator is inundated with shoes that shouldn't qualify and they can't keep up with the volume, that could at least possibly be a contributing factor to delays and mistakes being made.
It also seems to me that sneaker authentication may be seen as a "lever" eBay can pull to boost their financial performance when needed. Monitoring when eBay opens the floodgates or applies the brakes shows some interesting trends.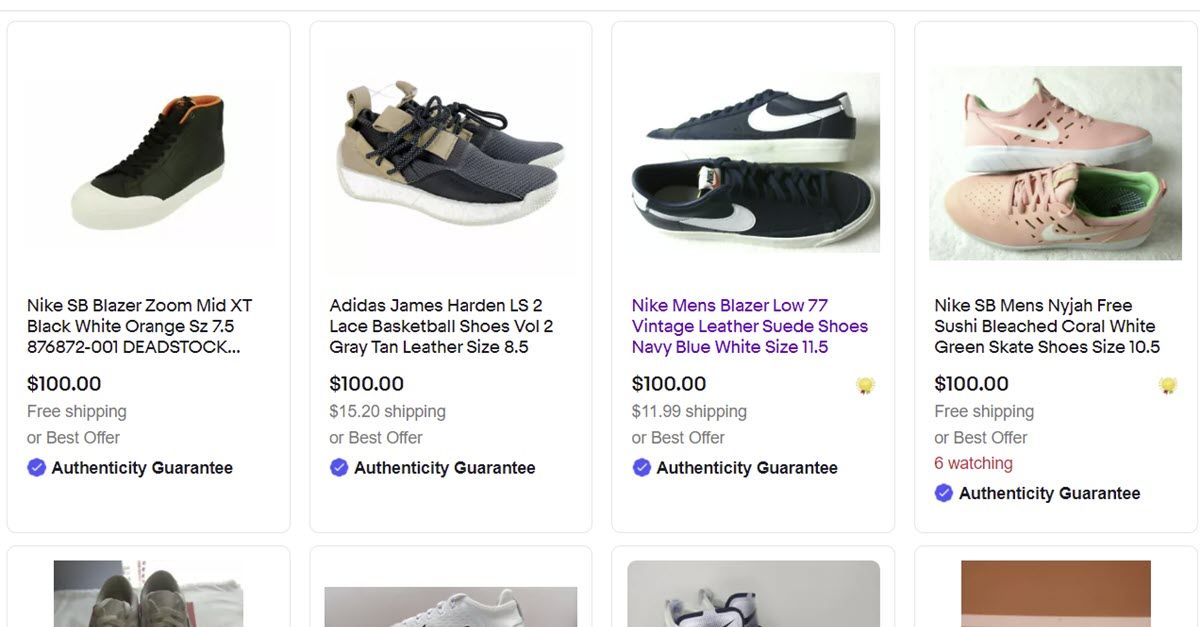 eBay has leaned heavily on showing there's demand for this program and it has been a success as part of their overall growth strategy. On the Q1 2021 earnings call, CEO Jamie Iannone said "In Q1, sneakers valued above $100 grew at a triple-digit rate once again."
The use of the words "valued above" instead of "sold for" is interesting here.  Does that mean any of these listings with a Buy It Now price over $100 were counted for that statistic, even if they actually sold for $1?
Are we supposed to believe a $20 pair of shoes is really a $150 pair of shoes just because that's the "value" of the Buy It Now price or that a $17 watch is potentially a $2000 watch for the same reason?
If the Buy It Now price manipulation is possibly contributing to negative experiences for both buyers and sellers, what is eBay doing about that?
They seem to be handling the issue in a proactive manner for the handbag category, but completely ignoring it for sneakers and watches, which seems odd given the "negative impact" that may be occurring as a result.
While there are undoubtedly also many successful transactions passing through authentication, eBay's efforts here will live or die on the overall trustworthiness of the program. They must address these problems head on if they want the program to succeed and lead to real long term growth in these luxury apparel verticals and beyond.
---
Follow Value Added Resource on Twitter & Facebook ✔
Subscribe to receive eBay seller news, tips, and insights in your inbox 📧
Interested in being featured in the Seller Spotlight? Tips, story ideas or guest post recommendations? Contact me here!
Share with friends and leave a comment 👇
---