eBay Coded Coupons Are Here
Coded coupons were announced in the eBay Spring 2021 Seller Update and they are finally starting to rollout to sellers.
Harry Temkin VP of Seller Experience & Tools gave a demo of the new promotion feature in the March 2021 Seller Check-In.
---
Did eBay forget something?
Apparently your coupon code must be a minimum of 8 characters.  This isn't stated anywhere on the page and Harry didn't mention it in the demo either.
Hopefully this can save some other sellers the aggravation of going all the way through the set up process only to get an error message when you try to start your promotion.


It's also not clear exactly what "codes must be unique" means.  Does that just mean unique within your own store (you can't have more than one active coupon with the same code at any given time) or does it mean that it must be unique against all coupon codes created by all sellers?
---
What About Individual Items?
When selecting which items are to be included, you can choose all inventory, eBay category, store category, or individual items. You can also filter by price range and condition.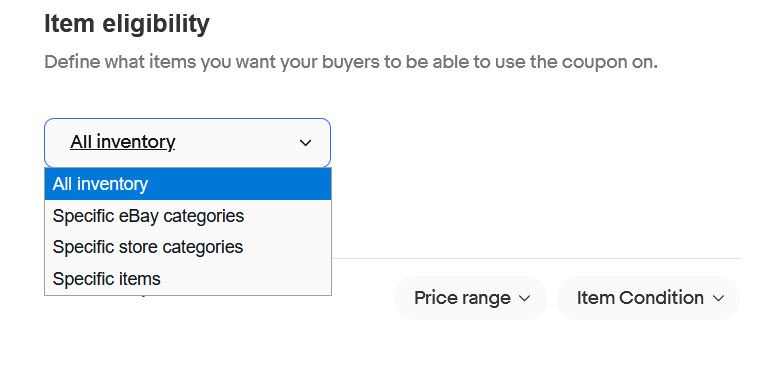 At first I was concerned when I saw this. At 200 maximum listings per page, scrolling through to find individual items would be very time consuming for sellers with thousands of items - compounded even more by eBay's new white space loving layout which for some incomprehensible reason only shows about 1.5 listings at a time without scrolling when viewed on a 24" monitor at 1920 x 1080.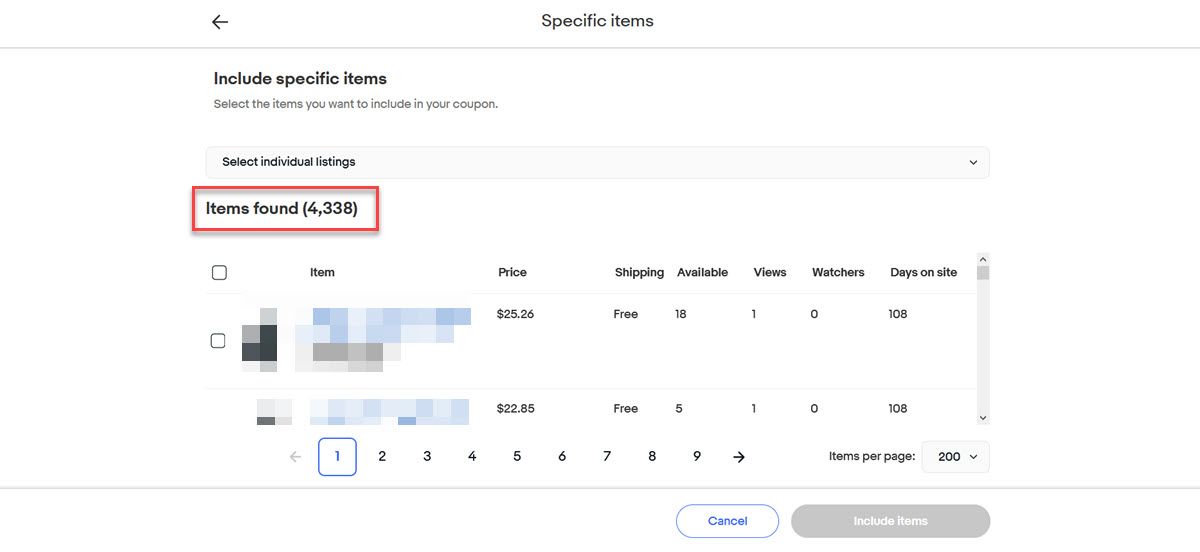 Again it's not specifically mentioned anywhere, but clicking on "select individual listings" opens a menu where you can choose "select by bulk listings" and then enter a list of up to 500 custom labels or item numbers.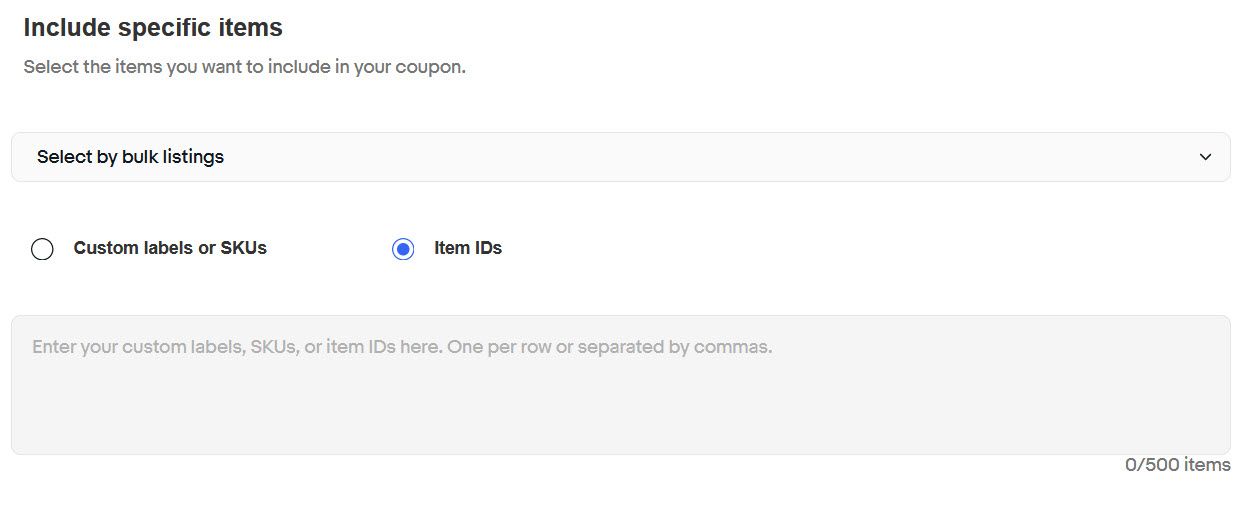 ---
It's great to see eBay rolling out these new features & tools, but it would be really helpful if Harry Temkin and his team could also provide detailed documentation along with the release so sellers don't have to stumble through figuring things out by trial and error.
I noticed the same trend with the new Terapeak Sourcing Insights tool.  Sellers were confused by an inaccurate error message saying they hadn't sold anything in the last 90 days. It turned out the issue was there may have been some additional set up steps required and/or there is a minimum threshold of $1,000 in sales/last 90 days to access the tool - neither of which were disclosed either within the tool itself or in Harry's demo videos.
I also noticed the eBay for Business YouTube Channel just posted this more in depth video about the Listing Quality Report which was released to some sellers back in January but still needed a lot of work to iron out all the kinks.
I'm not sure why Harry wasn't in this one since he was very closely involved in the initial rollout and follow up on seller feedback, but I'd love to see him expand on his segments in the Seller Check-Ins to give us more dedicated, in-depth demos for each new tool using live accounts for a "real world" experience.
---