eBay's Chief AI Officer Looks To The Future
eBay's Chief AI officer Nitzan Mekel-Bobrov has big plans to help the marketplace achieve CEO Jamie Iannone's tech led reimagination, according to a recent interview with Protocol.
The interview focused heavily on the recent introduction of 3D view technology for sneakers.
Tell me about what a "distributed model" for AI technology use at eBay looks like, maybe in relation to the new 3D tech.



So that as a capability is something that we're developing centrally, and then teams across different parts of the customer journey will be able to leverage that capability in an easy-to-deploy way. Our buyer experience team has deployed this on a number of our pages, a number of our portions of the customer journey, that they own. You'll also see it in our eBay stores.



So far we've launched this for sneakers. If you look at some of our top sellers, they now feature 3D in their stores, in their digital storefront, which is owned by the eBay stores team. This is going to continue to roll out that way across multiple different areas.



It's not just about eBay using AI to build experiences, but it's actually about putting AI into the hands of our sellers and buyers, so that — especially our sellers — can build experiences for their buyers. It's actually the sellers using our technology to build 3D experiences or 3D visualizations of their products.
It's interesting to me that Mekel-Bobrov talks about the 3D experience like it's a completely in house developed initiative. However, the 3D sneaker experience actually uses a 3rd party partner, Rest-AR (which was acquired by Unity in 2020) to power the experience.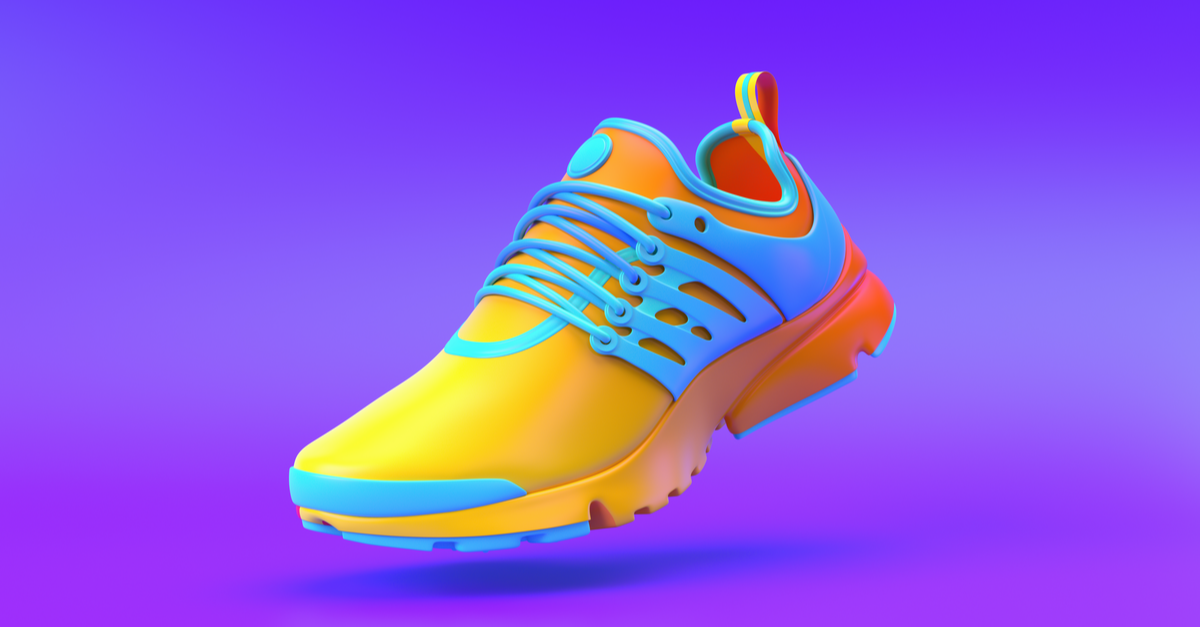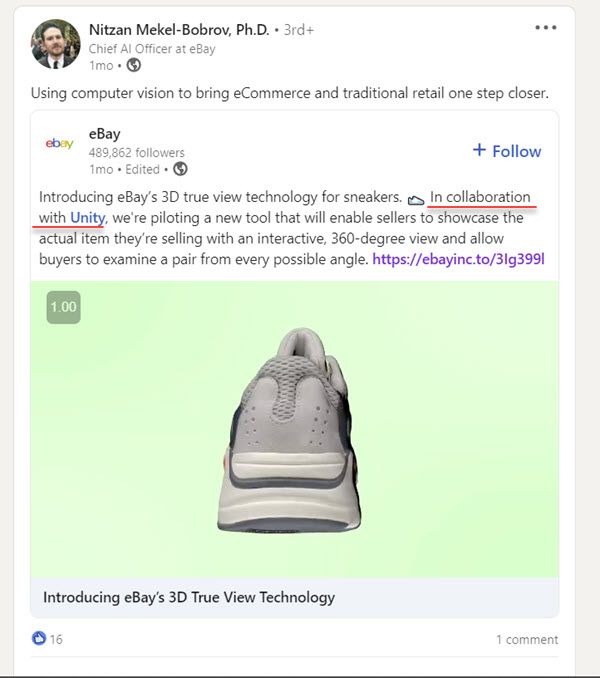 Sure, 3D view of sneakers is a neat gimmick, but it's hardly new technology nor is the deployment of a 3rd party 3D utility a major win for "our (eBay) technology" specifically.
---
Mekel-Bobrov also sees computer vision and natural language processing as key to eBay's future.
There's been tremendous progress in our ability to understand language in the terms that customers communicate to us in, so I think for us what you'll see in 2022, you'll see further developments in our customer assistance or customer service conversational capabilities, but you'll also see more multi-linguality.



We're going to be really double-downing on immersive experiences. So, 3D was sort of an early foray but you'll be seeing more products rolling out, especially on our mobile platform, to close the gap between ecommerce and physical retail to enable buyers to experience products in an immersive way so they have full confidence in their buying decision. That really comes through computer vision, natural language processing, through personalization as well as some adjacent technologies like streaming, like computer graphics.
Hopefully eBay remembers the lessons learned from past failed attempts to increase "multi-linguality" in partnership with Webinterpret.
As for deploying computer vision technology, I have a couple of suggestions. First and foremost, computer vision could easily be used to identify, flag, and immediately remove many common scam and fraud listings on the platform.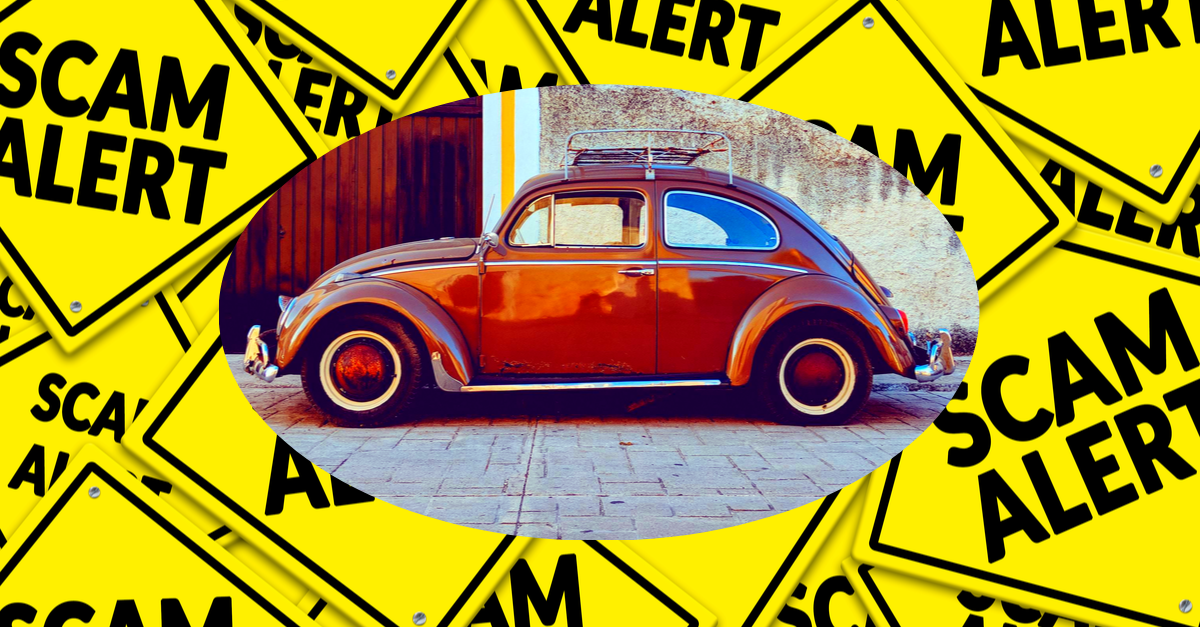 Another excellent use of computer vision technology would be in eBay's Collection & Price Guide features for trading cards. eBay introduced Price Guide and Collections in August, but inexplicably they did not integrate the existing computer vision tech from the Scan To List feature into the new tools, leaving plenty of room for smaller tech savvy startups like CollX to fill the gap.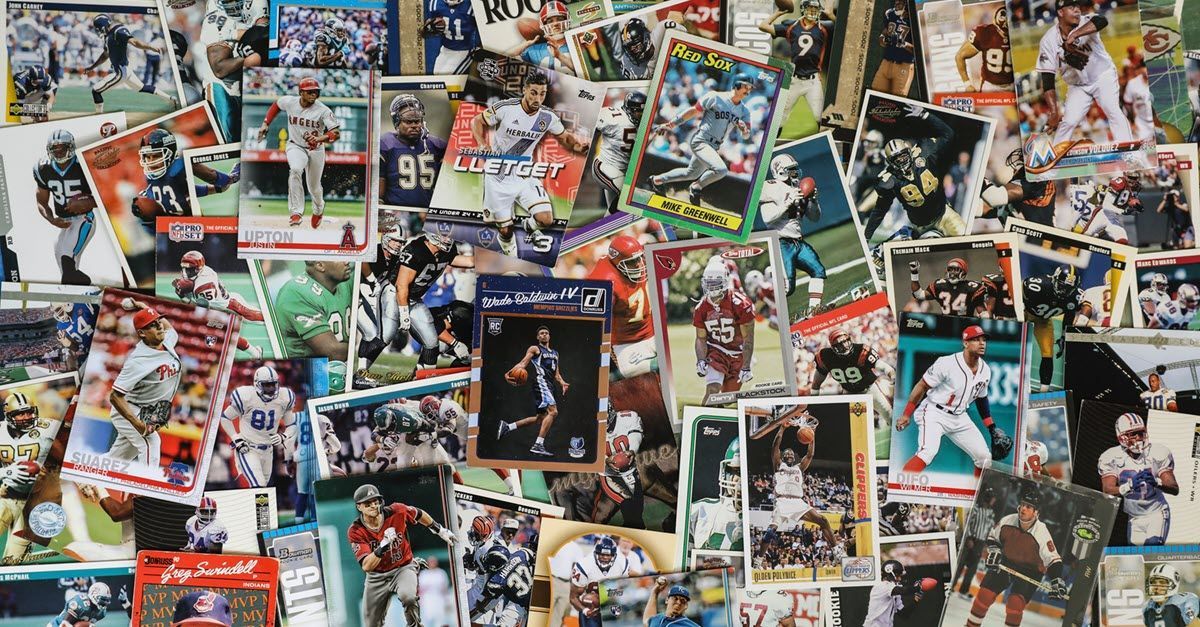 ---
Where else would you like to see eBay use computer vision, machine learning, and AI to improve the buying and seller experience? Let us know in the comments below!
---