Are You Seeing More Ads On Poshmark?
Poshmark sellers have noted an increase an 3rd party ads being shown on category, search, and listing pages, leading to questions about how new owner Naver will work to further monetize the site.
I should have taken a screen shot but I just made a purchase tonight and was shown ads for a third party site and Hulu subscription wtf! Is this what Nuvair is bringing to the table? I purchased an item last week but this is all new (to me)... maybe from the most recent update from earlier this week? Purchasing changed to one-click which I dislike because it used to allow you to confirm payment first and scroll through the breakdown of fees. Now it's condensed into one number and then takes you tgrough two ads. I hate it. Anyone else seeing this?
Yes. My last 2 purchases included ads. Like you said it make it seem like it was part of Poshmark. I don't remember the first one but earlier today I got the HULU ad.
I know this was posted 3mo ago, but just wanted to circle back and say ads are all over my page now. Anyone else?
I just noticed for the first time this weekend that on my desktop browser when I'm in my "news" there are now ads on the right side! Maybe I'm late and this has been a thing. I don't see this anywhere on the mobile version.



You would think if they started up ads now that they would compensate sellers somehow, such as cheaper shipping options for smaller items or even letting you sell something for $3 and not just get 30 cents for it.
I noticed it too. I'm not a fan. I mean aesthetically, it's whatever bc I'm used to ads being everywhere, but I kept getting ads for different retailers sites. Like I had one for Athleta...now what if I was trying to sell something Athleta and someone was interested in buying but then got pulled away to the retailer's site from the ad? That worries me.
---
To be fair, it's not entirely clear to me if this is truly a new development on Poshmark or if they've been showing ads for some time and users have simply not noticed or they were blocked by ad blockers or browser privacy extensions.
Based on the comments I've seen from buyers and sellers, it may also be a case of Poshmark expanding ads to be shown in places they previously had not been - like checkout pages and "news" feeds.
When looking at Poshmark in an incognito browser with ad blockers disabled, it appears they are inserting multiple Google ad spots within category, search and listing pages.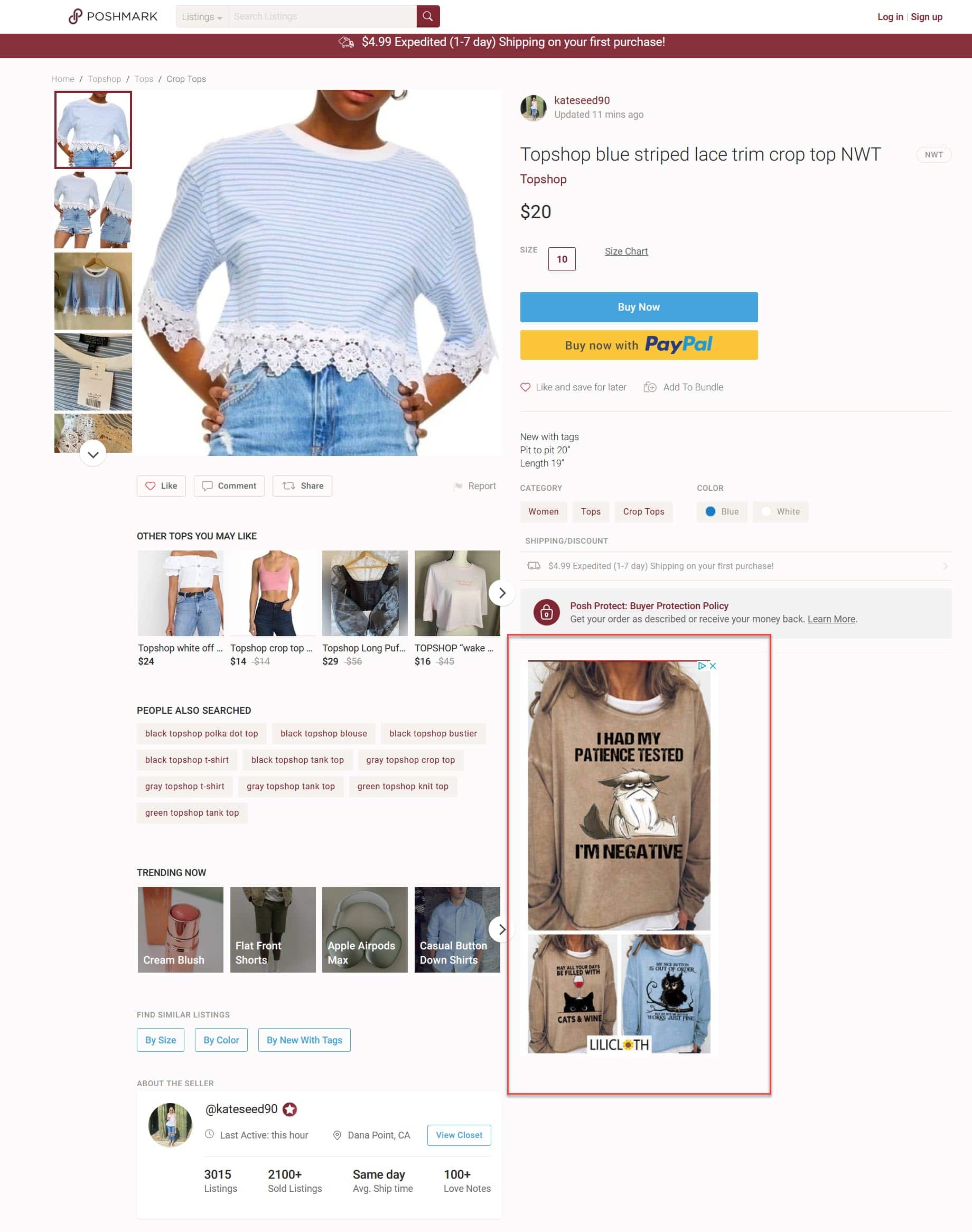 It's always a bit embarrassing when these ads end up taking potential buyers to competing ecommerce sites.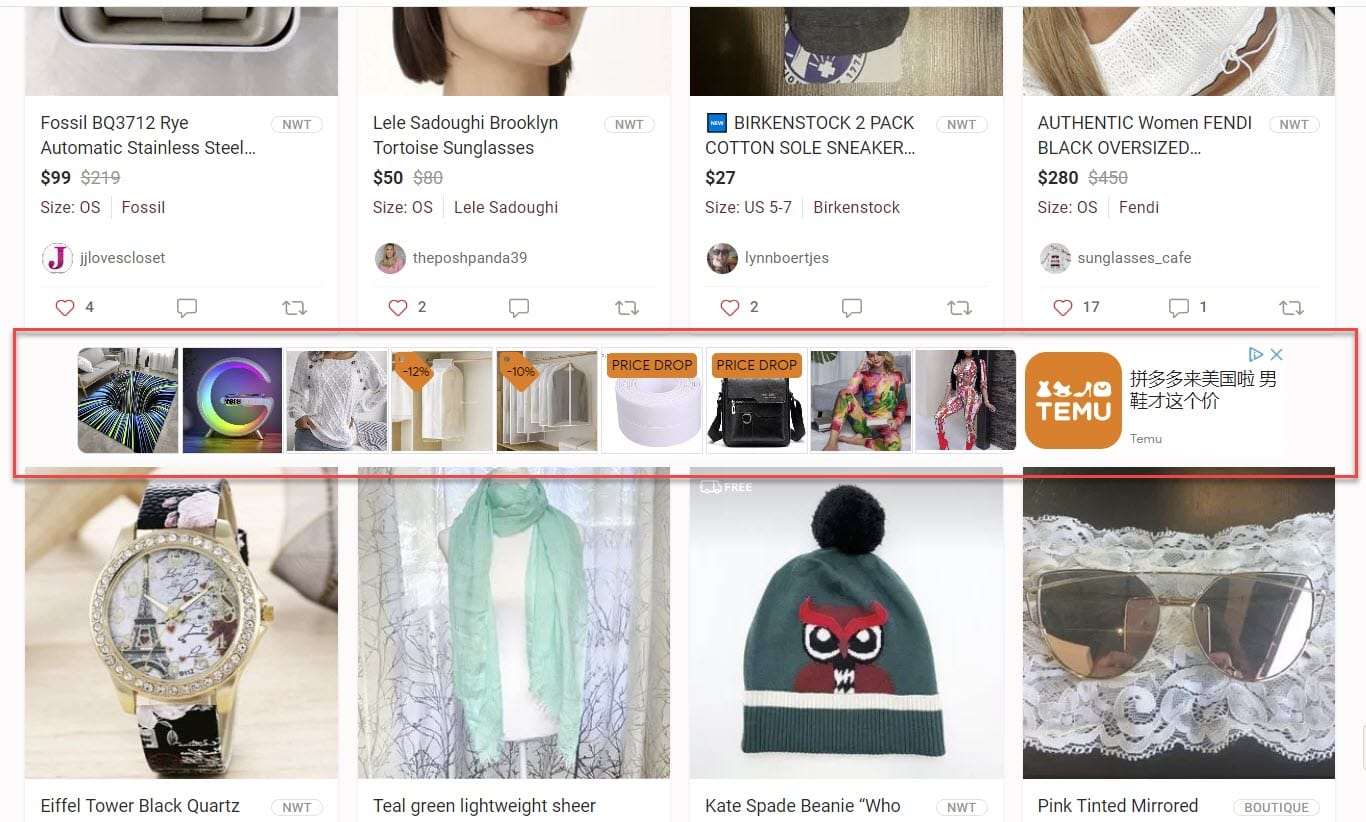 More than just the ads themselves, it's concerning to me that the targeting and placement seems to be so poorly implemented - on one page I was shown 4 variations of the same Capital One Shopping ad.

I've seen some discussion from concerned sellers wondering if these ads are being inserted by Poshmark directly or if they are a sign of possible malware or other nefarious activity.
All of the ads I've seen appear to be being served through Google ad services, which means this is an intentional choice by Poshmark to display 3rd party ads on the site as an additional revenue stream.
Poshmark is not alone in this - eBay also plasters 3rd party Google ad spots on search, category, and listing pages in addition to their 1st party seller paid Promoted Listings ad placements, and of course other marketplaces like Etsy and Amazon have their own mix of ad placements (whether 3rd party or 1st party).
---
Before Naver's acquisition of Poshmark was announced, a comment from CFO Rodrigo Brumana at the Goldman Sachs 2022 Communacopia + Technology Conference caught my attention and made me wonder if Poshmark was considering introducing a seller paid 1st party advertising product to increase their overall take rate.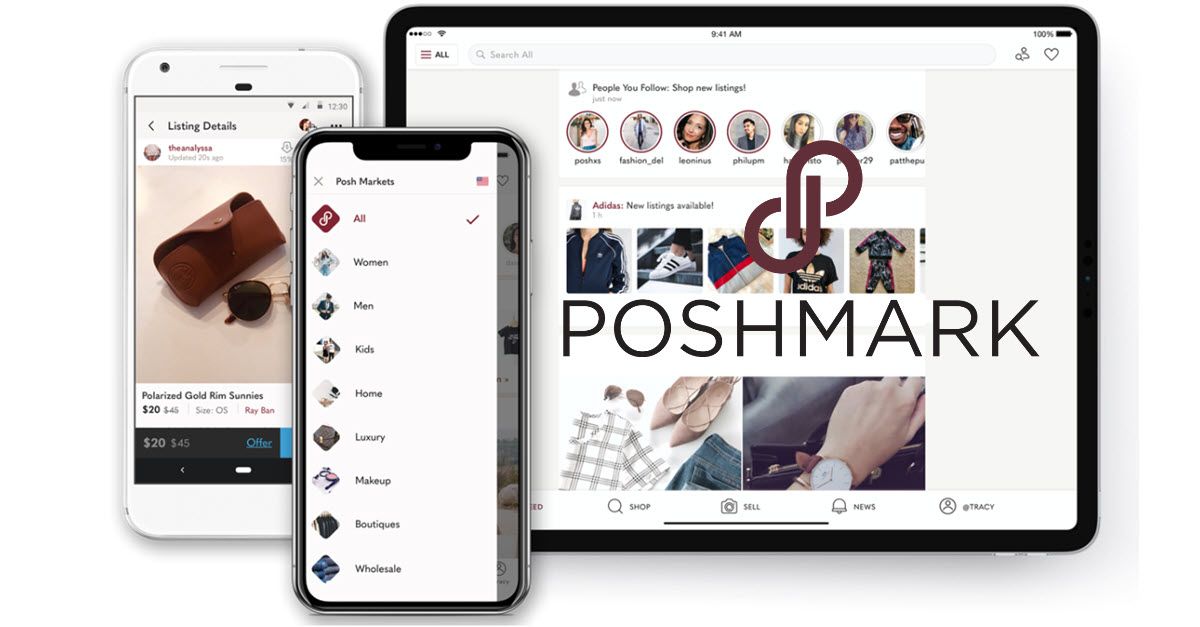 While that has not yet come to pass, the Naver acquisition does put a spotlight on what exactly the plans for increased ad revenue may be for the future.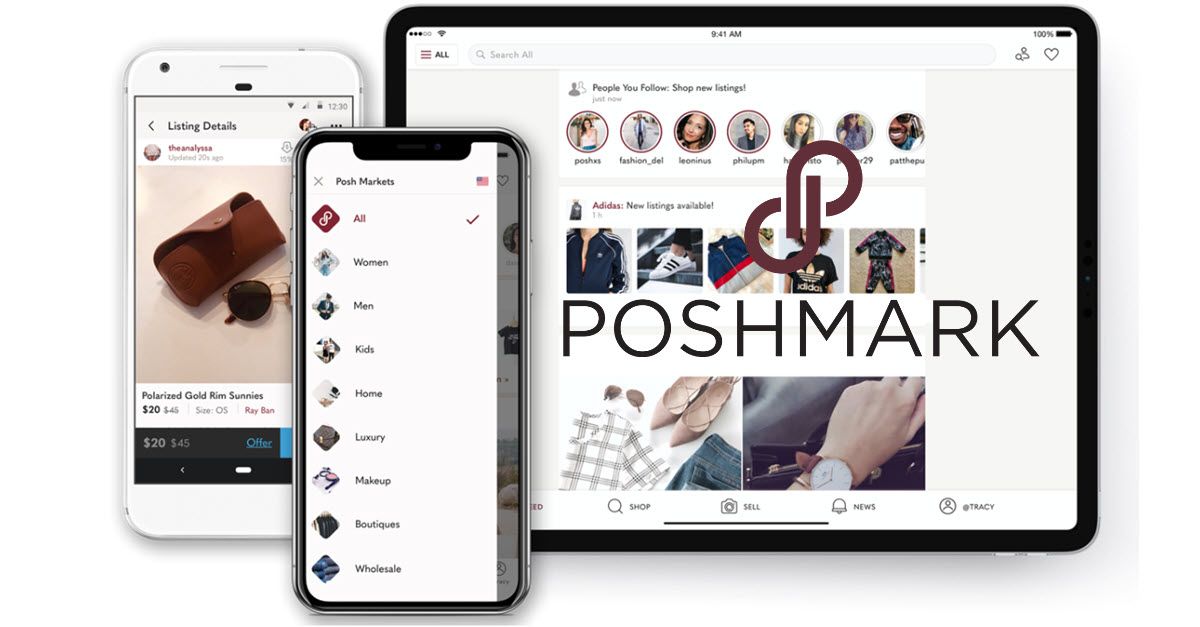 Naver is the #1 search engine in Korea and, just like with Google, advertising is a huge part of that business.
Naver's scale has allowed it to dominate advertising revenue in South Korea. Its success nationally is analogous to Google and Facebook's seemingly insurmountable digital-advertising "duopoly" globally. Thanks to their immense reach and ability to target consumers online, these two tech giants have proved irresistible to advertisers, and Naver shares a measure of their advantage.

Yu Seo Young, a deputy manager with the company's news team, mentioned local newspapers sometimes call Naver an alligator or some other apex predator when describing its market power.
---
Are you seeing increasing use of 3rd party advertising across the Poshmark desktop site and/or app? Let us know in the comments below!
---