Adyen Expands Financial & Banking Services For Marketplaces
Payments processor Adyen is expanding beyond payments into embedded financial and banking products, including multi-currency bank accounts, corporate credit cards, short-term cash advances based on pending payment transactions, and instant business loans.
...Adyen then launched Issuing to improve this experience by enabling platforms to offer their users virtual and physical cards for business transactions and to directly receive funds faster.



Going forward, Issuing will be included in a full suite of embedded financial products...among the products that will be built out are multi-currency accounts, allowing users to receive payments, initiate pay outs, and safely store money all in one place.



These accounts will also enable platforms to facilitate the extension of financing to their users within the platform interface. Due to Adyen's data-driven risk-scoring capabilities, these financing offers are pre-qualified and require no additional checks on the user end.
The new financial products were featured in Adyen's Capital Markets Day on March 31, 2022.
The preview of instant business loans looks a lot like PayPal's Working Capital loan offering, with one key point being that the loan is paid back as a percentage of incoming sales.
Many eBay sellers were upset about losing access to this type of working capital with the switch to Managed Payments, so I expect we'll be seeing this come to eBay along with other payment enhancements later this year.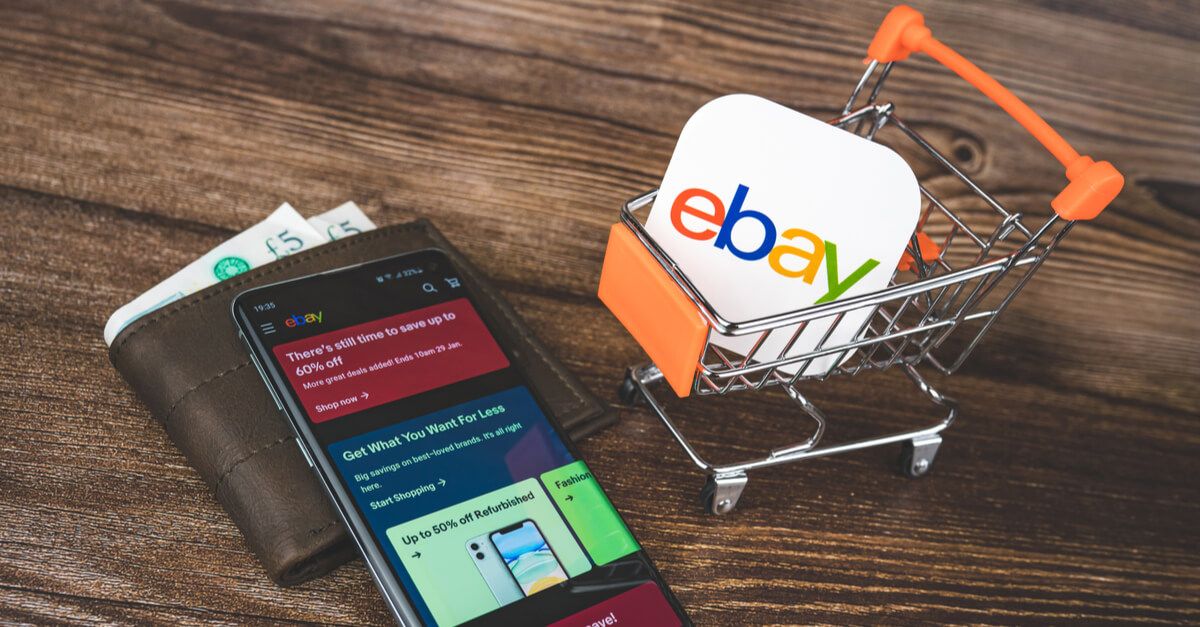 ---
Adyen's new banking products will initially be available to select customers in Europe and the U.S., where the company already holds banking licenses.



The company says the banking services will be especially attractive to Adyen's large "marketplace" customers, such as eBay, Etsy, or Airbnb, that have large numbers of small and medium-sized businesses selling on their platforms.
As I noted earlier last month, eBay recently updated their payment terms and conditions, with most changes and additions clearly geared toward clearing the way for these new services being offered.
Based on the changes in the terms, it looked like eBay would be testing out the new features in Europe first, which makes sense given Adyen's existing licenses.. Given the choice between Europe and US, the safest best would be to test in the smaller market first before ramping up the to main US site.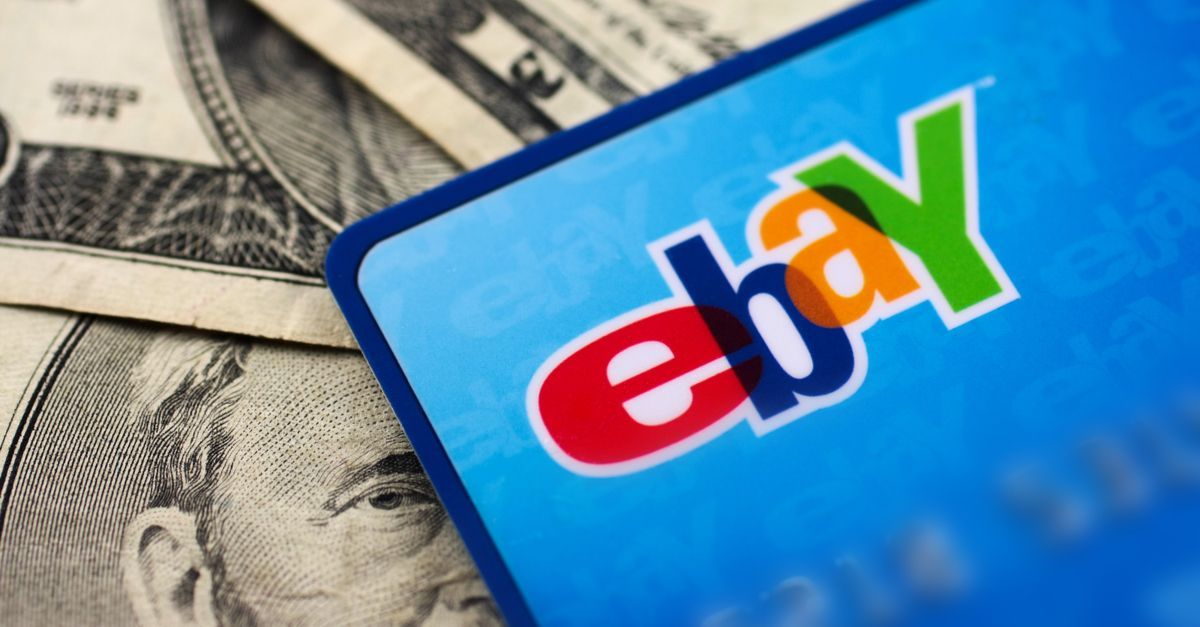 ---
While Adyen obviously serves many clients, the partnership with eBay is of particular interest to me, for reasons that are probably obvious to regular readers. 😉
At about the 48 minute mark in the Capital Markets Day presentation, Karo Noronha, VP Product Platforms & Financial Services, revealed that onboarding eBay in 2018 was an integral part of developing their overall marketplace product.
eBay knocked on our door and we ended up winning the deal. As you guys know better than I do eBay at that point in time 90 billion in GMV, quite a mountain to climb for us for our fairly young product which up until then was more like a side project of the company.



We really, really needed to grow up quite fast...and also eBay really helped us to kind of get our offering to the next level from a maturity perspective.
That knock of course didn't come without a price - eBay's side of the deal included the possibility of up to a 5 percent stake in Adyen, dependent on meeting timeframes for having certain amount of payments processed through the platform.
eBay announced in the Q4 21 earnings call that they had completed the Managed Payments Migration and exercised the first tranche of warrants.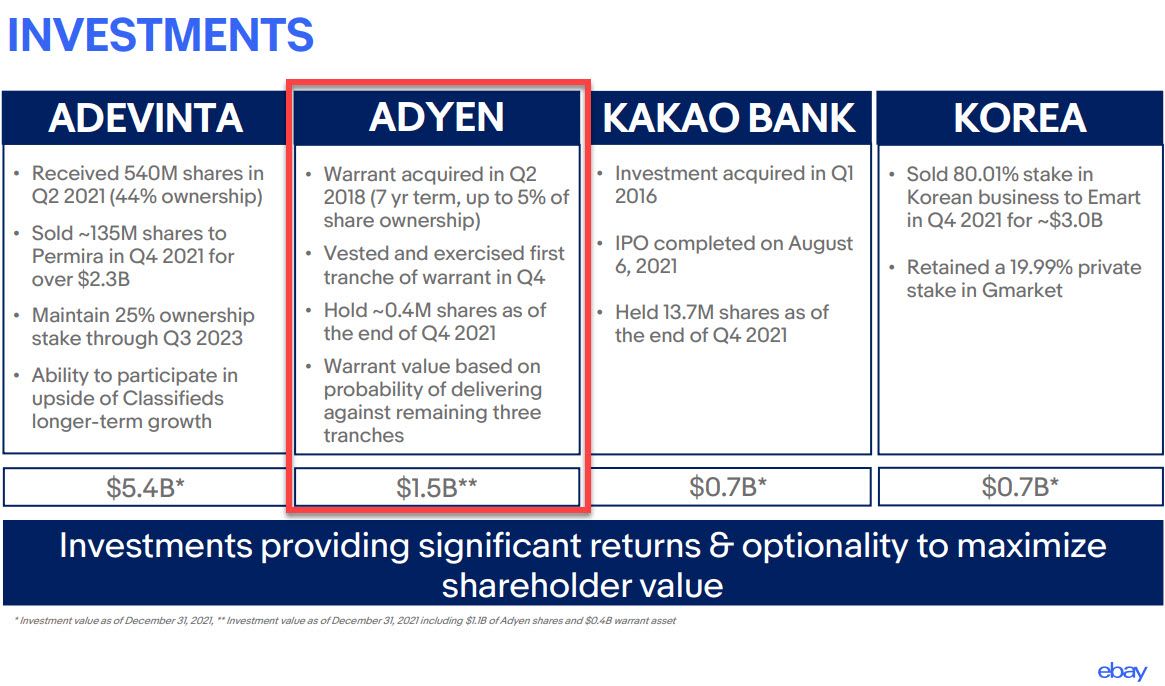 ---
As Adyen expands into banking services, it provides their clients like eBay and Etsy with opportunities to offer more payments and financial capabilities to their sellers as well - and of course opportunities to monetize those experiences at every step of the way.
If you sell on a marketplace currently using Adyen for payments, how do you rate the service? Are you excited about possibilities for faster payouts, virtual wallets and corporate cards tied to your payout accounts, and working capital loans?
Let us know in the comments below!
---