Whatnot Partners With PSA On Trading Card Grading Service
Growing livestream shopping platform Whatnot announces partnership with Professional Sports Authenticator (PSA) to offer grading service for trading cards purchased through the app.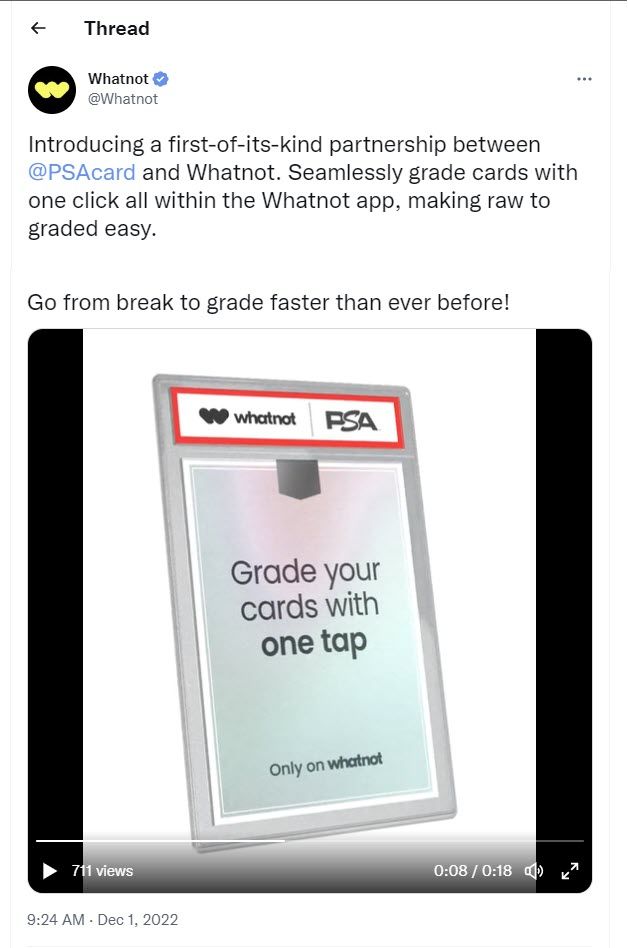 How Does Whatnot Grading Work?
Here are the details from Whatnot:
Purchasing a PSA Grading

Purchase a sports card in any livestream.
In that livestream, open the seller's store and go to the Purchased tab.
Tap Purchase Grading under the purchased card you want graded.
mceclip0.png
Enter identifying information about the card(s) you want graded. This is important so that the seller can pick out the specific card(s) you want graded from a broader set you may have purchased.
Grading Buyer Details Info Blurred.png
Tap Confirm and Pay.



Note: The seller will confirm the card(s) you request to be graded and will reach out to you for clarification if needed.



Once you submit your grading request, the seller will confirm, review, and send the card(s) you request to be graded directly to PSA. The seller should ship any remaining cards that don't require grading directly to you.



You will receive email updated from Whatnot throughout the grading process, and once the card(s) are graded, they will be shipped to you.
FAQ
How much does PSA Grading cost?
The cost of grading ranges from $30 to $150, depending on the level of PSA service you select. Each order also includes a $14 shipping fee.



This is a promotional price, and is subject to change at any time.



How long does it take to grade my card?
You will see an estimated shipping time when you request grading. Shipping time varies based on the tier of service you select.



Who will grade my card(s)?
Grading is done by Professional Sports Authenticator (PSA), the industry leading trading card authentication and grading company.



What type of grading is offered?
Whatnot is currently offering several PSA grading service levels, including Value ($30), Economy ($50), Regular ($100), and Express ($150).



These services do not include autograph grading or authentication.



What cards can be graded?
Grading is available for any listing with a Purchase Grading button.



Eligible card types include:

Regular or Small-Sized Cards (2-11/16" x 3-13/16" and under)
Modern Memorabilia Cards (Thick/Patch)
Tallboy Cards (3-1/2" x 5-1/8")
Note that grading is not available for all sellers or listings.



What happens if my card(s) are lost or damaged during shipping or grading?
Grading is covered as part of Whatnot's high-value loss reimbursement policy.

For items lost or damaged prior to being graded, reimbursement will be based on the ungraded (e.g., raw) value of the card.
For items lost or damaged after being graded, reimbursement will be based on the graded value of the card.



What happens if the value of the card I submit exceeds the maximum for the pricing tier I select?
Each PSA service level has a maximum declared value associated with each card:

Value: Card must have a declared value of $499 or less.
Economy: Card must have a declared value of $999 or less
Regular: Card must have a declared value of $1,499 or less
Express: Card must have a declared value of $2,499 or less.



If the value of your card significantly exceeds the maximum value of the tier you've selected, it could result in delays or potential cancellation of your grading order, so please be thoughtful in selecting the appropriate service level.
---
Whatnot has been moving quickly to try take market share from eBay in the trading card space while eBay's own livestream feature has been a disappointingly slow rollout that is still not in the hands of regular sellers.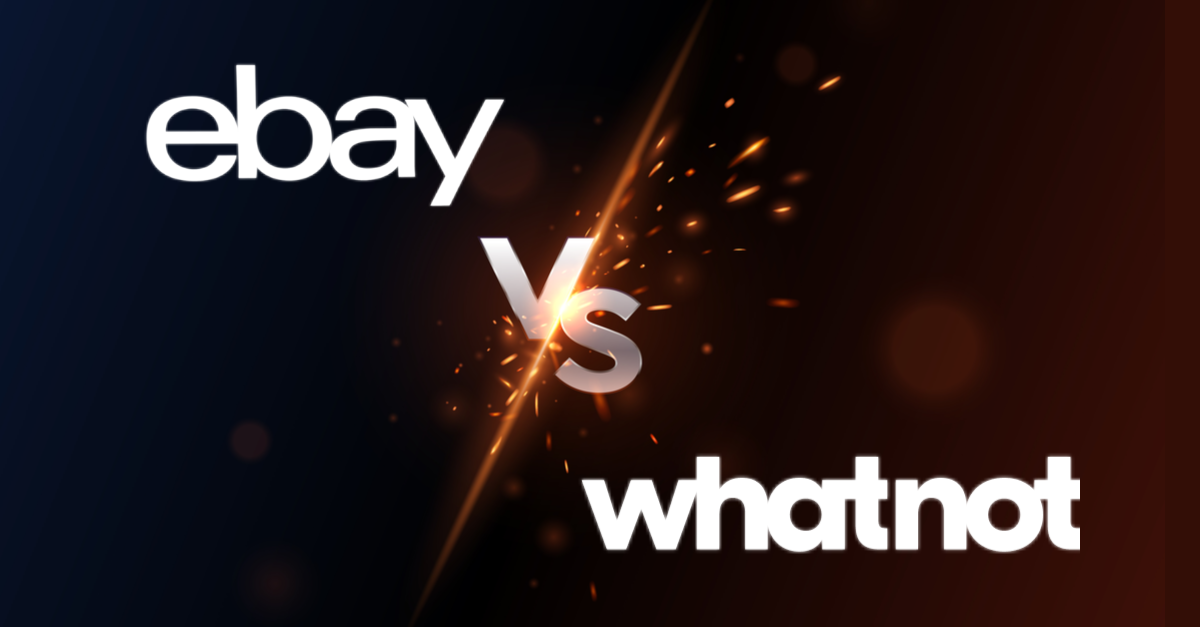 Will adding a grading option help Whatnot chip away even more at this important vertical focus category for eBay?
Let us know in the comments below what you think of the Whatnot PSA partnership!
---