Whatnot Hosts Star-Studded Holiday Charity Live Event
Hot on the heels of the out of this world Black Friday event that gave away a chance for a Blue Origin space flight, Whatnot is partnering with the Ed Asner Family Center for a live Q&A and exclusive auctions following a live star-studded table reading of the holiday classic, "It's A Wonderful Life."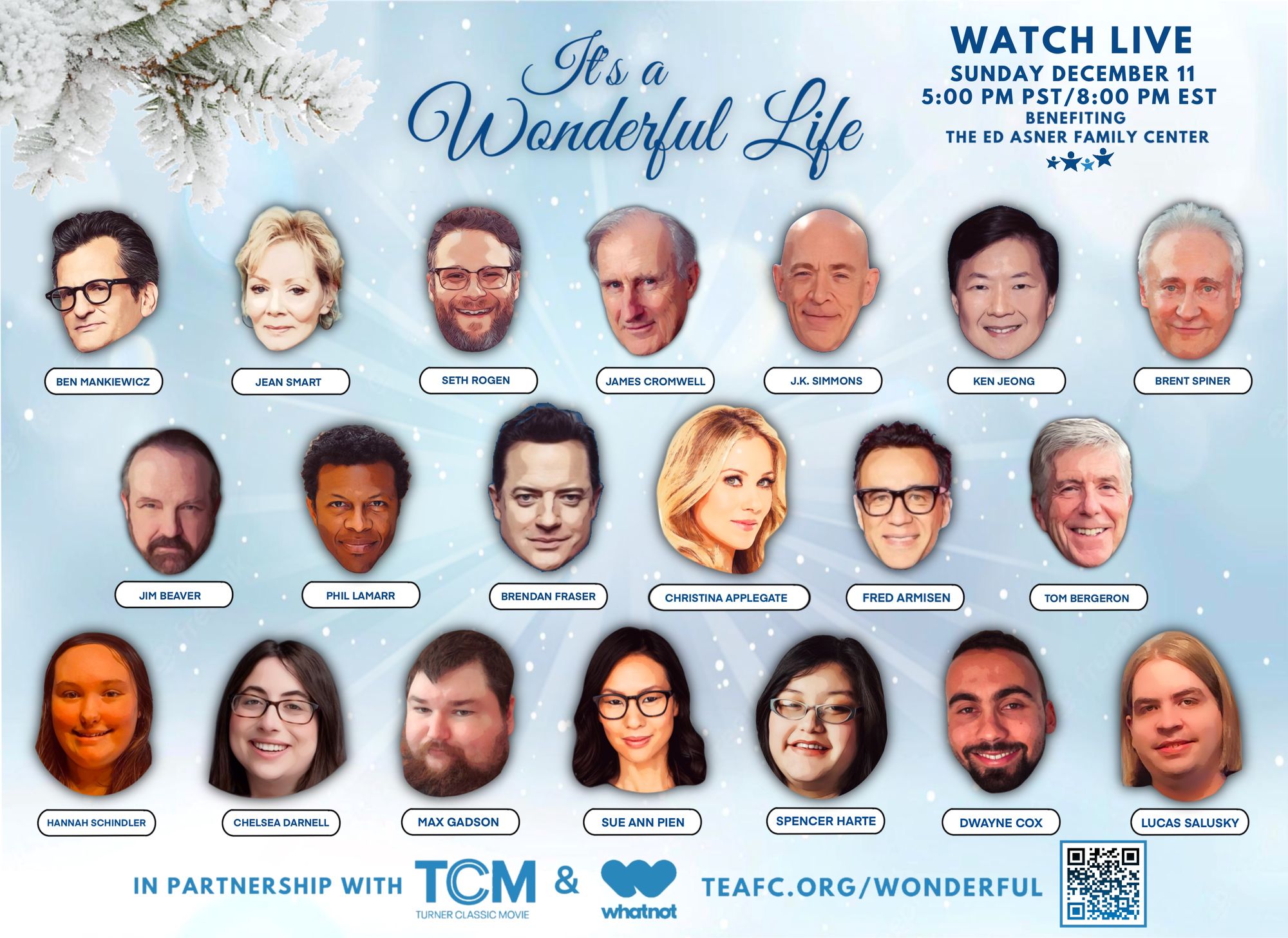 The Ed Asner Family Center is excited to partner with livestream shopping platform Whatnot for their 2022 Virtual Gala. Following the table read, viewers can follow along to a live Q&A on Whatnot's platform where they can bid on movie memorabilia and engage in Q&A with a star-studded cast including Brendan Fraser, Christina Applegate, Seth Rogen, Fred Armisen, JK Simmons and more!



Proceeds will benefit The Ed Asner Family Center.

Items available to bid on during the event include but are not limited to:

"It's a Wonderful Life" DVD signed by Brendan Fraser
2021's "It's A Wonderful Life" Table Read Script w/Actors Notes & Signed by Rosario Dawson
Ed Asner Family Center 8th Annual Poker Night Jersey signed by the cast of "Jurassic World: Dominion"
Brainy Smurf Funko Pop signed by Fred Armisen
Pumbaa "The Lion King" Funko Pop signed by Seth Rogen
Rick O'Connell Funko Pop signed by Brendan Fraser
Mary Tyler Moore Script and Gargoyles "Bible" CONFIDENTIAL Script Signed by Ed Asner
Spiderman Marvel Films – Animations "The Spider Slayer" script signed by Ed Asner w/BTS Marvel Films Animation correspondence



The partnership with Whatnot builds upon The Ed Asner Center's auction on the live shopping platform this past September, where celebrity-signed Funko Pops from Keanu Reeves, Harrison Ford, Tom Hanks, Rosario Dawson and more were auctioned on the platform. The social auction was the first of its kind for both The Ed Asner Center and Whatnot culminating in over $40K raised for the Center.



"We are thrilled to be partnering once again with Whatnot, an incredible organization with generosity at its core. This is the first year they are participating in our crown jewel fundraising event, our annual live online table read of "It's a Wonderful Life." The support Whatnot has offered will directly benefit the lives of our special needs individuals and families," says Matt Asner, Co-Founder of The Ed Asner Family Center.



Relive the classic holiday tale of "It's a Wonderful Life" with a star studded cast including Brendan Fraser, Christina Applegate, Seth Rogen, Fred Armisen, JK Simmons, Jean Smart, Ken Jeong, Jim Beaver, Brent Spiner, Phil Lamarr, Chelsea Darnell, Ben Mankiewicz, James Cromwell, Sue Ann Pien and host Tom Bergeron alongside honorees Judd Apatow and Leslie Mann. Additionally, social director of TEAFC, Chelsea Darnell will play a narrator alongside autistic actors Dwayne Cox, Max Gadson, Spencer Harte, Lucas Salusky and Hannah Schindler. Victor Nelli (TV's "Superstore," "Brooklyn Nine Nine") returns for a third year as director.



The event will also include a musical performance from Jennifer Hudson, the band Wallows and a silent auction. To purchase tickets, visit: http://teafc.org/wonderful.
Join the Whatnot Q&A and auction here.
---