USPS Announces Ground Advantage, Priority Mail Rates For January 2024
USPS has released proposed rate increases for Competitive products like Ground Advantage, Priority Mail and Priority Mail Express, effective January 21, 2024 if approved by the Postal Regulatory Commission.
WASHINGTON, DC — The U.S. Postal Service filed notice with the Postal Regulatory Commission (PRC) today of price changes for Shipping Services to take effect Jan. 21, 2024. These proposed prices were approved by the Postal Service governors earlier this week.



USPS Ground Advantage prices would increase by 5.4 percent, Priority Mail service prices would increase by 5.7 percent, and Priority Mail Express service prices would increase by 5.9 percent.



The Postal Service is also seeking price adjustments for Special Services products including Post Office Box rental fees and some international mail services that includes Registered Mail and International Mail insurance. The PRC will review the prices before they are scheduled to take effect.



USPS Ground Advantage continues to offer a simple, reliable, and more affordable way to ship packages in just 2-5 business days across the continental United States, with $100 insurance and free pickup on the carrier's route included in the price
Click-N-Ship USPS shipping platform provides shippers access to competitive commercial rates for Ground Advantage, Priority Mail, Priority Mail Express and USPS Connect Local, and the ability to schedule free carrier pick-up and order Priority Mail packaging
USPS offers some of the lowest shipping rates in the industry and is a great value to reach more than 165 million delivery points six and sometimes seven-days a week in a consistent and economical way
The breakdown of proposed Market Dominant and Competitive price increases for January 2024 can be downloaded in spreadsheets from the USPS Postal Explorer Site at: https://pe.usps.com/PriceChange/Index
Value Added Resource has compiled exclusive side by side comparison excerpts using data provided by USPS for informational purposes - check with your post office to confirm rates.
Ground Advantage Retail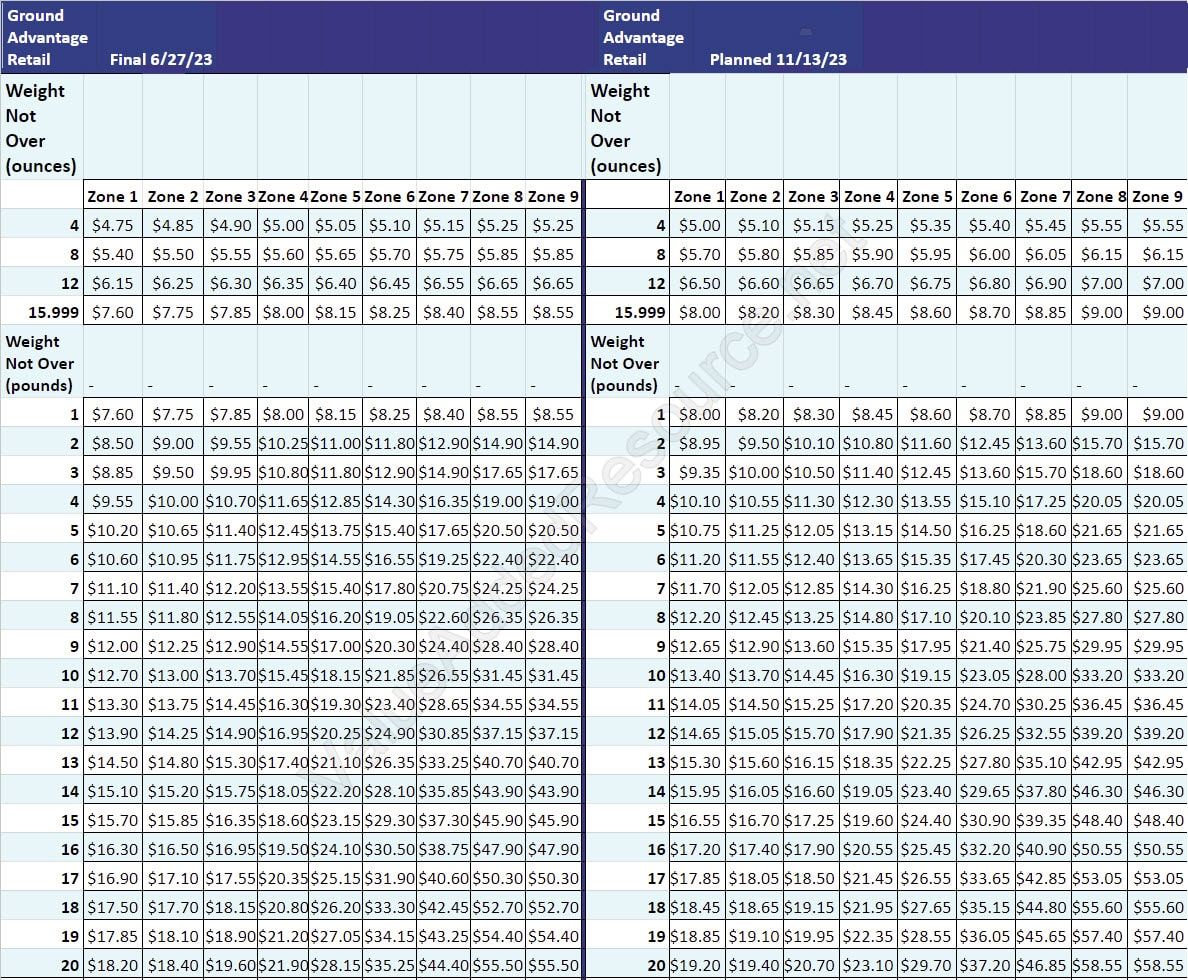 Ground Advantage Commercial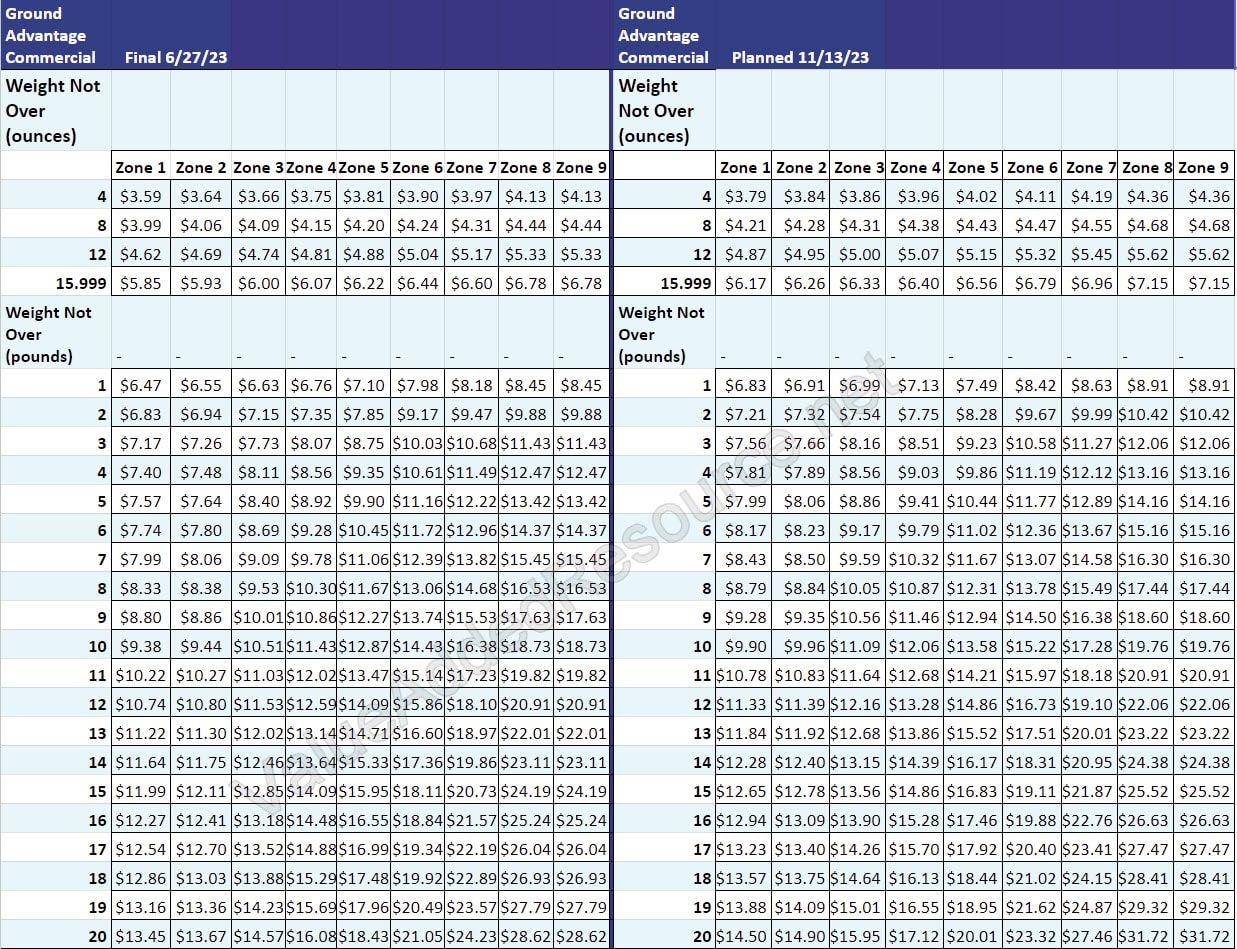 Priority Mail Retail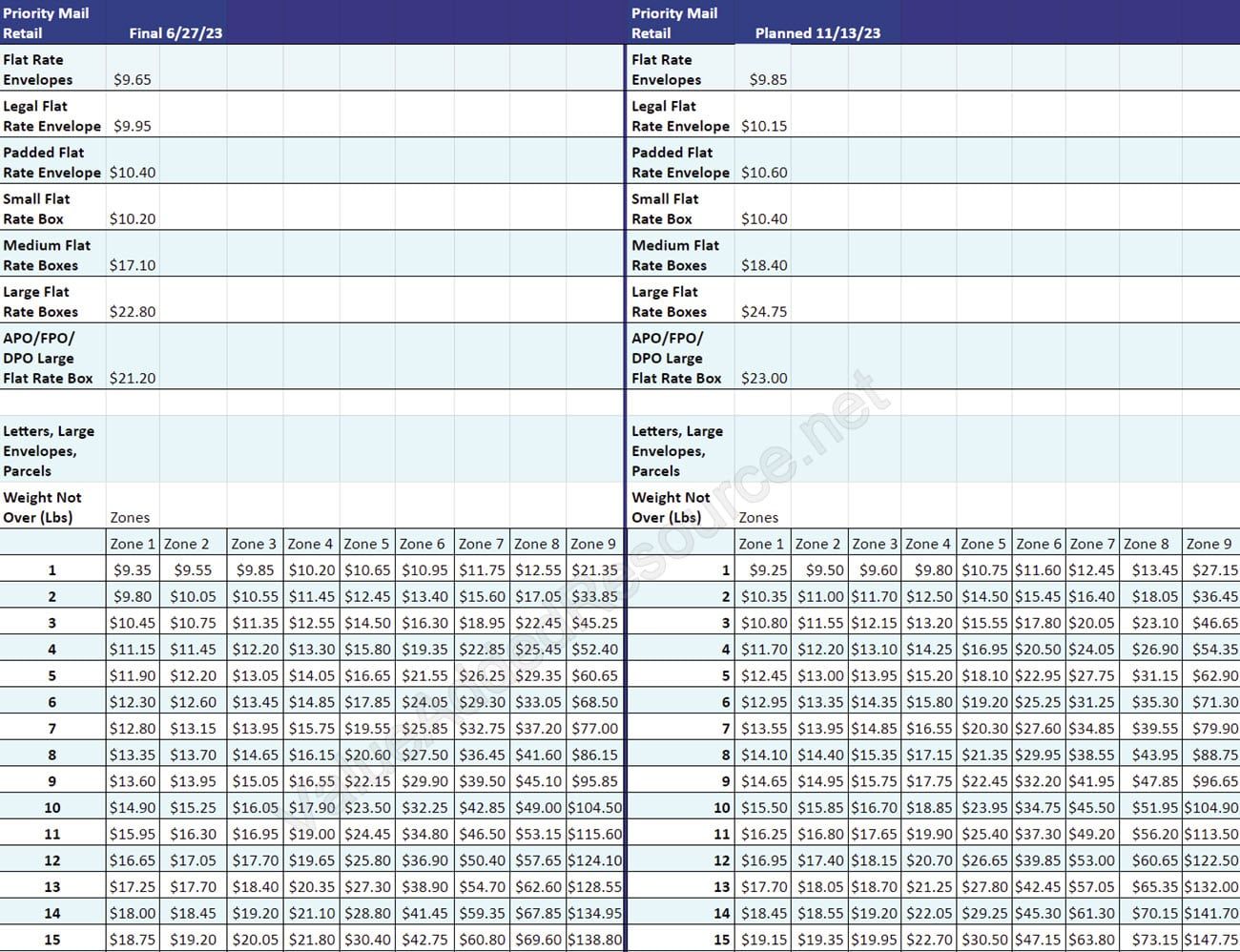 Priority Mail Commercial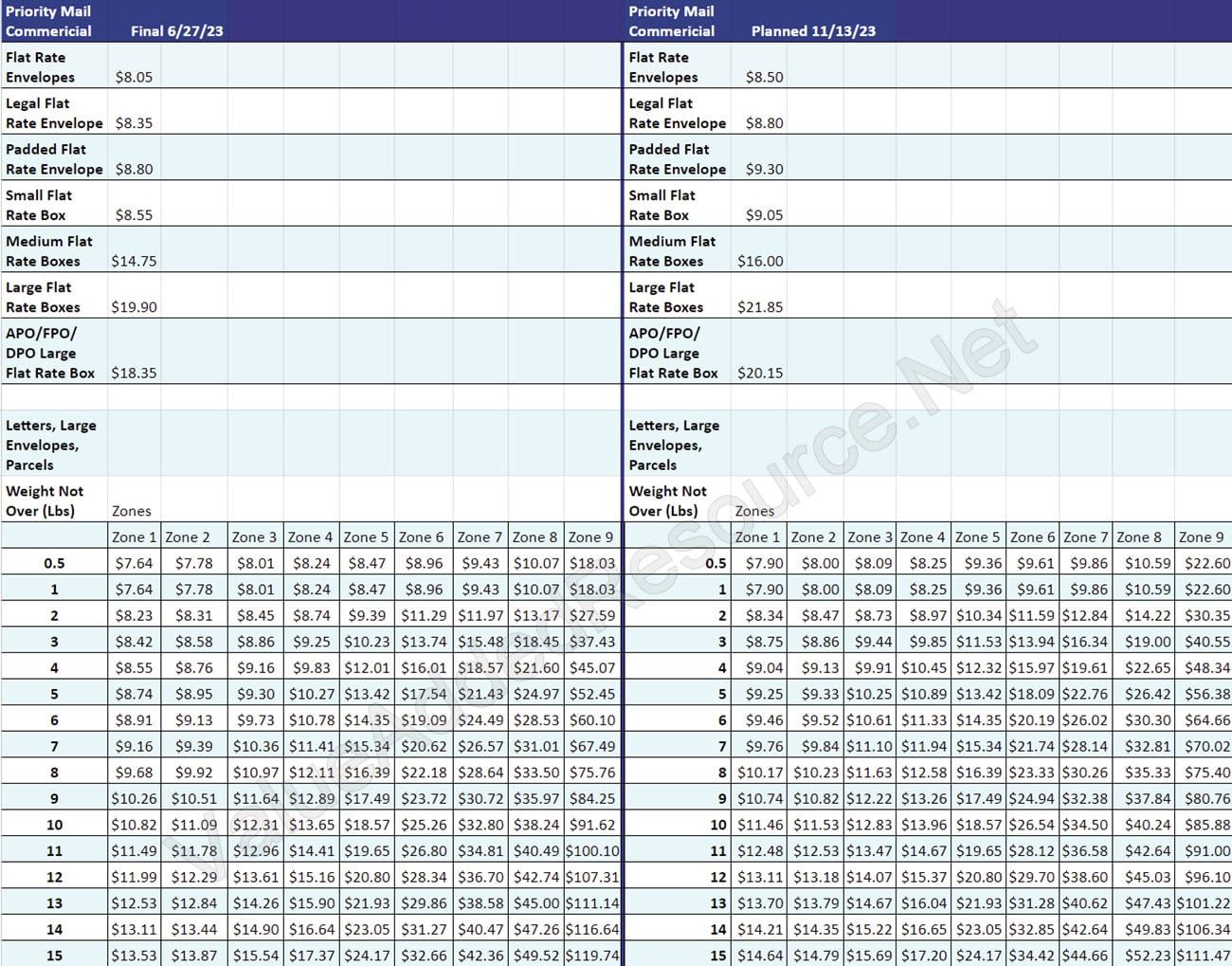 Don't miss our previous update with exclusive January 2024 rate comparisons for Market Dominant products like Media Mail!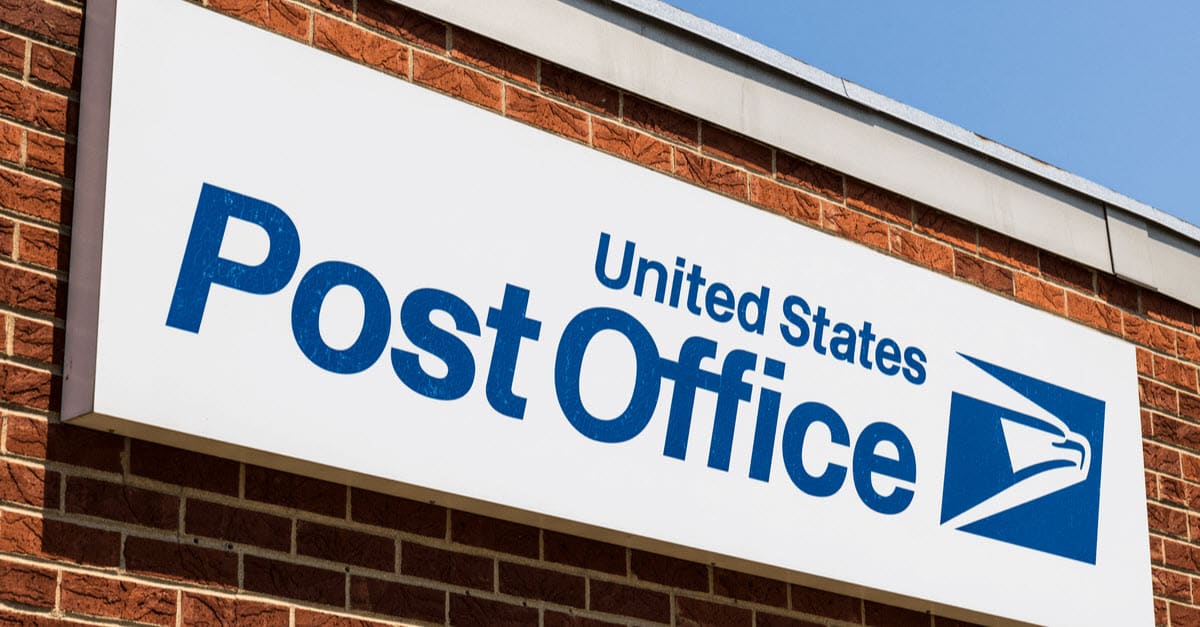 We also have confirmation from eBay that they will not be raising rates on November 18, 2023 when other platforms and service providers like Pirate Ship will be making adjustments due to changes in their USPS Connect Ecommerce rates.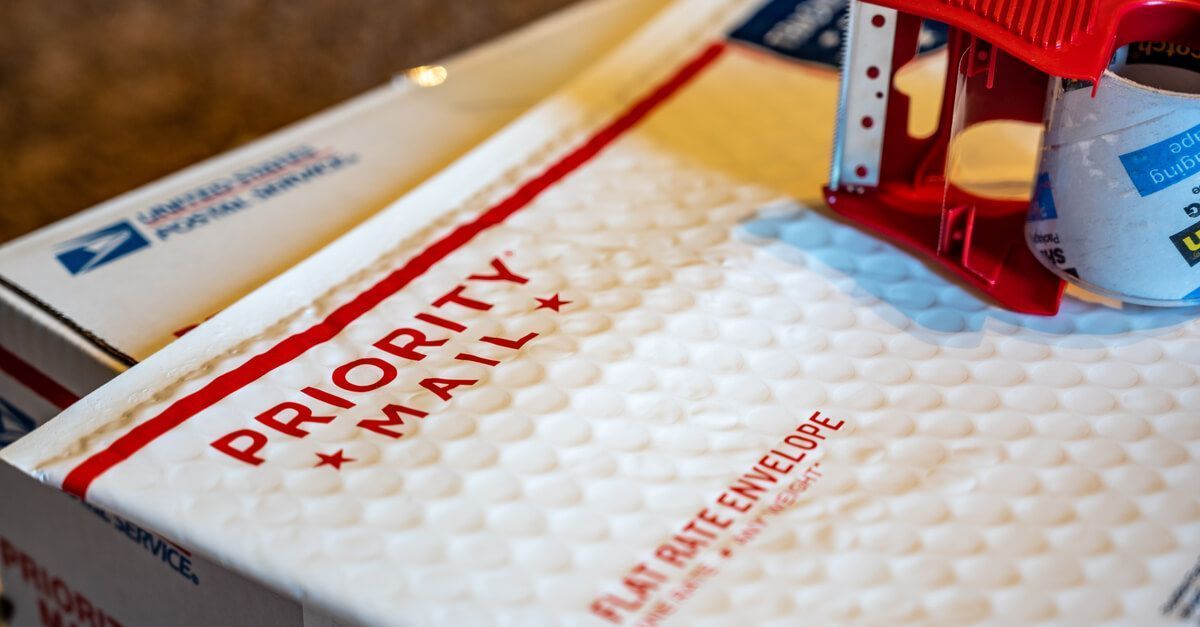 ---