The $12 Million Question: What Happened to eBay Phone Support?
eBay's latest 10-Q filing reveals the company incurred $12 Million in increased customer support costs in the first half of 2023, but frustrated sellers might wonder where it all went as the support experience continues to go downhill.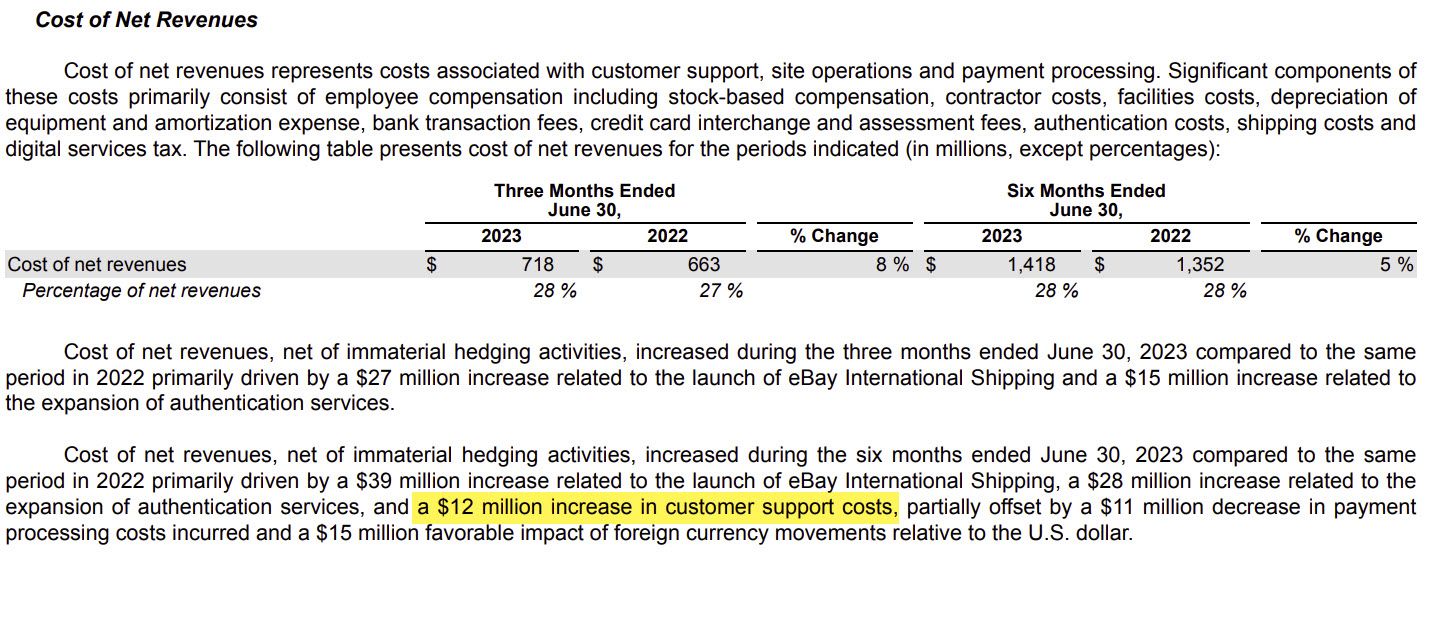 Cost of net revenues...increased during the six months ended June 30, 2023 compared to the same period in 2022 primarily driven by a $39 million increase related to the launch of eBay International Shipping, a $28 million increase related to the expansion of authentication services, and a $12 million increase in customer support costs...
Despite the increased investment, sellers have been reporting a decrease in service levels - specifically in the ability to talk to a live human on the phone.
The eBay support experience has been a labyrinthine maze of prompts and options for years, but the old ways to navigate the maze are no longer working for some sellers who say they've been cut off completely from accessing live phone support.
Has anyone been able to speak with any ebay representative lately?



Now when we call the automated machine ask you to confirm phone number and zip code associated with the account ( I have no issues with this) However, after you confirm your accounts information and choose the option to speak with a representative ( because NONE of the options actually apply to your needs) the machine proceeds to tell you " You MUST handle this request online".



Lastly, they ask you in you want to go directly to the website or if you want to receive a text message with a LINK for you to resolve your issue?. The link is of course useless , pages and pages about ebay policies and bla bla bla we all already know about. Link does NOT give you the option to speak with a representative on a chat at any point!



I had to call last week to resolve an issue , had to call them 18 times in order to be able to speak with an agent.



I had to call them today regarding an issue that can NOT be solved without the help of a life representative (is extremely time sensitive) I have called them around 12 times today. I have chosen all the possible options to see if I have luck with any of them ! No one has answer and the machine continues to tell me I must resolve my concerns online following by ending the call.



Is very clear to me that ebay is trying really hard to cut any and all forms of communication with sellers. Is not like they were super helpful before since they always side with the buyers anyways. But THIS is the last drop . They are bending over backwards to implement new of more efficient ways to have no responsibility whatsoever or any liability over any and all problems. Think about it this way : If they don't answer any of our calls, how do we solve any issues, questions , concerns or overall problems?
customer calls eBay because they've already looked online and can't find what they need to solve their problem. They have to google the eBay support number because eBay does not list it under their contact/ help page. The customer calls the support number from their google search and answers the automated message system prompts. No matter what the customer says to the prompts, they are always redirected back to the online site and never get ahold of a live representative.



if not fixed, the customer has no resolution to their problem because the online site is not answering their question and they can't get ahold of a representative to help.
While this issue with the lack of phone support does not appear to be impacting all sellers, the increase in reports suggests a concerning shift in the eBay customer service experience.
---
Unfortunately, what these sellers have described may very well be a feature, not a bug.
In a recent video about glitches on the platform, eBay consultant Kathy Terrill (I Love To Be Selling) revealed that eBay had recently put in vetting procedures to make sure the "dedicated support" that is supposed to only be for Anchor and Enterprise store subscribers isn't being used by other sellers.
...Yes anchor and Enterprise okay it's the two top tiers they have what's called dedicated customer support...they have a dedicated line where they can just call direct they don't have to ask for a callback, it's part of being a higher level seller and it's part of paying a higher fee they have a dedicated line and also I'm getting messages from sellers saying I can't get through on the dedicated line...



...so I reached out to a couple people so what happened was I know this would surprise you um I think there was a little misuse of the number going on where people were getting access to the number that weren't the top two tiers of the stores and then the customer service reps have to deal with that. So there's now a screening process in place so if you are Anchor, Enterprise and you have that number and you are calling in for your dedicated support there are screening questions.



There was supposed to be a notification that went out to sellers to let them know and you may not have gotten it somehow...so if you are trying to get your dedicated phone support and you are not able to access it...reach out to go on to Facebook find the eBay for business page you can also do the Help contact button on ebay.com request a call back with eBay for business you would message them through Facebook and just say hi I am a Anchor Enterprise store I can't get through on the dedicated line can you please help me?



But that's what I was told was they put screening into place and it seems like you know for some people for a lot of people everything worked fine and for other people they were having some issues.
---
If eBay is in fact cracking down and restricting which sellers are worthy of receiving phone support - where is that extra $12 Million going?
It's a safe bet a good portion was spent on developing and deploying chatbots and other AI powered solutions, as many impacted sellers report being redirected to online chat or automated support instead of a live phone rep.
eBay also recently had an open job position for Senior Manager, AI Products, focusing specifically on Customer Service AI Technology.
The Customer Service AI Technology Product team defines and builds products, which leverage machine learning and artificial intelligence to predict, anticipate and respond to customers' needs and resolve their issues in an automated fashion.



These products automate support in multiple channels and platforms including traditional webchat, messaging platforms, social media channels and phone. The team works closely with Product Development, Site Search, Data Science, Engineering Design, and other cross-domain organizations to build scalable solutions that are used by millions of customers across the globe every day.



The Role
You will be responsible for the management of the AI Product team which includes Product Managers in multiple sites. You will lead a dedicated group of individual contributors and shape the future generation of Product Managers.



You will help us build data-driven solutions, with a focus on creating more efficient, effective and innovative automated experiences.
Of course, eBay has been using automation and machine learning to bolster support for years - back in 2019, contact center solutions company Genesys was touting using Google Cloud to provide automated AI customer service and used eBay for the example video.
But recent advancements in generative AI and other machine learning tech have put many companies on an accelerated path to using more and more non-human support - for example Shopify is moving to an "AI-first" customer service approach after a second round of layoffs just a few months ago, according to Business Insider (paywall).
A presentation outlined what the future of the Support org will look like, designating priorities like becoming AI-first and more data-informed, centralizing decision-making, shipping new features quickly, and staying lean.



Shopify leaders also walked through their plans to use AI to position customer support like a funnel.



Merchants who had a question or issue could first try to solve it with the new AI-powered Sidekick tool being built into the Shopify admin. If Sidekick wasn't adequately solving the issue, merchants could then go to the help center and interact with the new AI assistant there.



If the issue still wasn't resolved, merchants would then be directed to a human support advisor. Those advisors could lean on generative AI tools built into their systems to help facilitate conversations with merchants and resolve the issue.
---
An AI-first approach to customer service may be a much tougher sell for eBay.
Many sellers feel like eBay expects them to bend over backward to provide impeccable service to buyers, but doesn't hold themselves to the same high standards when it comes to the support available to sellers - and fobbing sellers off on chatbots is not likely to win eBay any points in this regard.
Ironically, eBay had promised it was going to "fix customer service" way back in 2017 when then SVP Global Operations & Customer Service Wendy Jones acknowledged eBay had a lot of work to do.
Our reality today is that we don't make it easy for our customers. The rules and the systems are too complex, they are at times inconsistent, and in today's digital world of ecommerce, they're too slow...



...Our Unifying Purpose. We exist to help our customers and solve their problems in the quickest, simplest, easiest way possible… and make them feel great about eBay along the way.
Jones and then VP Customer Experience, North America Cathal McCarthy unveiled plans for eBay's higher tier support experience called Concierge. While it was initially promoted as an invite only program, it was made clear the plan was to make many parts of Concierge the standard support experience for all eBay sellers within 18 months...which never happened.
Despite having decidedly not fixed customer service at eBay, Jones was awarded an $11 Million bonus in 2018 by then CEO Devin Wenig ($8 Million of which was a retention bonus.)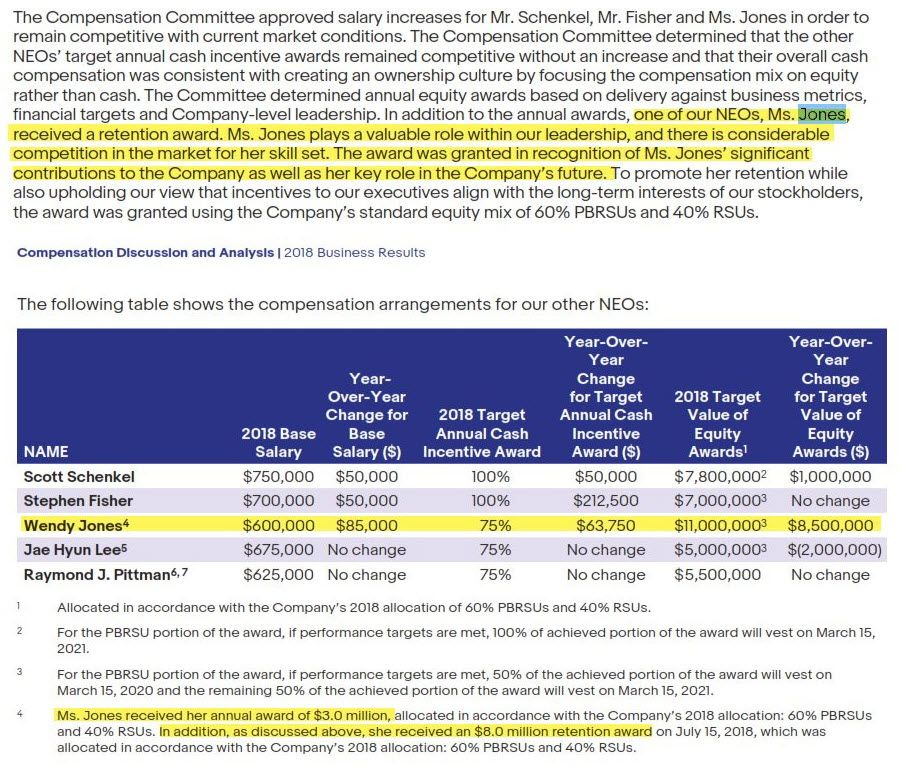 Sellers at the time questioned the wisdom of such a large bonus, given the still lagging state of customer support under her purview, and it was also seen by many as particularly insensitive given the round of layoffs the company undertook around the same time.
Wenig thanked Ms. Jones for her ongoing contributions and encouraged her to "continue to deliver in 2018 and beyond" - though it's not clear exactly what he meant as by most objective standards eBay under her tenure was not delivering on any of the promises of improving the customer support experience.
When Jones stepped down from her position in 2020 under current CEO Jamie Iannone, she collected another $11 Million+ in severance benefits, again despite perennial complaints about falling levels of service and failing to bring Concierge to the masses.
Perhaps throwing $12 Million at AI chatbots will produce better results?
It's difficult to see how they could be much worse - and if nothing else, the bots may at least be less likely to expose the company to embarassing and costly litigation, like the eBay cyberstalking scandal in which Wenig, Jones and others are named defendants.
---
Have you had difficulty getting phone support from eBay recently? Let us know in the comments below!
---