Poshmark Posh Shows Live Shopping Beta Test
UPDATE 4-5-23
Poshmark is ready to take Posh Shows out of beta testing, welcoming more sellers to participate in the live shopping trend!
Poshmark will be adding new features to Posh Shows in the coming months, with a focus on creating new ways to Sell Together and inspiring new ways to shop and connect live.



New hosts are invited to join Posh Shows on a first come, first-serve basis as Poshmark continues to grow its community of sellers each week. Visit poshmark.com/live to learn more about Posh Shows and sign up to become a host. To become a host in Canada, visit poshmark.ca/live.
---
UPDATE 11-16-22
Poshmark released a few updates to the Posh Shows feature and has begun testing it in Canada as well!
Shop Posh Shows (US)
Reminder, that we're currently still testing this feature and can't wait to involve more sellers—stay tuned for updates. While we get ready to launch, check out some of the latest feature updates that make it even easier to shop Posh Shows and support your fellow sellers.

Shop + Browse: You can continue watching a Posh Show while navigating the Poshmark app, letting you view listing details and the seller's closet while you continue watching the show.
Save Upcoming Shows: Tap the save icon next to an upcoming show you're interested in to be notified once the seller goes LIVE.



Shop Posh Shows (CA)
We're excited to share that Canada just officially launched their own Posh Shows beta this month! Learn more here.
---
UPDATE 9-23-22
I have to say, the Posh Shows beta last night was the most fun live shopping test I've seen yet!
There was a little bit of a technical hiccup with the first auction, but the hosts kept the party rolling, called in a little help to get it fixed and then were off to races. With live tests like this it's expected there may be some bumps in the road but kudos for how it was handled. 👍
So here's how it works:
Posh Shows are displayed in the main home page and you can select which show you want to attend or "party hop" between shows as they go on. They are an auction format where the seller picks the starting price.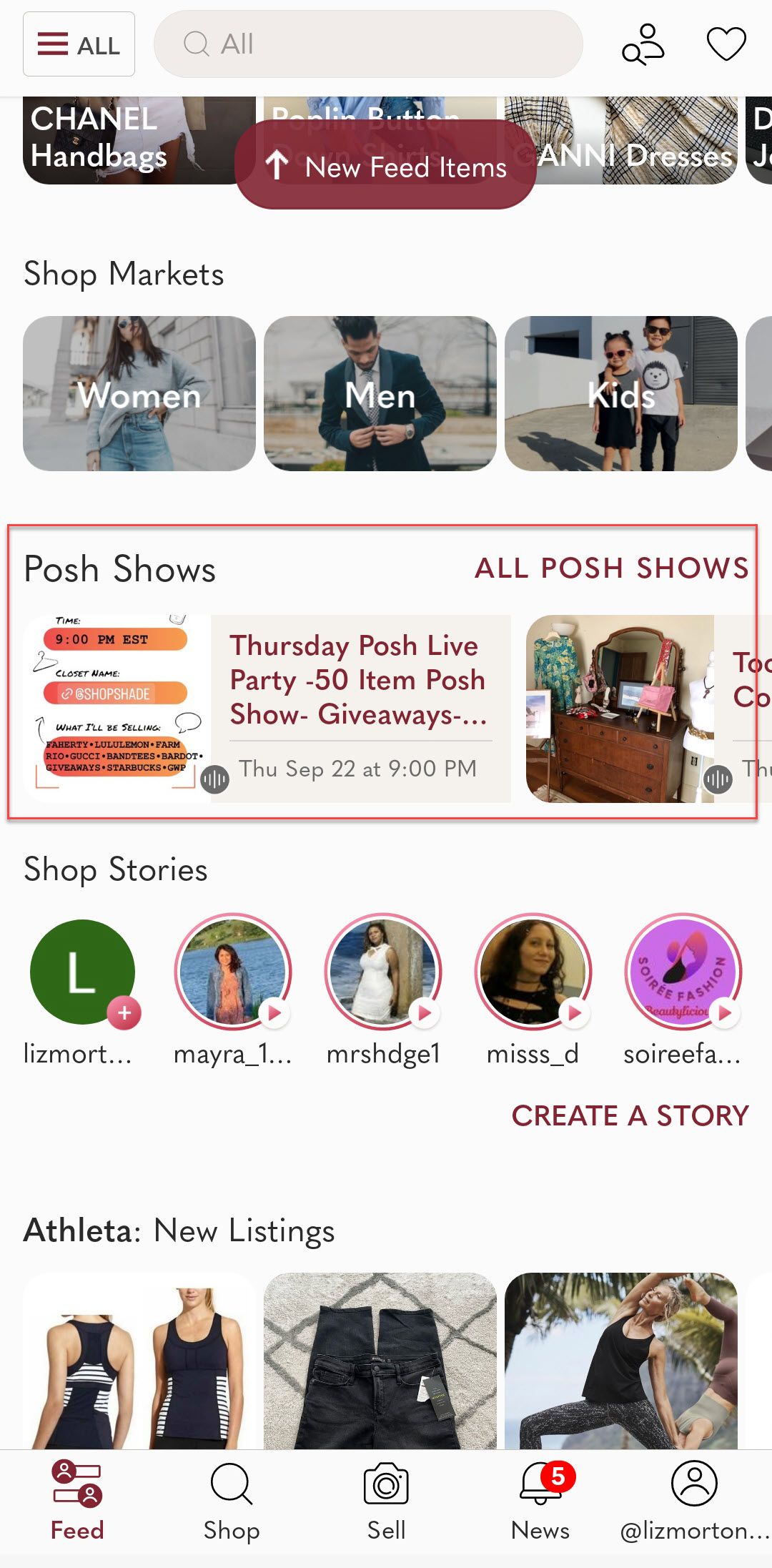 Once the auction starts it cannot be canceled or have the price adjusted and sellers are not permitted to bid on their own items or asks others to bid for them.
All bids are final and binding. In order to bid you must have a payment method on file and if you win, you'll be charged the total with shipping, taxes etc. immediately.
The host can set the auction time for 60, 45, or 30 seconds, then once the countdown reaches 10 seconds, every time a new bid comes in the timer resets to 10 seconds until time runs out with no more bids. This feature definitely made for some exciting last second sniping and anticipation to see if another bid would come in.
Overall I was very impressed with the Posh Show experience - they nailed the social aspect of live shopping and made it really relevant and fun for their audience. The live auction format made for a much more exciting and engaging experience vs a more static buy it now format.
Check out a clip of the action!
---
Poshmark is the latest marketplace to be jumping in to the live shopping trend, with a super secret beta test of Posh Shows launching September 22nd.
The new feature is currently only available to a small, invite-only group of US based users, including those who attended PoshFest 2021 or who are registered to attend PoshFest 2022 next week.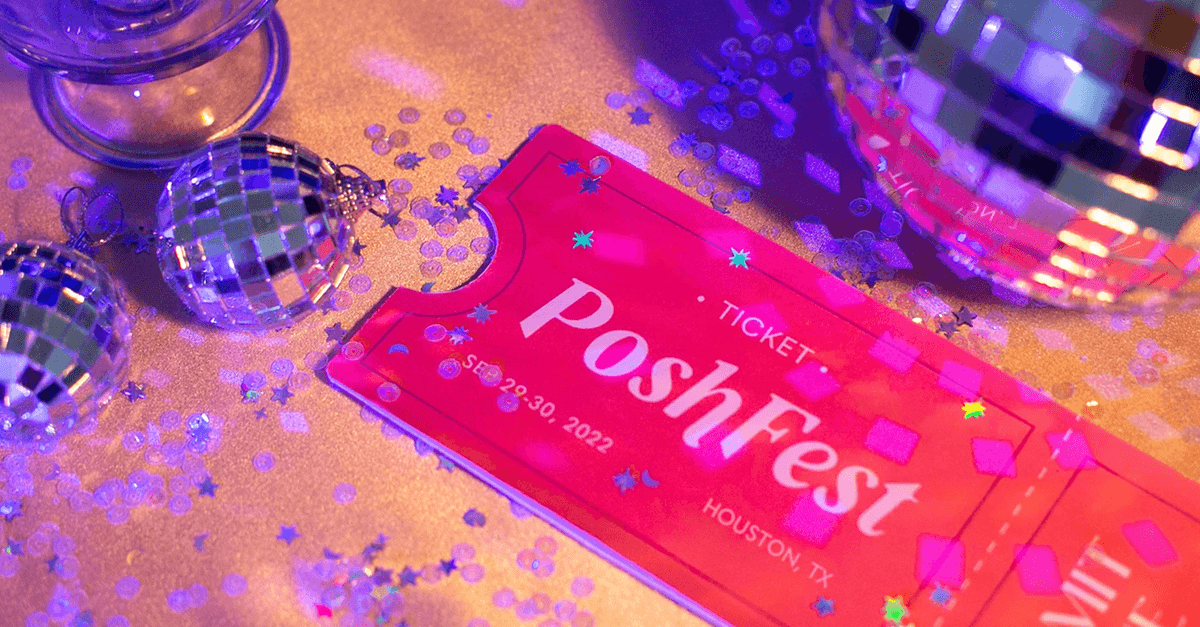 Sellers with previous live selling experience can apply for an invitation to join the beta test group, but watch out - you'll have to sign a confidentiality agreement to get that invite.
...you understand and agree that all knowledge of these features, along with your invitation to participate, is to be kept strictly confidential. You may not mention these features or your invitation to participate to any other individual or entity or in any electronic forum without express written permission from Poshmark, or until Poshmark publicly discloses these features. Failure to follow this confidentiality requirement may result in Poshmark rescinding your invitation to participate or preclude you from participating in future Posh Ambassador opportunities.
---
Details on how exactly the live shopping feature will work are sparse, but here's what we know so far:
Posh Shows is a new feature currently in beta, designed to bring the community together to shop and sell LIVE.



Be sure to update your app to view upcoming Posh Shows. Shows start September 22nd!



Check out some Posh Shows Beta FAQs below:



What is a beta test?
This is a test that releases a new feature to a small group of users. The goal is to gather feedback and then make improvements before it's officially launched more broadly!



Who currently has access to create a Posh Show?
We are currently beta testing with a small, invite-only US-based audience and plan to release more broadly once we have gathered feedback and made improvements. All registered attendees of Poshfest 2021 and 2022 were invited as participants, as well as local Bay Area Posh Ambassadors and sellers who attended our most recent Posh Party Live event.



Is there any way to host a Posh Show if I didn't receive an invite to the beta?
We look forward to involving our entire seller community after the beta testing period has ended. Currently, if you are a US-based Poshmark seller with previous live selling experience and would like to help us test the new feature, or have general feedback about live selling, please fill out this form. After completing the form, we will follow-up as soon as we're ready to add you to the beta! Please lookout for updates regarding next steps sent via email.



Can anyone join and/or shop a Posh Show?
All Poshmark users can join shows. Please note that a US shipping address and payment card information is required to purchase during this beta.



Can I purchase items during a Posh Show?
Yes! A seller can feature their listings during a Posh Show. These featured listings can be purchased just like usual, at the listing price, or by placing a bid on an item available for auction. Please note that all bids are binding. Your items will ship just like any other purchase.
---
I'll be keeping an eye out as Posh Shows makes its debut this week and will update with more info.
In the mean time, let us know in the comments below what you think of Poshmark's new live shopping feature!
---