National Retail Federation Launches Fight Retail Crime Day
The National Retail Federation has designated October 26th as "Fight Retail Crime Day" with fly-in events planned to lobby lawmakers in Washington DC to get tough on organized retail crime, but skeptics wonder if the problem is really as big as it seems or just a convenient scapegoat for poorly performing companies.
Retail's day of action unites the industry in our fight against rising retail crime.



The surge in organized retail crime is significantly impacting consumers, retailers, workers and the communities they serve. In response to this crucial issue, NRF has designated October 26 as Fight Retail Crime Day — an annual event that mobilizes the entire retail business community to advocate for effective solutions in combating this problem.
Organized Retail Crime has been in the headlines a lot recently in what some suspect may be an organized effort by organizations like the NRF and large corporations like Target, Home Depot and more to soften the blow when reporting less than stellar quarterly numbers.
CNBC analyzed securities filings, earnings calls, press releases and other publicly available records to try to quantify how much shrink is costing retailers and how it compares to losses from other factors, such as excessive discounts.
Over the last few quarters, more and more retailers have called out shrink as a drain on profits and blamed theft for those losses. But they have offered few details about how much inventory losses are actually costing them. Experts have said some companies could be using crime as an excuse to distract from other operational challenges that drive shrink, such as poor inventory management and staffing issues.



Retailers are asking lawmakers to help crack down on product theft
Companies that have disclosed shrink numbers and explained to investors how they're working to solve it show that they have a grasp on the problem, Sonia Lapinsky, a partner and managing director with AlixPartners' retail practice, told CNBC.



Others that loosely blame shrink and theft for plummeting profits without providing much more explanation may be trying to obfuscate internal issues, said Lapinsky.
The Robin Report is even more pointed in their skepticism.
Make no mistake about it: The stealing spree is real and it's putting the hurt on retailers trying to figure out how to balance in-store security with an inviting shopping experience for the vast majority of consumers who are checking out with their credit cards, not merchandise hidden under their coats. Across the entire retail spectrum from high-end luxury stores to deep-down discounters and dollar stores, companies crying "Enough"



But some people believe the level of theft noise is just that: a distraction from poorly performing brands and an excuse to close stores that are just not doing very well — for whatever reason. Who is telling the retail truth?...



...Suggesting that retailers are using store crime as a "beard" for their own lackluster business is not a popular theory and of course, it's far from a complete analysis of what's going on out there today. Store theft is bad…really bad, and don't let anybody tell you otherwise. But it doesn't tell the whole story and like retailers who perpetually blame the weather, the calendar, and the stars for their underperforming business, it is only the latest rationalization.



Theft is without doubt a big factor in what's happening in the retail world right now. But it would be a crime to think it's the only thing.
Jaw-dropping headlines about millions of dollars in stolen goods being fenced on eBay certainly paint a bleak picture, leading to many questions about why marketplaces don't do more to stop illegal activity on their platforms (emphasis mine.)
A Florida man has been charged in connection with a retail-theft ring that authorities say stole more than $1.4 million in merchandise from Home Depot and sold it to buyers online.



Robert Dell, 56, was charged with racketeering, conspiracy to commit racketeering and dealing in stolen property. He was formerly a pastor at The Rock Church near Tampa and worked with the recovery program affiliated with it. Officials say he sold the goods on an eBay store titled, "Anointed Liquidator"



Prosecutors say he worked with four others, including his wife and mother, who were also charged in connection to the case...



...According to Florida Attorney General Ashley Moody's announcement of Dell's arrest in August, Dell's wife and mother would assist with packaging them and selling them online. Investigators say that Dell sold the merchandise under an eBay store named the "Anointed Liquidator." According to the website, it is been active since 2011 and sold 35,000 items.



EBay told the Wall Street Journal that they had flagged the account in 2017 for selling a large inventory of goods retailers identify as targets for thieves. The account was shut down earlier this year, the company said.
Read that again - eBay flagged the account in 2017 but allowed them to continue selling on their site through 2023!
That certainly does raise important questions about exactly how much of eBay's GMV comes from the sale of stolen goods.
Unfortunately, because eBay and other marketplaces have not proactively policed their own platforms, legitimate sellers are being increasingly saddled with regulatory and legislative compliance requirements that may be overly burdensome, especially to small businesses.
The INFORM Consumers Act was introduced earlier this year, with the specifically stated intent to help curb the sale of stolen and counterfeit goods online.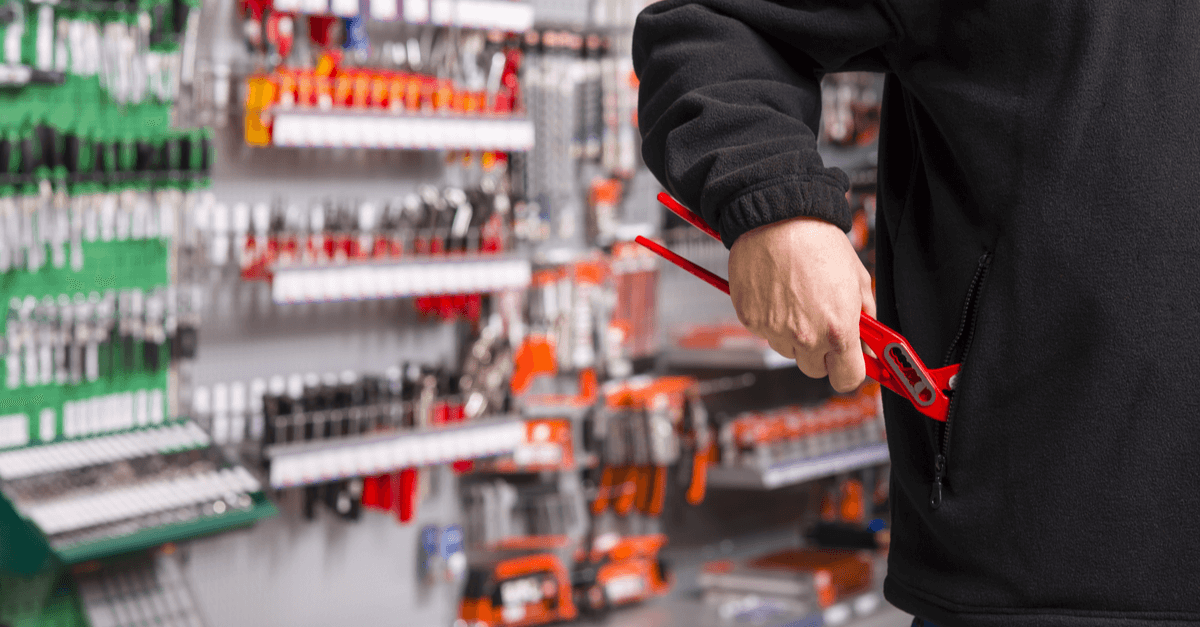 Now the even more burdensome SHOP Safe Act has been reintroduced in Congress as well, leaving sellers worried this additional legislation, if passed, could give big brands the power to destroy their legitimate businesses.
And what about widespread forms of online fraud that likely account for much larger annual losses than the "smash and grab" retail thefts we see on the news?
eBay, Etsy, Amazon, Mercari and many other marketplaces are often used to facilitate triangulation fraud, a sophisticated form of digital shoplifting that impacts huge retailers with an online presence like Target and Home Depot, as well as independent SMB ecommerce operations.
Triangulation fraud occurs when a buyer makes a genuine purchase on a third-party marketplace, but the seller fraudulently purchases the product from another merchant.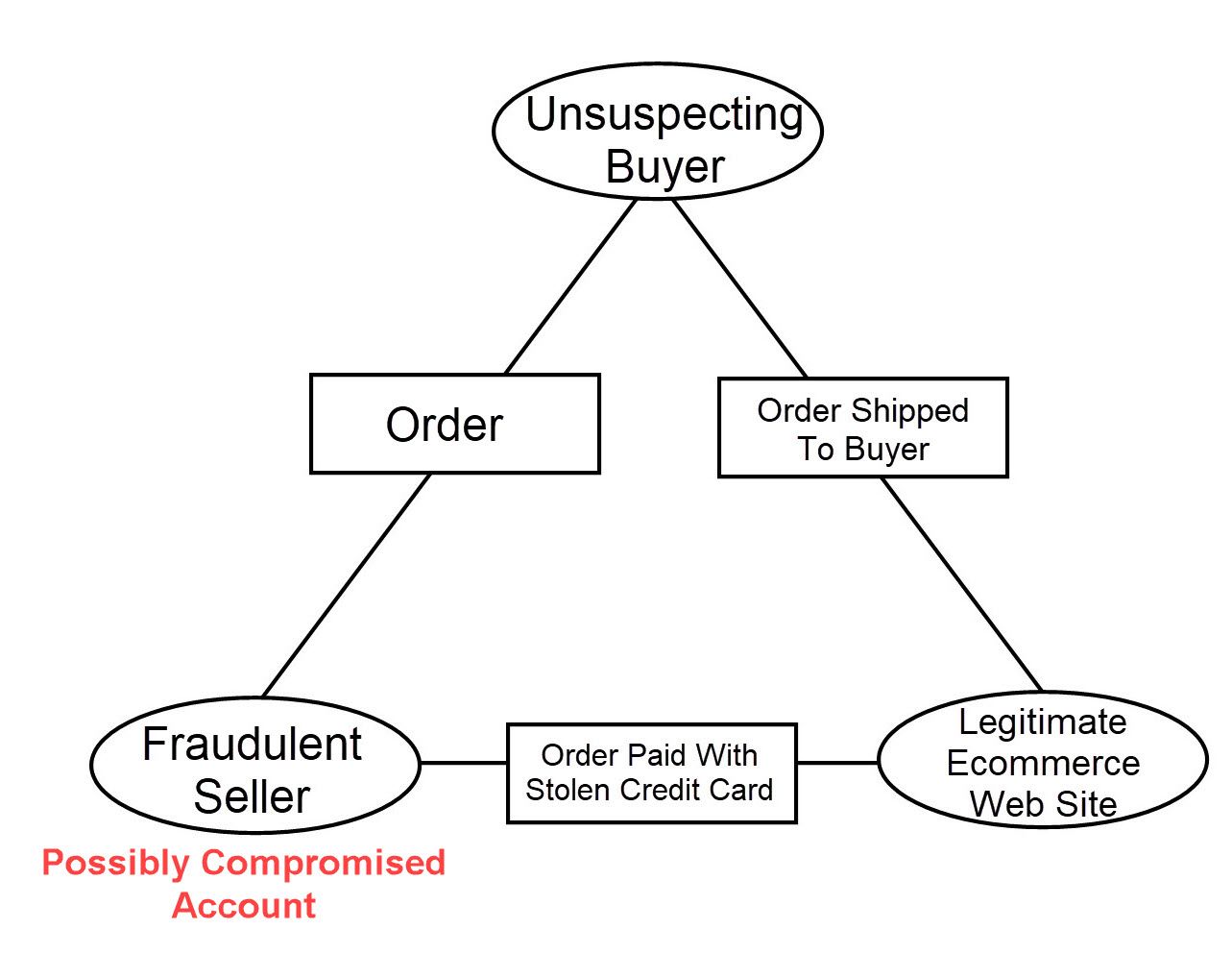 First, the fraudulent seller creates listings on a third party platform or marketplace for items they do not have in their possession.
An unsuspecting buyer sees the listing, usually at a "too good to be true" price, and buys the item.
The fraudulent seller then goes to a legitimate ecommerce website selling the item, places an order to ship to the unsuspecting buyer (sometimes referred to as retail arbitrage dropshipping), and uses a stolen credit card for this transaction.
The ecommerce site ships the order, not realizing it was fraud until weeks later when they receive a chargeback from the actual credit card holder.
The unsuspecting buyer receives the item they purchased and may not even realize there was fraud involved, often leaving positive feedback for the fraudulent seller.
Networks of international fraudsters don't need to go through all the complicated effort of stealing power tools locked up at a Home Depot store when they can simply use stolen credit cards and identities to swipe those same tools from HomeDepot.com and convert them to cash through triangulation fraud.
I've personally experienced this fraud perpetrated through eBay when it hit my then-employer to the tune of over $160,000 in less than 4 months.
eBay's PROACT (Partnering with Retailers Offensively Against Crime and Theft) department was not at all proactive and in fact simply stopped responding when I offered to provide documentation and evidence that would have helped them to identify and shut down the accounts being used for the fraud.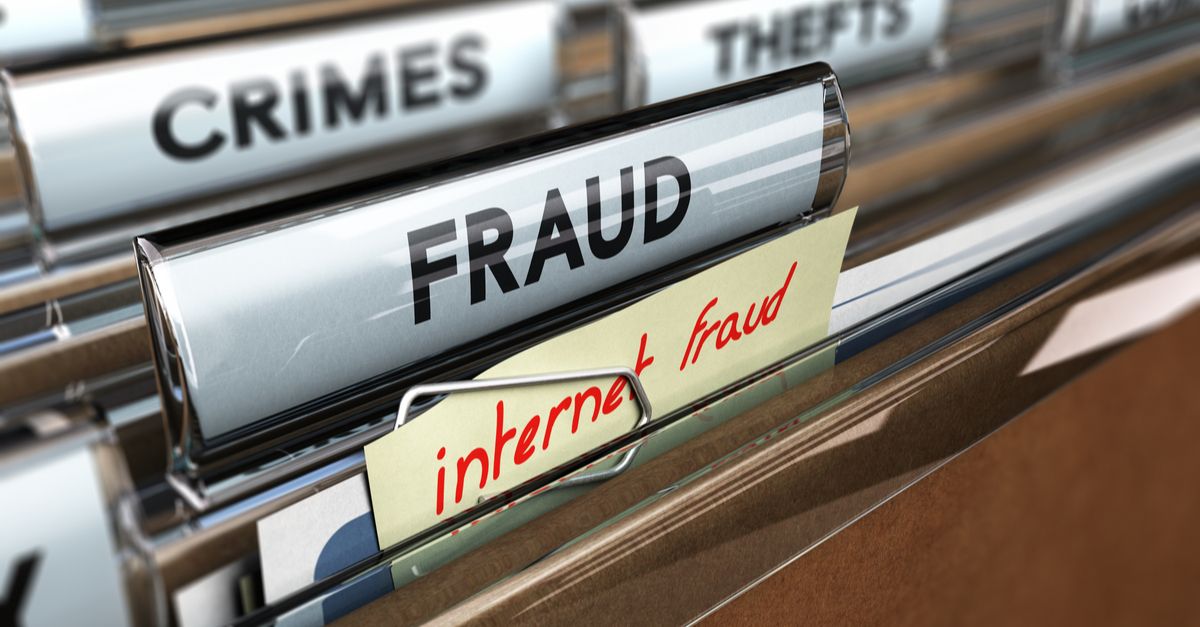 eBay has been well aware of the problem for years, as evidenced by this 2015 article from Krebs On Security detailing how it works - ironically, the triangle graphic used in this article actually came from an eBay help page at the time.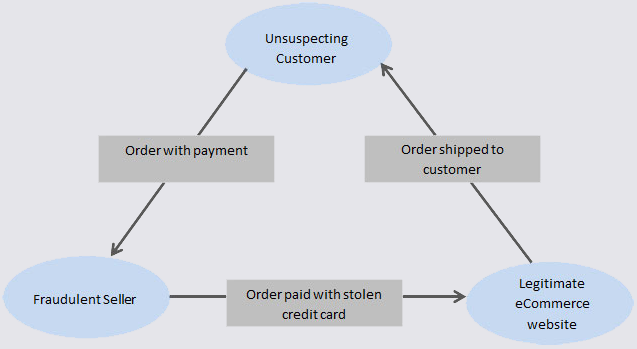 Fraud.net estimated this type of fraud would cost merchants $30 Billion annually by 2020, yet it, and many other forms of online fraud, are entirely absent from much of the current conversation about Organized Retail Crime.
That curious blind spot might lend credence to the idea that these lobbying efforts and media blitzes are more about companies looking for a scapegoat for lackluster performance and/or industry organizations vying for more power in the battle between brick and mortar retail and ecommerce.
October is also National Cyber Security Month, which makes for a perfect tie-in to discuss how digital Organized Retail Crime impacts retailers across the country as well.
As many retailers increasingly operate across physical and digital spaces, it would be wonderful to see NRF tackle this important conversation in future Fight Retail Crime days as well as their ongoing lobbying and PR efforts.
---