Facebook Marketplace Waives Seller Fees Through June 2023
UPDATE 11-18-22
Facebook has extended the deadline again and is now showing standard selling fees are being waived until June 30, 2023.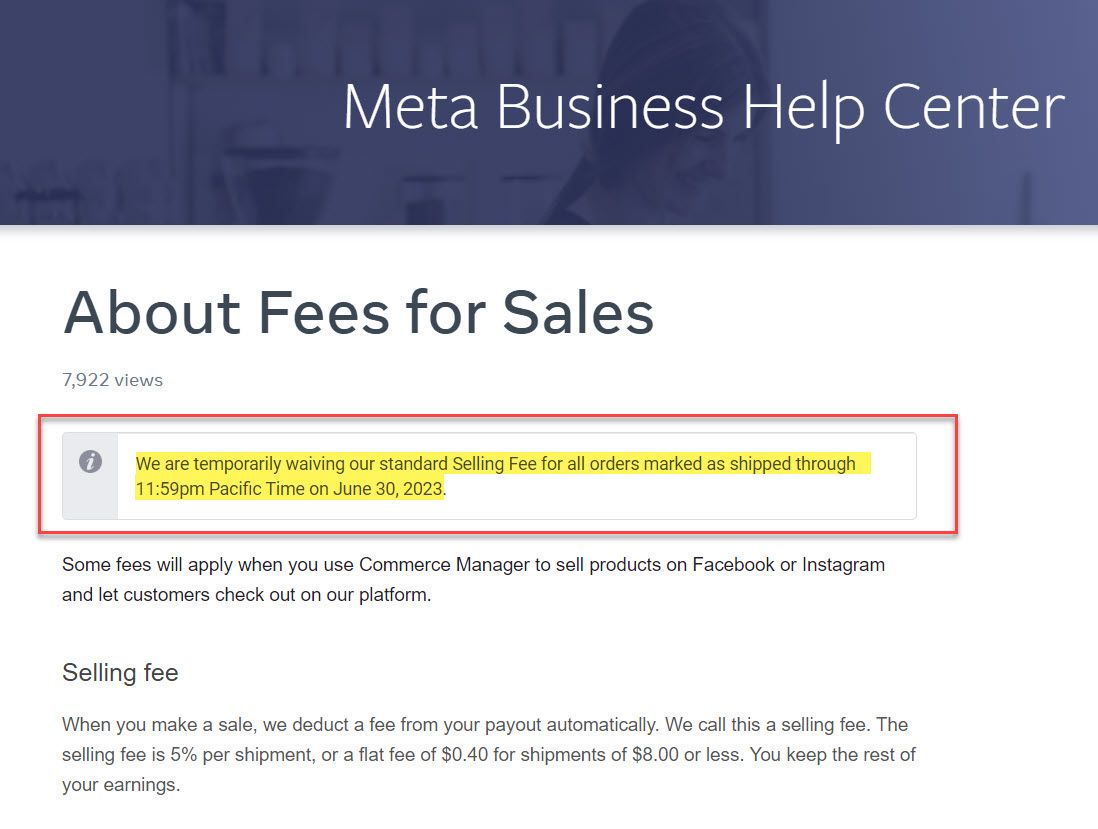 ---
Facebook / Meta has once again extended the waiving of selling fees for orders shipped through their marketplace, this time out to December 31, 2022.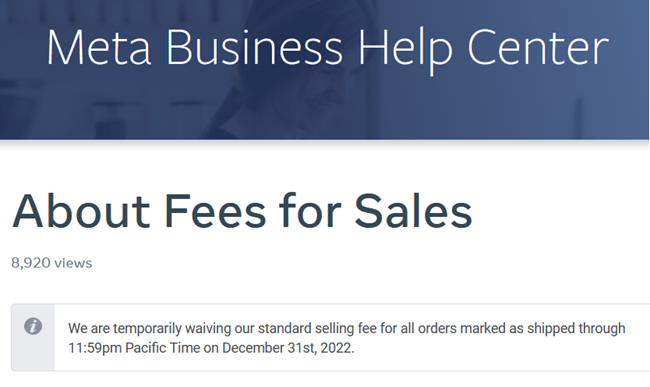 About Fees for Sales



We are temporarily waiving our standard selling fee for all orders marked as shipped through 11:59pm Pacific Time on December 31st, 2022.



Some fees will apply when you use Commerce Manager to sell products on Facebook or Instagram and let customers check out on our platform.



Selling fee
When you make a sale, we deduct a fee from your payout automatically. We call this a selling fee. The selling fee is 5% per shipment, or a flat fee of $0.40 for shipments of $8.00 or less. You keep the rest of your earnings.



Here's an example of how we apply the selling fee to your sales. Let's say that you're fulfilling an order with multiple items in 2 shipments:

If the first shipment is $10.00 USD, we'll deduct $0.50 for the selling fee.
If the second shipment is $6.00, we'll deduct $0.40 for the flat fee.
---
Previously Facebook had said fees would be waived through June 2022 and before that it was December 2021, so this isn't the first time the deadline has been extended.
So what's the story behind the continued waiving of fees? Is it a smart long game play to win sellers over from other marketplaces or a sign Facebook is struggling to find a foothold in the ecommerce market?
Facebook has seen a number of commerce executive departures in recent months, including Eddie Garcia, who left his position as Head of Commerce to take over as Chief Product Officer at eBay.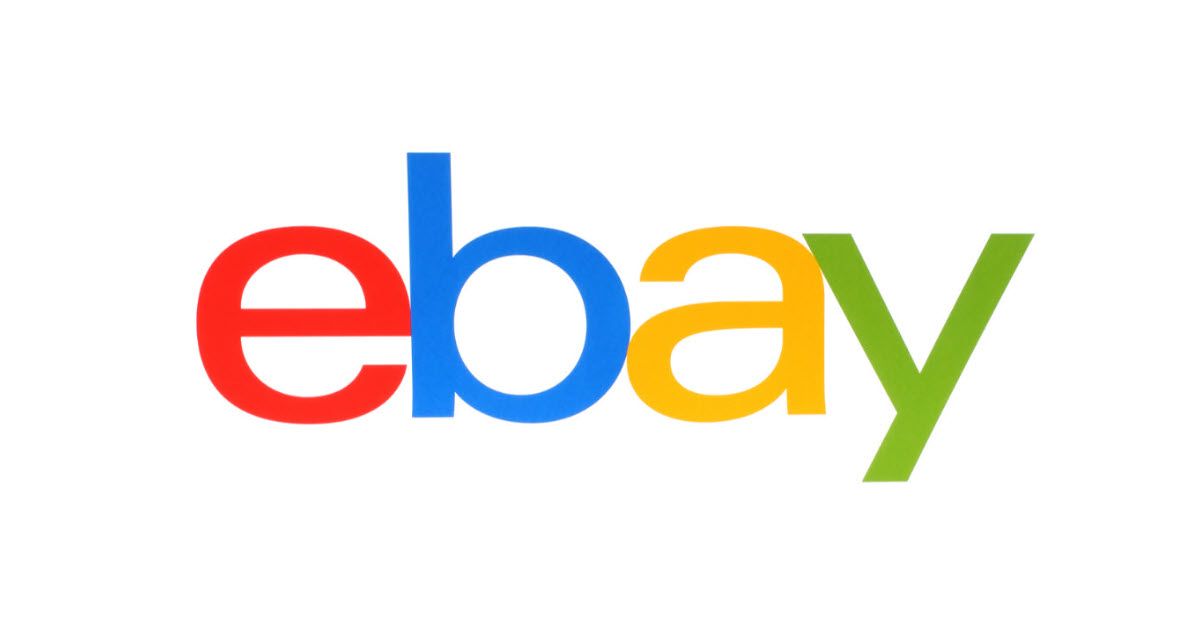 However, they've also made some gains like snagging ex-eBay VP Buyer Experience Product & Engineering Mohan Patt who brings over 16 years of institutional product knowledge from one of the largest online marketplaces in the world with him. Will eBay's loss be Facebook's gain?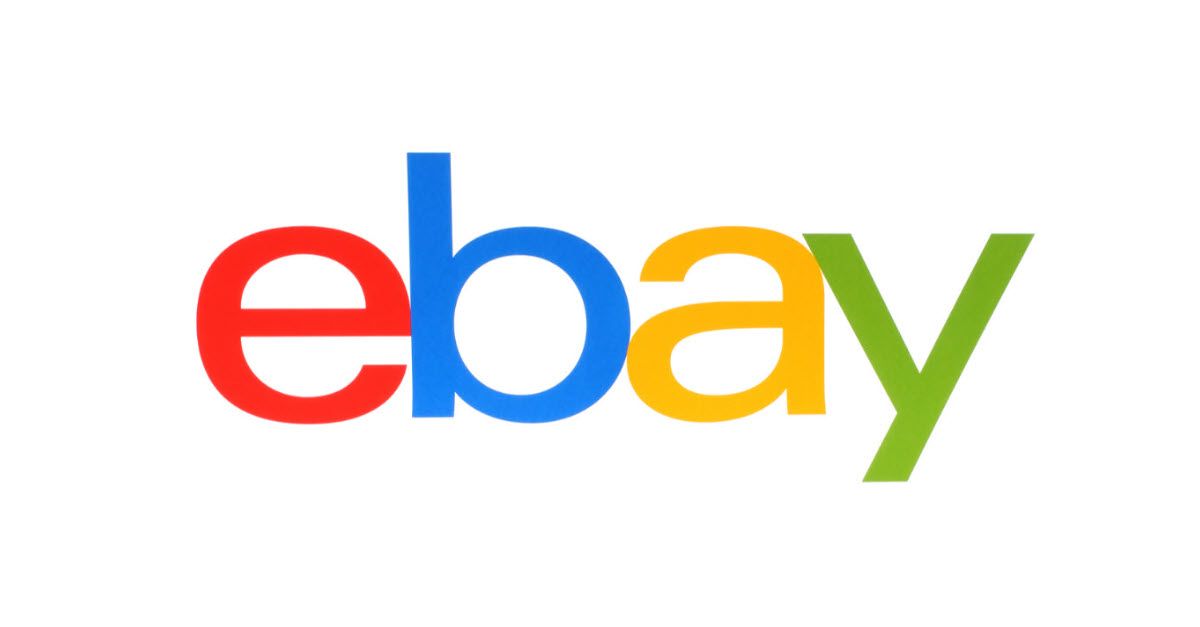 ---
Facebook Marketplace has also received mixed reviews on both the buying and selling experience with the most common complaint being lack of support and communication.
Sellers have complained about account suspensions with no explanation, holds on funds, technical difficulties setting up their shops and most importantly lack of support or protection.
Buyers' number one concern seems to be fraud and scams on the platform and again, they often cite a lack of protection and support when things go wrong.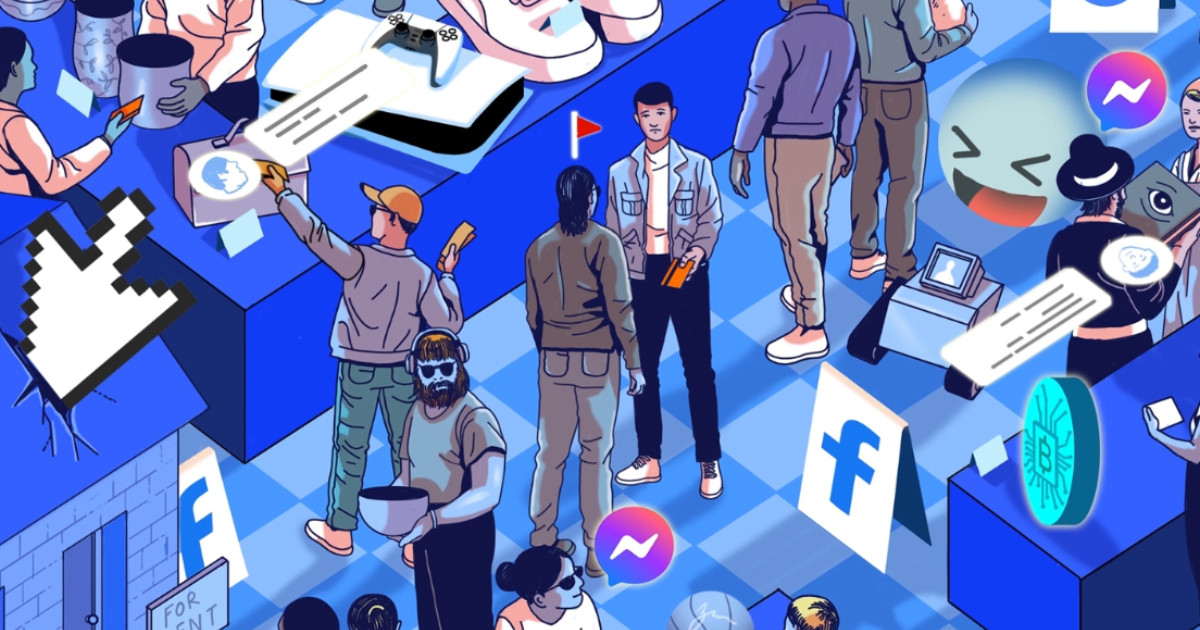 My take: Not only does Facebook need to invest in commerce from a technical perspective, they absolutely must step up their game in terms of customer service and protection for both buyers and sellers.
Waiving fees may be a good way to get sellers in the door, but if they don't like what they find once they step through that door, they won't stick around - especially if they face greater risks of fraud or if navigating the selling experience is cumbersome or buggy with no real support offered.
---
Do you buy or sell on Facebook Marketplace? I'd love to hear about your experiences - let us know in the comments below!
---