Facebook Marketplace Plans Catalog Quality Webinar
Facebook / Meta for Business is on a roll, stepping up to the plate with an eye to take a larger piece of the B2C ecommerce pie in 2022.
Catalog Quality Webinar



Join Meta's Catalog experts Nicole Murphy and Karim Bachir as they discuss the importance of having a high-quality product catalog. In this webinar, the Meta team will share best practices for building your catalog with examples of how you can activate for your business.



Webinar agenda:
• Understanding catalog fundamentals
• Learning how to build a high quality catalog
• Best practices for building your catalog
• Q&A session with Meta Catalog experts



Date: Wednesday, January 26th
Time: 11am PT | 1pm CT | 2pm ET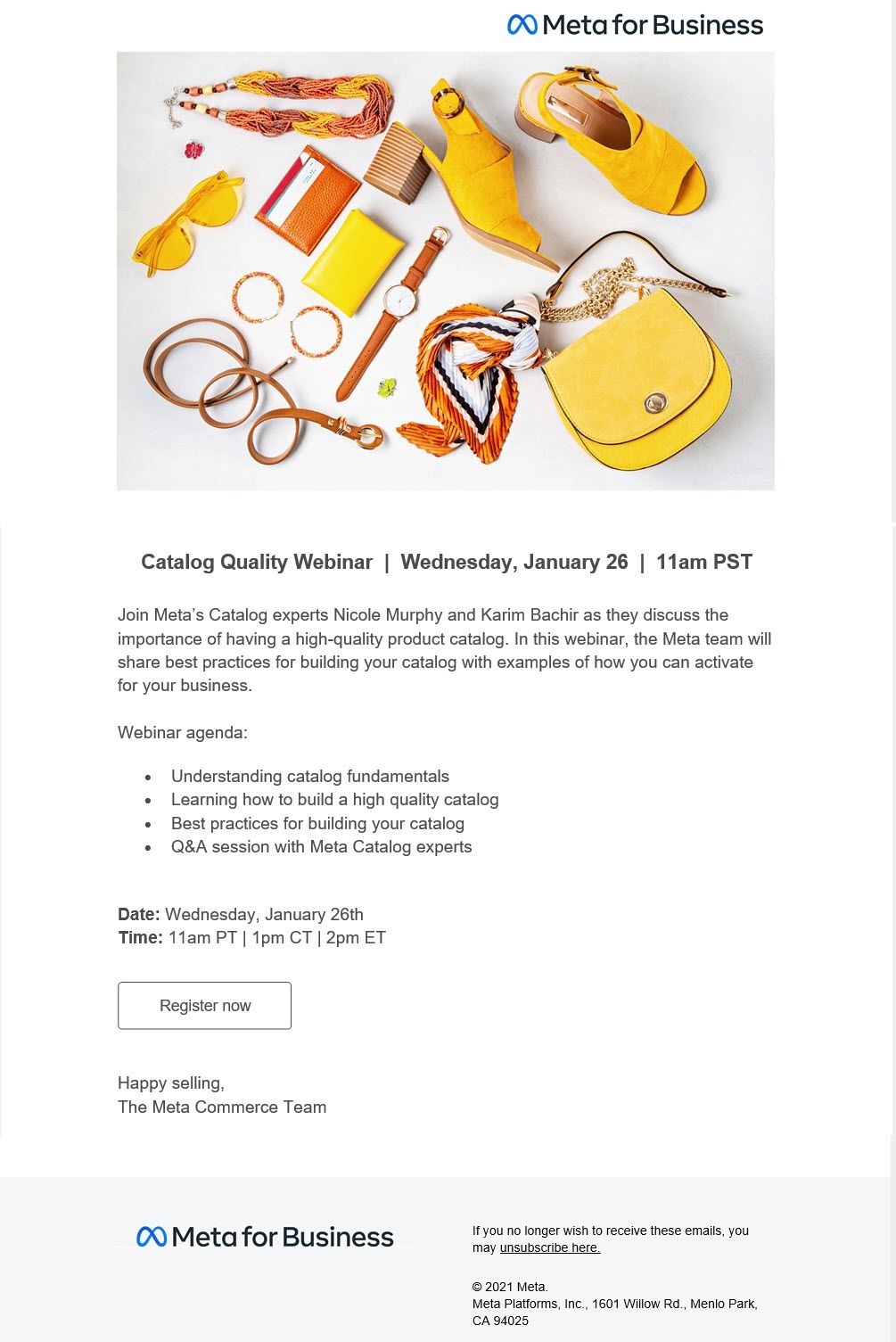 Interested sellers can register here.
WEBINAR details



While Instagram and Facebook are great platforms for selling to a large and unique audience, the first step in succeeding as a seller is to develop a high-quality catalog. A strong catalog can help build interest around your offerings, connect with your customers and generate sales.



Join us on Wednesday, January 26 for a webinar led by Meta Catalog experts as they discuss tips on optimizing and managing your product catalog, followed by a Q&A session.



From understanding the best methods to upload products for your business, to including the right details across categories and images, our Meta Catalog experts will show you how to build quality catalogs quickly and effectively.
It looks like they are planning webinars in February for Shoppable Media and Commerce Manager Insights as well.
WEBINAR details



Join us on Wednesday, February 9th to learn how shoppable media can help improve your business's performance and visibility to new and repeat customers.
WEBINAR details



Join us on Wednesday, February 23rd to learn how commerce insights manager plays a huge role in driving your business forward.
---
FidoMaster also shared with us this screenshot of Facebook's newly revamped seller dashboard, making it clear that Facebook is working to improve the tools and capabilities offered to entice more sellers to their marketplace.

---
I'd love to hear from sellers using Facebook Marketplace - how is it working for you and what tools/experiences do they need to bring to the table to win more of your business?
Let me know in the comments below!
---