Etsy Introduces New Purchase Protection Program
Etsy has unveiled their new Purchase Protection Program, making a big investment in enhancing trust on the platform for both buyers and sellers.
Starting August 1st, eligible orders up to $250 USD will now be covered by Etsy if the package is lost or damaged in transit (limited to once a year).
Earlier this year we let you know that we'll be investing in our continued growth to help bring you more buyers, and keep Etsy a beloved and trusted marketplace. Today, we're excited to announce a new program that directly invests in our sellers: Etsy Purchase Protection.



With this new program, for qualifying orders up to $250 USD (or the equivalent of your local currency) including shipping and taxes, Etsy will refund buyers and you'll keep your earnings if:



A buyer never received their package (for example, if it was lost in transit)
Their item arrived damaged (for the first instance per calendar year)

Also, if a buyer's item matches the listing description and photos, but they claim it does not, you will not be responsible for this.
Learn more from Etsy COO Raina Moskowitz:
According to TechCrunch, Etsy says they are investing at least $25 Million per year in the new program.
The company says it also plans to invest at least $25 million per year into the the purchase protection program to cover refunds on behalf of sellers for qualifying orders up to $250, at no additional cost to sellers. Etsy notes that the investment will enable sellers to keep their earnings from sales when things happen outside of their control.



"Easy issue resolution is a critical part of the e-commerce shopping experience, and our new Etsy Purchase Protection program aims to help make shopping on Etsy even more worry free," said Etsy COO Raina Moskowitz in a statement. "This program will help buyers feel more confident when they shop from small businesses on Etsy, while we invest directly in our sellers to provide them an important layer of assurance."
---
FAQ
Q: What do sellers have to do to be eligible for Etsy Purchase Protection?



A: Sellers don't have to take any action to participate in Etsy Purchase Protection. Your orders just need to meet the program eligibility criteria, including:

Have valid tracking information and/or have been shipped using a shipping label purchased on Etsy. In countries where shipping labels are available, purchasing a shipping label on Etsy is a great way to help ensure your order's eligibility.
Have an estimated delivery date.
Be shipped on time (within your stated processing times).
Be packaged carefully before shipping.
Use accurate photos and descriptions within the item listing.



See the full list of eligibility criteria here.



Q: Does Etsy Purchase Protection cost sellers anything?



A: Sellers don't need to pay anything to participate in Etsy Purchase Protection. While we believe the criteria outlined above follows best practices for packaging and shipping your items, participating in Etsy Purchase Protection is completely optional.



Q: What if my order is $250 USD (including shipping and taxes) or more?



A: Orders over $250 USD are not eligible for Etsy Purchase Protection. Etsy Purchase Protection eligibility is based on the full order amount and does not apply to partial amounts of orders. For example, an order of $300 would not be eligible for Etsy Purchase Protection. Because of this, we strongly recommend purchasing insurance when fulfilling your orders over $250.



Q: What does Etsy Purchase Protection mean for buyers?



A: With Etsy's Purchase Protection program, buyers will get a full refund if their item doesn't arrive, arrives damaged, or isn't as described. We've heard from buyers that trust is an important factor that drives their decision making. We want them to shop confidently on Etsy knowing that if something goes wrong with their order, they can easily get the help they need. Etsy's Purchase Protection program is not an insurance policy, a warranty, nor a guarantee. We believe Etsy Purchase Protection will give buyers more peace of mind, and could result in increased orders to your shop. And for sellers, we want to help your business run with more confidence on Etsy–especially when something happens that is outside your control. Learn more about the buyer program here.



Q: Is Etsy managing buyer fraud?



A: Yes, we'll monitor for buyer abuse of Etsy Purchase Protection to protect the seller community. Buyers who abuse the program could lose access to Etsy Purchase Protection.



Q: How does Etsy Purchase Protection work?



A: Learn more here.
---
I did find one apparent point of conflicting information between the various pages the announcement references.
The Etsy Community announcement indicates sellers will not be responsible for claims that the item doesn't match the listing description.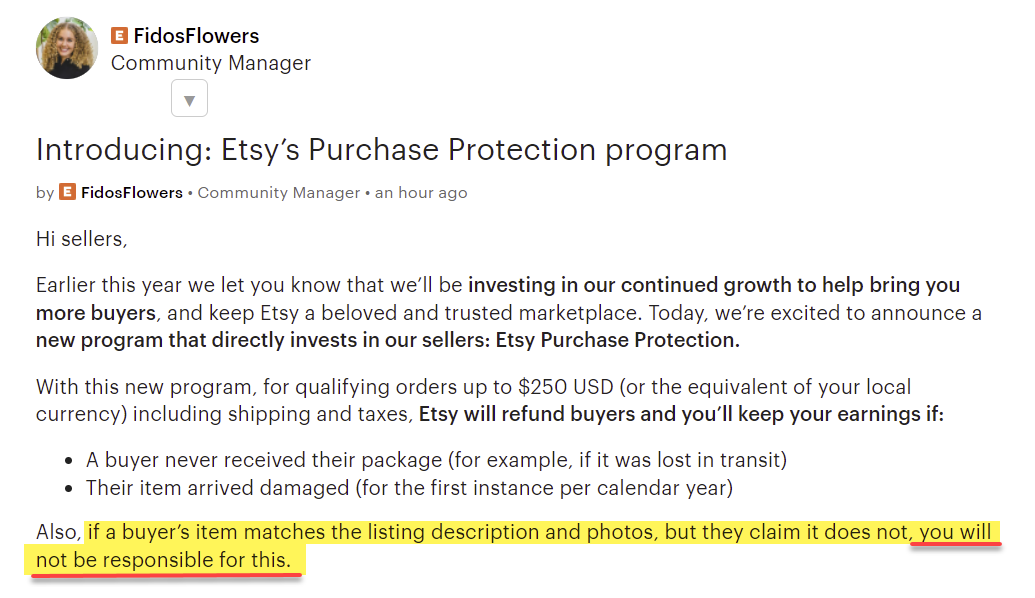 However, the full article in the Seller Handbook specifically states that sellers will be responsible for those claims, even if they follow the Purchase Protection Program criteria.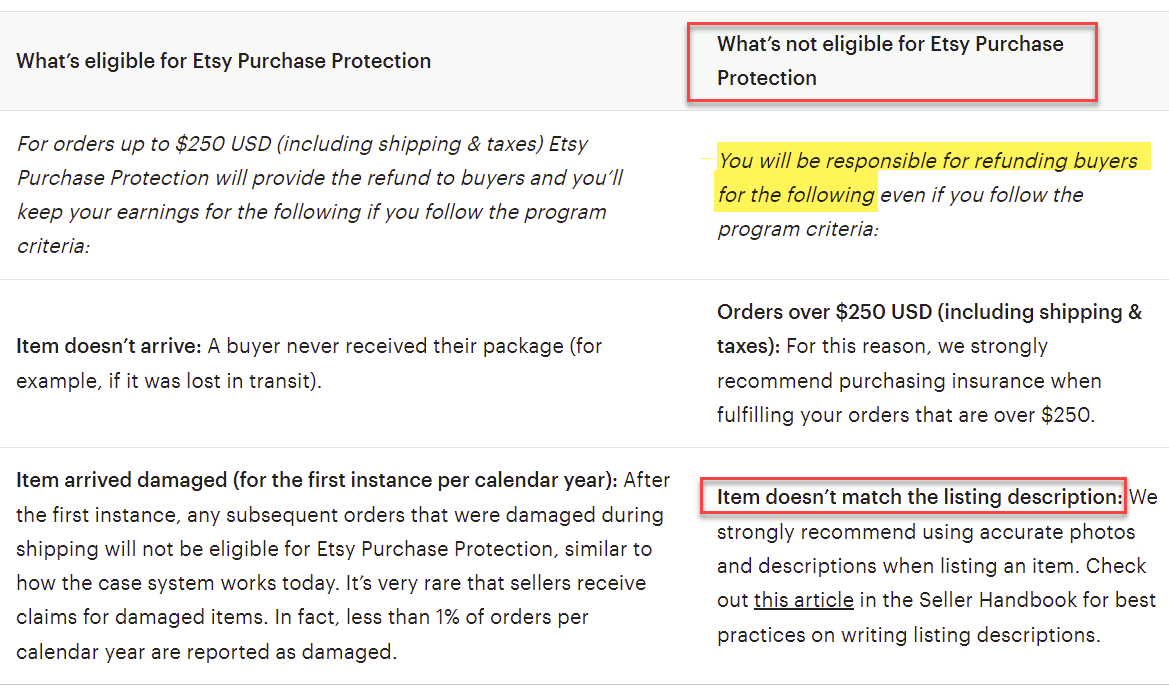 I've reached out to Etsy for clarification, but in the mean time I would advise sellers to assume the handbook is correct and this new program does not cover item doesn't match claims.
---
Although Etsy has been very cautious about addressing the Etsy Seller Strike in April directly, the purchase protection program and recent updates to the Star Seller program may be at least partially in response to the attention that movement gained.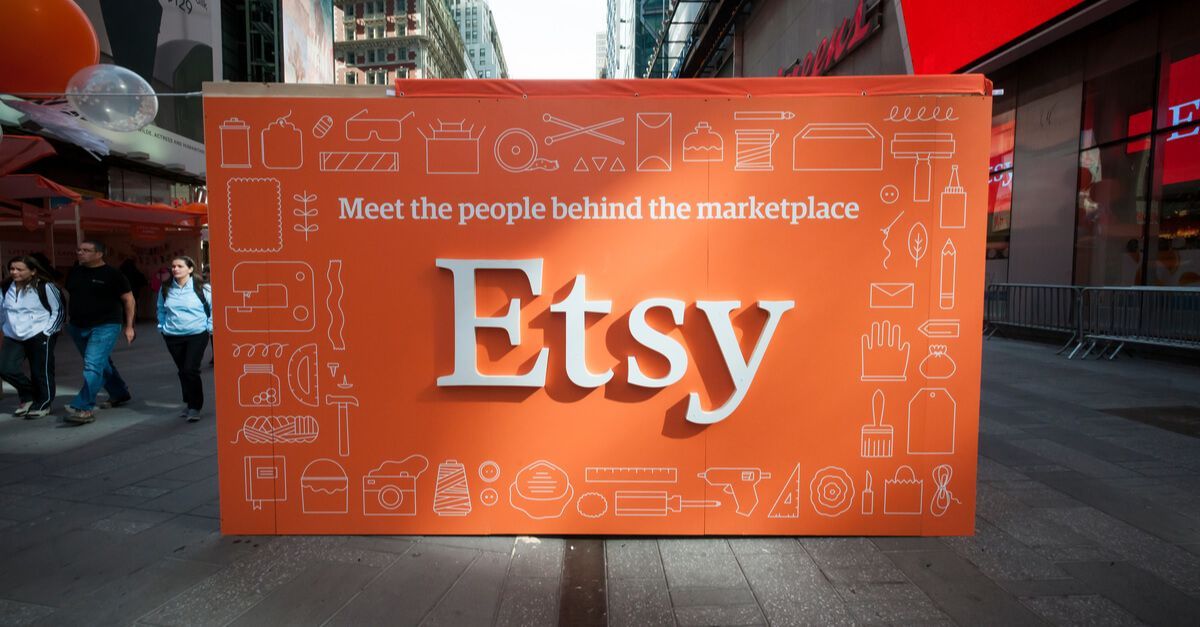 ---
What do you think of the new Etsy Purchase Protection Program? Does it go far enough to provide protection for both buyers and sellers? Let us know in the comments below!
---