eBay Winter Seller Update 2023 - More Fees...And Not Much Else
eBay's Winter 2023 Seller Update may as well simply be called the Winter Fee Increase, there's really not much more to be said.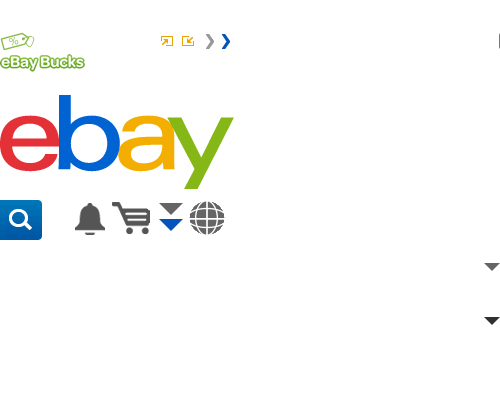 Final Value Fees will be raised 0.35% in many categories effective February 15.
What happened to giving sellers a minimum of 30 days notice before significant changes?
At least they've finally figured out how to give us a side by side comparison in a digestible format. 😂
Final value fee changes
Starting February 15, 2023, final value fees will increase in some categories. The maximum increase any category will see is 0.35%. Some categories will remain unchanged, including Jewelry & Watches and Women's Bags & Handbags.
New fees for non-store and starter store sellers: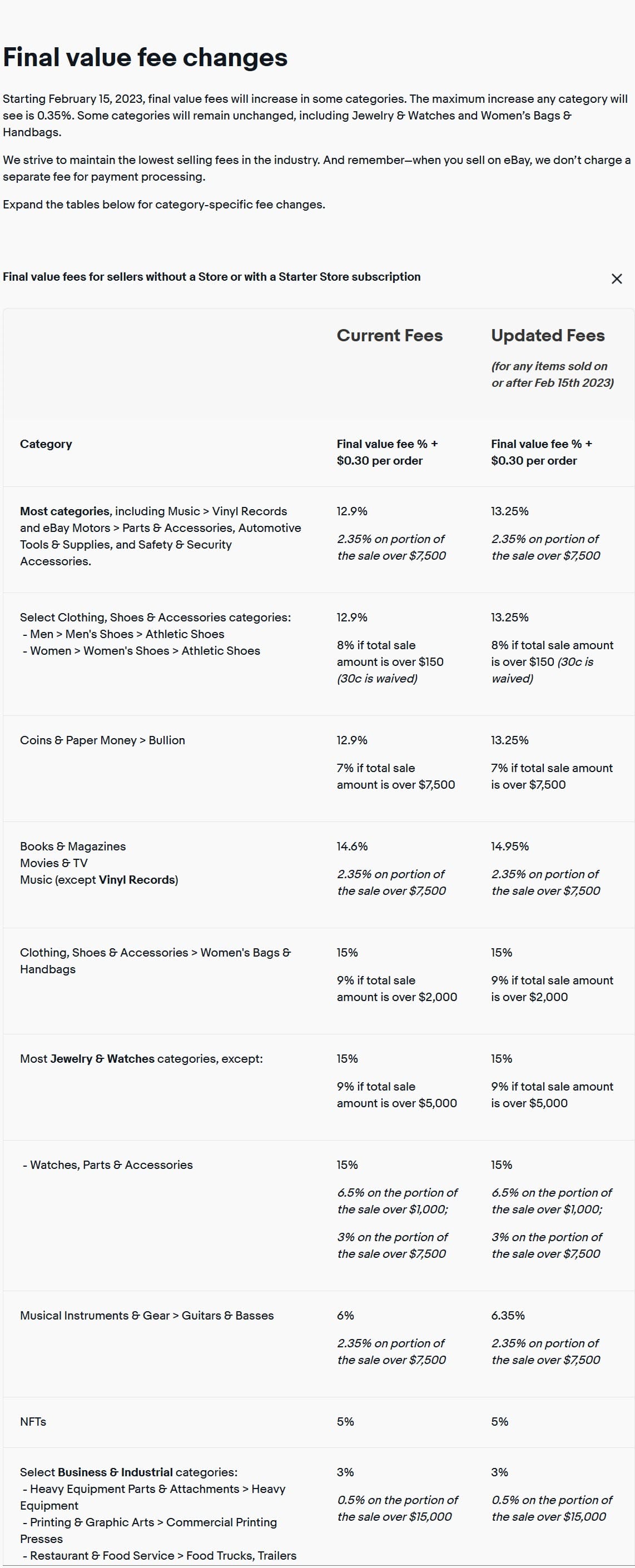 New fees for Basic Store subscription and above:

---
eBay will also be expanding the reasons/situations where they will refund the $0.30 per transaction fee to include remorse returns where a full refund is issued.
Expanding our per-order fee credit
Last year we announced that we'll give your $0.30 per-order fee back to you when you approve a buyer's cancellation request before you ship your item.



Based on positive feedback we received from sellers, we're expanding the per-order fee credit when you provide excellent service to the buyer by issuing a full refund. Starting February 15, 2023, when a buyer returns an item for any of the following reasons, we'll extend the $0.30 credit for returns that you voluntarily refunded.



Ordered by mistake
Don't like it
Changed my mind
Doesn't fit
Found a better price



We'll also credit the $0.30 per-order fee when you issue a full refund of the order through the Send refund flow.
There was some confusion in the community discussion threads about what exactly was meant by a "full refund."
The seller team originally said shipping would also have to be refunded but then corrected themselves to say only a refund of the full item price would be required.
------- EDIT to correct info.
For a remorse return, if the seller refunds the buyer through the returns flow and deducts shipping from that remorse return, that is considered a full refund and is also eligible for the $0.30 fee credit.
---
Other than that we get a very vague non-update "update" about the new eBay International Shipping that was introduced in September.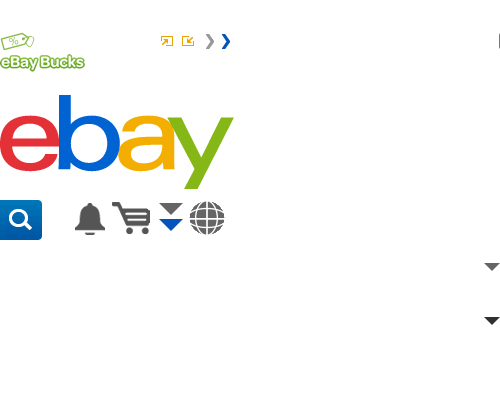 eBay International Shipping continues to roll out
We handle the logistics for you and waive the International fee for sellers



eBay International Shipping is a new shipping service that removes the challenges and complexities associated with international shipping for US sellers. eBay International Shipping allows you to reach more buyers hassle-free—with no International fee for sellers.



eBay International Shipping keeps all of the benefits of the Global Shipping Program that you're already familiar with, such as shipping to a US hub. Now with eBay International Shipping, once your item is at our hub, you will receive enhanced protections against claims like "Item not received," chargebacks, and negative or neutral feedback.



Sellers will continue to be enrolled in phases over the next few months. You'll be notified via email and Seller Hub when you're eligible.
And an even more vague non-update "update" about Immediate Pay on Offers - a feature eBay has been testing since October 2021. 🤦‍♀️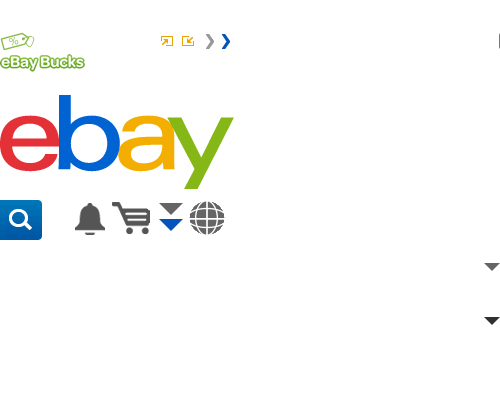 We're continuing our progress toward eliminating unpaid items for Best Offer listings in the US


We understand the frustration of not getting paid after you've done everything right. You've created a great listing, waited for the right offer, and quickly accepted the Best Offer—only to have the buyer fail to return and pay.



You've heard us talk about our commitment to eliminating unpaid items. We've been testing different ways to solve this problem, starting with Best Offer listings in the US. The first phase of changes to Best Offer is already live for a significant number of buyers, who now have to provide a payment method up front before submitting an offer.



We're continuing to fine-tune and expand how we protect you from unpaid items. Our goal is to extend the new experience to all buyers who submit Best Offers, first in the US and later across more eBay markets.
As part of the Spring Seller Update in April 2022, sellers were told "later this year (2022)" there would be added functionality to address concerns about Immediate Pay on Best Offers preventing multi-item orders.
Later this year, buyers will be asked to pay when accepting a seller's Offer to buyer or a counter offer. We'll also introduce a new feature that lets buyers request a bundled offer on multiple items.



This multi-item offer to buyers can be completed in one transaction. Sellers will be able to issue an offer for multiple items that they sell and then conclude in one transaction. These changes will reduce operational costs and unpaid items, and you'll have more control and confidence to make better business decisions.
That functionality still hasn't been introduced and today's announcement made no mention of it nor did it provide an updated timeline for when sellers can reasonably expect to see it happen.
So not only is there nothing new to report for Immediate Payment on Offers, but once again a promised feature has been quietly placed on the backburner indefinitely with eBay simply hoping no one would notice.
---
We continue to look for ways to improve our marketplace to help you manage your business more efficiently, accelerate your sales velocity, and bring more buyers to you. For example, we recently launched spendable funds, a new way for you to pay for items on eBay using proceeds from your sales, and introduced additional payment options for higher priced items.



To help support changes we're making to our marketplace that benefit all eBay users, we're increasing some final value fees. At the same time, we're decreasing the cost of some optional listing upgrades that give buyers more purchase options and make it easier for you to manage your listings.
"To help support changes we're making to our marketplace that benefit all eBay users" - what changes eBay?!
I certainly don't see anything that adds significant value that "benefit(s) all eBay users" to justify this fee increase. Am I missing something here? 🤨
Let me know what you think of the eBay Winter Fee Increase in the comments below!
---