UPDATE 7-28: eBay has made this new section public now and released some more details about how the pilot will work.
It looks like it will partly be a popularity contest with community members voting for topics that dedicated category specific community staff will respond to on a monthly basis.
About Voices: for Collectibles

This forum is for Collectibles sellers to share category-specific ideas for improvement with the Collectibles Category Manager. All sellers are able to 'like' other sellers' posts, but only Voices Sellers are able to post. On a monthly basis, the Category Manager will respond to the most popular ideas–so be sure to 'like' posts that resonate with you!
It's not clear how community members can qualify to become "Voices Sellers". I understand the category managers/teams may have limited time to devote to answering, so it makes sense to have a way for them to identify the top issues to focus on, but if submissions are going to be restricted to only approved members posting, that could lead to "tunnel vision" and limited insight and feedback being provided.
---
It looks like eBay is rolling out a new section of the community forums geared toward building a platform for sellers to share insights and feedback directly with eBay teams in certain categories.
In this first glimpse,  it appears the pilot program will be using the Collectibles category to start.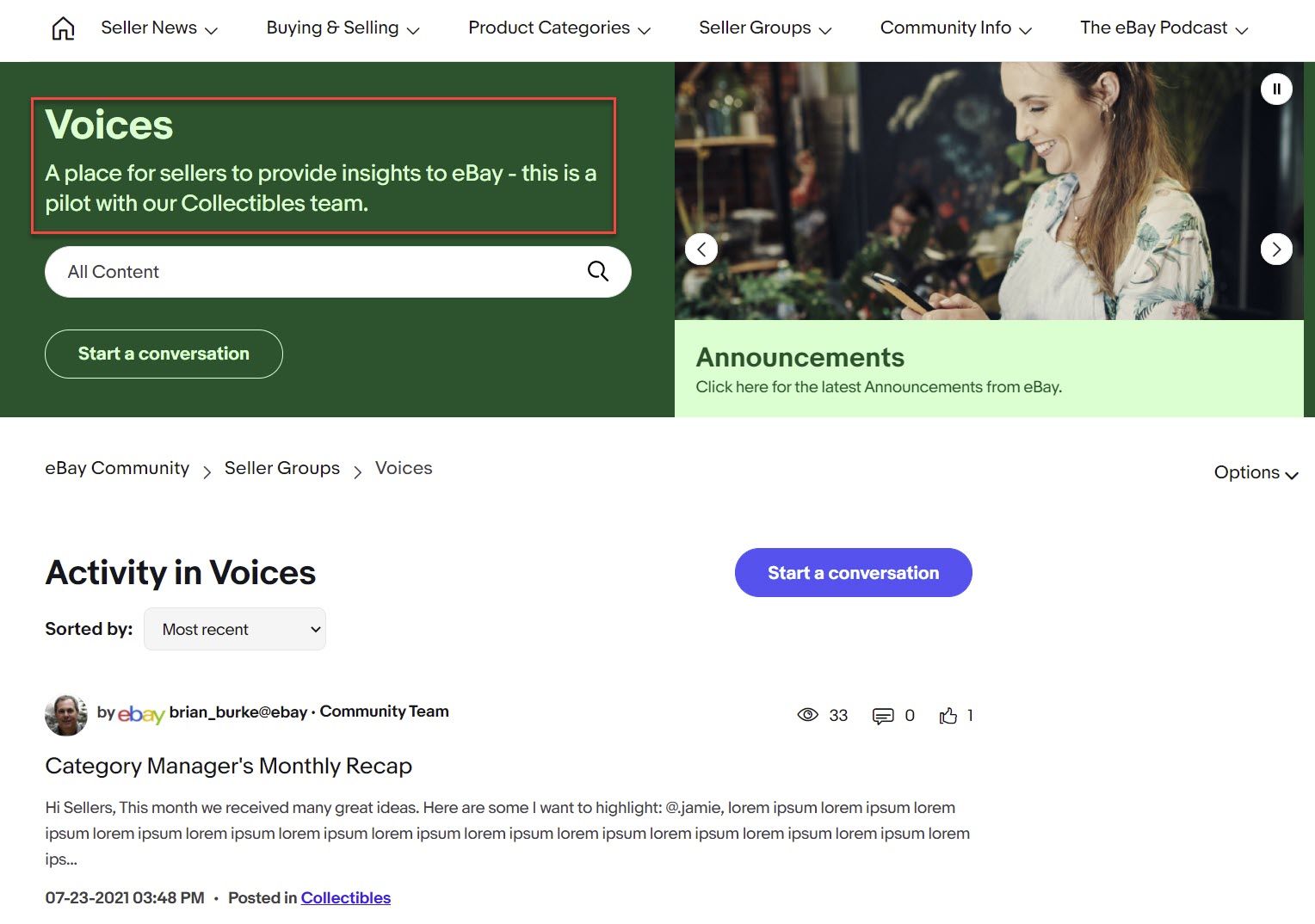 ---
Many long time community users have noted a trend toward less official eBay presence and involvement in the forums lately, so I'm glad to see this trend may be reversing.
There's also been frustration expressed in the weekly chats as the staff on hand is often not able to address many specific concerns or questions, instead passing them on to appropriate teams.
Users have often requested to have members of those teams join a topical weekly chat  to be on hand to provide more in depth answers, but the community team has not been very successful in arranging to fulfill those requests.
If this new section of the community is going to provide access to appropriate eBay teams for sellers to communicate insights and feedback to on an ongoing basis, that would be a huge step in the right direction!
Hopefully this is a sign of things to come with increased and improved pathways for sellers to work directly with eBay teams empowered to action the insights and feedback they receive.