eBay Courts Cash-Strapped Brits With ReSELLution New Seller Promo
eBayUK is looking to capitalize on the cost of living crisis to bring in new sellers to the platform with their New Year's ReSELLution campaign.
New research from eBay UK finds surveyed Brits have £184 on average to see them through from Boxing Day to January payday, £5.26 of disposable income daily.



A third of respondents (29%) are setting savings goals and one in five (20%) are selling items online to generate some extra cash. Almost half of the Brits surveyed (44%) are making New Year's resolutions around saving money, as inflation and the cost of living continues to bite.



To kick start 2023, eBay UK is encouraging people around the country to join the ReSELLution, to help people declutter unused items from their home and boost their bank balance to fund life's needs. This comes after research, carried out by Opinium, found the average household believes they could make £477 by selling items they no longer need.



For the month of January, those making their very first sale on eBay will not have to pay selling fees on that listing, making the barrier to sell easier and encouraging people to join the ReSELLution movement.
eBayUK has launched a landing page for the promotion, offering suggestions for in demand items to sell and tips for getting started as well as details about the offer for no fees on the first listing and a chance to win a £500 eBay voucher.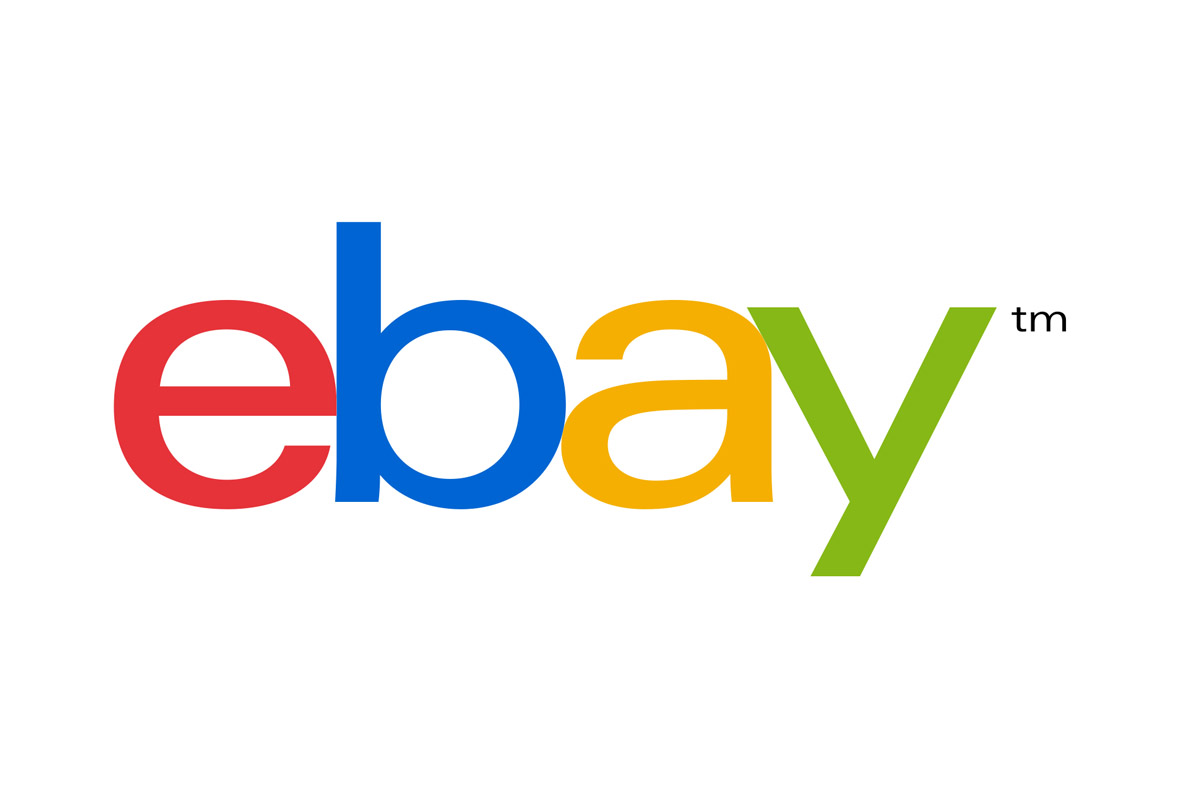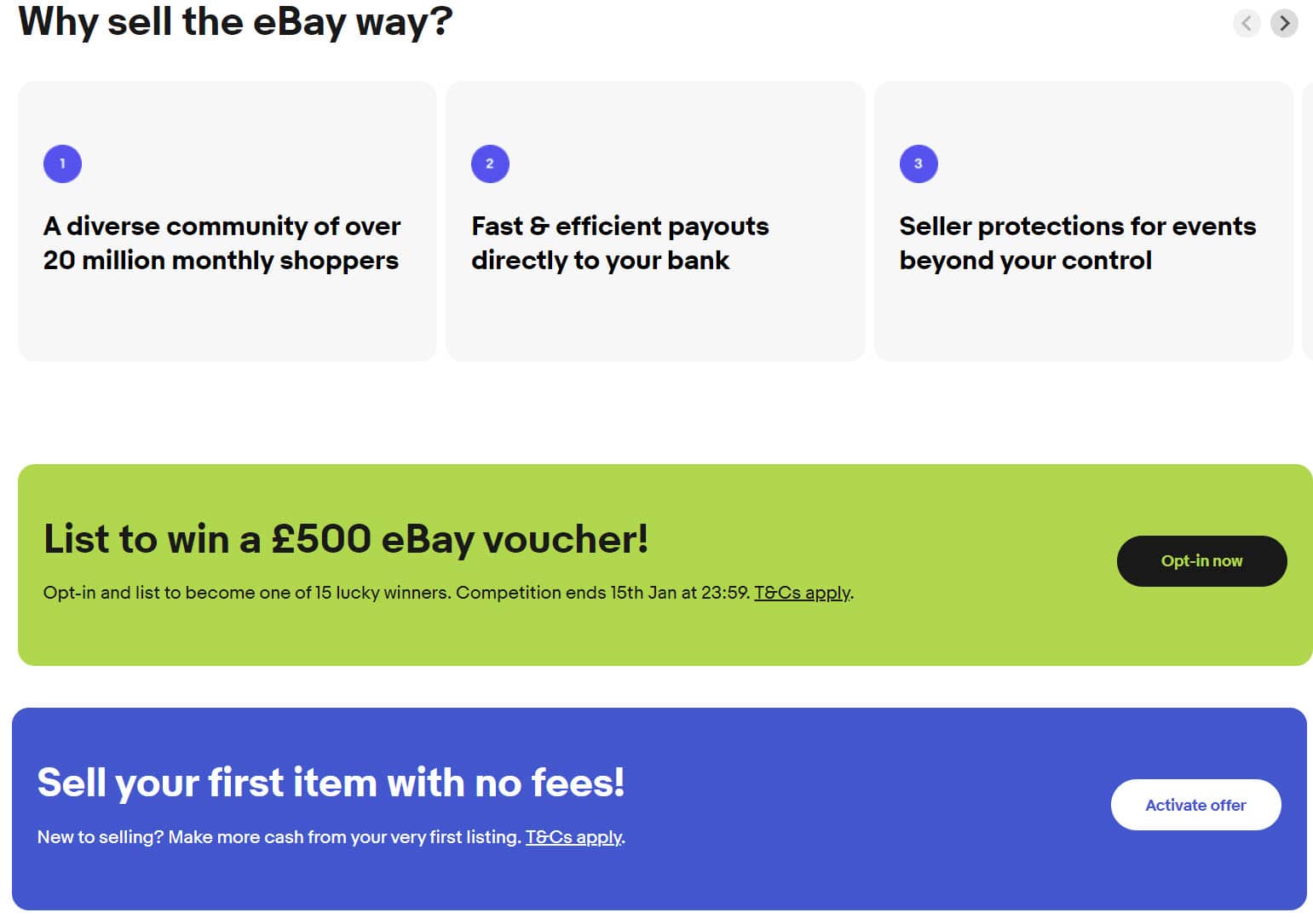 As always, check those terms and conditions carefully! It looks like it's limited to private sellers only, only open to new or reactivated sellers and only on single quantity listings.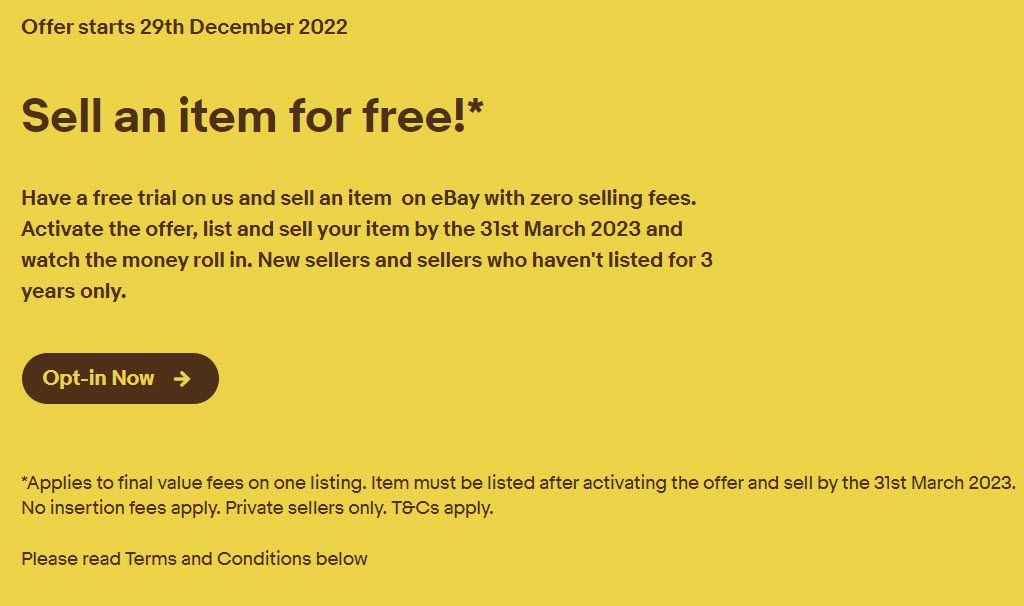 eBay.co.uk registered private sellers who have never listed previously or not listed in the last 3 years and have actively opted in to the Promotion via the RSVP link shown in the marketing communication during the Promotion Period. Participation is linked to the seller's account and is not transferable. Sellers must have a UK shipping address.



How do I get the promotional rate?

You must have actively opted in to the promotion via the RSVP link shown in the marketing communication.
The Promotion is valid for the first sale during the Promotion Period on eBay.co.uk using the auction-style, auction-style with Buy it now option, or fixed price formats, in an eligible category. Listings using the auction-style with Buy it now option will be charged only the listing upgrade fee.Listings must be created after activating the offer.
Only sellers whose accounts meet eBay minimum seller performance standards are eligible. Please sign in to My eBay and view your seller standards dashboard to verify whether your account is currently meeting the standards. The seller standards dashboard is available to all sellers here.
If you registered after 15 March 2011 or haven't listed any items for a while, you may have a listing allowance of 10 items per month or of £650 per month, whichever is reached first. You may be able to increase this allowance by providing additional verification.
An eligible item previously scheduled to go live during the Promotional Period will qualify for the Promotion only if you have opted in to the Promotion before the listing starts.
If an item qualifies for the Promotion and when the item sells, the invoice will indicate the fee including the discount. Please note: if the item does not sell during the Promotional Period, or is not the first item sold, standard final value fees will be charged according to the eBay fees policy when the item sells.
Items that are automatically relisted through the Automatic relist function or the Good 'Till Cancelled function will be charged.
Only single quantity listings are eligible.
For items listed in 2 or more categories, only the insertion fee for the first category is included. Standard insertion fees will be charged for listing the same item for each additional category, according to the eBay fees policy.
Your first listing period may vary and is dependent on the listing format you choose (e.g. – auction-style vs buy-it-now), the duration of the listing you choose and the listing experience you use. The first listing period will be considered to have been ended when the listing you create first renews or relists.
---
It's disappointing, but not surprising, that eBay is marketing specifically to new casual sellers with this promotion but not being overly transparent about the fact those sellers will likely face 14+ day holds on funds for those first sales - which could pose a particular hardship for sellers who sign up in response to a pitch about reselling their used items to help pay the bills during tough economic times.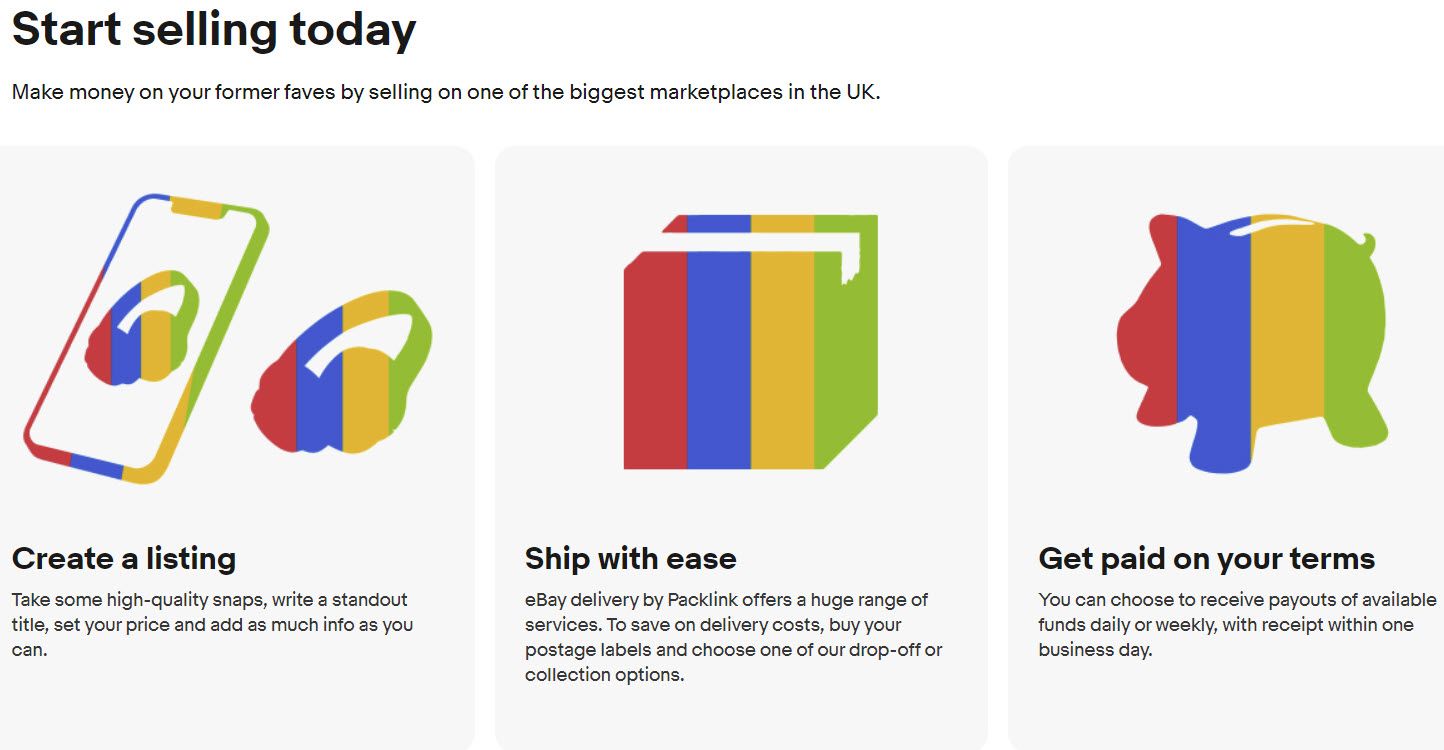 Get paid on your terms? Really eBay? 🤦‍♀️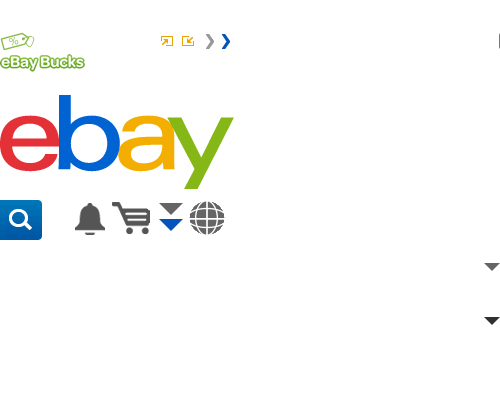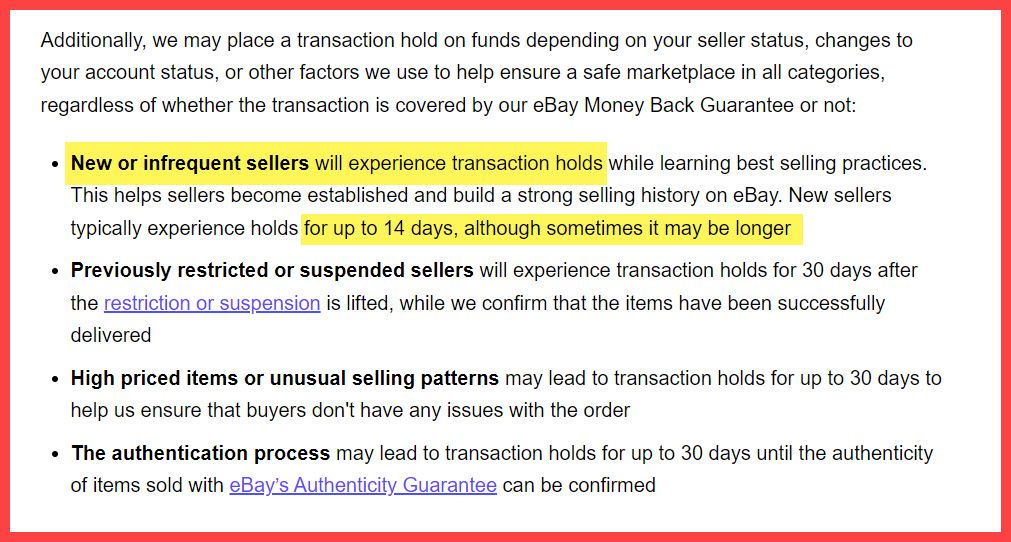 To make matters even worse, eBayUK still doesn't allow sellers to pay for shipping labels from pending sales proceeds, so sellers must pay to purchase the shipping label upfront before the funds are released - an expense that someone with only £5 per day in between paydays is not likely to be able to easily afford.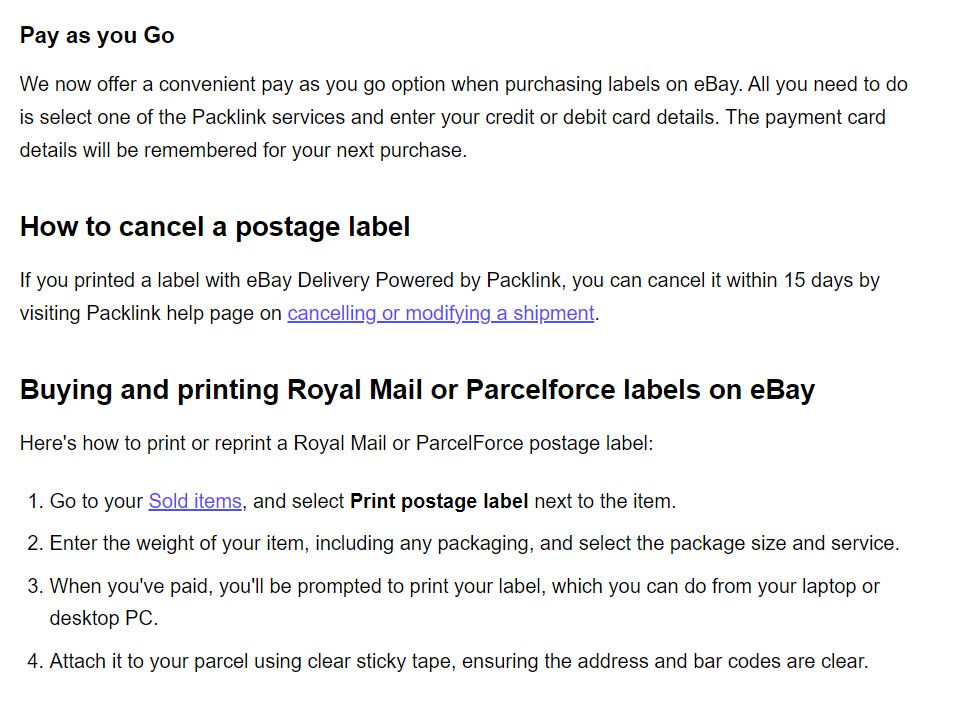 ---
I also can't help but note that specifically targeting new or reactivated sellers is a self-serving move on eBay's part.
When eBay reports quarterly financial results, in addition to Gross Merchandise Volume (GMV), they will also typically report the number of global active buyers, and (sometimes) number of global active sellers.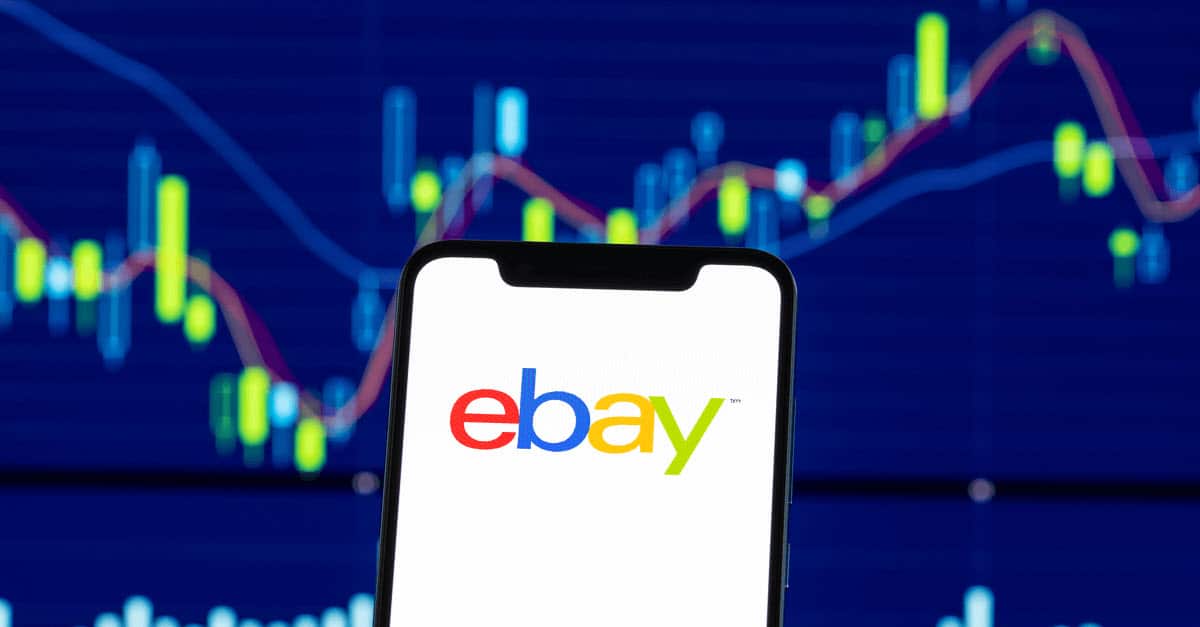 eBay has been hemorrhaging active buyers for multiple quarters in a row - in Q3 2022 they were down to 135 Million, which is even less than the 141M buyers they had in Q1 2018. 😲
They have been less consistent with reporting active seller numbers. For many years they did not include it in quarterly reports, then throughout the pandemic they consistently did report it every quarter there was growth.
Q1 2021 it was at 20M, Q2 2021 it fell to 19M, Q3 2021 it stayed flat at 19M, and Q4 2021 it fell even further to 17M, which did not get a positive reaction from Wall Street at the time.
eBay has not publicly stated active seller figures since Q4 2021, but I'd say it's a fair bet it is something less than 17 Million at this point - if the number had rebounded significantly, I'm fairly confident eBay would be crowing about it.
So what does this have to do with eBayUK's ReSELLution Promotion?
The definition of "active seller" is:
All sellers who received payment for a transaction on our platforms within the previous 12-month period.
Enticing new sellers or previous sellers who have gone dormant to sell an item on the platform with a no fee promo is an easy way for eBay to buy their way into a temporary "bump" in active seller figures that they can then count for the next 12 months...even if those sellers only ever sell one thing under the promo and then abandon the platform.
Considering the self-serving nature of the promo and the T&C limitations that severely restrict eligibility for the fee discount, this is certainly not effective altruism in action.
If they really want to help those feeling the pinch of the cost of living crisis, I'd suggest eBay should start with the sellers they forced to refund buyers for item not received cases due to delays from the Royal Mail strikes. 💸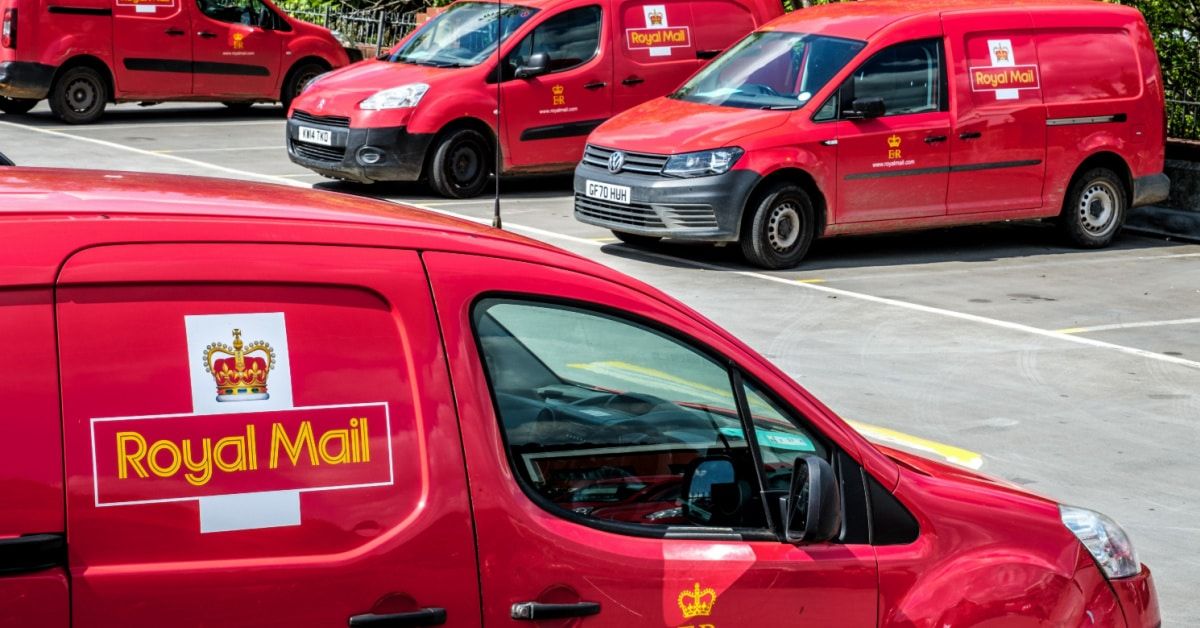 ---