eBay Pushes Personalization, Opens More Categories In US
Sellers report receiving unsolicited phone calls from eBay promoting the personalization feature rolled out last year which inserts a text box on eligible listings for buyers to enter custom information for personalized items.
Some sellers were suspicious the call may be a scam, others confirmed it did in fact come from eBay.
I recently received a similar call, and was eventually able to find out it was legitimate. I suspect this long overdue change to eBay making it workable for sellers to offer personalized items (at one time it was rather challenging, and these items often didn't show up in search results) is what prompted the calls.



This will allow eBay to try to be competitive with Etsy, who seems to have long dominated the personalization market among similar type websites. I think to try to make these changes profitable, they've been reaching out to sellers with a history of offering personalized items. I got off the phone fairly quickly from the call, though, after informing them I'm a Community Mentor, Expert Seller, and I actually do read the updates they send out, so I felt like I knew what I needed to about the changes.



It's interesting, though, that we're all so used to having difficulties reaching eBay when needed, that the idea of them contacting us seems so foreign that we immediately think "scam"!
---
The big push may be related to new categories added to the personalization program and the impending expiration of the 0% final value fee for personalized items promotion eBay has had running since November.
The Zero Final Value Fee promotion applies to items that have the Personalized item specific set to "yes" that sell during the promotion period which ends June 30, 2022 - check the full terms and conditions carefully.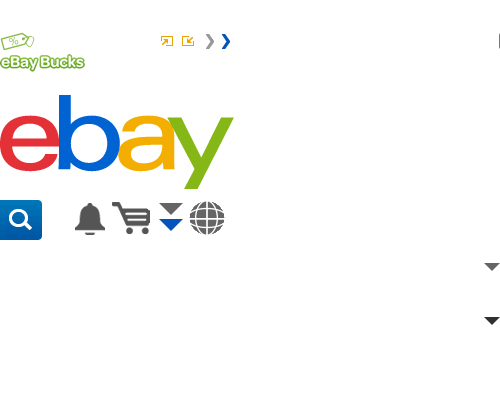 To qualify for the Promotion, items must be listed during the Promotion Period* with the Personalize feature set to "Yes" (*"Qualifying Listing"). Note: the Personalization feature is not available in all listing categories...



...Who's eligible?



This Promotion is available to Sellers who:

Received an invitation email and/or message in My eBay;
Create one or more listings with the "Personalize" setting under "Item Specifics" set to "Yes" and relevant personalization instructions provided; and
Meet eBay's minimum seller performance standards.



When is it?



The Promotion will begin on Thursday, November 4, 2021, and will end on Thursday, June 30, 2022 at 23:59:00 PT (11:59 PM plus 59 seconds), for listings on www.ebay.com (*the "Promotion Period").



How do I get The Promotion?



The final value fee discount will be automatically applied at the time of sale of a Qualifying listing. The $0.30 per order fee credit will be applied to your seller account within forty-five (45) days of the sale of a Qualifying Listing.
---
It also appears that eBay has added more categories to the personalization feature, though oddly I don't see that they made a specific announcement about it like they did when they expanded the program in the UK .
Originally in the US, personalization was only available in certain categories in the following areas:
Home & Garden
Clothing & Accessories
Jewelry
The eBay Item Specifics help page section on Personalization now says:
This option is currently available in certain categories in the following areas:

Antiques
Art
Baby
Books & Magazines
Business & Industrial
Cameras & Photo
Cell Phones & Accessories
Clothing, Shoes & Accessories
Coins & Paper Money
Collectibles
Computers/Tablets & Networking
Consumer Electronics
Crafts
Dolls & Bears
eBay Motors
Entertainment Memorabilia
Everything Else
Gift Cards & Coupons
Health & Beauty
Home & Garden
Jewelry & Watches
Movies & TV
Music
Musical Instruments & Gear
Pet Supplies
Pottery & Glass
Specialty Services
Sporting Goods
Sports Mem, Cards & Fan Shop
Stamps
Tickets & Experiences
Toys & Hobbies
Travel
Video Games & Consoles
Unfortunately, eBay has not provided a breakdown by sub-category within these categories - only some of them will have the Item Specific option for Personalization.
For example under Sporting Goods> Team Sports > Sports Awards > Trophies you can now use the Personalized Item Specific to provide the option for custom text for engraving, however trophies listed in a different sub-category may not have that option.
You'll also need to make sure your buyer communication settings are set to allow messages.

Once the listing is active it may take a few minutes for eBay to enable, but it should show a text box for the buyer to enter the personalized information which will then be sent to the seller in a message once the buyer places the order.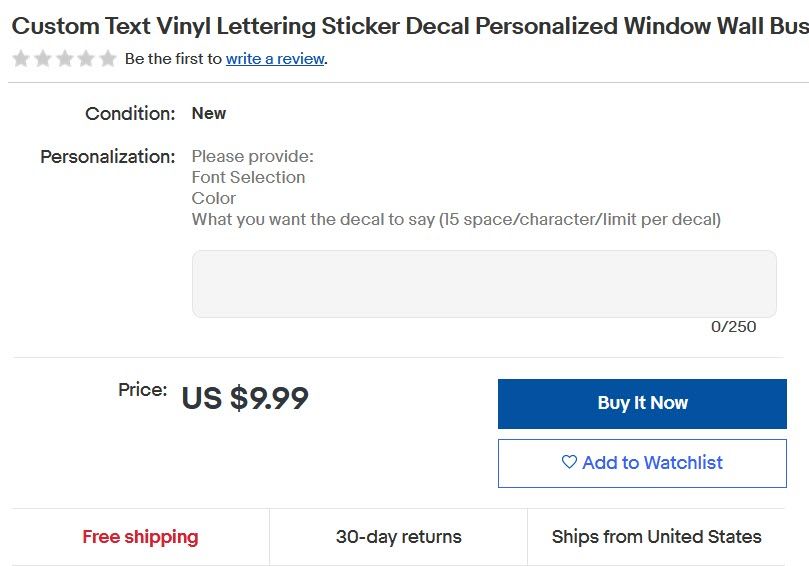 ---
When the personalization feature was first released, one serious downside was that eBay blocks messages containing personal information such as email addresses and phone numbers.
One seller of customized event invitations experienced problems because they need that information for the RSVP section of the invitation, but if buyers included it in the personalization message it was blocked and the seller received a message that said "we're unable to process the buyer's message, please reach out to the buyer."
I haven't heard much chatter either positive or negative from sellers about the feature, which suggest it may not be widely used despite being available in some categories for almost a year.
If eBay really wants to get sellers onboard, an announcement and easily accessible list of all sub-categories that are eligible would likely be more effective than random cold calls from unknown phone numbers.
---
Have you used eBay's Personalization feature as a buyer or seller? Let us know about your experience in the comments below!
---