Problems With eBay On Demand Payout, Spendable Funds
UPDATE 11-13-22
Sellers are reporting today that on demand payouts either to bank account or debit card are not working. I've had 3 reports so far, all using different banks, so it appears likely to be an issue on eBay's side.
In this case, the option to request the payout is available like usual, but after requesting the payout, the seller receives a message saying "We returned your payout to your available funds."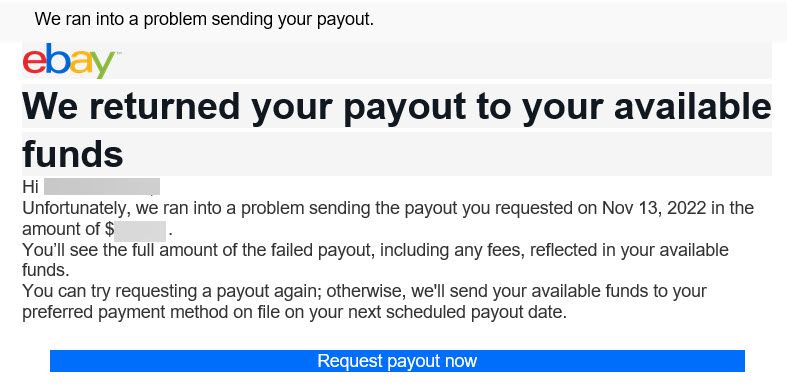 I've reached out to eBay to see if there is an open technical ticket about this issue and will update once I have more information.
If your eBay on demand payouts are failing, let us know in the comments below!
After a gentle nudge, eBay has finally added the current payout issue to the System Status Page.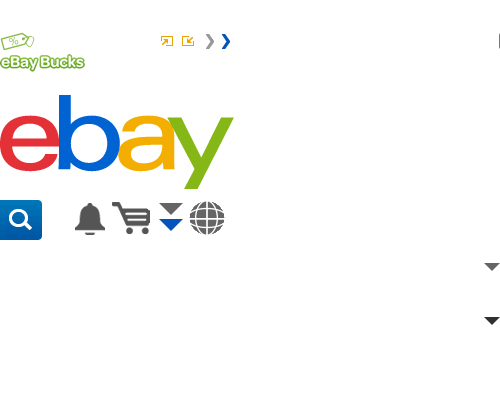 UPDATE: eBay has sent out a notice advising the issue has been fixed.
---
UPDATE 8-1-22
A very helpful commenter says if you are experiencing the problem with on demand payouts to a debit card, as a temporarily solution you can remove the debit card for payouts to revert back to using your bank account only.
Just in case you want to know, you can cancel this process by going into your payment methods and delete the card that your trying to use for the expedited payouts, this will cause the system to revert back to the old account that you were receiving payouts with.
---
UPDATE 7-28-22
It looks like the issues also extend to the Spendable Funds feature which allows sellers to use sales proceeds for purchases on the site.
Same issue. Even though I signed up to be able to use my funds to shop on eBay and set up the two factor authentication, everytime I go to check out and choose "pay with my spendable funds," then respond to the verification text from eBay with the pin they send, I then get a message that I should "choose a different payment method." It gives me no reason, just won't let me use the funds. I have tried several times and it never works. Idk why I even hassled with the enrollment in "pay with spendable funds" if I can't actually do it.
I think it's a problem that just came about today. I have been using spendable funds for a few months now, most recently on Monday 7/25, with no issues. I won an auction this afternoon though and tried to pay like always, and I am getting the same error message that you are getting. I think it may be a problem with some of the verification changes. I never had to enter a PIN number before todayS
Something must be wrong with spendable funds. I used it yesterday and today it says use a different payment method. I even updated the verification and still didn't work
---
eBay rolled out "immediate" payouts on demand to a debit card in June but some sellers are reporting it's currently not available to them, despite having previously successfully enrolled to use the new service.
Day 3. On demand payments, not working. Debit card is accepted, but you cant select on demand payments, the box is grayed out and not working. I'm calling eBay every day until this gets fixed. I have opened up a support ticket, but still no answers. Beyond frustrated. Anyone else having this problem?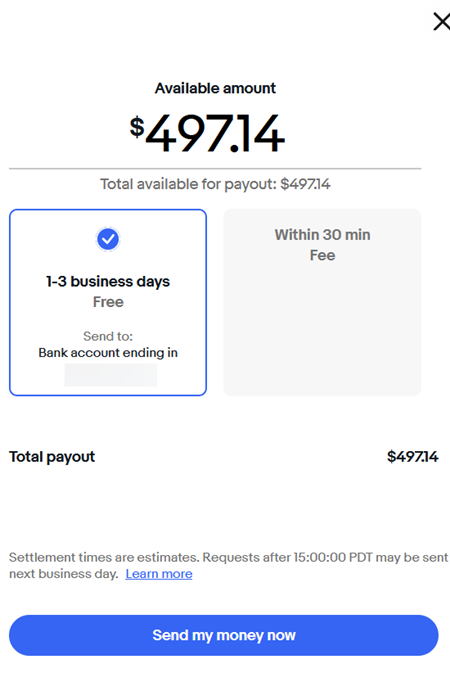 Anyone having problems sending payout to approved debit card for immediate payment??



Was unable to send payout to debit card on 7/23 or 7/24.



Spoke with customer support on 7/23 and they could not help only to say try again on 7/24.
Other users report waiting almost a week for the micro-deposits to show up in order to verify their bank account for on demand payouts.
And still others have reported receiving the microcharges, but eBay does not accept the information to verify the account - even when it is correct.
When I go to confirm the microcharge amounts that were charged to my bank account, I get a message from eBay stating that they ran into trouble verifying the amounts I entered. The amounts are correct, but something is stopping eBay from verifying the card. I called KeyBank and they told me that the issue is on eBay's end. Beyond frustrated.
---
Have you had problems using eBay's on demand payout to debit card option? Let us know in the comments below!
---