Sellers Dismayed As eBay Market Value Data Undercuts Asking Prices
Some eBay sellers are dismayed to find eBay Market Value displayed on their listings that may undercut their asking price or encourage buyers to make lowball offers.
So far this feature appears to be being tested in the sneakers category, but it may eventually expand to other categories as well.
eBay defines Market Value as: An item's estimated value, calculated using available eBay sales data.
The market value is displayed prominently on the listing page under the seller's price and clicking through provides the buyer with price trend data, if available.
In this example, eBay says the market value is $25.00 based off a single previous sale in May, which may not make for the most fair comparison, especially when there could be a very wide variety in condition between the items being compared.
It's also important to note that the market value does not take shipping cost into consideration.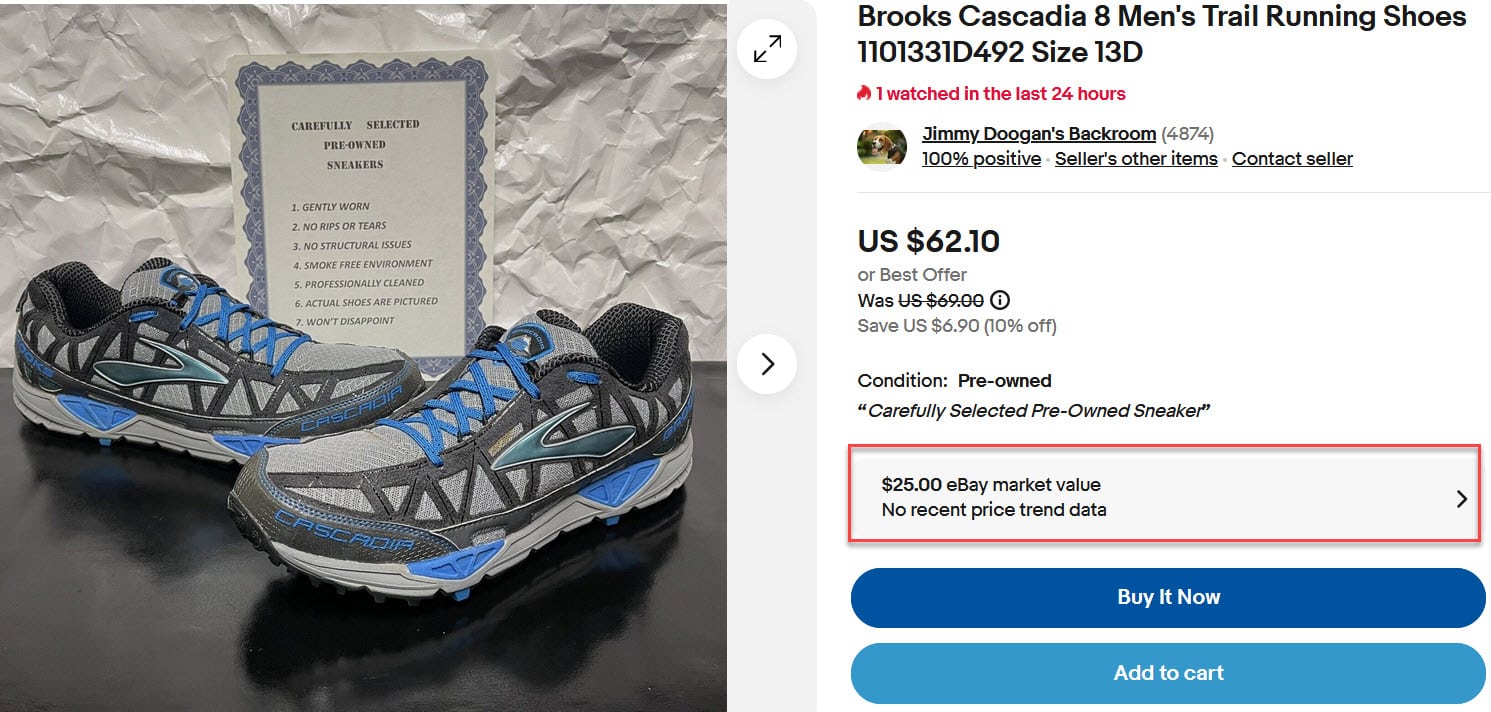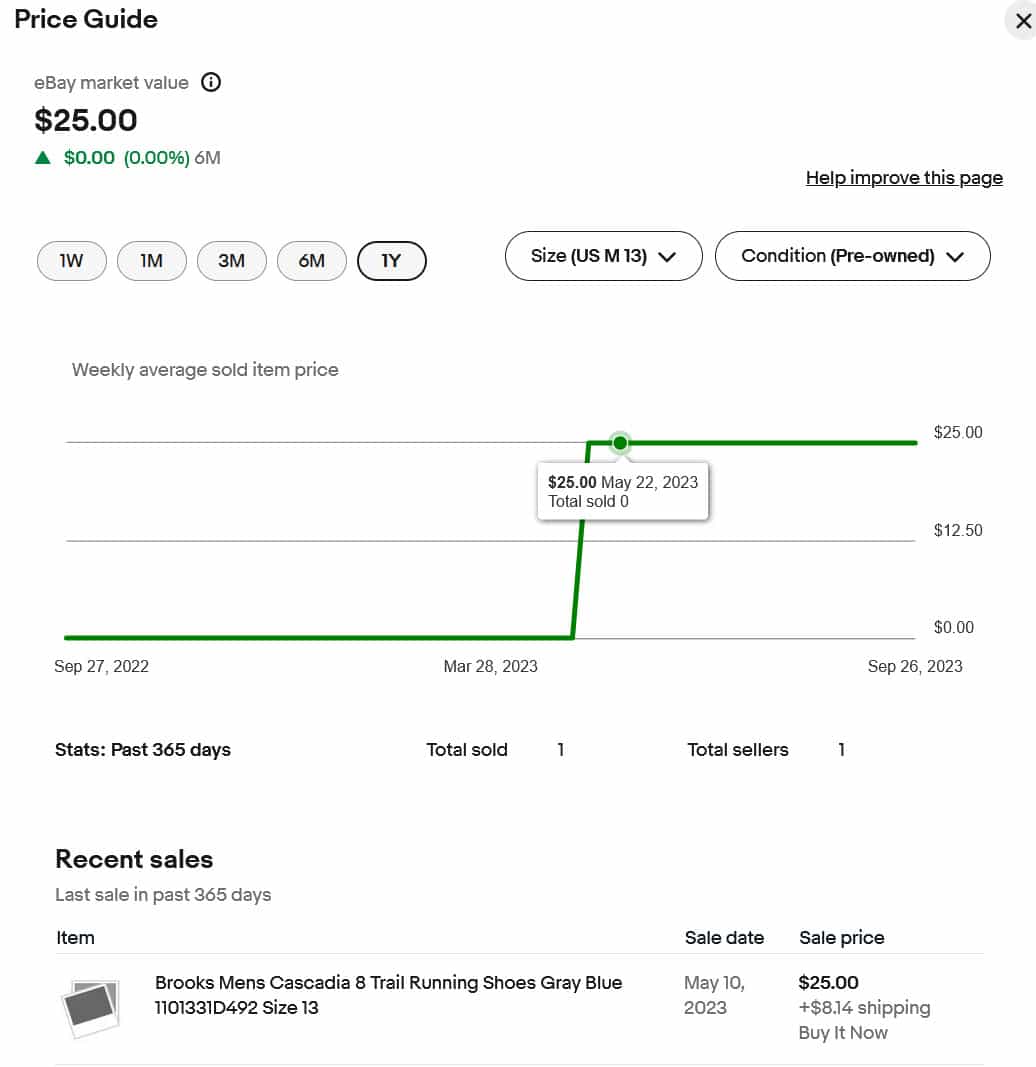 Possibly unfair comparisons like this could lead to low ball offers when there is no way to know if the item being compared to was actually comparable in condition and other factors.
On the flip side, this feature could help some sellers when there is a larger data set of more directly comparable items to draw from.
For example, in this case, the market value feature may help this seller make the sale as it shows their price is lower than average market value.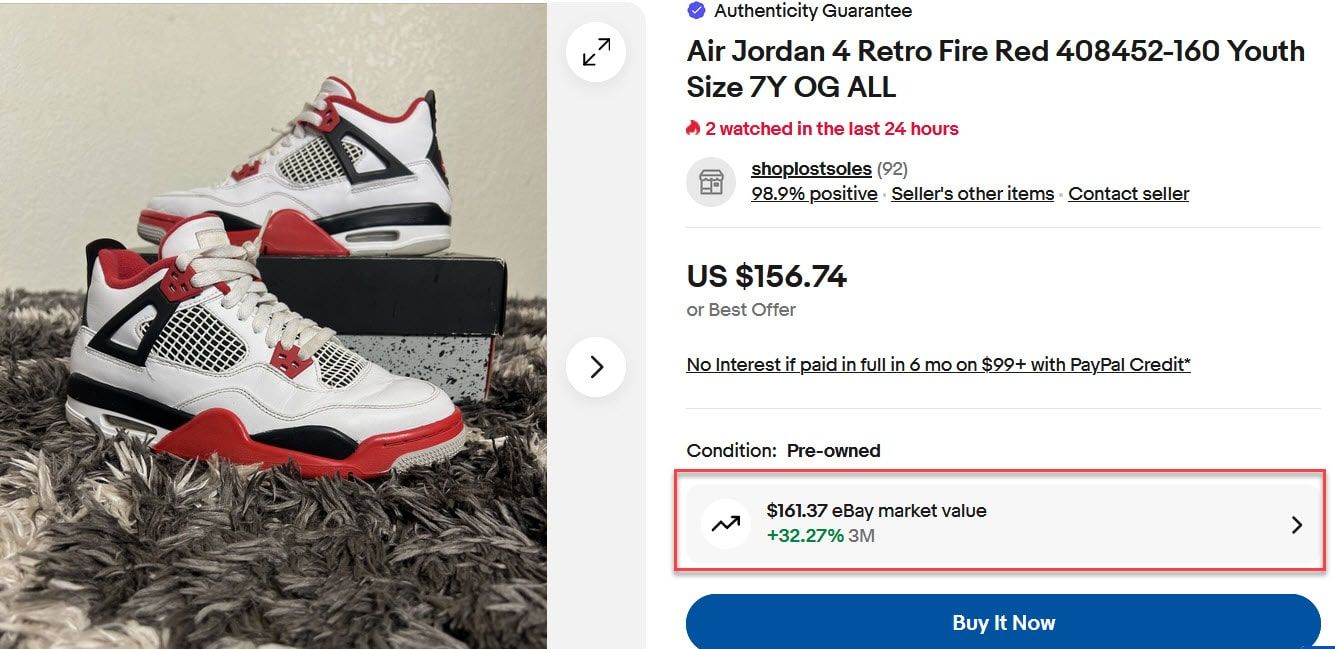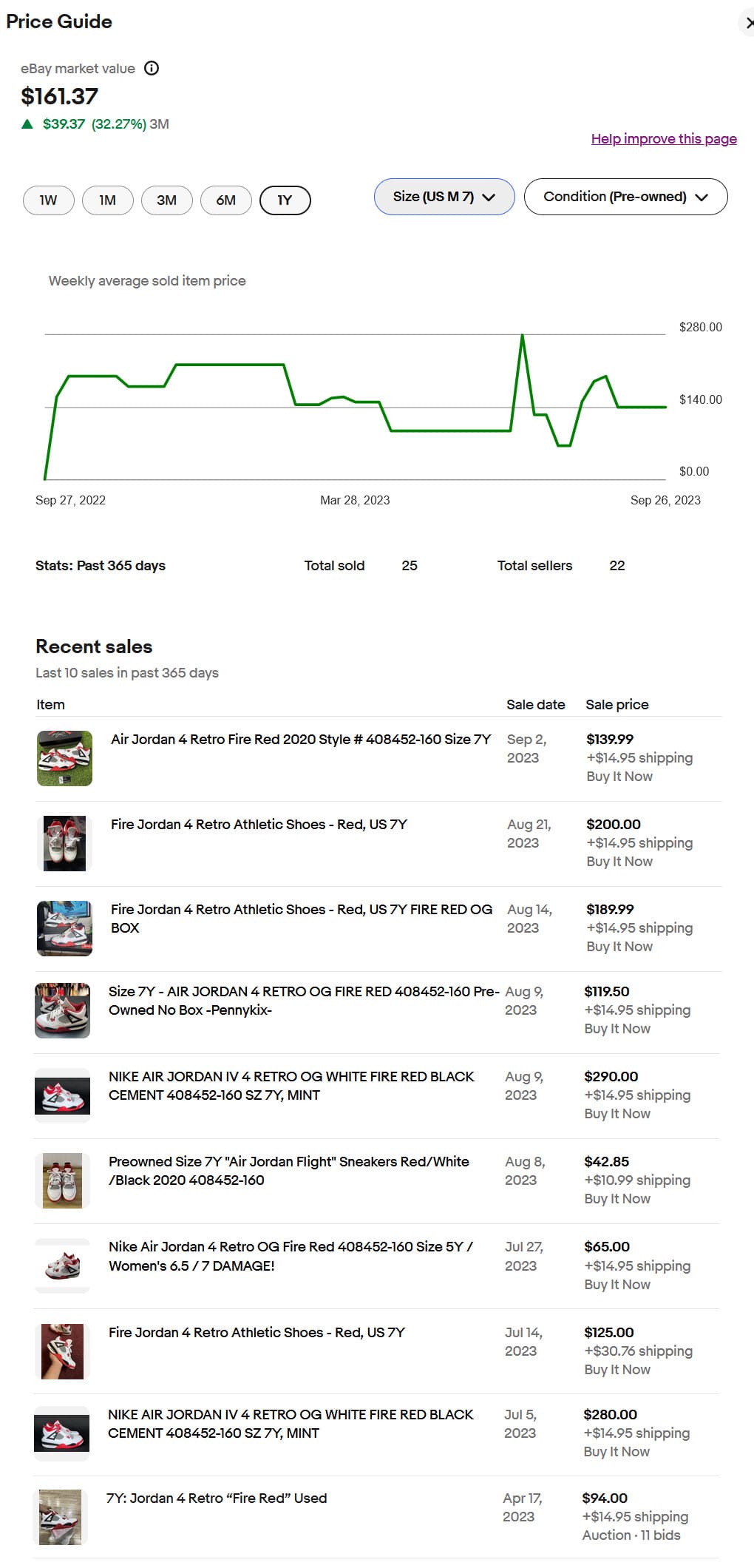 This market value feature is similar to the price guide functionality eBay introduced for trading cards in 2021.
One early problem with the trading card price guide was that because it didn't offer a way to filter by grade, the price comparisons were all over the map and often not an apples to apples comparison.
Grading can have a huge impact on price when it comes to trading cards, so the lack of filtering made the data not particularly helpful or accurate in many cases.
While sneakers may not be subject to such wide price variations based on grade, there are factors such as wear, scuffing, damage etc. that can vary greatly between pre-owned listings and also greatly impact the price.
Does this feature give buyers enough data to compare and analyze to make the best purchase decisions or will it just artificially drive prices on the platform lower?
Sellers in the eBay community are discussing the feature, expressing concerns about how it could negatively impact their businesses.
eBay has inserted for me right underneath my selling price "eBay Market Value"(how nice)



I sell used items in which there are never two identical in condition. So eBay throws me under the Bus assuming they know everything about the items I sell. This basically tells my customers that they would be foolish to pay my price vs eBay Market Value price.



Why can't eBay keep their nose out of my business?



I don't proclaim what eBay's Fees should be in my listings.
It would be a spectacularly bad idea for books, especially in the antiquarian and collectible category. No bot or algorithm can assess edition, condition, provenance, and other factors that affect value.



A useless and counterproductive feature, unless it's applied only to identical widgets in new condition.
The obvious problem:



Slapping a $25 "market value" on the seller's $60 item tells the buyer it's way overpriced. Automatic psychological block. Who wants to overpay?



Worth noting that $25 is the supposed market value, even though eBay also says there's "No recent price trend data."
Just one more piece of evidence that eBay thinks they can be the next Amazon. Amazon has been doing a similar thing to sellers with increasing 'punishments' for pricing higher than Amazon thinks an items should be priced.



After getting a huge pile of de-listings from Amazon one day for high price violations on books, I pulled all of my inventory off and left the site after 15 years of selling there.



eBay is going down that same road. I am glad I am moving on from online sales. It just isn't worth it or even fun anymore. Both sites have made online sales a horrible experience because of their greed and their wanting to run my business.
---
What do you think about eBay displaying an average Market Value for items?
Would you appreciate this feature as a buyer but not as a seller? Let us know in the comments below!
---