eBay Collection & Price Guide For Trading Cards
eBay introduced Price Guide and Collections beta for Trading Cards in August. Here's a first look at how this new feature works, both on desktop and in the eBay mobile app.
If you're using a desktop, you can find Collections beta under my eBay.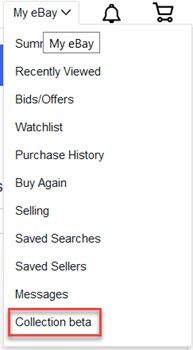 There are multiple ways to add cards to your collection.  If you want to add cards from your purchase history or manually add individual cards, you'll need to use the eBay mobile app.  If you want to do a bulk import, you'll need to upload a .csv file from desktop.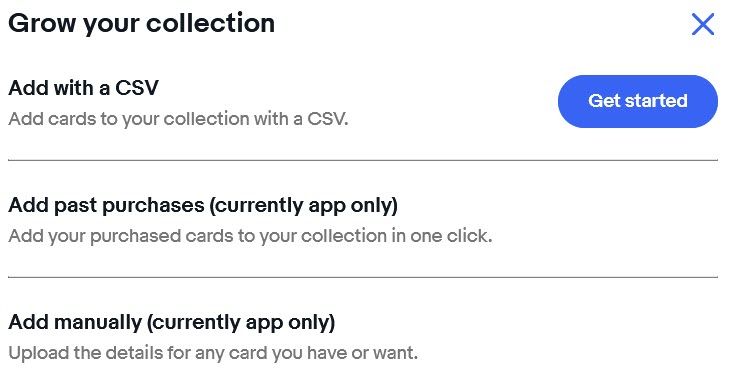 ---
Bulk CSV Upload
We'll start with the csv upload option. First, select the template for sports trading cards or collectible card games.
For sports, eBay collections currently supports baseball, basketball, football, golf, ice hockey, and soccer.  Collectible card games currently only supports Magic the Gathering, Pokemon, and Yugioh.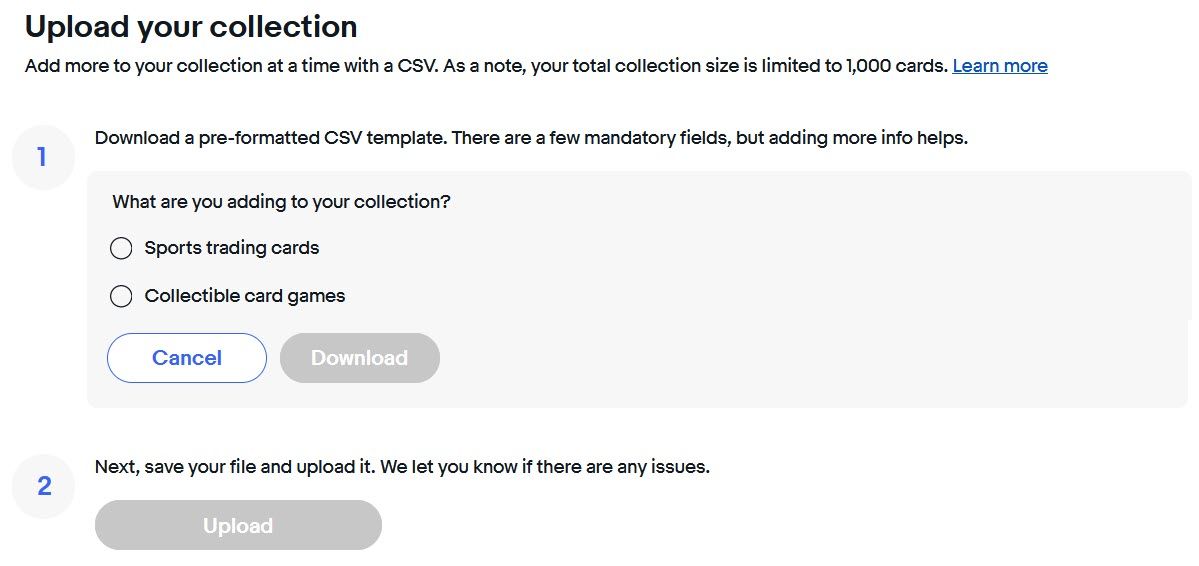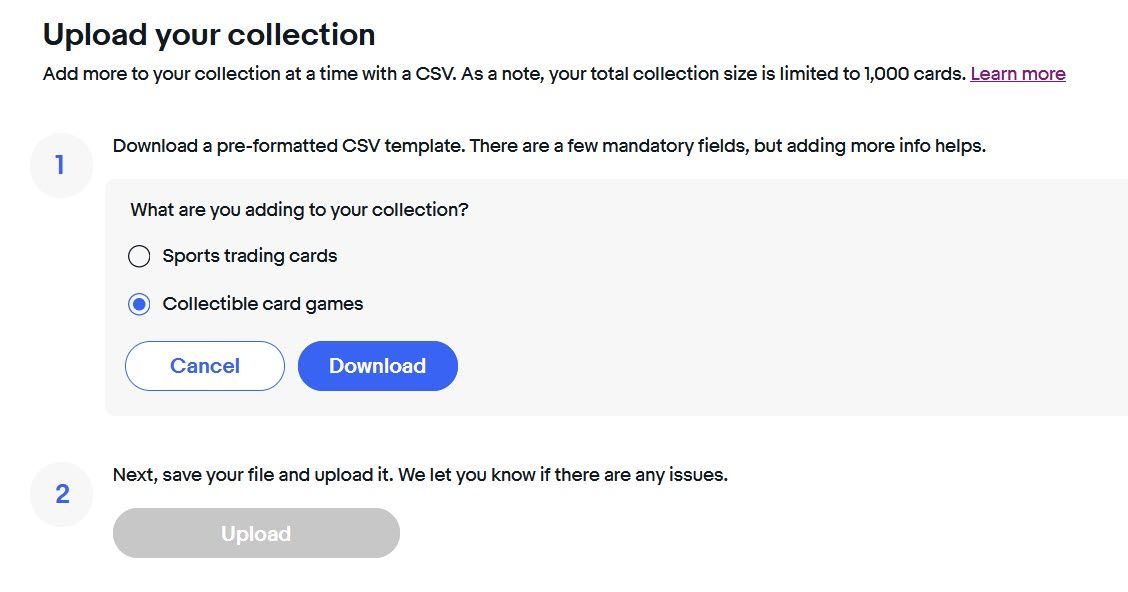 Once you download the template, open it in Excel or other spreadsheet program. eBay provides example templates to help you build your collection.  Title and Game or Sport are required fields, everything else is optional.


Fill in the appropriate information for all of the cards in your collection and save the file. For the purposes of this test, I'm just going to use eBay's example data.
Important: Make sure to delete the entire notes section before uploading.  Your completed file should look like this.

Pro Tip to help you avoid frustration: eBay has some really bad UI in this next step - after you download the template in step 1, the upload button on step 2 is not immediately clickable.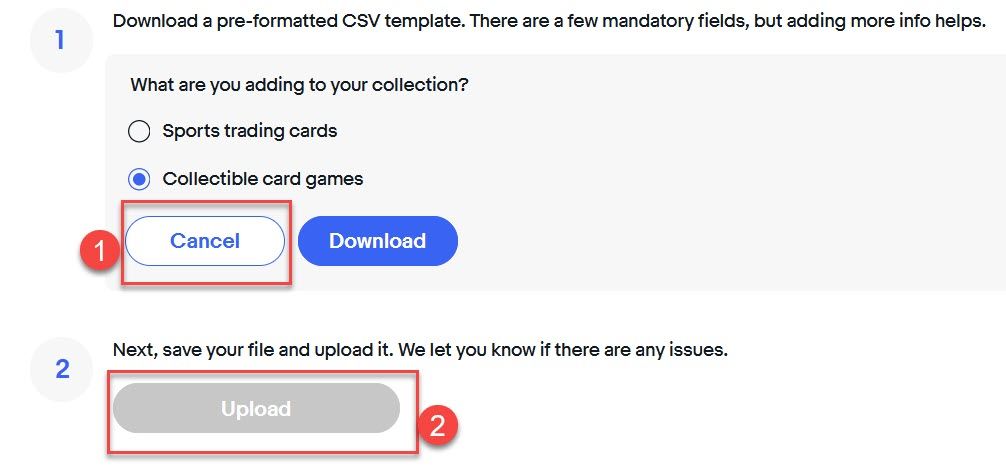 You have to first click "cancel" in step 1 and then it will give you the option to upload in step 2.

Choose which template you used and then click "select csv" to upload the file.


Once the file is uploaded, it may take a few minutes for the cards to show in your collection.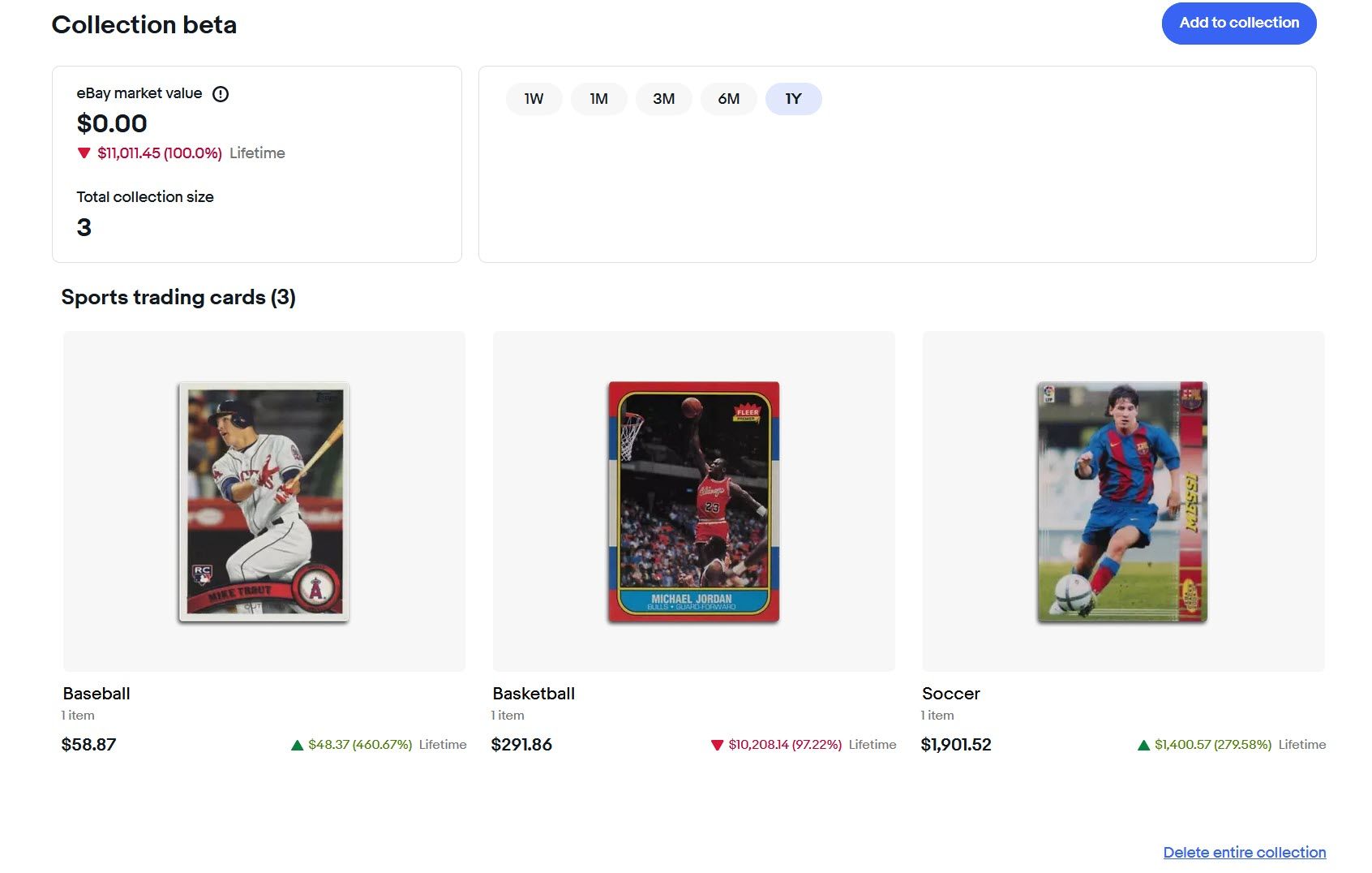 You can then click through to see cards in each category. The data you entered in the spreadsheet will be shown in the upper right.
Unfortunately, there is no way to add pictures through the bulk upload process - that would have to be done manually one at a time through the app.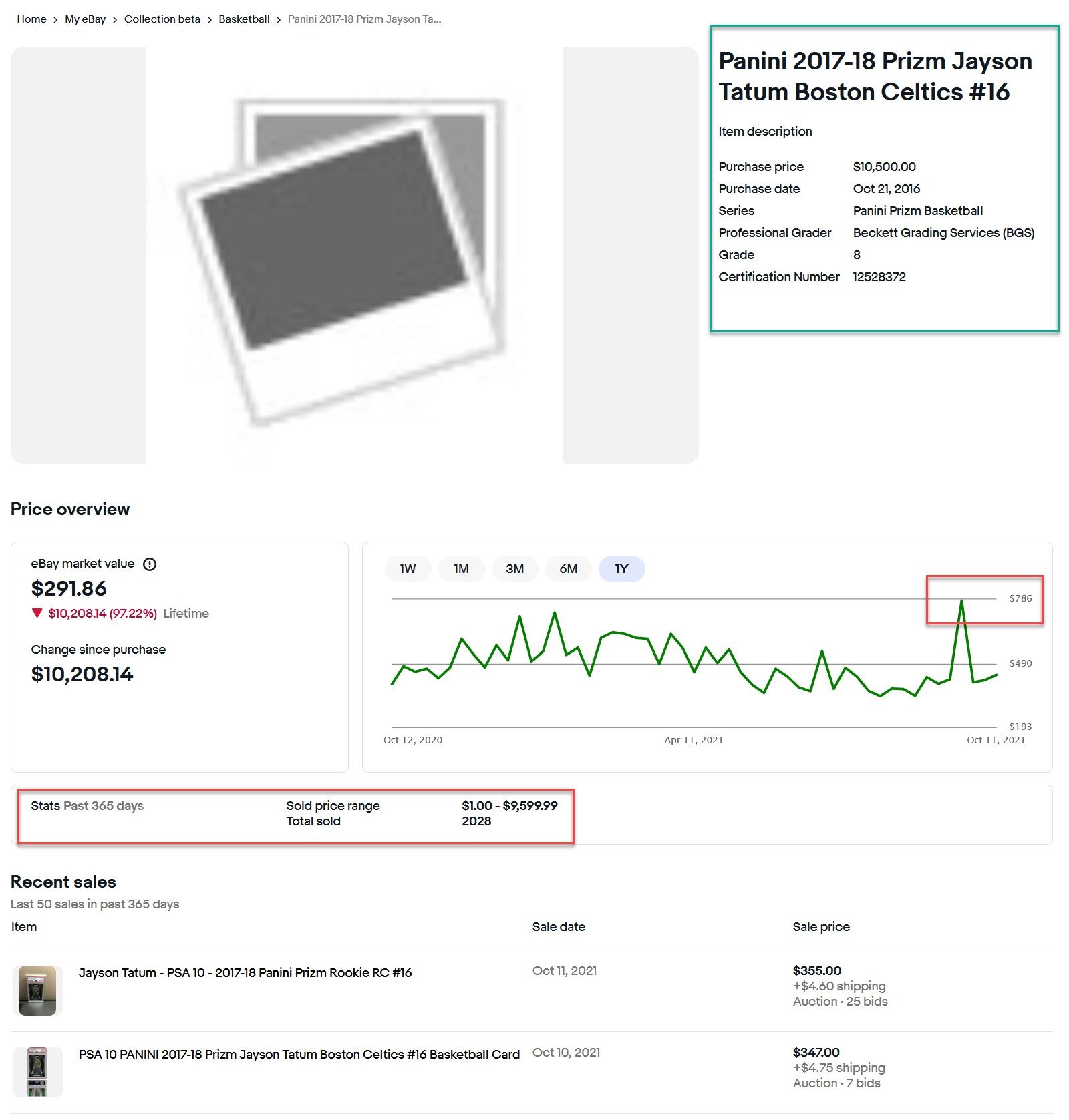 The Price Guide function theoretically tracks the sold price range history and eBay Market Value, which is defined as "The most accurate reflection of an item's current value on our site, based on verified transactions."
Keep in mind, I used eBay's example data which for this particular card had a purchase price of $10,500 - that could just be a random price eBay made up.
However, under Stats (past 365 days) eBay indicates a sold price range of $1-$9,599.99 and 2028 total sold.
The first thing I noted is the items being used for the price comparison are different grades.  My example data was for a grade 8 card, yet the "recent sales" were all graded 9, 9.5 or 10.
Grading can have a huge impact on price when it comes to trading cards, so this data may not be all that accurate or helpful if it's not truly an apples to apples comparison.
It's also interesting to note that the graph shows nowhere near $9,599.99 for this card.  The graph represents averages over time.  The yearly graph is broken up by weeks and shows the highest average week at $786.95

The 6 month view shows the same as the highest average.

The 3 month and 1 month views show there were 2 days in September that spiked to ~$2,200.


And the 1 week view shows a pretty big slump.

I suppose it's possible there was a $9,599.99 sale in there somewhere that could have gotten averaged down by much lower sales, but there's no obvious way to corroborate that. Of the 10 items shown to me under "recent sales", the highest price was $385.95 and that was for a PSA 10.

---
Adding/Editing Individual Cards in the eBay App
Editing individual cards in the app is a bit clunky.  I had to refresh the screen multiple times just to get it to recognize that I already had cards in my collection.
Once you get your collection to load, it's pretty straightforward from there - just select fields to edit and you can add a picture either from saved pictures on your phone or by using your phone's camera to take a picture.
The really cumbersome part comes when trying to add a single card directly through the app.  I was surprised that the only option here is to manually enter each individual piece of data - apparently eBay has not integrated the Scan to List computer imaging technology into the Collections tool!
If you aren't familiar with Scan To List, eBay introduced this new feature to the app back in April.  It uses computer imaging technology to streamline the listing process.  You just point your phone camera at the card and it automatically pre-fills most listing details.

When I first heard about eBay Collections beta, I assumed you would be able to use the same functionality to speed up the process of adding cards to your collection. It makes no sense to me that eBay would have that technology already available for the listing/selling process and not use it for this new collections feature as well.
Here's a video showing the manual "add to collection" process vs. the computer imaging technology enhanced create listing process.
Hopefully they will be integrating computer image technology into the Collections feature "soon" as part of CEO Jamie Iannone's tech led reimagination initiative.
---
If you have questions or concerns about eBay Collections and Price Guide beta, the eBay community staff will be hosting a dedicated chat on the topic tomorrow, October 13th at 11 AM Pacific/2 PM Eastern.
Join the Community team this coming Wednesday, October 13th at 11 AM PT for our Weekly Chat with eBay Staff. We'll be joined by the Collectibles and Trading Cards teams to discuss Trading Cards and a few new features that eBay has recently launched for the card collector.



The chat thread will be posted here at 11 AM PT and remain open until 12 PM PT, at which point we'll close thread from additional responses. After that time, we'll continue to work on responding to any queries that might still be unanswered.



As a reminder - this is a change in our normal time - we are starting at 11 AM PT to make sure all experts for these tools can attend.



Thanks!
Tyler
---
What do you think about eBay Collections and Price Guide for trading cards? Let us know in the comments below!
Follow Value Added Resource on Twitter & Facebook ✔
Subscribe to receive eBay seller news, tips, and insights in your inbox 📧
---