eBay Introduces Price Guide and Collections for Trading Cards
eBay has introduced new features to the eBay app for trading card sellers, both still in the beta stage.
Price Guide beta
Access the most recent trading cards sales data with new Price Guide



Price Guide, powered by eBay's incredible breadth of data, provides you with the most accurate insights available anywhere for sports and non-sports trading cards and collectible card games.

Price Guide shows the most accurate reflection of your trading cards' current value on our site, based on verified transactions on eBay during the previous 12 months.

Track trends and filter results for your queries with Refined Results, or get broader results for market research and browsing with Extended Results. For sellers, Price Guide can help you make the best-informed pricing decisions with the most recent trading cards sales data—and get the best prices for your collection.
Collection beta
Know your portfolio's past, present, and potential future value with new Collection



Curious about the estimated value of a card in your collection that you're thinking about selling? Collection is integrated with Price Guide data so you have all the tools you need to power your trading all in one place. Engage with your collection in a multitude of ways.



See the value of your portfolio at a high level or view a specific "asset class" like Pokemon or basketball. You can drill down to see the value of individual cards.



Designed for in-app usage, you can list directly from Collection, making the listing process faster and easier.



On desktop, upload up to 1,000 items using the .csv upload template, making it easy to upload your entire collection
---
Seller sentiment seems to be mixed on this one.  A few sellers on Twitter were very impressed with the pricing feature in particular.
Other sellers in the eBay community and Reddit were concerned that the pricing data doesn't allow you to differentiate between graded and ungraded or other important factors, possibly skewing the results.
I tried out the tool when it was announced, and I still can't stop laughing.

Not only does it not differentiate between the two main categories of 'Graded' and 'Ungraded', it doesn't differentiate between set, card finish, edition, or anything else besides keyword I'm led to think.

The test collection I uploaded of 36 cards was showing as worth upwards of $2,000 because it was skewing the prices by mixing graded and ungraded card sales, cards worth $5 were being shown as worth $100+ as a result.



I agree on the potential of it, but the implementation was absolutely wrong.
Several other sellers in the community reported not being able access the new features or that they had technical issues when doing so and it would appear community staff didn't receive any training or information about the new feature before the announcement was made either.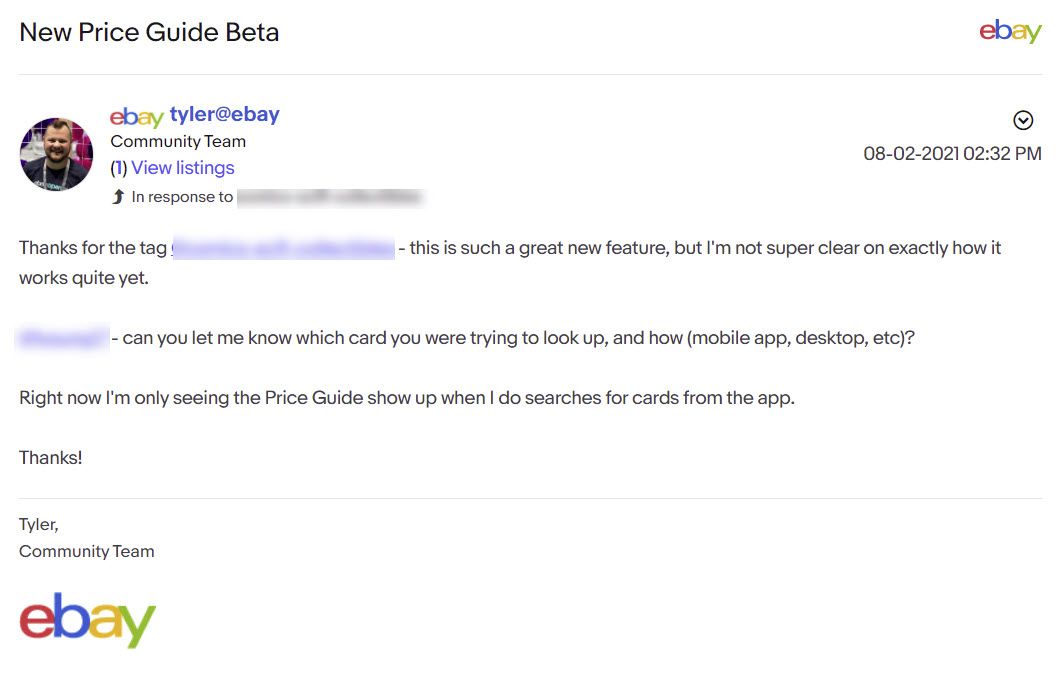 There may be some potential here, but for now it is definitely another "early stages work in progress."
Another eBay staff member in the community responded to one post assuring sellers they are listening to feedback and provided a point of contact specifically for these new features.
Thanks for your feedback. We're actively monitoring and listening and we're currently looking into this. We'll be in touch soon. Also, we want to let others know that you can also reach us at betafeedback@ebay.com.

Cheers, eBay
---