eBay Listing Tool Missing USPS First Class Shipping Option?
eBay is pushing more users into the latest iteration of the Unified Listing Experience, but some sellers report they no longer have USPS First Class Shipping as an option in the new listing tool.
I'd seen multiple reports on this, but had been unable to replicate the issue myself - when I try the new listing tool it does show first class shipping under the Standard Shipping section and/or if I search for it where it says "find a shipping service."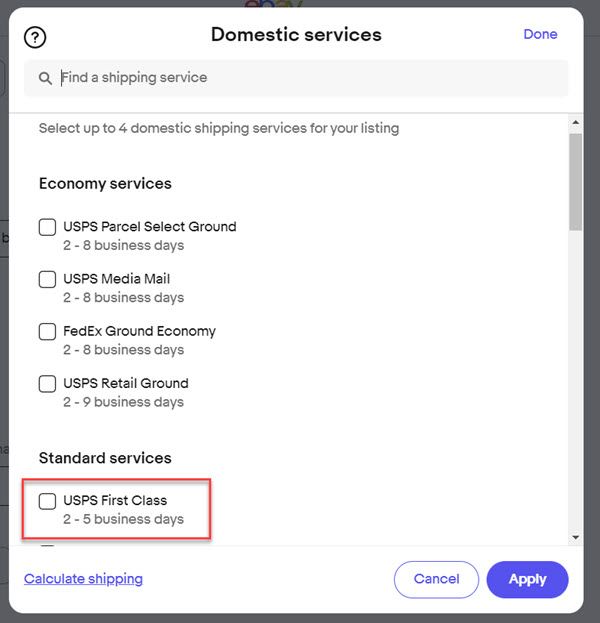 However, other sellers reported that wasn't the case when they attempted to create a listing.
It looks like it may be an intermittent issue for some sellers or possibly a delay in showing all options.
---
If you're running into issues with not seeing certain shipping options in the new listing form, make sure you have weight and dimensions filled out completely and that the values are within the allowed range for the shipping options you're looking for.
The shipping part of the new listing tool appears to be dynamic - meaning rather than showing a static list of all possible shipping options, it is instead looking at item data to determine which shipping options the item would be eligible for and only showing those options.
USPS First Class Mail has strict weight and size limits, so in order for eBay's listing tool to determine if the item qualifies, it needs to know the weight and dimensions. If you leave those fields blank, it appears it cannot determine if the item qualifies, so it excludes that option.
It also appears eBay my be proactively blocking Media Mail from being display as an option in categories where they believe Media Mail does not apply.
---
Are you having problems with eBay's new listing experience? Let us know in the comments below!
---