eBay Category & Item Specifics Update September 2022
UPDATE 9-20-22
eBay US has finally gotten around to posting an announcement in the community, on the day the changes are taking effect.
Starting today, you'll see updates to the following categories:

Collectibles (Figurines)

Parts & Accessories (Motorcycle, Scooter, and UTV/ATV)

Home & Garden (Candles & Home Fragrance, Home Décor, Pillows, Furniture, Window Treatments & Hardware)



During this transition, your listing experience could be temporarily impacted, as well as the visibility of your listings. You may notice some item specifics changing names, listings moved to different categories, or some listings temporarily not appearing in searches.



Any affected listings should return to normal within a week, though some effects to listings' visibility in searches may continue for up to three weeks.
Download the full list of category changes here.
---
UPDATE 8-25-22
In typical eBay style, it looks like someone just messed up the messaging on this one - the banner in Seller Hub has now been changed to say the category and item specifics changes will be effective September 20.
---
UPDATE 8-23-22
Sellers are reporting seeing the following banner in Seller Hub tonight, saying category updates are happening now and may temporarily impact the listing experience.

However, the Learn More link leads to the September 20 category update notice, so it's not clear if the updates have started early or if this banner is in error.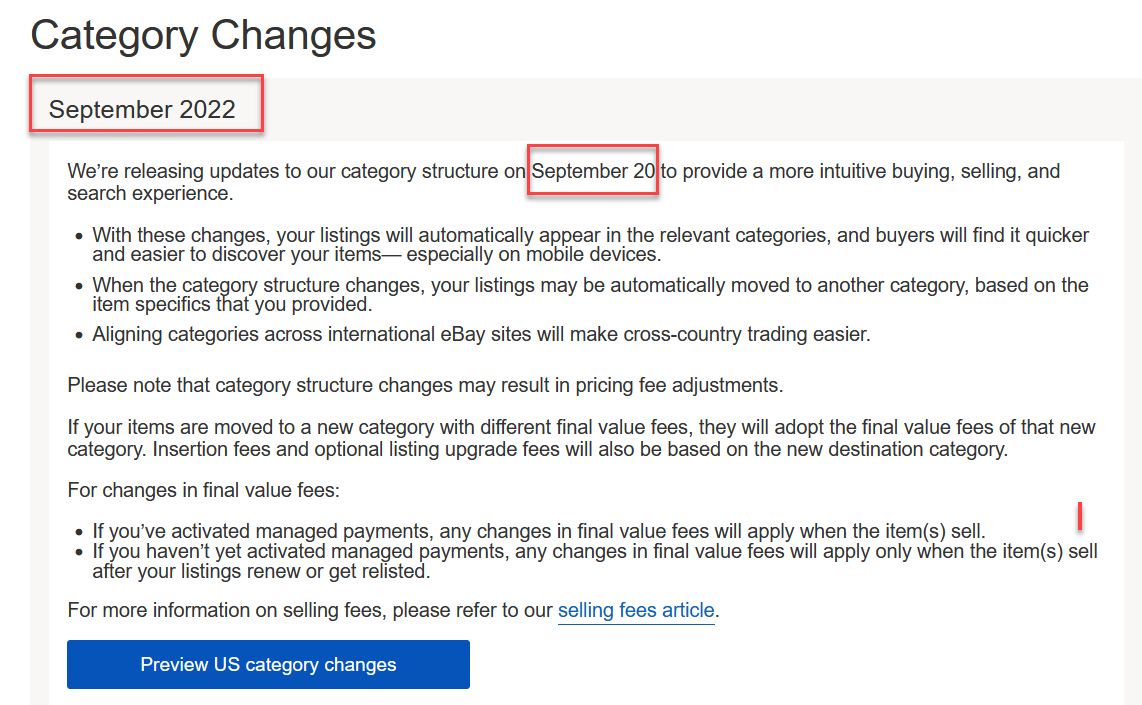 I'll update as more information becomes available.
---
UPDATE 8-18-22
While there has not been a public announcement yet, sellers are receiving emails from eBay informing them these same category and item specifics updates will be effective for US and Canada on September 20th as well.
More info: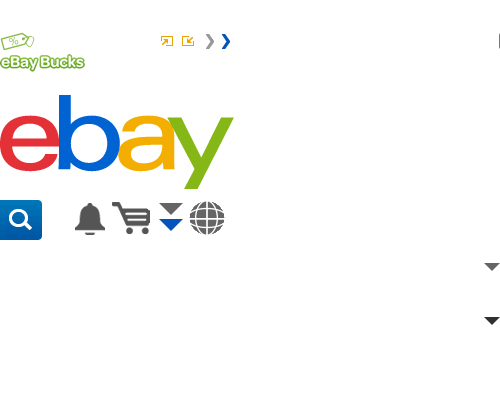 That's the same week as eBay Open and if I had to place bets, I would not be surprised if we get a Fall Seller Update around that time too.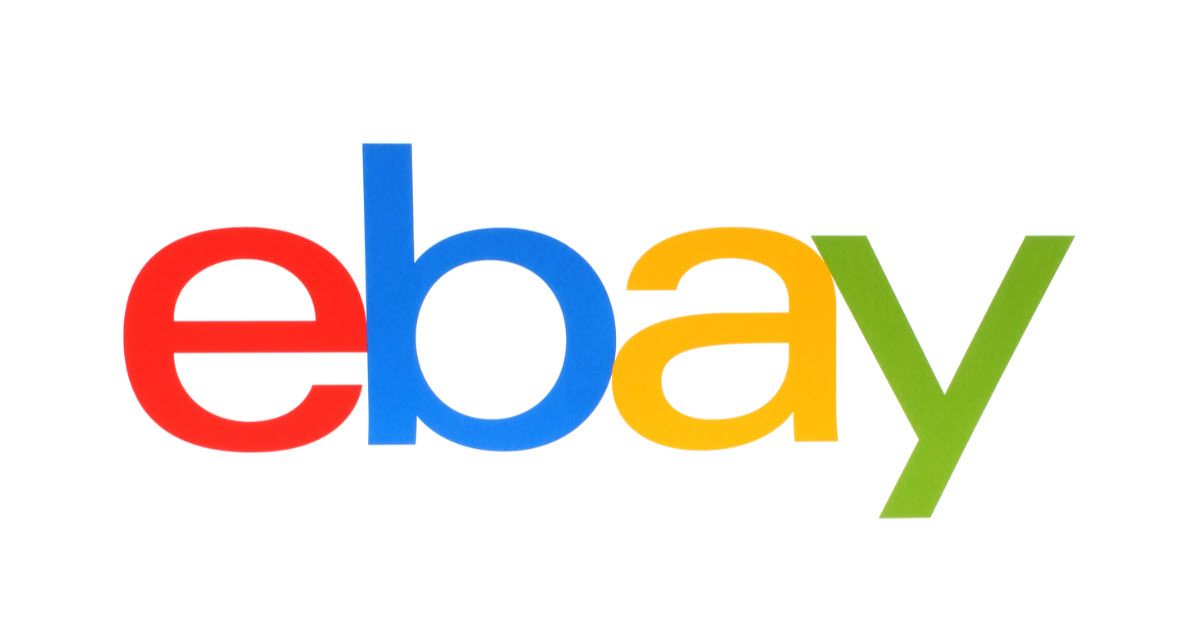 ---
eBay Australia has announced another round of category changes and new item specifics requirements effective in September.
We know your visibility on eBay is important, so we're continuing to update Item Specific requirements and eBay categories. Starting 20 September, we're refreshing the structure of certain categories and adding in new Item Specifics.


We're rolling out new Item Specific requirements in some categories to help listings match what buyers are searching for.
We're updating a few category structures and Item Specifics names to help customers find your listings on and off eBay.



What you need to know

We're making updates in the following categories:

Collectibles (Collectable Figures & Supplies)
Home & Garden (Furniture & DIY)
Parts & Accessories
Quad, ATV & Trike Parts
Scooter Parts, Motorcycle Maintenance
Stands & Towing
Motorcycle & Scooter Parts & Accessories
ATV, Side-by-side & UTV Parts & Accessories Wheels & Tyres



During this time, you may see temporary impacts to your listings and their visibility. Any affected listings should return to normal within a week. You may also experience a change in fees (either an increase or decrease).



Once these changes are complete, we recommend checking your listings in the above categories to see if any were affected and whether you need to make any changes.



Thanks for your patience as we make these changes, so we can help boost your listing visibility and sales.
---
All I can say to Australian sellers is - good luck with that "return to normal within a week" thing.
When the US marketplace had its latest round of item specifics requirements, we were given the same story about things returning to normal within a week. However, many sellers reported visibility issue and lost sales for well over a month after the category and item specifics changes were made.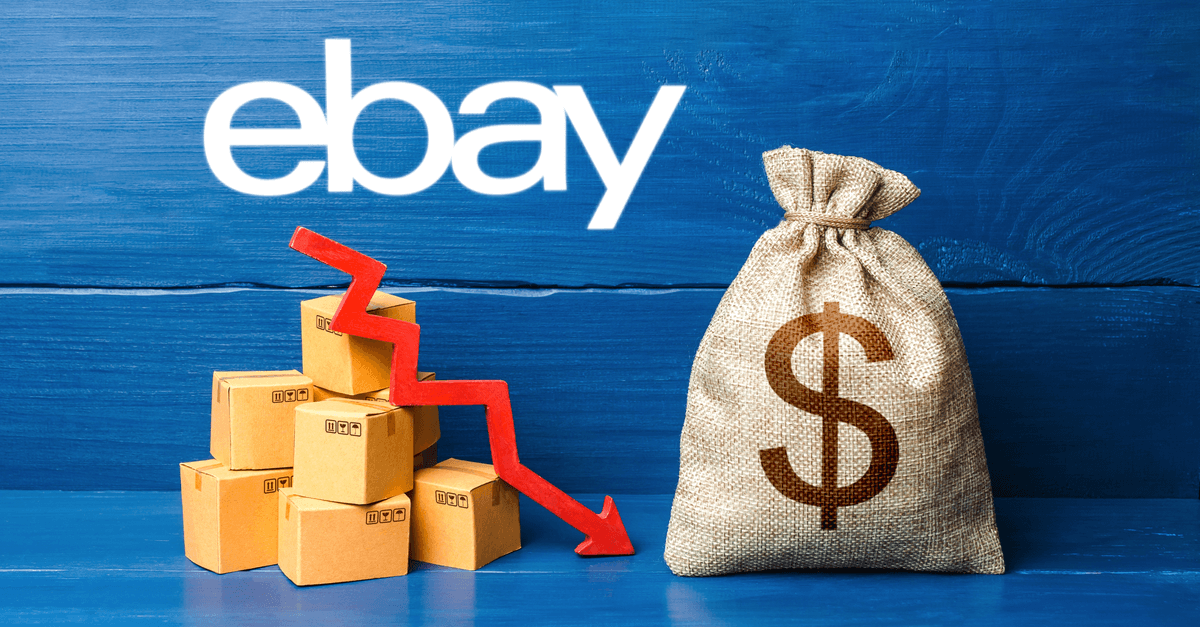 I hope this latest mandate does not have similar results.
---
How have past category and item specifics updates impacted your business on eBay? Let us know in the comments below!
---